Street Fighter actress Kylie Minogue has caused some serious buzz throughout her life. From secret affairs, harsh movie critics, and legal fights with the Kardashians, she has been through the wringer but has always held a positive attitude about everything.
Let's dive into some of the controversy and chaos that has happened through the life of Kylie Minogue.
Bad Acting or Bad Movie?
Born May 28, 1968, in Melbourne, Kylie Minogue starred in the film Street Fighter as Cammy, a British intelligence officer. The action film was released in the United States on December 23, 1994, when she was 26 years old.
Minogue is a world-renowned singer and has an extensive background in both pop and opera genres, so it was a shock to a lot of people when she got the role.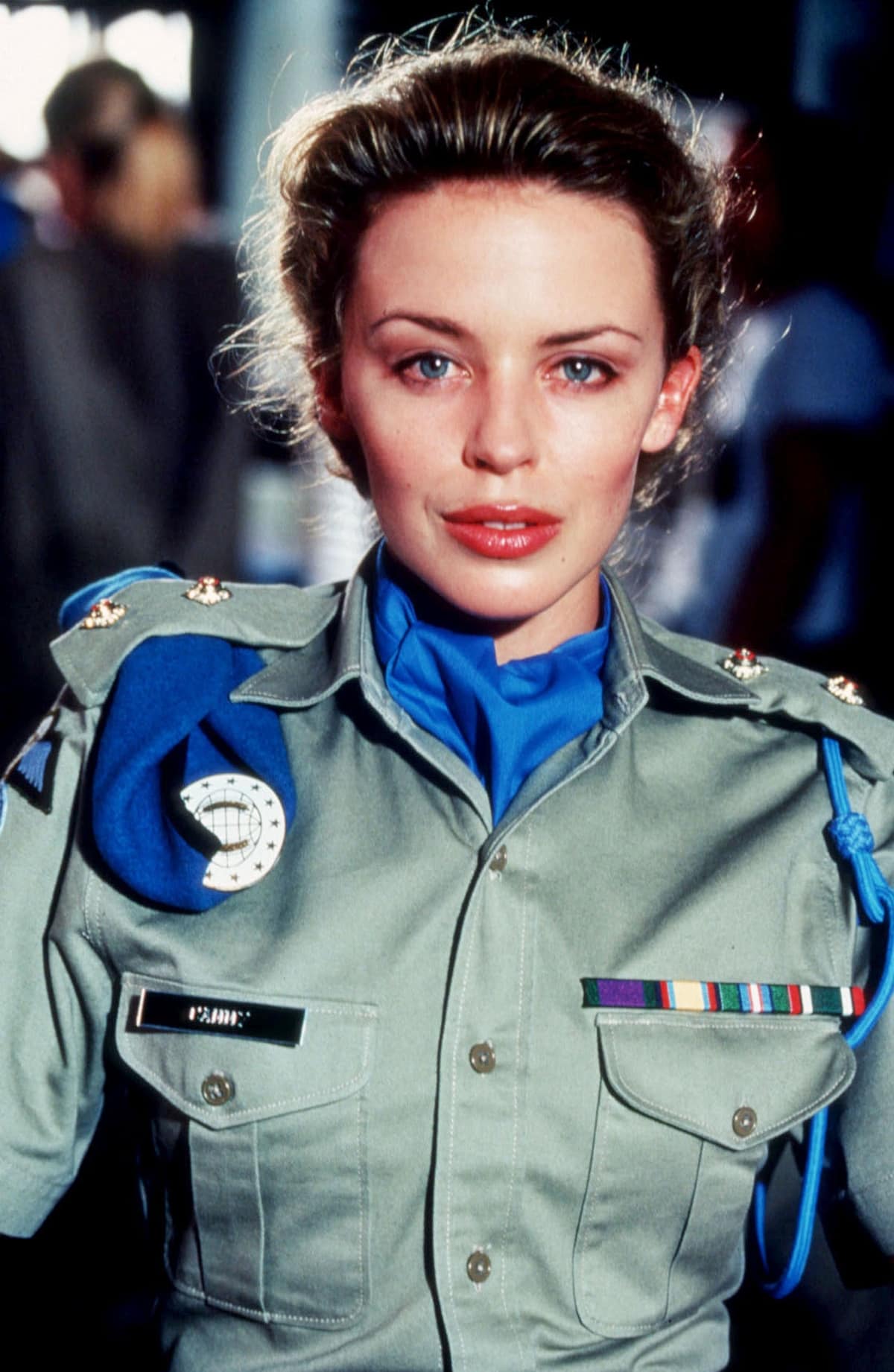 Kylie Minogue portrayed Cammy in the 1994 action film Street Fighter (Credit: WENN)
She was cast by Steven E. de Souza after he saw her on the cover of Australia's People Magazine. The Australian Actor's Guild was pushing him to cast an Australian actress as Cammy and he thought that she would be perfect after LOOKING at her.
But how can you judge someone's acting skills based on their looks?
Though Minogue has held film roles in the past, many think she should stick to singing. When reviewing Street Fighter, The Washington Post called Minogue, "the worst actress in the English-speaking world."
Others have criticized the film, but none have directly called Minogue out like this. Was she that bad, or was it just a bad film in general? I'll let you decide for yourself.
In fact, in 2003 when Jean-Claude Van Damme began working on Street Fighter II, Holly Valance was set to replace Minogue as Cammy.
Whether this was because of her bad acting or because of the drama between Minogue and Van Damme, we may never know.
Affair with Jean-Claude Van Damme
What is this drama I'm speaking of? Lots of buzz was generated from Street Fighter, and it came from rumors of an affair between Minogue and her costar Jean-Claude Van Damme.
Pictured at the 1992 MTV Movie Awards, Jean-Claude Van Damme was one of the most popular action stars in the 1990s (Credit: Chris Connor / WENN)
This affair was confirmed by Van Damme himself in an interview with The Guardian in 2012, and when asked to describe the experience he said, "Sweet kiss, beautiful lovemaking. It would be abnormal not to have had an affair, she's so beautiful and she was there in front of me every day with a beautiful smile, simpatico, so charming, she wasn't acting like a big star. I knew Thailand very well, so I showed her my Thailand. She's a great lady." This entire statement from him has me cringing HARD.
More Street Fighter Drama
At the time of filming Street Fighter, Van Damme was 34 years old, and Minogue was 26. Van Damme was also married to Darcy LaPier at the time and dealing with substance abuse issues.
Sources working with him claimed that he was doing upwards of $10,000 worth of cocaine a week. He wasn't showing up to set and the studio quite literally had to hire a "wrangler" to try to keep him under control.
Kylie Minogue was viewed in the total opposite light. She was seen as a professional and a generous woman that was a pleasure to work with.
Kylie Minogue at first ELLE Style Awards held in 1997 (Credit: WENN / Birsen Keskin)
Sources that worked with her during Street Fighter say that she was always buying drinks for the entire cast and crew to make shooting days more enjoyable and that she even once hired a club.
It's a shame that she was put in such a negative light because of her acting. When behind the scenes, she was being so great to everyone which was in stark contrast to Van Damme.
Kylie versus Kylie
In 2016, Minogue hit the U.S tabloids by fighting against another famous Kylie for the rights to the name. Kylie Jenner filed a petition to trademark the word "Kylie" for branding purposes and Kylie Minogue filed an opposition proceeding right back.
Though they went back and forth for a while, both eventually dropped it. Kylie Jenner has since come out with "Kylie Cosmetics" and Kylie Minogue has come out with "Kylie", which is her own cosmetics line.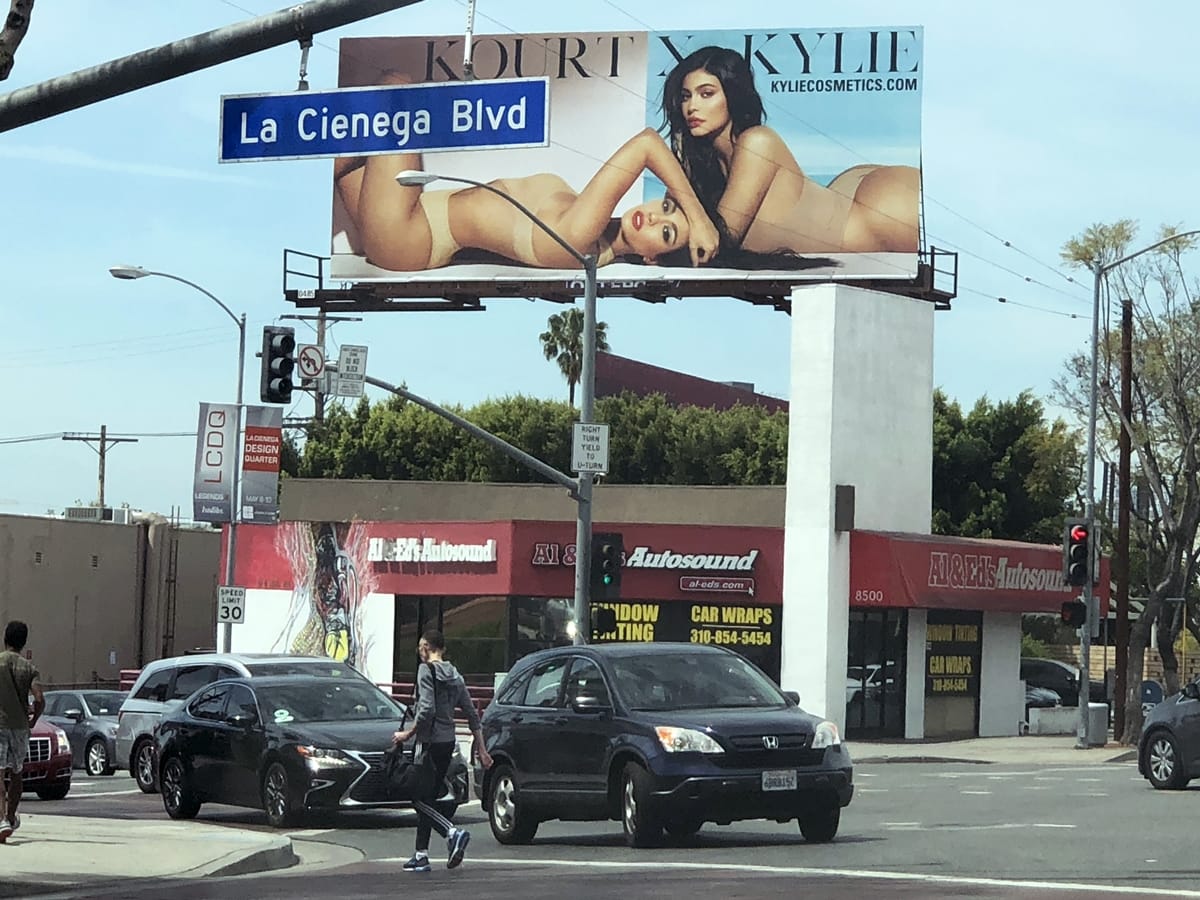 Kylie Cosmetics billboard featuring Kylie Jenner and Kourtney Kardashian in West Hollywood (Credit: WENN)
It seems clear who won the battle there. Kylie Minogue is an Australian singer and actress who crewmates call a delight. She has made headlines consistently but has come out of every controversy smiling. We could all be a little more like Kylie!
The NME (New Musical Express) Awards traditionally celebrate the best in alternative, rock, and metal music.
So it was quite a surprise in February 2016 when Kylie Minogue — also known as the Goddess of Pop — graced the star-studded awards ceremony in London.
Kylie Minogue wears her hair down at the NME Awards at the O2 Academy Brixton on February 17, 2016, in London, England (Credit: Lia Toby / WENN)
The then 47-year-old singer, who had just announced her engagement to British actor Joshua Sasse, arrived at the O2 Academy, Brixton in a bridal-inspired white lace mini dress and a pair of silver heels.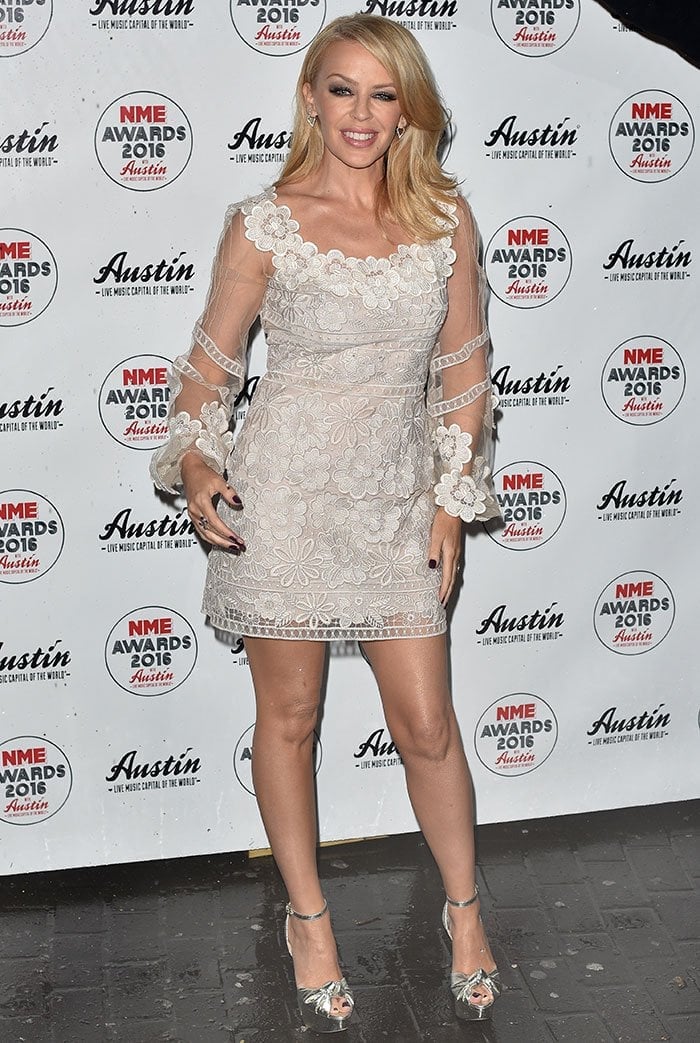 Kylie Minogue wears a bridal-inspired white lace dress to the NME Awards (Credit: Daniel Deme / WENN)
Kylie was present at the event to present Coldplay with the Godlike Genius award.
Kylie Minogue wears a white Blumarine dress to the NME Awards (Credit: Daniel Deme / WENN)
The "Spinning Around" singer rocked a white floral embroidered dress from Blumarine's Resort 2016 collection, which put her shapely legs on display. It featured sheer long sleeves, floral appliques, and a thigh-grazing hemline.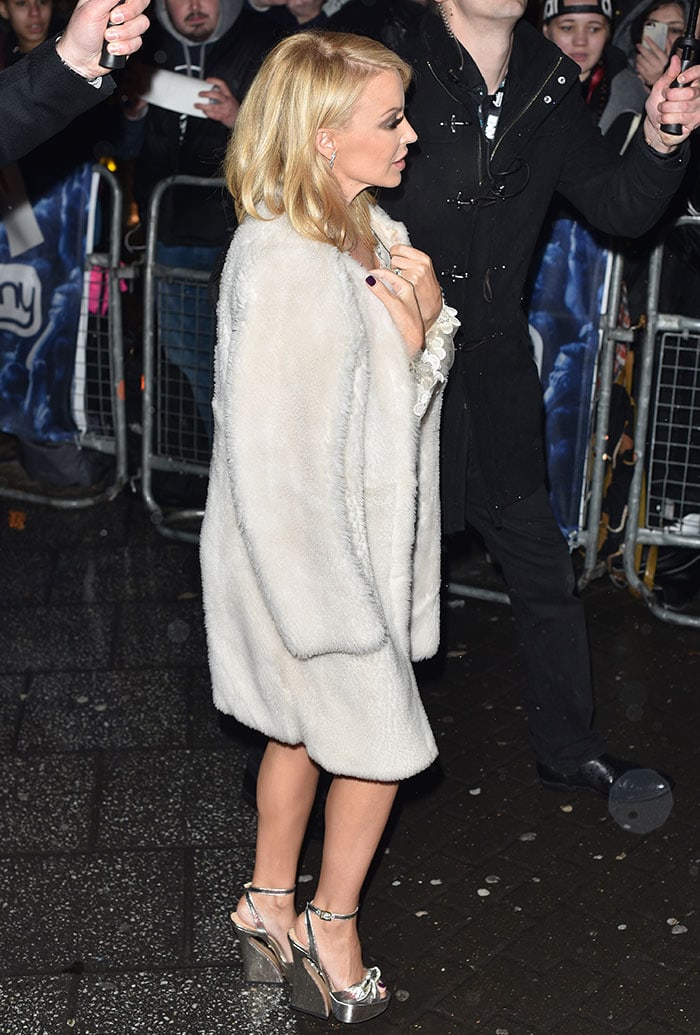 Kylie Minogue covers up in a fuzzy coat as she arrives at an awards ceremony (Credit: Daniel Deme / WENN)
Before going inside the venue, Kylie wrapped up warm in a furry cream coat. She styled the retro-looking frock with minimal jewelry — including her engagement ring — and finished her outfit with a pair of silver heels.
Kylie Minogue wears a Blumarine dress and silver heels (Credit: Daniel Deme / Lia Toby / WENN)
Kylie wore her golden tresses in soft waves with a side part and rounded out her look with smoky eyes and pink lips, which made her look younger than ever.
Kylie Minogue's feet in silver Charlotte Olympia platform sandals (Credit: Daniel Deme / WENN)
Kylie added a few extra inches to her height with a pair of towering "Vreeland" sandals from Charlotte Olympia's Resort 2016 Collection.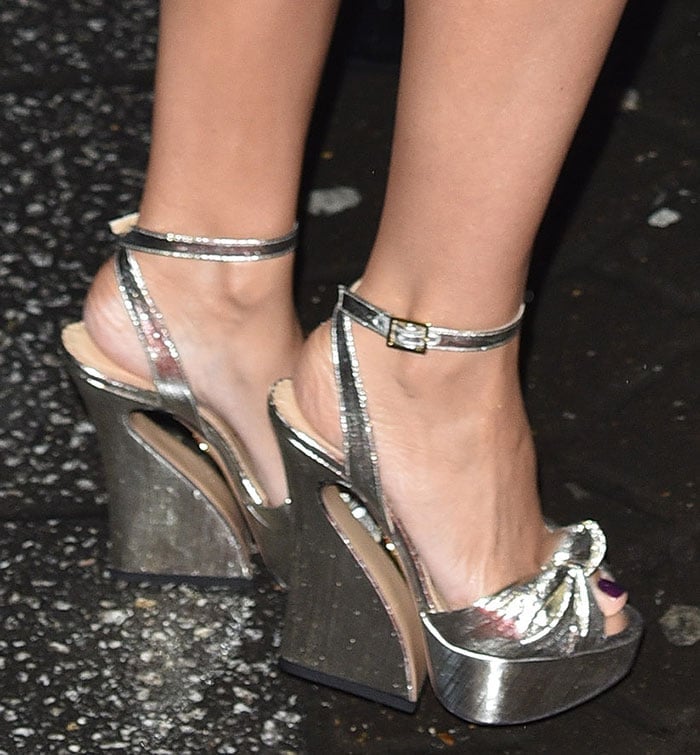 Kylie Minogue's feet in silver "Vreeland" sandals (Credit: Daniel Deme / WENN)
These sandals are made of silver lamé fabric and have knotted front straps, buckled ankle-wrap straps, and about six-inch sculpted curved heels. They were inspired by vintage-style icons.
Charlotte Olympia 'Vreeland' Sandals, $875