Because her name is similar to Sookie Stackhouse, a fictional character portrayed by Anna Paquin in HBO's True Blood, people sometimes get confused when meeting Suki Waterhouse for the first time. She discussed her name in an interview with Into The Gloss.
'I've always been called 'Suki,' but my actual first name is Alice. My boyfriend started calling me Alice because I told him that that was my name when we first met, and I called him something else, too. It was just something fun, but then I stopped and he didn't, so he introduced me to everyone as Alice. It confuses people sometimes. You know, on True Blood the character's name is Sookie Stackhouse, and my name is Suki Waterhouse. So, I get people saying, 'Oh, I thought we were meeting the girl from True Blood.' [Laughs] It's nice having a more traditional name as an option—I can be Alice or I can be Suki.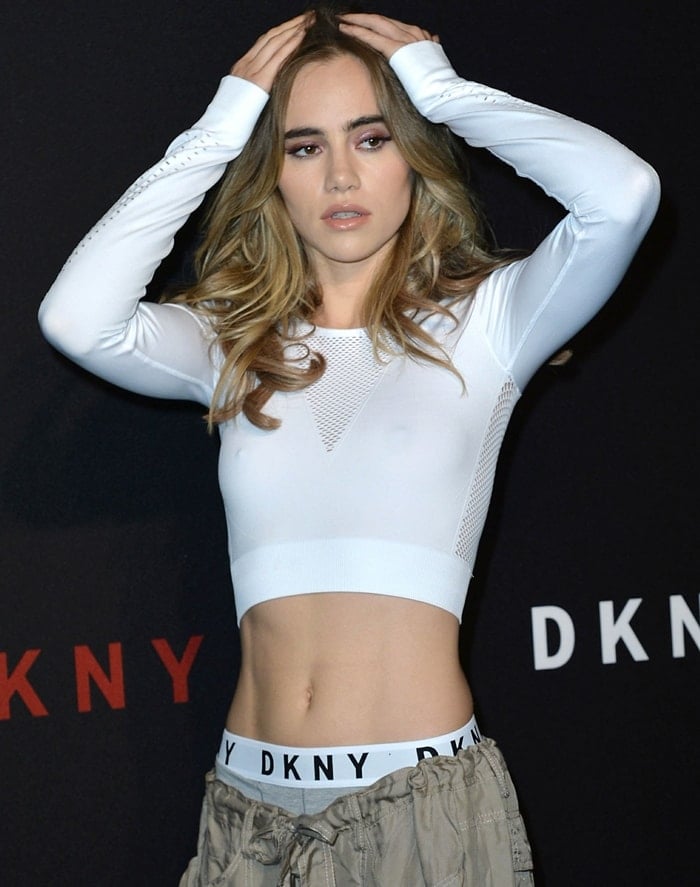 Often confused with Sookie Stackhouse, a braless Suki Waterhouse flaunts her belly button while helping to kick off DKNY's 30th-anniversary celebrations at St. Ann's Warehouse in New York City on September 10, 2019
A fictional character and protagonist of Charlaine Harris' The Southern Vampire Mysteries book series (available at Amazon), New Zealand-Canadian actress Anna Paquin won a Golden Globe for the role of halfling (half-human, half-fairy) Sookie Stackhouse in True Blood.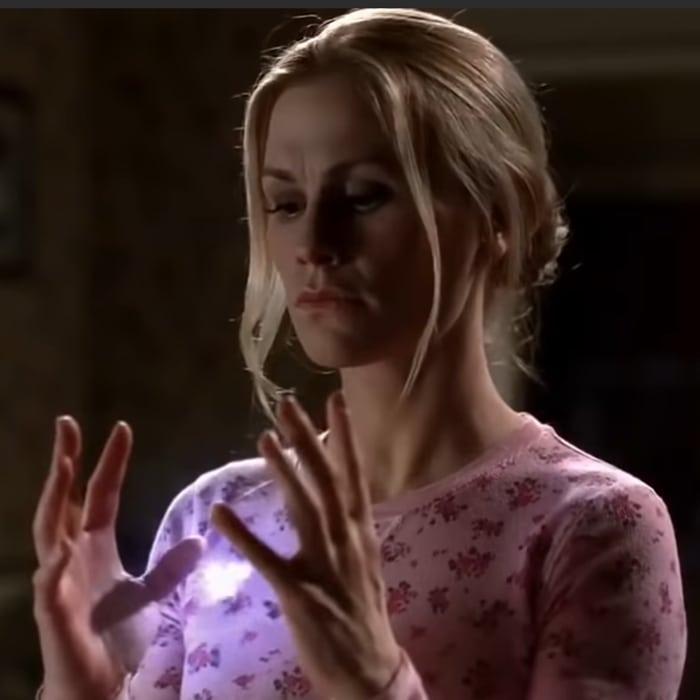 Anna Paquin played the lead role of Sookie Stackhouse in the HBO vampire drama television series True Blood (2008–2014)
In September 2015, Suki Waterhouse attended the star-studded world premiere of British-American fantasy adventure film "Pan" held at Leicester Square in London.
The then 23-year-old model stole the spotlight in a daring ensemble from Camilla and Marc as she joined her co-stars Rooney Mara and Cara Delevingne.
Suki Waterhouse attends the world premiere of "Pan" at Leicester Square in London, England, on September 20, 2015
While Rooney and Cara both wore interesting mesh-paneled black dresses, Suki took a completely different direction in a daring white two-piece number.
Suki Waterhouse is caught off-guard during the world premiere of her latest movie
Suki picked a silk top with a collar and a low-open V-shaped back, but she cleverly wore it backward, turning the designer blouse into a daring tuxedo-style top that dipped so low, it left little to the imagination.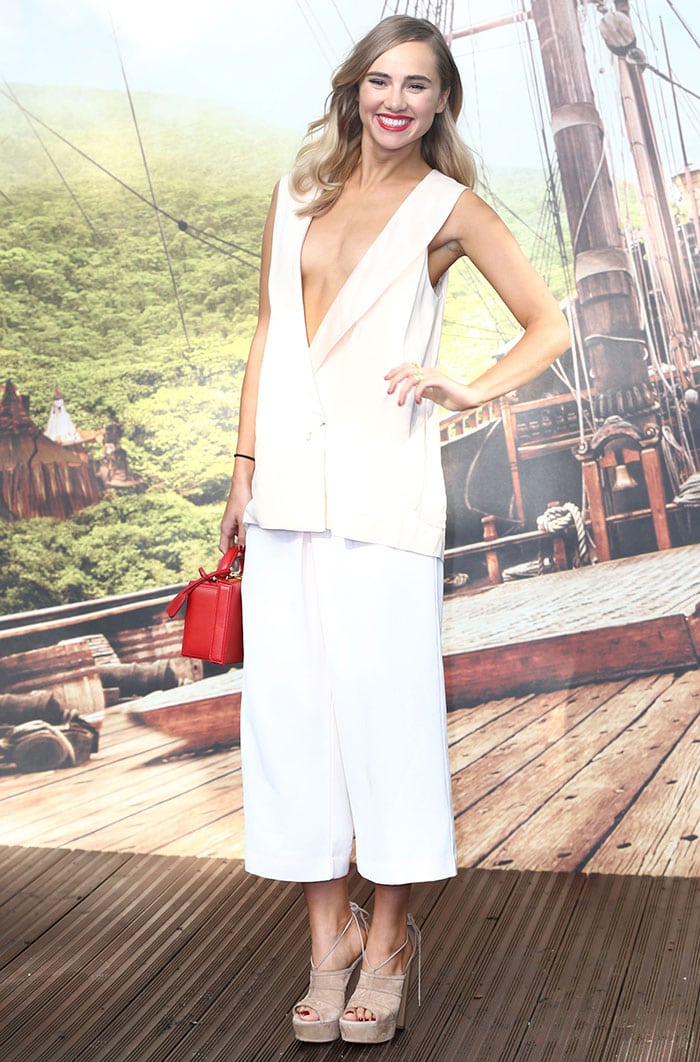 Suki Waterhouse poses with one hand on her hip in a low-cut Camilla and Marc silk top
To keep the look edgy and trendy, she paired it with culottes and gave her outfit a pop of color with a red Mark Cross bag that matched her lipstick
Suki Waterhouse shows off a lot of cleavage and red lipstick in a Camilla and Marc ensemble
She wore nude-toned makeup and let her glossy hair flow in loose waves with a side parting.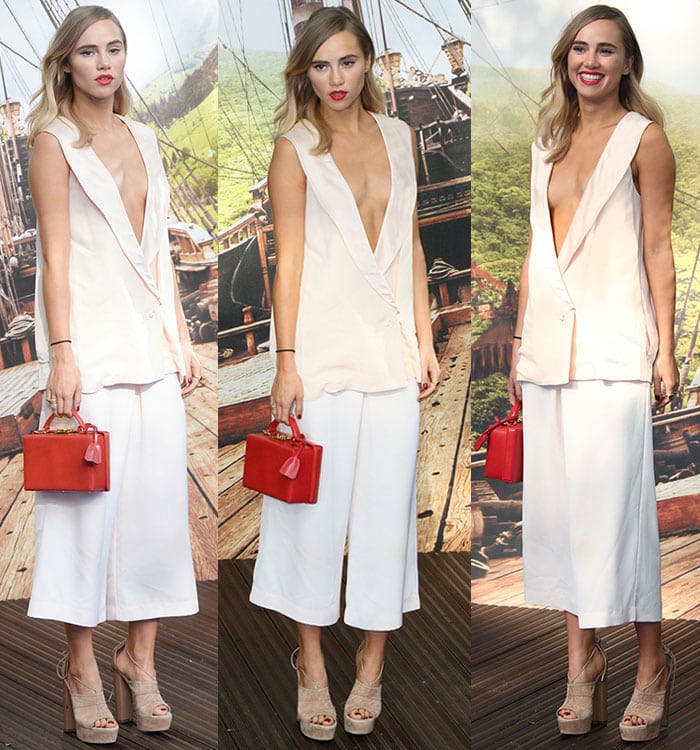 Suki Waterhouse completes her neutral-toned look with a red bag and red lipstick
Suki capped off her sexy ensemble with a pair of Aquazzura "Very Eugenie" sandals in beige suede. You can get these shoes in two color versions at Net-A-Porter, Farfetch, and Nordstrom.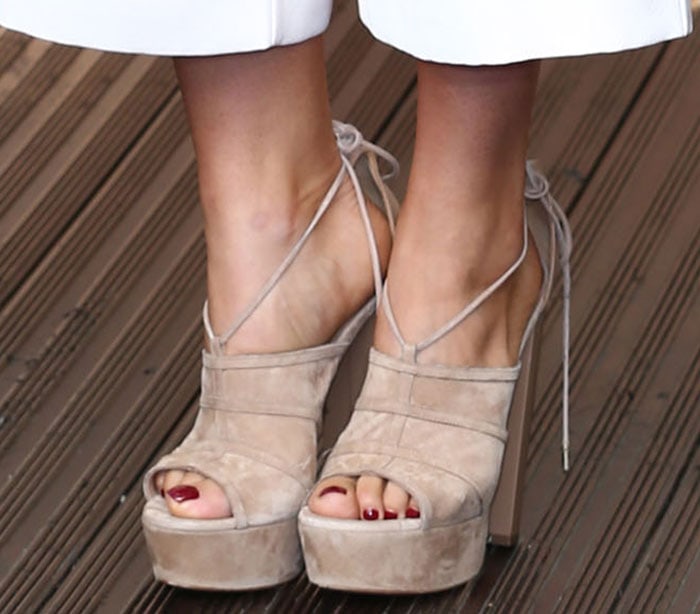 Suki Waterhouse's burgundy pedicure peeks out from beneath her Aquazzura platform shoes
These peep-toed sandals have wide vamps, slim ankle ties with pale gold aglets, 1.5-inch covered platforms, and about 5.5-inch leather-covered block heels.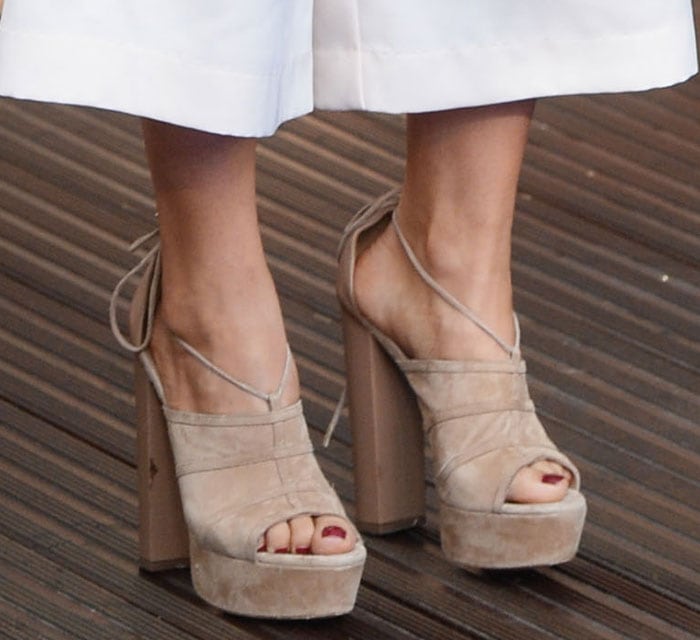 Suki Waterhouse shows off her sexy toes in "Very Eugenie" sandals
Aquazzura "Very Eugenie" Platform Sandals, $775 at Net-A-Porter, Farfetch, and Nordstrom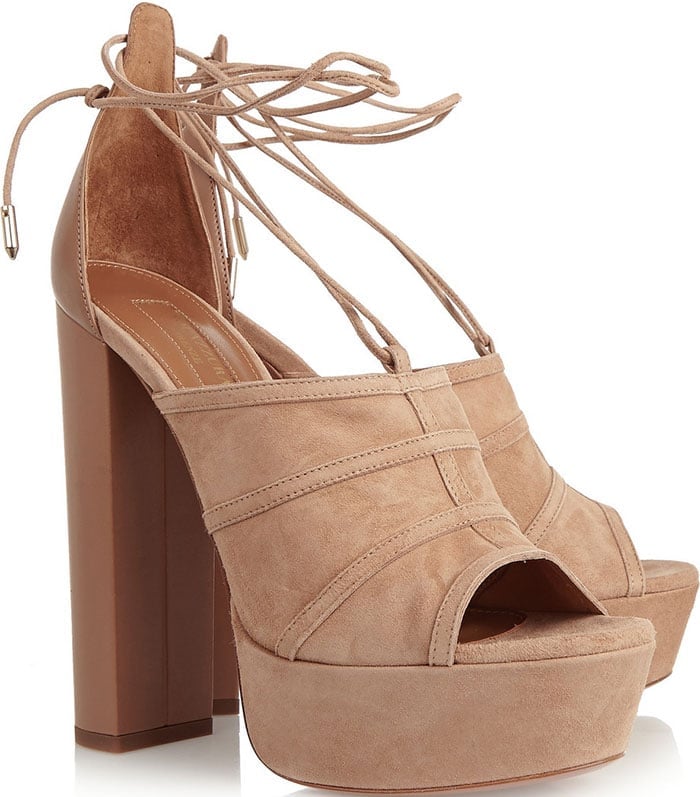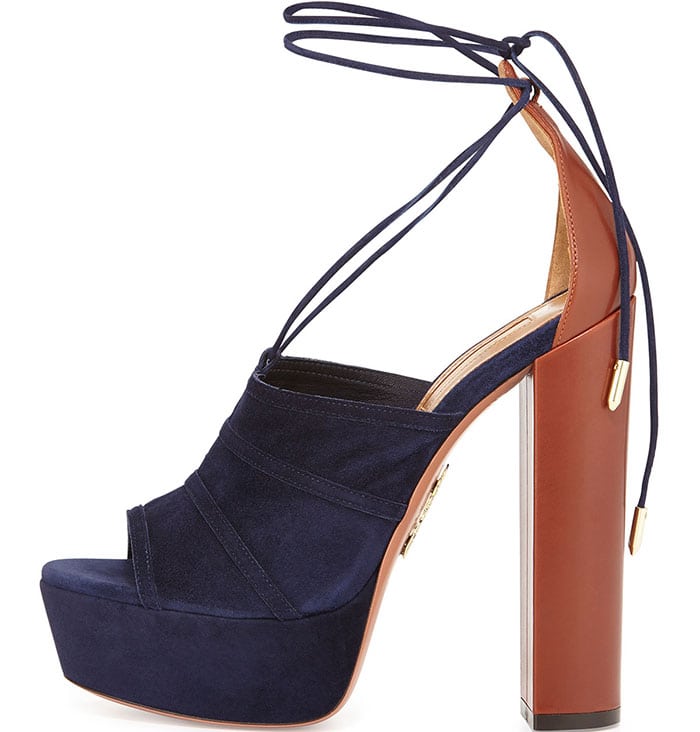 Credit: Lexi Jones / Lia Toby / WENN