They married in 2015 but a year later, Amber Heard filed for divorce from Johnny Depp, alleging that he had been abusing her verbally and physically. Their divorce was finalized in 2017, with Johnny paying Amber $7 million as part of the divorce agreement.
But although they have reached a divorce settlement, their highly publicized and the messy legal battle has continued.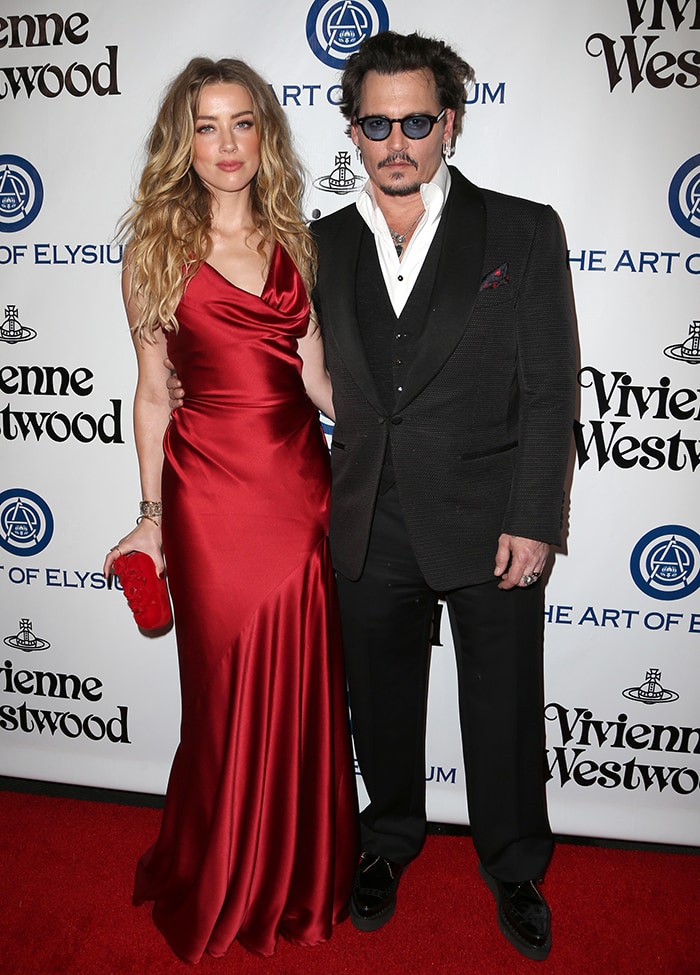 Amber Heard and Johnny Depp at The Art of Elysium 2016 Heaven Gala in Culver City on January 10, 2016
Early this year, Amber admitted to hitting her ex-husband in a leaked audio recording of their conversations, which were reportedly recorded consensually, obtained by Daily Mail.
More recently, Johnny Depp has sued the British tabloid, The Sun, over a 2018 article that called him a "wife-beater."
The Pirate of the Caribbean star arrived at the Royal Courts of Justice on Tuesday for the first day of the three-week libel trial against The Sun executive editor, Dan Wootton, and the publisher, News Group Newspapers.
Johnny Depp arrives at the Royal Courts of Justice for the libel trial against The Sun on July 7, 2020
In a witness statement, Johnny denied assaulting Amber and said he has "never abused Ms. Heard, or, indeed, any other woman, in my life."
He also made several allegations, including that Amber defecated in their marital bed after her 30th birthday celebration in May 2016, repeatedly punched him in the face, and severed the tip of his finger by throwing a bottle of vodka at him.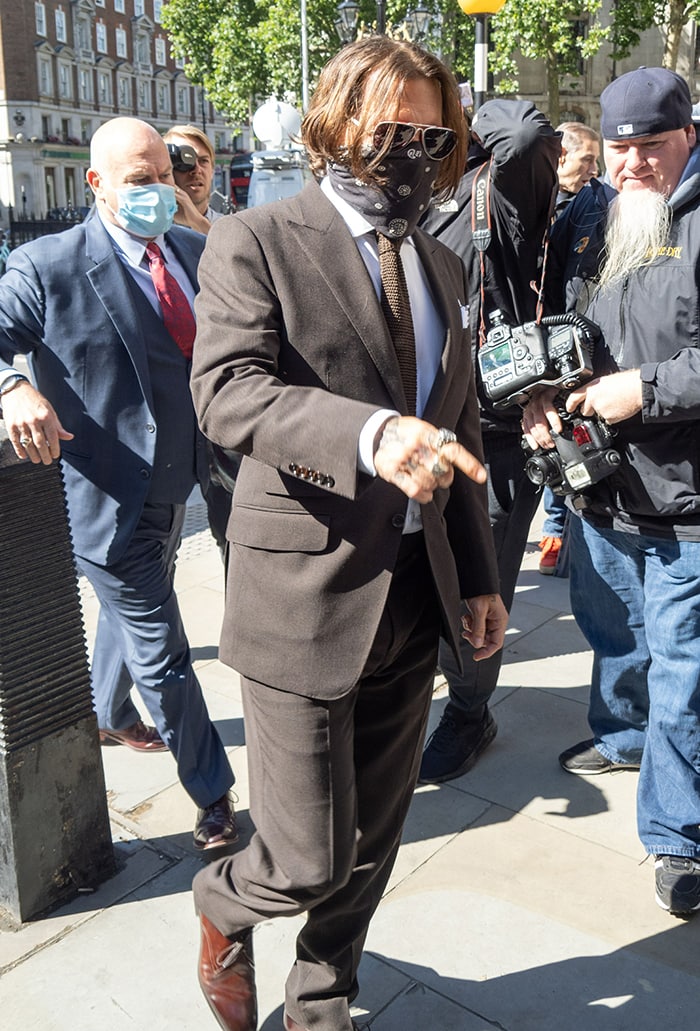 Johnny Depp wears a scarf as a face covering on the fourth day of the trial against The Sun on July 10, 2020
Amber's lawyer Eric George denied the allegations, saying in a statement obtained by People: "The evidence in this case is clear: Johnny Depp repeatedly beat Amber Heard."
"The increasingly desperate attempts by Mr. Depp and his enablers to revive his career by initiating baseless litigation against so many people once close to him — his former lawyers, former managers, and his former spouse — are not fooling anyone," he added.
Amber Heard has also been attending the London libel trial as The Sun's star witness. And for the hearing, the 34-year-old actress has been wearing black, which, according to British stylist Susie Hasler, "means business."
Amber Heard attends the first day of libel trial against The Sun as its star witness on July 7, 2020
On the first day of the trial on Tuesday, Amber wore a black dress that fell just right below her knees. It features elbow-length sleeves and a wide belt detail that accentuated her waist.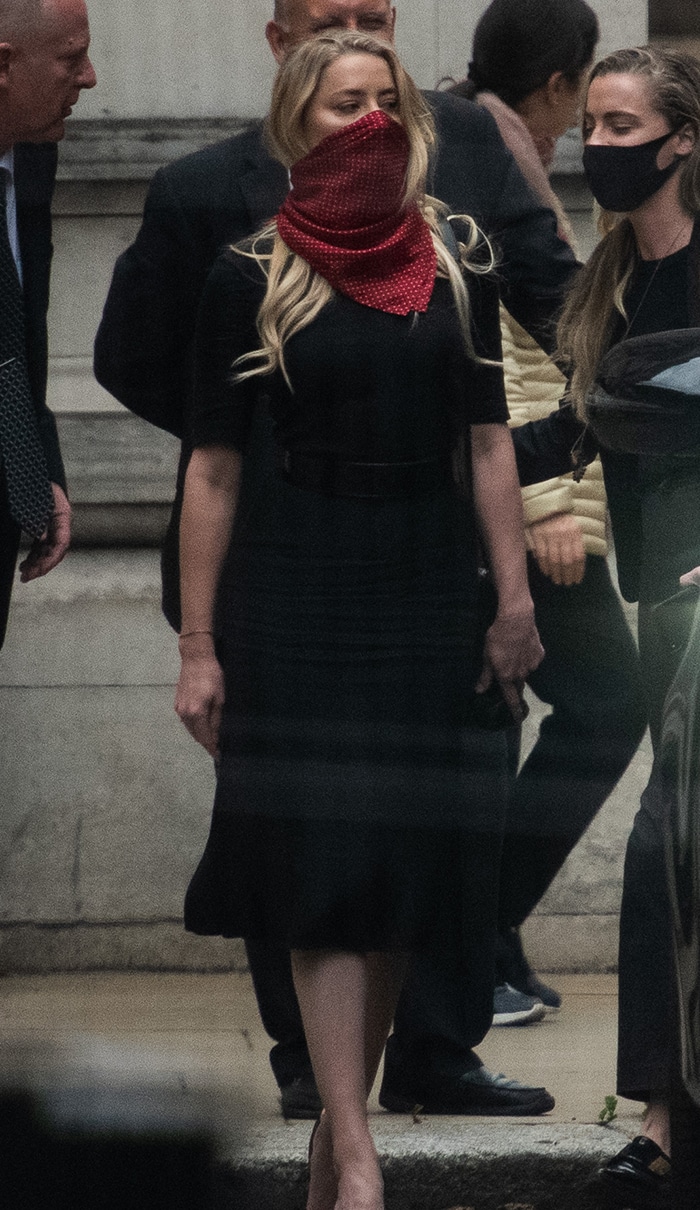 Star witness Amber Heard wears a black dress at the Royal Courts of Justice
She accessorized her look with a dainty gold bracelet and a red polka-dot scarf, which she wore as a face mask.
Wearing her blonde locks down in natural waves, Amber rounded out her look with minimal makeup and a pair of black "Anouk" pumps by Jimmy Choo.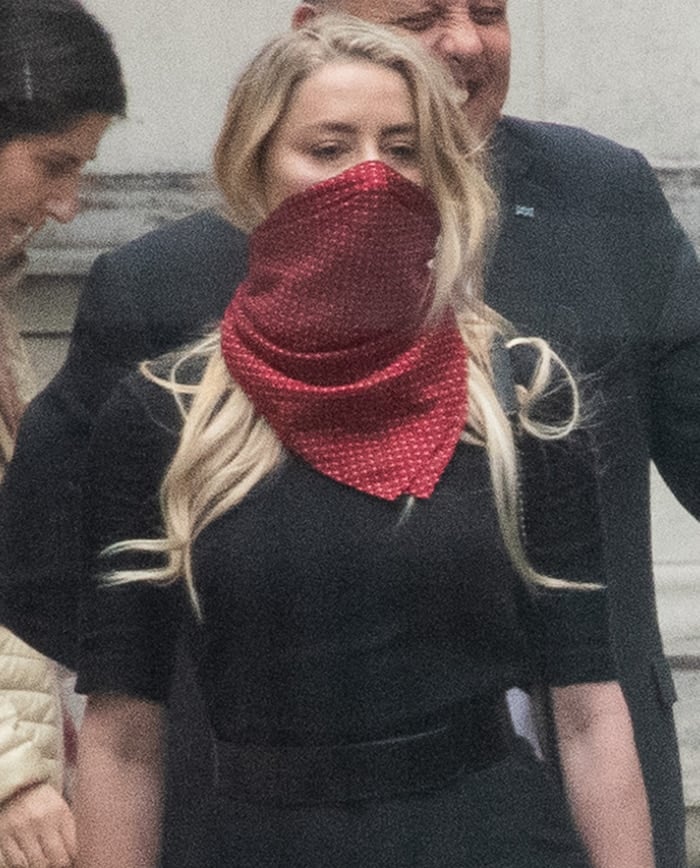 Amber Heard uses a red polka-dot scarf as a face covering
The next day, the Aquaman star wore a similar look, slipping her curves into another black dress. It has a looser, floatier silhouette with long sleeves and is styled with a thinner belt with gold buckle detail.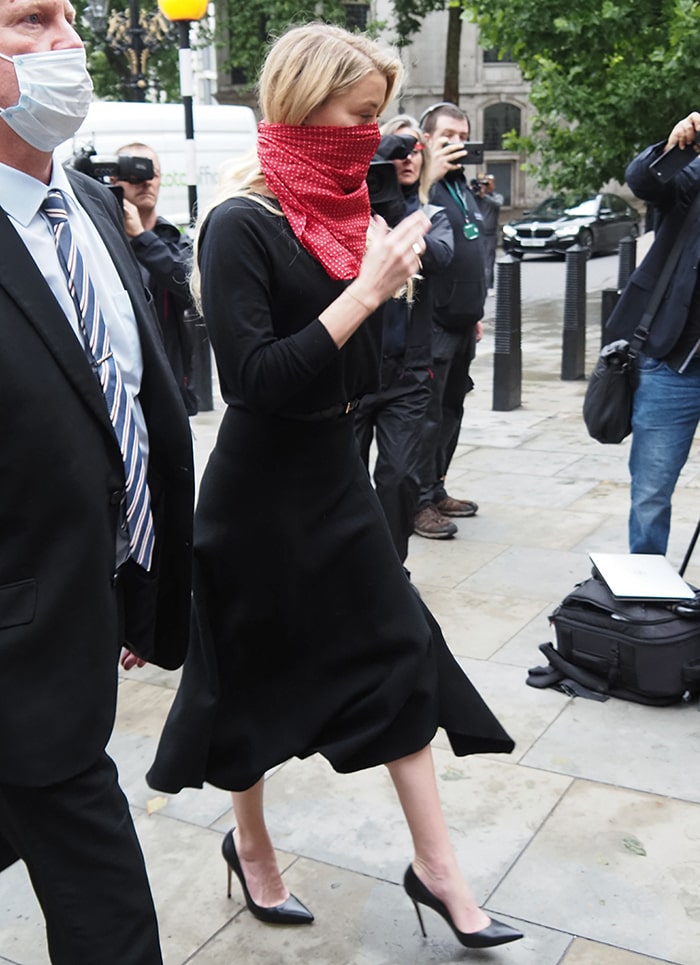 Amber Heard dons a similar black dress for the second day of trial in London on July 8, 2020
She kept her accessories to a minimum and wore the same bracelet, red dotted scarf, and Jimmy Choo pumps.
Amber Heard teams her black dress with Jimmy Choo pumps
The stylist told Femail: "Amber Heard means business with her outfit choices to appear in court. Both her black dresses are feminine but in a "don't mess with me" kind of way. Her outfits have been carefully chosen for this incredibly important moment in her life."
"She hasn't opted for a style that is distracting in any way or that draws the spotlight from what is being said in court," she added.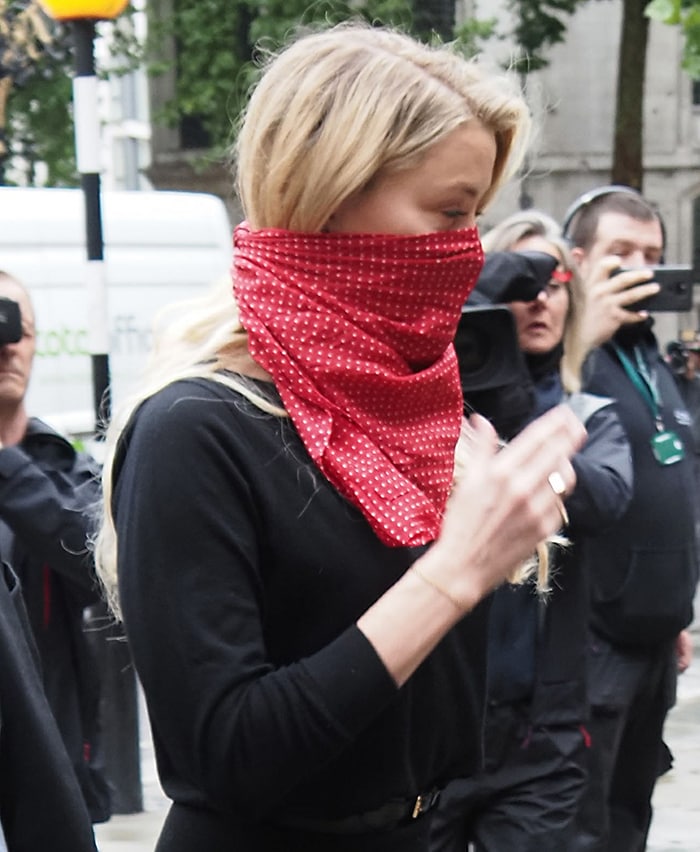 Amber Heard means business in her black dresses
"Amber's black dresses are chic and figure-hugging, and her hourglass figure is accentuated with the use of a belt. It's smart and straightforward, not fussy, overpowering, or too glamorous – just like her choice of a pointy court shoe. She's looking her formal best for the occasion. It's a very typical outfit to wear in court," she continued.
On the third day of trial, Amber traded her black dresses for a black-and-white power suit. Stylist Susie Hasler told Femail that Amber "wants to be seen as strong and not fussy. A trustworthy figure. It's an outfit that says, "I mean business".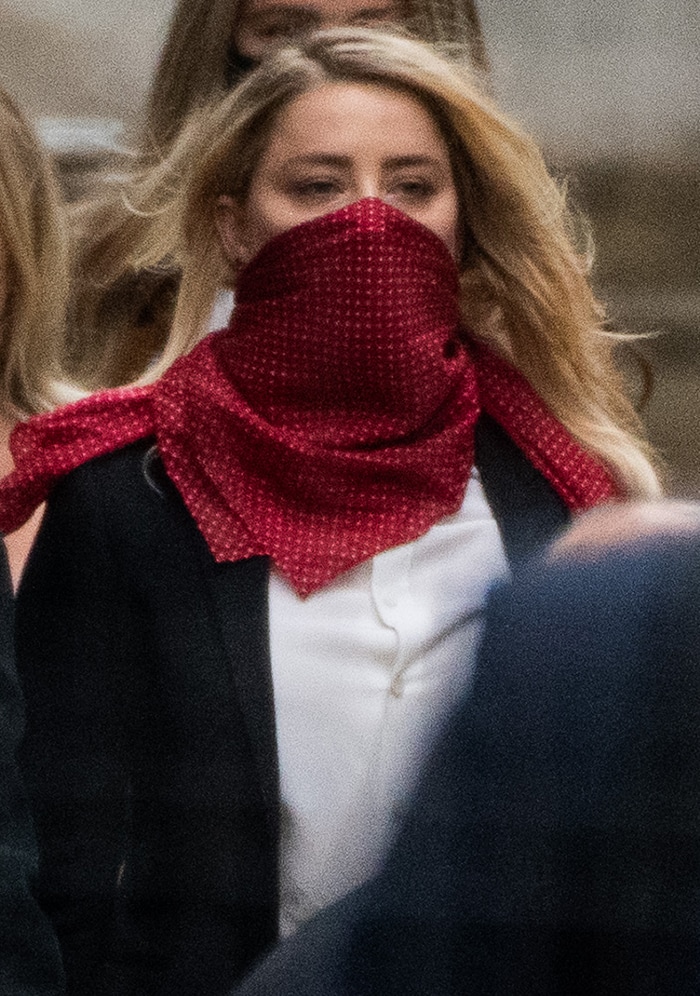 Amber Heard trades her dresses for a power suit for the third trial day in London on July 9, 2020
The actress wore a crisp white shirt underneath a business-like suit. She also wore the same red scarf, which gave her classic outfit a punch of color.
The stylist mentioned that red is a powerful color and it's worn in meetings "to assert authority."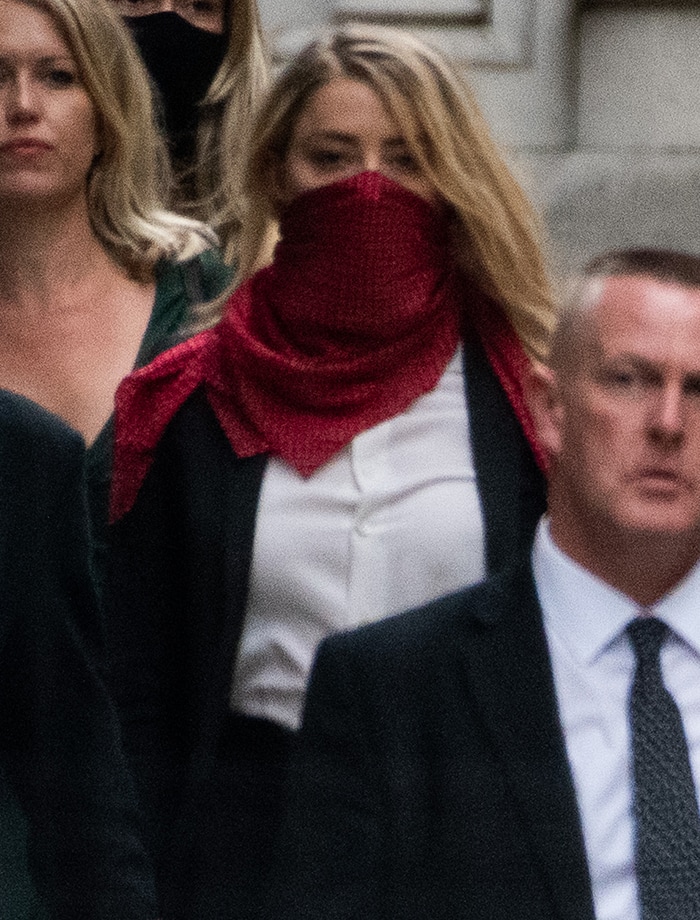 Amber Heard styles her black-and-white power suit with a red dotted scarf mask
Credit: FayesVision / Avalon / Instar / WENN