Dita Von Teese made an appearance at the 2012 Duffstars Awards in Berlin, Germany last Friday. She showed off plenty of her flawless porcelain skin in this risqué Jean Paul Gaultier gown:
Dita Von Teese attends the Duftstars Awards 2012 at Tempodrom in Berlin on May 4, 2012
All that dress's bodice is made up of are finely pleated strips of fabric swirled and knotted in strategic places:
Very wardrobe malfunction-prone so it's no wonder Dita Von Teese berated a photographer over Twitter for having the audacity to tell her to "show some leg". Really now, paps?
Anyway, we're not sure what pair of shoes Dita Von Teese was wearing under this Jean Paul Gaultier dress but if it had been these Tabitha Simmons sandals, it would've been a match made in heaven! :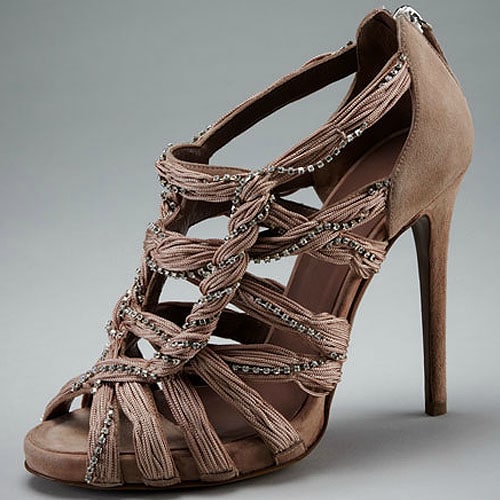 Tabitha Simmons twisted crystal sandals, $1,595.00
Same brown color and same twisted straps with an added sprinkling of rhinestone crystals. Dita most likely wore black shoes with this dress (to match her black gloves) but let's just pretend she wore these Tabitha Simmons sandals to keep our shoe fantasy alive.
You'll find the Tabitha Simmons twisted crystal sandals at Neiman Marcus.
Credit: Patrick Hoffmann/WENN