We're often saying how we would wear a much-coveted pair of shoes everywhere we could if we had them, but maybe not to this extreme.
British socialite Tara Palmer-Tomkinson had a pair of the fashionista-favorite Chanel gun heels on her as she tried to fly out of Zurich Airport yesterday, and she was promptly arrested.
Now, before anyone passes judgment on the lady, let's make it clear that she had the Chanel gun heels in her luggage and not on her feet. Still, it must've been quite a sight on the x-ray machine. Tara Palmer-Tomkinson acknowledged this in a tweet, accompanied with a picture of her trouble-causing footwear.
The strange thing is that this isn't the first time Tara Palmer-Tomkinson has gotten into trouble at the airport because of these heels. Four years ago, these same heels were confiscated by Swiss officials, and Tara had to wait five days before she could have her lawyers get them for her.
Well, if you have lawyers who'd go to airports to get your confiscated contraband for you, then maybe this is a non-issue.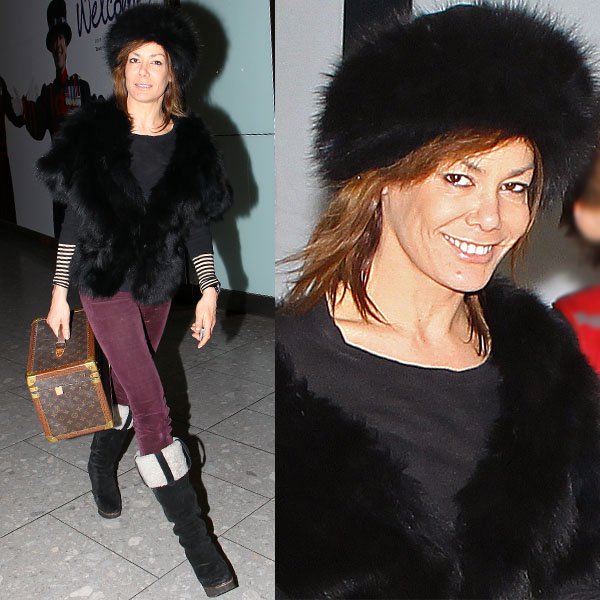 Tara Palmer-Tomkinson in a more sensible footwear at Heathrow Airport in London, England on December 11, 2012
The Chanel gun heels, which we first spotted on Madonna, are one of the most loved styles from our article 8 Popular Designer Shoes That Look Like Designers Just Want to Play a Trick on Us. We love them ourselves, but going to the airport with anything gun-shaped is never a good idea.
Madonna wearing the Chanel gun heels at the Cinema Society and Dolce & Gabbana Host a Screening of 'Filth and Wisdom' at The Landmark Sunshine Theater in New York City on October 13, 2008
In fact, going to the airport with anything that remotely resembles a weapon, like these following shoes, is never a good idea:
1. Pleaser USA "Revolver 701LS" Platform Sandals, $111.95 to $112.95 at Amazon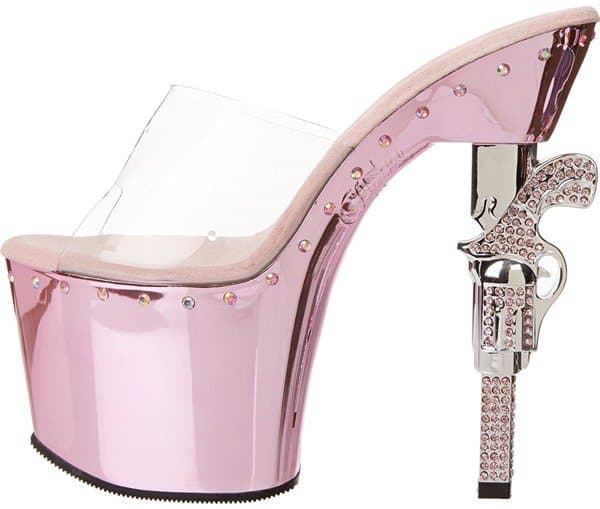 2. Pleaser USA "Bondgirl 712" Platform Sandals, $69.99 to $84.99 at Amazon
3. The Highest Heel "Magnum-31" Boots, $119.95 to $129.87 at Amazon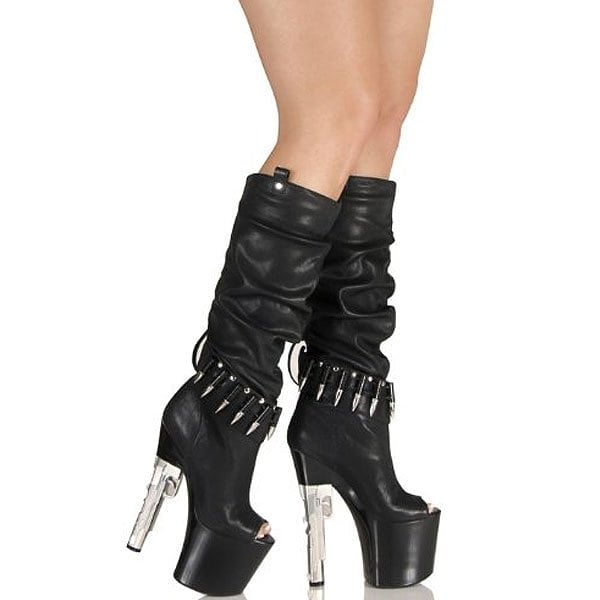 4. Ellie Brass Knuckle-Heeled Mary Janes, $46.99 – $68.20 at Amazon
We'd stay away from those trendy spiked shoes, too. Sure, Lady Gaga doesn't seem to have problems going to the airport in a full spiked outfit, but then, that's Lady Gaga!
Credit: Tara Palmer-Tomkinson Twitter / Almasi / WENN