Top shoe designers get a lot of creative leeway in their designs but sometimes, it feels like too much. Sometimes, it even feels like they're just trying to see what crazy thing they can get people to buy at an outrageously expensive price and actually wear out in public.
Today, April Fool's Day, couldn't be a more perfect day to feature some of those shoes that we suspect started out as jokes. And we're not talking about meat shoes or conceptual shoes like Kobi Levi's designs — we're talking about shoes that actually made it to the selling floor, have been spotted on celebrities' feet and even made it to many 'top-selling shoes' and 'most coveted shoes' lists.
Check out these 8 popular designer shoes that make us feel like designers just want to play a trick on us:
1. The Balenciaga heels that look like they're made of Legos
Did Nicolas Ghesquière step on a lego and, feeling that the rest of the world should share in his pain, decided to use that as inspiration for these shoes?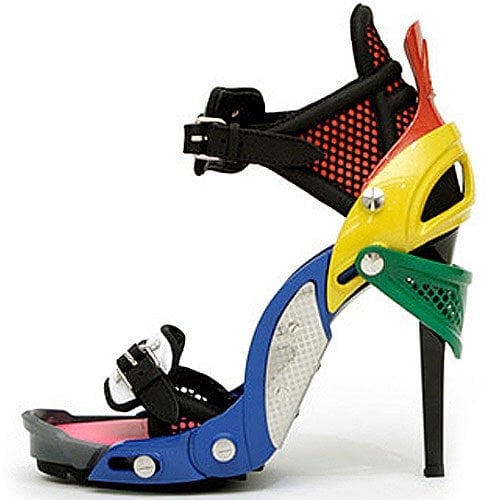 Balenciaga Lego sandals, $4,175.00
2. The Charlotte Olympia pumps covered in fruit
We asked you if you wanted to wear these Charlotte Olympia fruit pumps because designer Charlotte Olympia Dellal is certainly daring us to try it.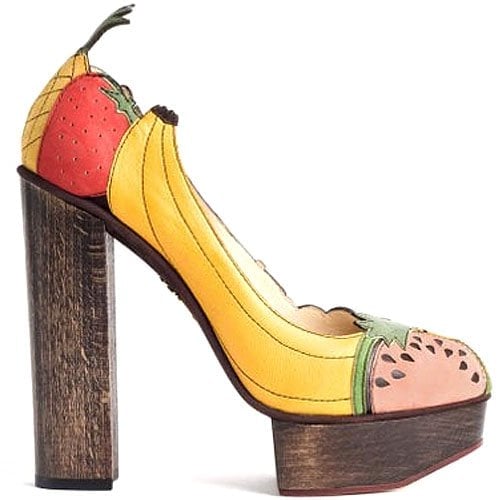 Charlotte Olympia fruit pumps, approximately $1,500.00
3. The Chanel pumps with guns for heels
We've always believed shoes can be weapons but not in this sense!
Chanel gun-heeled pumps, $2,200.00
4. The Prada "creepers"… 'nuff said
Admittedly, these shoes grew on us over time but at the onset, it looked like Miuccia Prada just challenged herself to see how many kinds of platforms on one shoe she can get away with.
Prada creepers, $795.00
5. The Louboutin lion paw pumps
Trust Louboutin to make style icons wear even his most quirky styles. Maybe it'd be alright if these were flattering but these make your feet look like paws, literally!
Christian Louboutin 'Alex' Lion Paw Pump, $4,995.00
6. The OG heel-less shoes by Antonio Berardi
Heel-less shoes are a dime a dozen nowadays but they've got nothing on the OG heel-less shoes by Antonio Berardi. These pictures look like the heels were photoshopped out of them but no, Antonio Berardi really wants us to walk on AIR.
Of course, they were spotted on a celebrity, namely Victoria Beckham, who rocked them in thigh-high boot form back in 2008 (yes, even before Lady Gaga).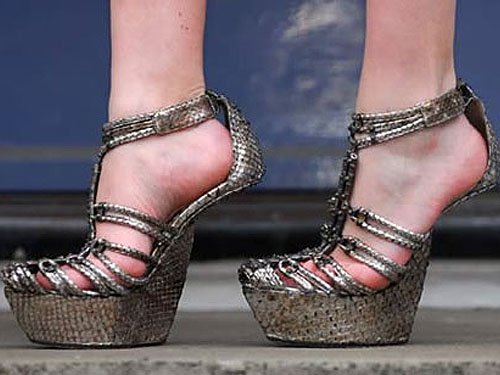 Antonio Berardi heel-less shoes, approximately $2,800.00
7. The Louboutin sandals with measuring tapes for straps
Christian Louboutin scoffs at everyone's designs and says, "I can make people desire my shoes even if I just use plain old measuring tape as straps!"
Christian Louboutin measuring tape sandals, $795.00
8. The Louboutin pumps with trash glued onto it
Actually, Louboutin says you can scrap that because he's sure he can make women wear TRASH.
These sandals are covered with trash Louboutin just picked up off of his factory floor.
These were spotted on Beyonce.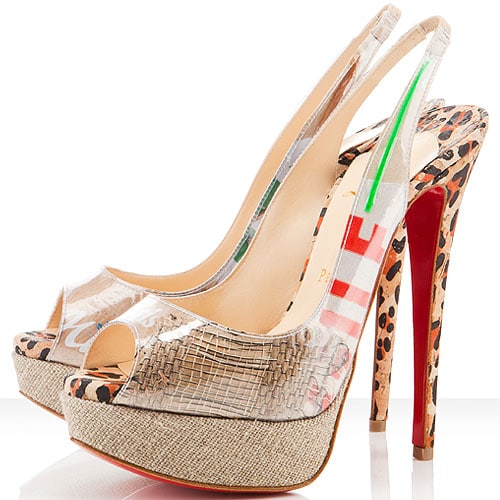 Christian Louboutin Eco Trash slingback pumps, $1,095.00