Tara Reid is an American actress who shot to stardom after her role as Vicky in the raunchy teenage flick American Pie.
Reid was originally a girl-next-door, America's sweetheart type, but soon took her American Pie character's persona to heart, becoming well known for her party-girl lifestyle and celebrity scandals.
Tara Reid attends Visual-O Exhibition At Mash Gallery on August 21, 2021, in Los Angeles, California (Credit: MEGA / WENN)
Reid's fast-and-loose lifestyle and unfortunate botched plastic surgery quickly caused her to spiral out of control, taking her career with her. That she managed to climb out of this pit and back into the spotlight is nothing short of a Hollywood miracle.
A quick rundown of Tara Reid's career
Tara Donna Reid was born November 8, 1975, in Wyckoff, New Jersey. She will turn 46 on November 8, 2021. Her childhood was anything but ordinary as she was immediately thrust in front of a camera to showcase her talents.
Reid's acting career began at the ripe old age of six when she made regular appearances on the children's show, Child's Play. Additionally, the young actress was booked for over 100 commercials for brands such as Jell-O, McDonald's, Crayola, and Milton Brady.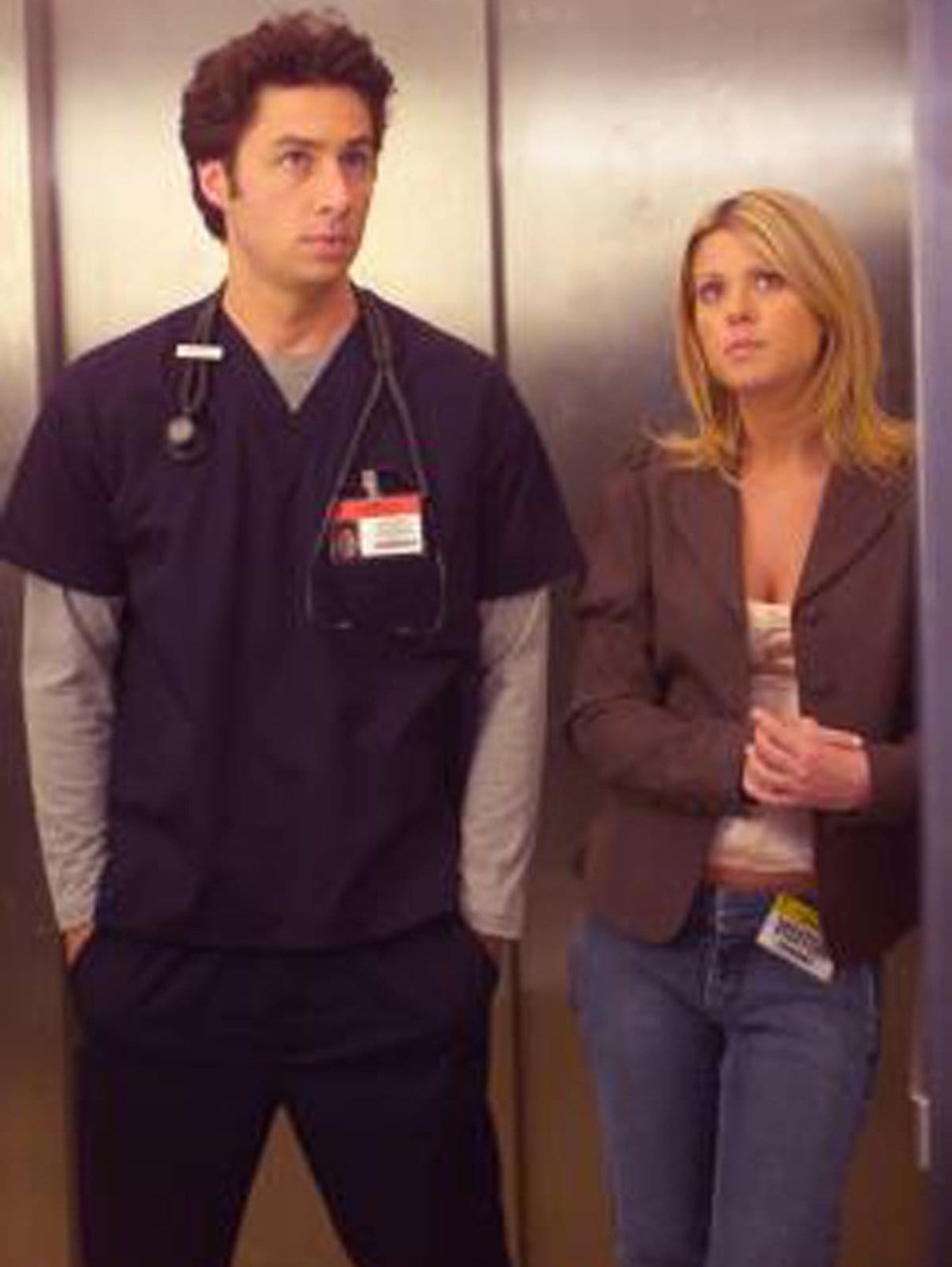 Zach Braff portrays John Michael "J.D." Dorian and Tara Reid as Danni Sullivan in the American medical comedy-drama television series Scrubs (Credit: ABC)
In 1992, the teenaged Reid was cast in a small role in an episode of Saved by the Bell. Around this same time, she also made appearances in Days of Our Lives and California Dreams before landing the role of Bunny Lebowski (you know, the girl with the toes) in the Coen Brothers cult classic, The Big Lebowski.
Tara Reid played the tertiary antagonist Big Lebowski's wife, Bunny Lebowski, in the 1998 crime comedy film The Big Lebowski (Credit: Working Title Films)
The Big Lebowski elevated Reid's career from the small screen to the silver screen and proved that she could be a "serious" actress, garnering her roles in films such as Urban Legend (1998) and Cruel Intentions (1999).
Finally, Reid was cast as Vicky in the crude teen flick American Pie, a role the actress soon became notorious for.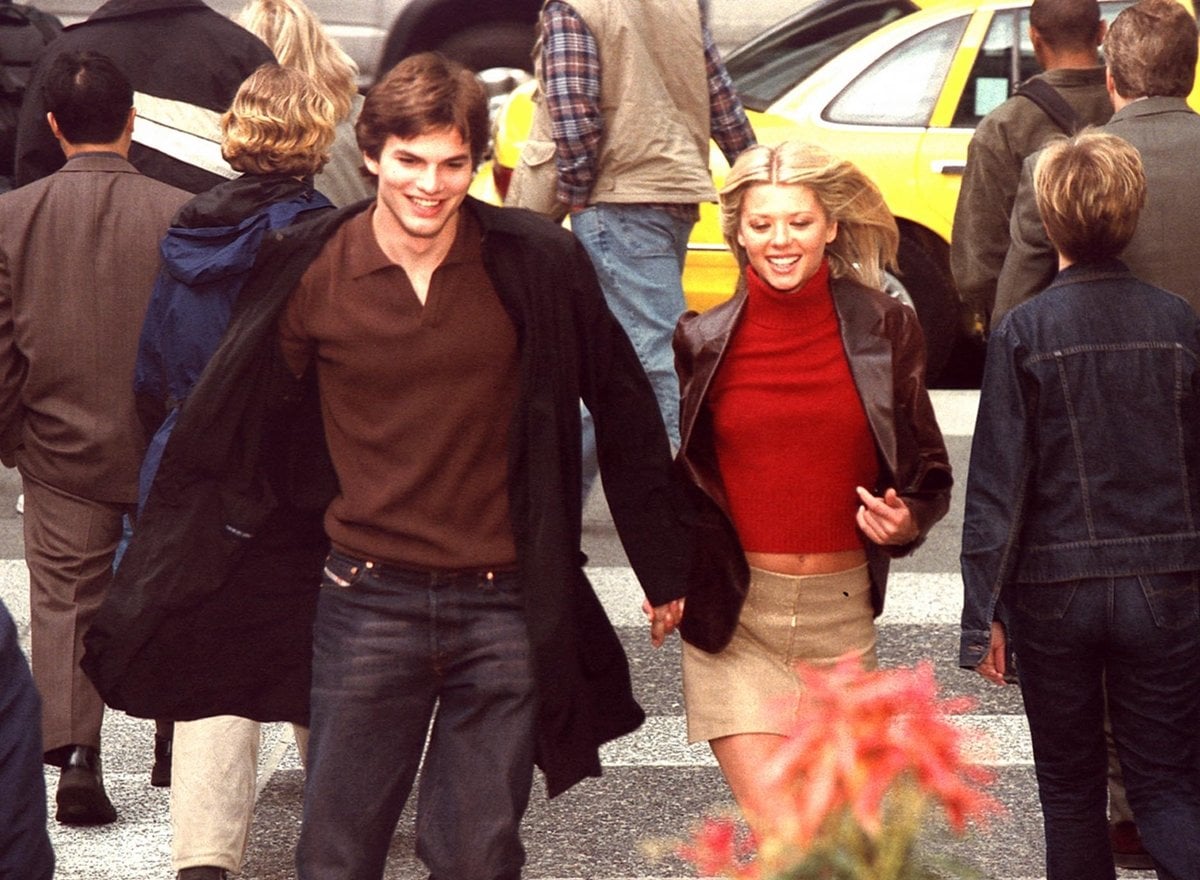 Ashton Kutcher as Tom Stansfield and Tara Reid as Lisa Taylor in the 2003 American romantic comedy film My Boss's Daughter (Credit: Miramax / WENN)
American Pie effectively destroyed Tara Reid's innocent, 'girl-next-door' persona and painted the actress as a hot, blonde party girl, an image which Reid began to embody in her real life.
Reid ended up with many scandals relating to her party-girl lifestyle, from drunken escapades to crimes, and found herself the victim of an unfortunate botched plastic surgery. All of these things had a negative effect on her professional career.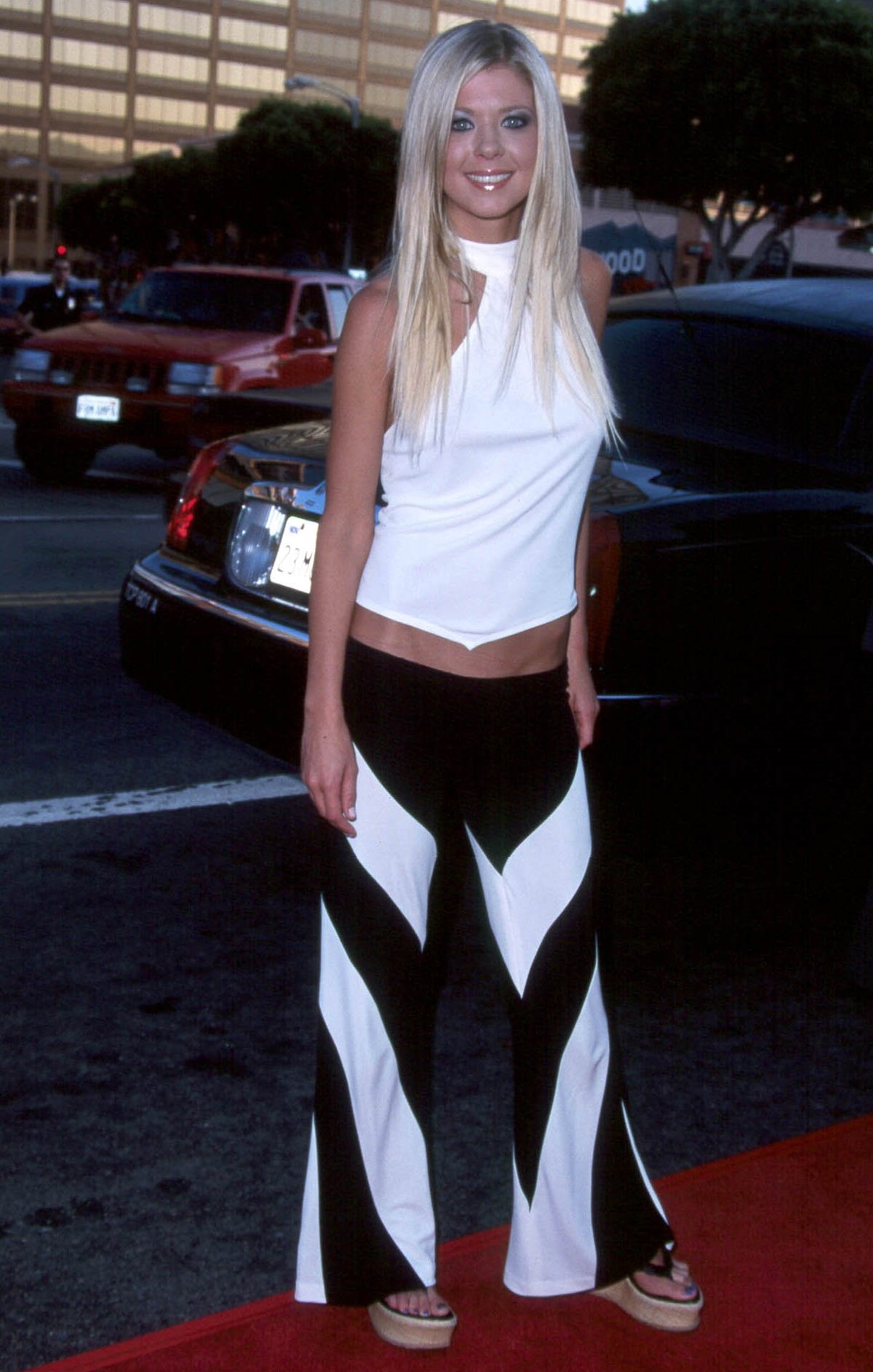 Tara Reid at the premiere of American Pie 2 at Mann National Theatre in Westwood, California, on August 6, 2001 (Credit: WENN)
The actress was no longer being cast in high-quality, blockbuster films. Now, Reid was making a living by acting in B movies that flopped — one after another — to the point where Tara Reid won a Razzie award for Worst Actress.
Winning a Razzie Award is not a compliment, but many performers are able to laugh off their Razzie "win" and move on. However, Reid took it to heart, noting that it contributed to her alcohol addiction.
For a long time, the general public did not hear much about Tara Reid. Despite the fact that she was continually acting — albeit in movies that never actually hit theatres — the media was no longer interested in whatever Reid was doing.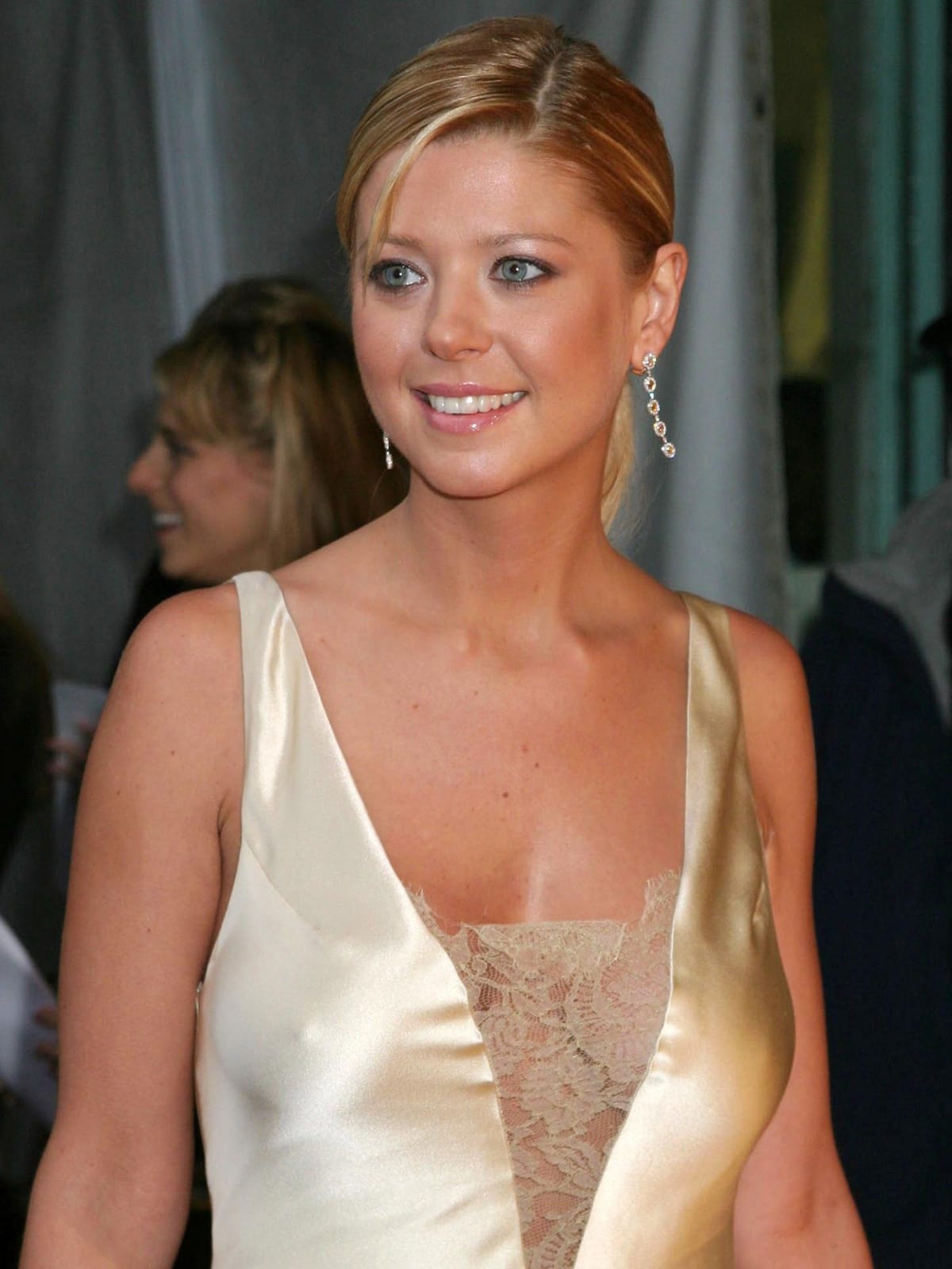 Actress Tara Reid arrives at the 10th Annual Critics' Choice Awards at the Wiltern Theater on January 10, 2005, in Los Angeles, California (Credit: Nikki Nelson / WENN)
By some strange and twisted miracle, Reid managed to find her way back into conversations across America after starring in the 2013 TV movie, Sharknado, and its sequels — Sharknado 2: The Second One (2014), Sharknado 3: Oh Hell No! (2015), Sharknado 4: The 4th Awakens (2016), Sharknado 5: Global Swarming (2017), and The Last Sharknado: It's About Time (2018). Yes, the Sharknado franchise is as ridiculous as it sounds.
Though it was the original Sharknado that somehow was able to breathe new life into Reid's career, she has gone on to star in more, better-quality films in recent years.
Tara Reid's alcohol addiction and botched plastic surgery
Tara Reid's life became a spectacle in the early 2000s when she was spotted partying by paparazzi on numerous occasions.
Reid was constantly photographed while she was obviously inebriated — the actress looked worse for wear and fans took notice. It became evident to the public that Reid's alcohol addiction was taking control of her life.
This came to a head when Reid attended P. Diddy's birthday party in 2004. In photographs, the actress appeared to be so intoxicated — a claim that Reid has denied, saying that she was not drunk — that she did not notice when the strap of her dress fell down and exposed the entirety of Reid's left breast.
A strap on Tara Reid's silky dress fell to reveal her entire left breast at Sean "P. Diddy" Combs' 35th Birthday Celebration on November 4, 2004, in New York City (Credit: POP / WENN)
Though the actress asserts that her nip-slip was not the result of an alcoholic binge, many critics are doubtful. Many speculate that the actress was, indeed, drunk, due to the fact that Reid did not immediately try to fix her wardrobe malfunction.
In fact, Reid's dress dangled from her body long enough that the paparazzi managed to get a multitude of photos of the actress' exposed breast over the course of roughly 5-10 seconds.
Reid eventually realized that her breast was exposed and, understandably, she began to cry and ran away.
The actress (rightfully) begged the paparazzi to not publish the pictures, but the photographers were more concerned about their paycheck than saving a woman's reputation and emotional state.
The photos of Reid's wardrobe malfunction were spread like wildfire, from gossip columns to the cover of magazines. Critics and the public alike had a field day, pulling no punches as they crucified Reid in the media.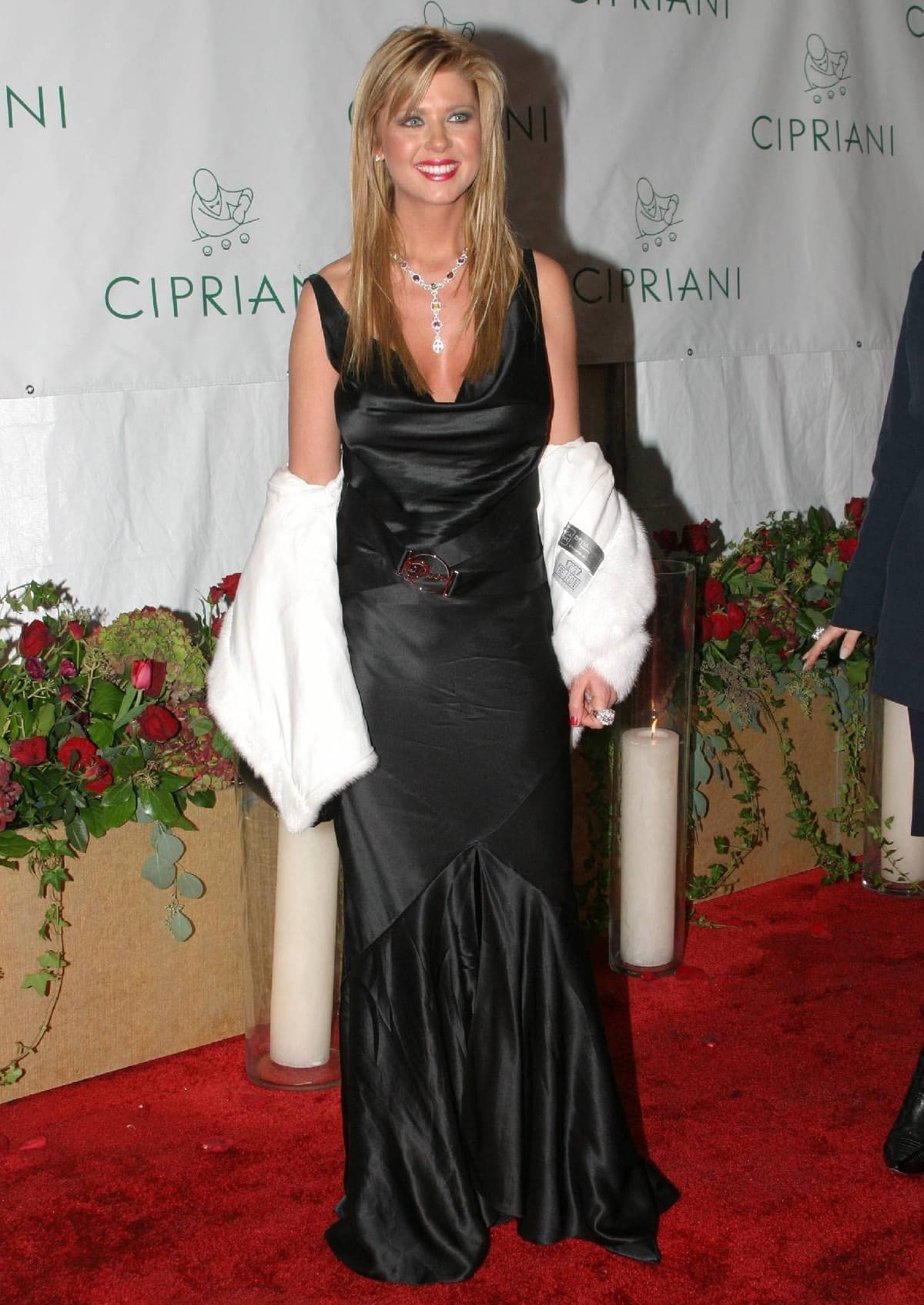 Tara Reid just before her wardrobe malfunction at Sean "P. Diddy" Combs' 35th birthday (Credit: WENN)
"I swear to you, I had no idea that had happened," Reid insisted in an interview on the syndicated entertainment TV show "Access Hollywood."
"I had a fur coat on, so when I took the coat off, the coat was heavy, and the strap came out with the coat. They were like, `Tara, let me see the dress, let me see the dress.' … I didn't see the strap fall down, so I'm smiling like an idiot. … Then, when someone came up to me, I was like, `Oh, I'm so embarrassed!"'
These comments were detrimental for the actress, both because her vulnerable moment was now public knowledge and because critics began to speculate about the appearance of her bare breast.
Critics cruelly called Reid's breast "the ugliest breast they had ever seen" and pointed out that the actress had scarring around her nipple that gave it a "deformed" appearance, and began to speculate that the scarring was a result of plastic surgery.
Tara Reid's nip slip revealed her doctor's botched boob (Credit: POP / WENN)
As it turns out, the rumors were right — Reid actually had gotten a breast augmentation and body shaping surgery.
Not only was the actress embarrassed that she had the surgery, but her surgeon had also botched her surgery so badly that Reid had intense scarring all over her stomach and breasts, including a large hernia on her nipple.
Needless to say, Reid was mortified — not only had her body been put on display without her consent, but the actress was also suffering from the aftereffects of a traumatic plastic surgery experience.
Instead of being angry at the publications and paparazzi who shared photos of Reid's exposed body during a vulnerable moment, fans turned on Reid herself.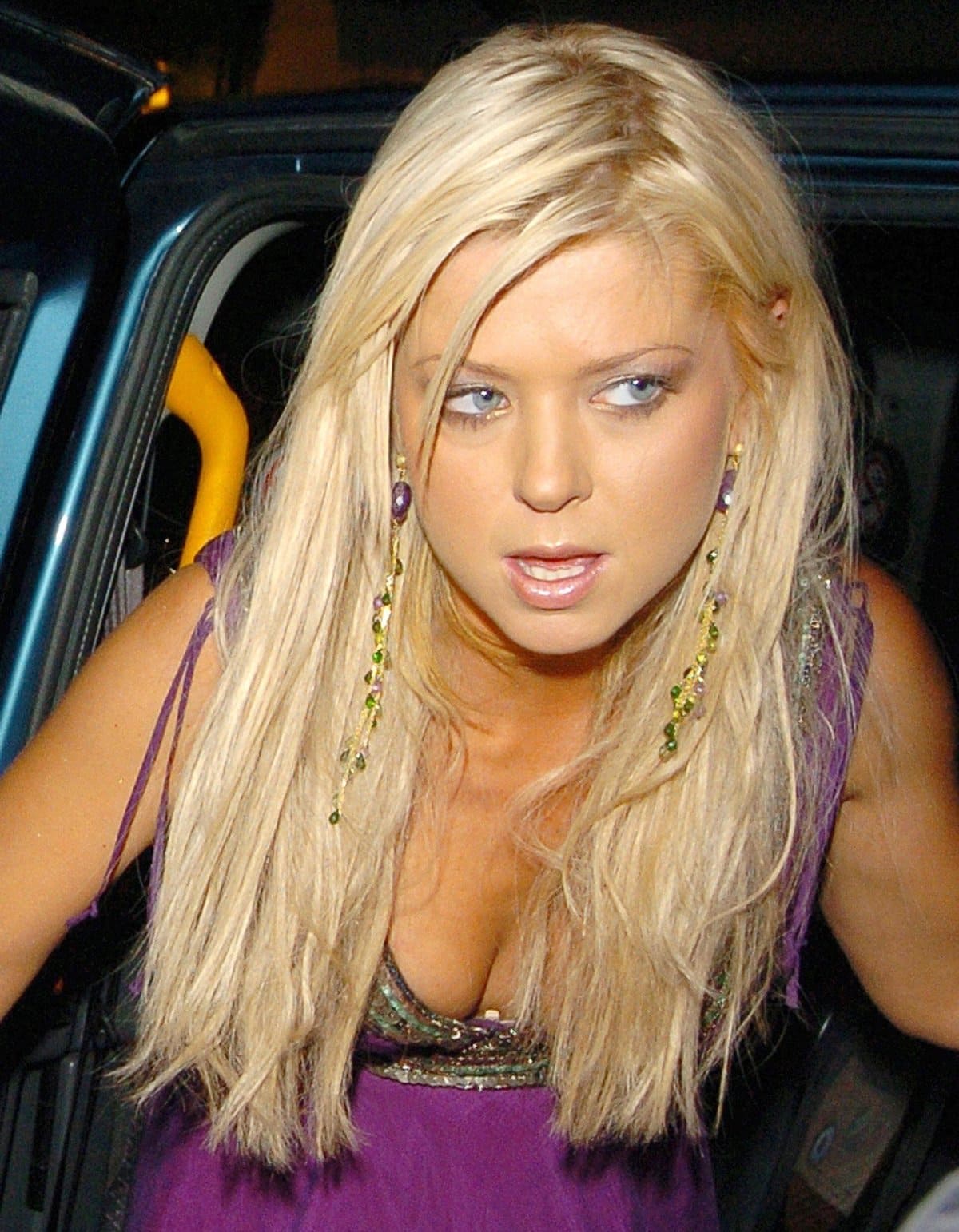 Tara Reid on her way to the Tara Reid E! Entertainment "Wild On" party at MO*VIDA on August 19, 2005, in London, England (Credit: Tomaszewski-Bros / WENN)
The actress' reputation was destroyed — more so than it had been after her role in American Pie because the public felt these photos reflected her true self rather than a character — and her career was on life support.
Though Reid eventually had her botched breast augmentation surgery corrected in 2006, her career and mental health were still suffering. Her alcohol addiction and self-image issues progressed.
Photos of the actress looking alarmingly thin surfaced soon after, and fans began to worry that Reid had developed an eating disorder or had moved on to harder drugs that caused her to lose weight.
Tara Reid drinking and smoking in an episode of the American reality series Taradise in 2005 (Credit: Entertainment Television)
The actress vehemently denied these allegations and accused these speculators of "being jealous". This kind of deflection and denial is often seen from addicts of all sorts. It was clear that Tara Reid had lost weight — perhaps too much — but why she did is anyone's guess.
In 2008, Reid's friends and family held an intervention for the actress and begged her to go to rehab. After much thought and encouragement, Reid agreed and checked herself into Promises, a facility famous for hosting other celebrities such as Lindsay Lohan and Britney Spears.
After Reid's stint in rehab, the actress managed to stay out of the public eye and fans were hopeful that she had finally turned her life around for the better.
However, during a promotional appearance for Sharknado in 2013, the actress exhibited behavior that made fans fear that she had fallen off the wagon and once again in active addiction.
Tara Reid feeding her cigarette addiction in Cannes, France, on May 21, 2006 (Credit: Z.Tomaszewski / WENN)
During an interview, Reid was seen speaking very slowly and slurring her words. After the incident, Reid made a public statement reassuring the public that she was in good health and that fans did not need to worry.
A few months later, Tara found herself at the center of another scandal after she was forcibly removed from a plane by Delta airline staff after she allegedly caused a disturbance.
Reid denied these allegations, countering by saying that the airline insisted that she stowed her small dog in the overhead compartment or with the luggage.
While it is not uncommon for pets to be kenneled in the cargo area during a flight, pets are almost never stowed in overhead compartments during flights due to safety and sanitary reasons, leading many critics to believe that Reid's argument was false.
Tara Reid shows off her size 7 (US) feet in black high heels (Credit: Nikki Nelson/ WENN)
If you can believe it, Tara Reid's career took another turn for the worse before recovering.
Due to her alcohol addiction and body image issues that stemmed from her botched breast augmentation, Reid's once prolific career was suffering.
Although Tara Reid's IMDB page demonstrates that the actress was still incredibly active in the entertainment industry, the only movies that Reid scored roles in were hardly considered to be quality films.
This led critics to believe that the actress was taking any job offer that came her way, either to make a living or in hopes of rebuilding her career.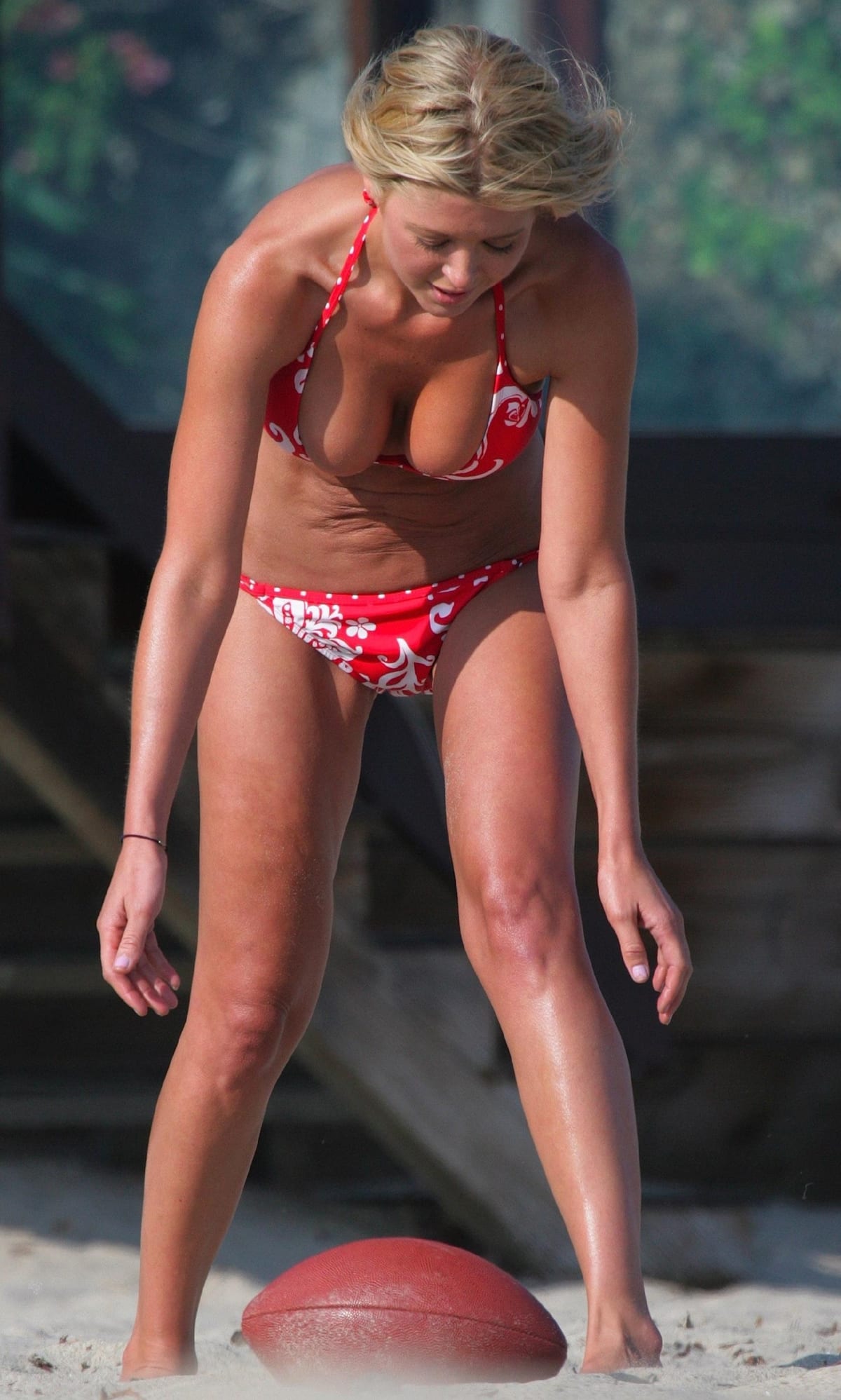 Tara Reid almost reveals her boobs in a red and white bikini at the beach in Malibu, California, on May 16, 2007 (Credit: Owen Beiny / WENN)
Unfortunately, these low-budget productions did the opposite, branding Reid as a bad actress, making it even harder for her to land highly-coveted roles in blockbuster films.
Reid's career fell further into a death spiral in 2005, when she took over as host for the E! network's reality show, Wild On. The show was a nightlife-themed spin on travel television, following the host as they experienced different party scenes across the world.
Realizing they struck a goldmine with Reid's party-girl persona, the E! Network rebranded Wild On to center entirely around Reid as she partied with locals and renamed the show Taradise.
Tara Reid enjoys a drink onboard designer Roberto Cavalli's yacht in an episode of Taradise (Credit: Entertainment Television)
The show, which had initially been about showcasing the local partying culture and other leisurely activities, morphed into a spotlight on Reid's addiction. The show was similar to Cops in the sense that it exploited those in need of views, but Taradise lacked Cops' high-speed, car chase excitement factor.
Instead, Taradise simply mocked a woman who was deteriorating during active addiction under the guise of entertainment. As any viewer with any sense might have guessed, the show was a financial flop. Producers canceled Taradise after only ten episodes.
Taradise was not an isolated event. Reid experienced failure after failure at this point in her career. Things seemed dim for the actress until she found herself being cast in a made-for-TV movie about sharks inside a tornado.
That's right — Sharknado. Tara Reid somehow managed to salvage her career after the film's release, which soon reached cult classic status, despite all odds.
Tara Reid at the Christian Audigier show hosted by Jeremy Jackson at Crystal London, England, on September 20, 2007 (Credit: Erik Field / WENN)
Who knew that Sharknado, a film that many critics refer to as "a dumpster fire" and "so bad it's good", about sharks being swept up into a tornado would be a pivotal moment in Tara Reid's career?
Perhaps the Sharknado franchise gave the actress a second chance in the sense that it cast her in a new light, one where Reid was not expected to live up to her party-girl persona — even if she was just showing off her acting chops by screaming and fighting off sharks flying through the air.
Tara Reid and Ian Ziering promoting Sharknado in Los Angeles on August 3, 2013 (Credit: FayesVision / WENN)
Aside from a strange publicity stunt, the actress pulled with Dean Mays, where they faked a marriage in order to appear on the reality television show Marriage Boot Camp, Tara Reid's professional career began to recover as she soon landed more prominent roles.
Tara Reid's IMDB page lists the actress as appearing in more than a dozen films in pre-production and post-production.
Sharknado co-stars Tara Reid and Cassie Scerbo in West Hollywood on May 27, 2021 (Credit: Guillermo Proano/WENN)
While some of these titles are destined to flop (they can't all be winners) it is clear to see that the actress is slowly recuperating after the many scandals during her career.
Tara Reid is a fantastic example of the way the media can destroy a person — and why we need to treat celebrities with kindness rather than exploiting them for clicks.
Tara Reid wears a 3/4-sleeved top and a gray fedora (Credit: WENN)
Alec Monopoly, an American street artist, opened his first solo exhibition entitled "Park Place" at LAB ART in LA in March 2013, and Tara Reid was one of the numerous celebrities who graced the event.
The paps immediately spotted Tara Reid even before she entered the venue.
Our eyes were immediately drawn to the silver spiked pumps on her feet in the following picture, but after getting over the shoes' shininess, we got to appreciate how Tara Reid styled her pumps overall.
David Schechtman and actress Tara Reid arrive at Park Place A Solo Show By Alec Monopoly At LAB ART on March 13, 2013, in Los Angeles, California (Credit: WENN)
Celebrities usually wear pumps like these with short and tight dresses, so it's refreshing to see Tara Reid's sweet and almost schoolgirl-like take on them.
We love the mumsy 3/4-sleeved top with a pristine white Peter Pan collar. The studs on her gray fedora match the studs on her shoes, but the hat comes off as an appealing-to-the-art-crowd accessory more than anything.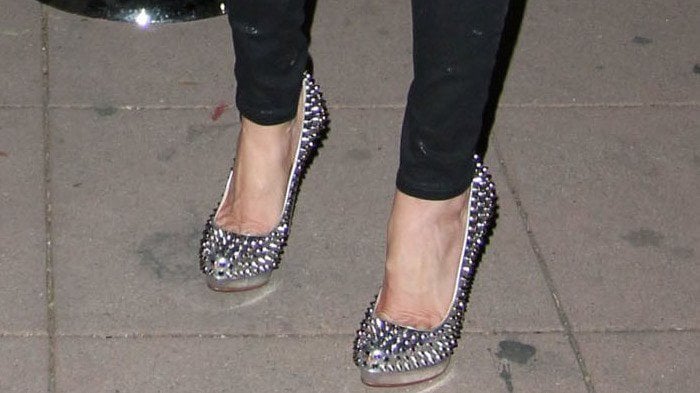 Tara Reid's feet in silver spiked Christian Louboutin "Alti" pumps (Credit: WENN)
You can see the red sole peeking from the edges in the picture directly above — Tara Reid's shoes are none other than these Christian Louboutin "Alti" pumps:
Christian Louboutin Alti Spiked Pumps, $1,495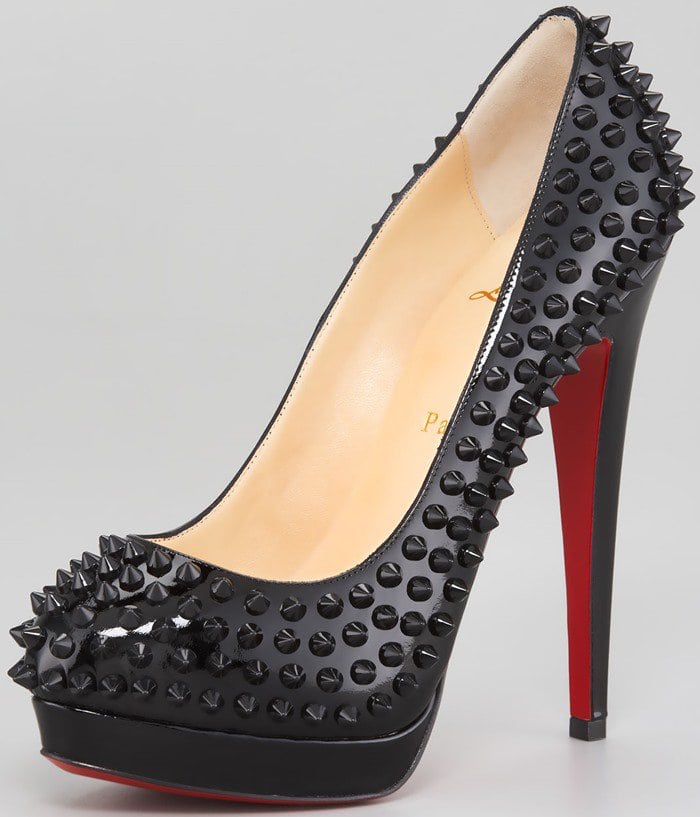 For a look-for-less option, we love this one we found from Vince Camuto at Zappos:
Vince Camuto "Madelyn" Pumps, $165.57 – $199.99