One thing we love about the cutout dress trend is seeing bits and pieces of celebrity body art. Because these cutouts are usually positioned over often-covered places, a cutout dress gives celebrities like Taraji P. Henson a chance to play peek-a-book with their tattoos.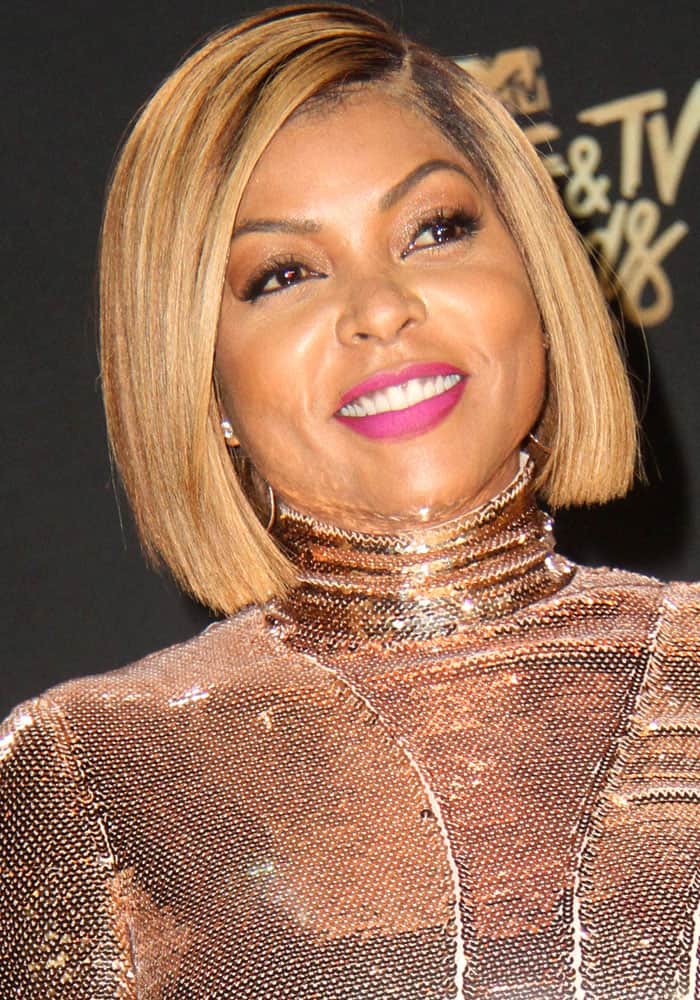 Taraji P. Henson at the 2017 MTV Movie & TV Awards held at the Shrine Auditorium in Los Angeles on May 7, 2017
Taraji exposed her 'God is Infinite' ink as she arrived on the red carpet of the 2017 MTV Movie & TV Awards.
"If you're a person of Christ, and if you are a Christian, then that's what you do, that's what Jesus did. Jesus was nailed to a cross by people who hated Him, resurrected, and still loved those same people. So you have to tap into that if you are truly a Christian," she told The Christian Post about a Christian's duty to work to defuse the conflict that's around them.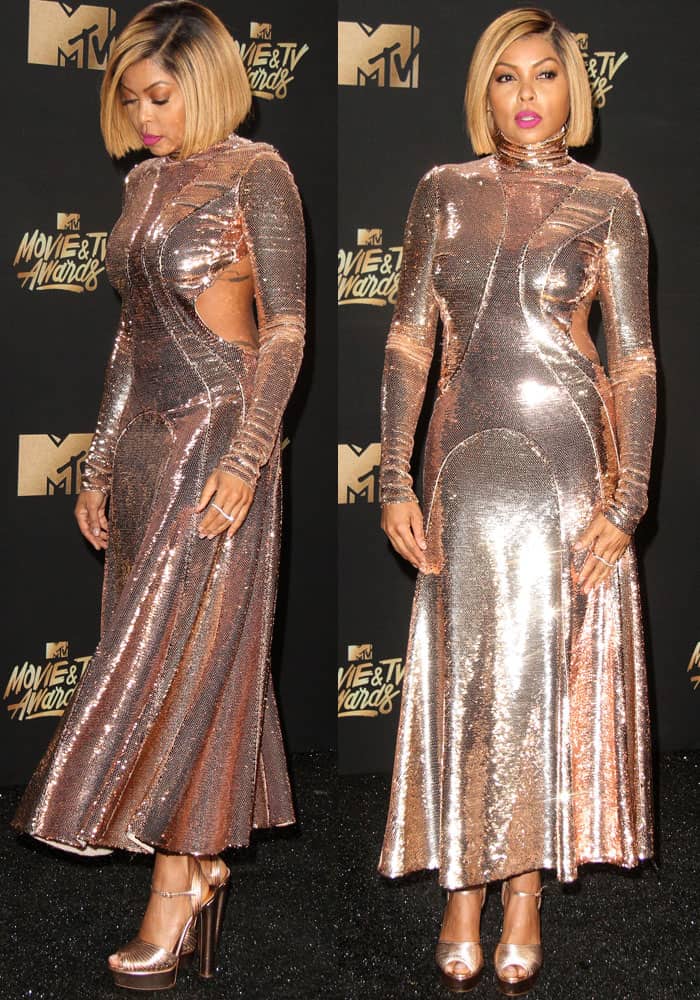 Taraji P. Henson catches everyone's attention in a show-stopping metallic dress by Emilio Pucci
Taraji channeled an Oscar statue in a head-to-toe sequined number by Emilio Pucci, which features a turtleneck that continued down the bodice and opened up at the sides, showing off Taraji's ink.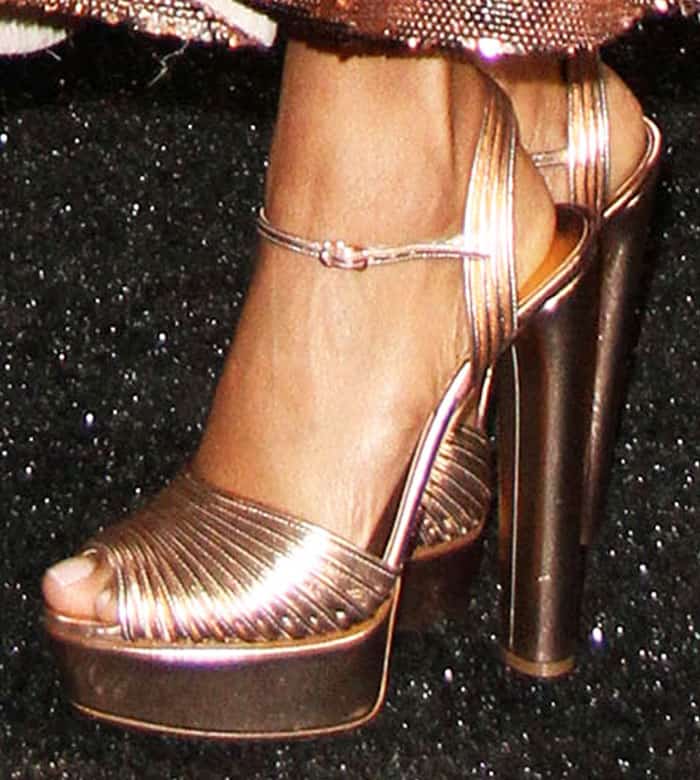 Taraji P. Henson styled her dress with Casadei platform shoes
"I would've gone into cosmetology, and I think God intervened because I was a year late for enrollment," the outspoken Christian actress said in a video promoting her hair care line, TPH By Taraji.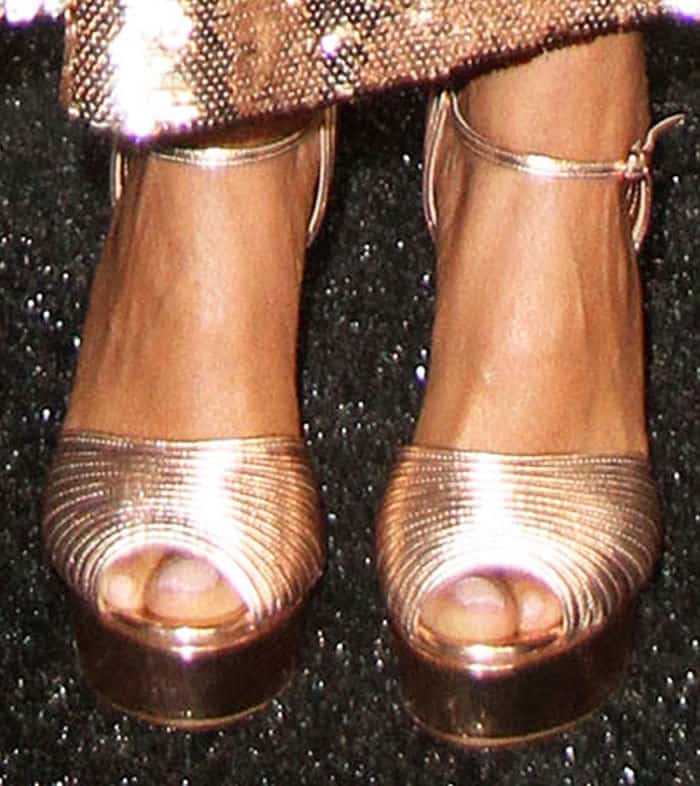 Taraji P. Henson rocked quilted metallic platform sandals by Casadei
Taraji finished her metallic look with a pair of quilted platform sandals by Casadei.
Taraji, posing with Tracee Ellis Ross, showing off her left rib cage feather infinity tattoo with the message 'God is infinite'
Taraji revealed her left rib cage tattoo of an infinity sign with a feather and the word "God is Infinite." We're sure she has a few more tattoos hiding underneath there somewhere. However, we don't think she has inked her feet yet.
"These are the cards that God dealt me, and for whatever reasons, He felt like he knew I could handle it," she told Variety. "God is never going to give you more than you can handle. Now, it's just trying to keep my sanity"—something admittedly hard to do in an insane world.
"You've just got to be strong because the devil wants you weak, and the devil wants to catch you in a vulnerable moment and make you believe things that aren't true. I just stay strong. I know what side I'm on: I'm on faith's side. I've got God."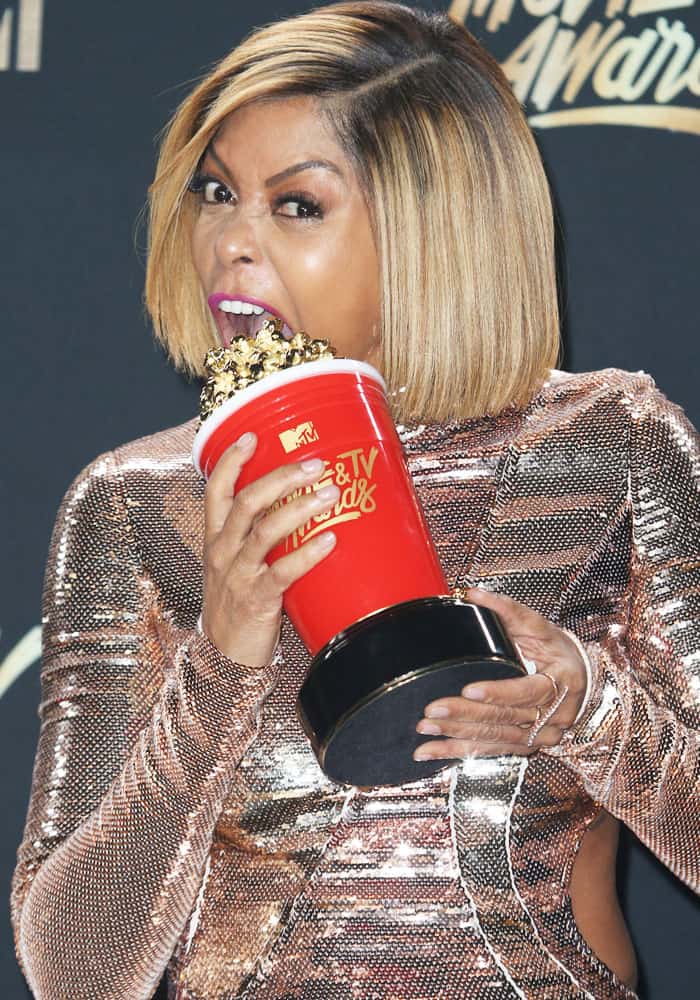 Taraji bites into her popcorn award for "Best Fight Against the System."
In case you didn't know, Taraji brought home MTV's "Best Fight Against the System" award for her work on "Hidden Figures."
Quilted Casadei Open Toe Platform Sandals, $601 – $869 at Casadei and Farfetch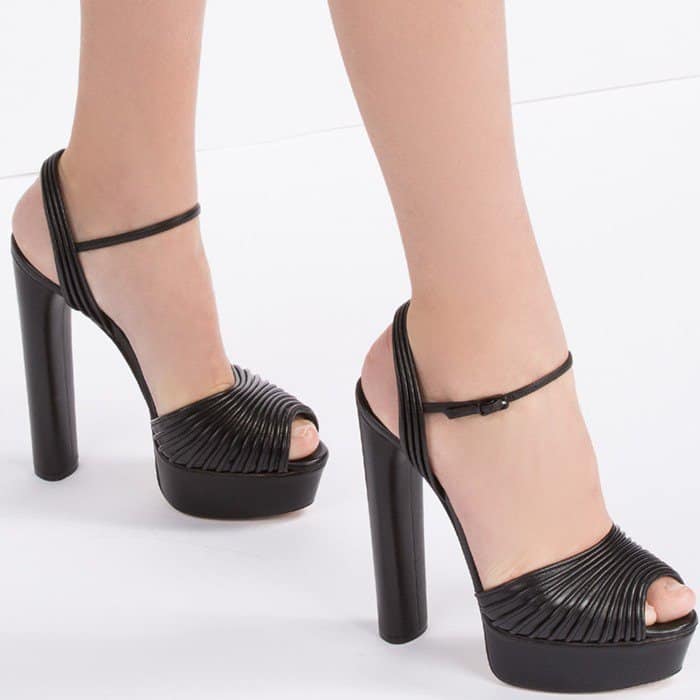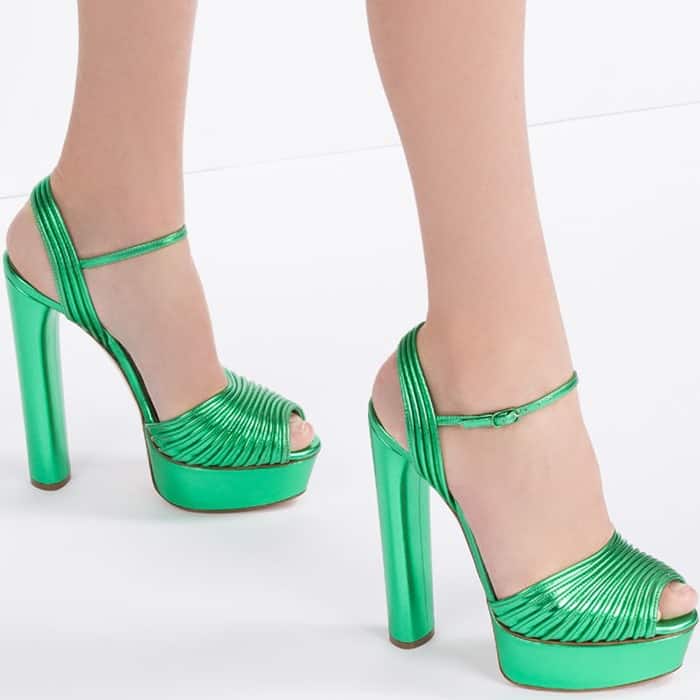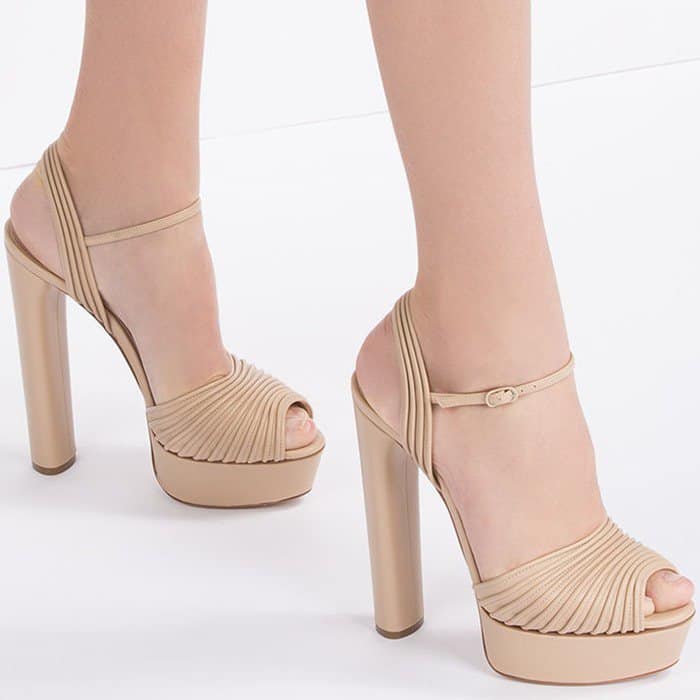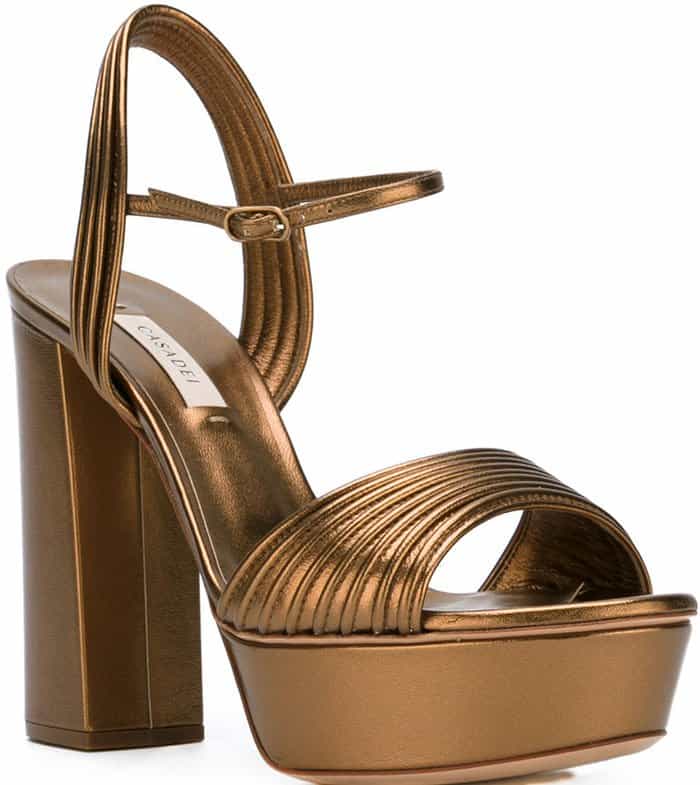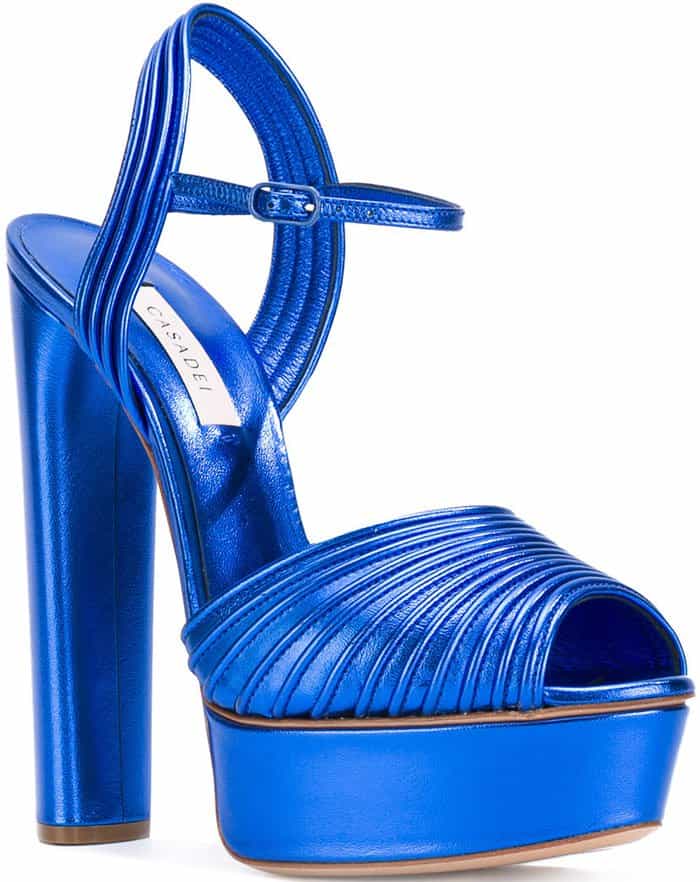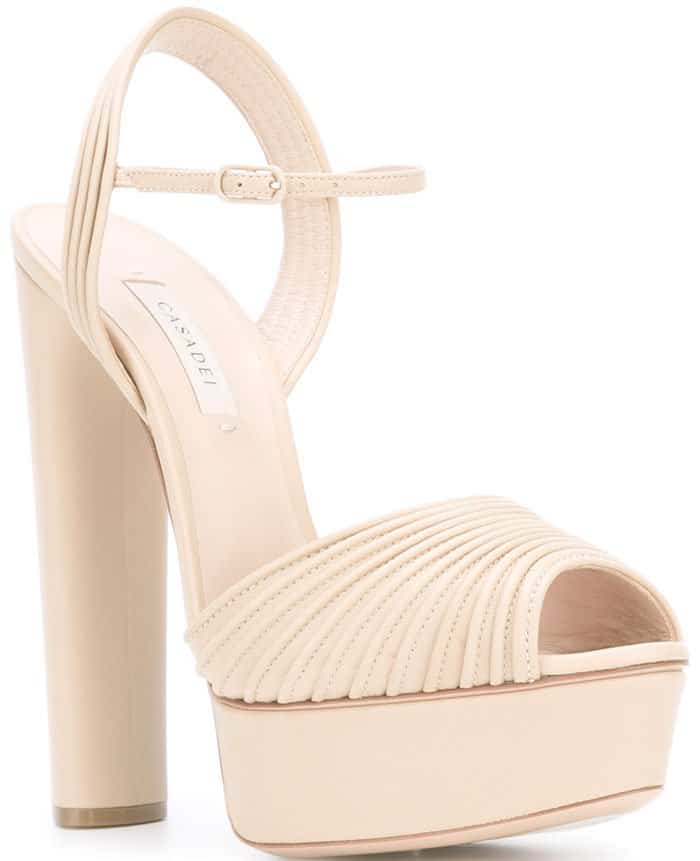 Credit: Adriana M. Barraza / FayesVision / WENN