Taylor Swift sported a tiny miniskirt on the red carpet on the first night of the 2014 iHeartRadio Music Festival on Friday evening at the MGM Grand Garden Arena in Las Vegas.
The 24-year-old singer got the honor of kicking off the show that night. Prior to the show, Taylor was presented with a big milestone plaque to commemorate her new single "Shake It Off" being the RIAA's fastest certified platinum song in 2014.
On the red carpet, she sported a Calvin Klein Collection white bandeau top paired with a red high-waisted miniskirt. Taylor completed the outfit with a pair of multicolor "Gwynitta" sandals by Christian Louboutin featuring crisscrossed straps.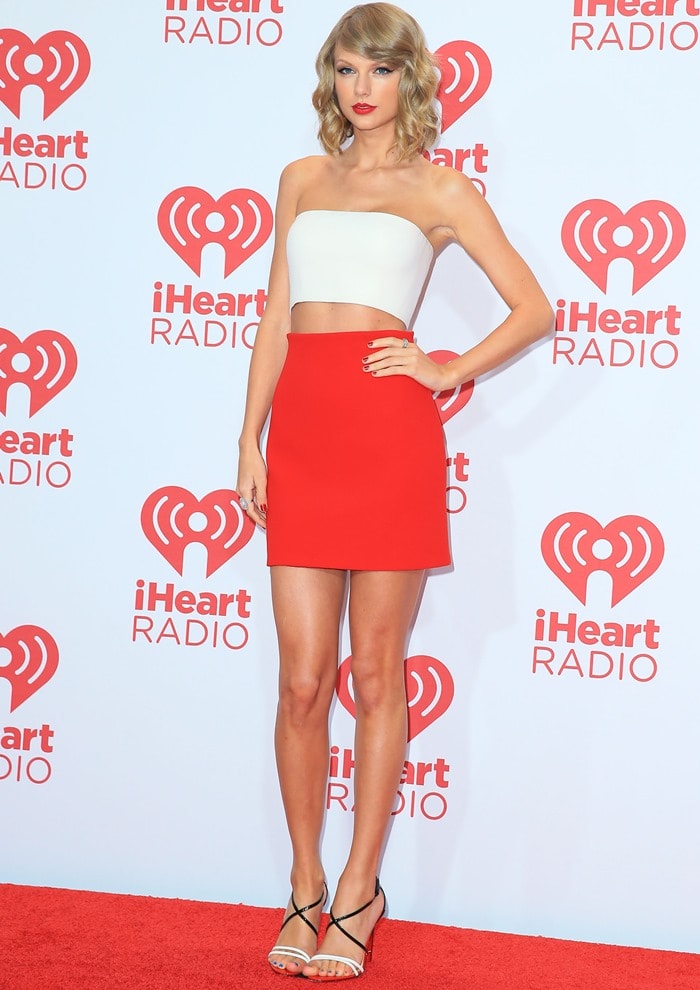 Taylor Swift at the 2014 iHeartRadio Music Festival at the MGM Grand Garden Arena in Las Vegas on September 19, 2014
Don't you think Taylor looked wonderful in this outfit by Calvin Klein? We've previously spotted several celebrities in the same 'Gwynitta' sandals, including Megan Fox, Alessandra Ambrosio, Heidi Klum, Lupita Nyong'o, and Julianne Moore. You can find much more affordable alternatives starting from just $9.99 at ShoeDazzle:
"Finaly" Strappy Sandals, $9.99 at ShoeDazzle
"Singer" Cutout Sandals, $9.99 at ShoeDazzle
"Ume" Buckled Slingback Sandals, $9.99 at ShoeDazzle
Credit: Judy Eddy / WENN