Selena Gomez is now Instagram's most followed account! The new reigning queen snatched the crown from her own BFF Taylor Swift. As of writing, Sel had 69.7 million followers while Tay had 69.3 million.
We think Selena's recent whirlwind promotional tour had a lot to do with her increase in popularity. The "Hands to Myself" singer gave us a variety of exciting looks, including a couple that flashed her underwear. We're sure those sexy pics got hot-blooded males around the world searching and clicking.
Below are some more of those looks that we missed. Like we said before, Selena is never afraid to try new things in fashion. Sometimes it's a hit and sometimes it's a miss, but clearly, her followers just want her to keep it fun, fresh, and exciting.
The pop princess arrived for her first round of promotional duties at the BBC Radion One studios wearing look No. 1 of the day. She channeled a '70s vibe in a Louis Vuitton fall 2015 trench coat, a red Jacquemus ribbed sweater and black high-waisted wide-leg trousers. The little details like the black leather straps on the coat, the cutaway sweater sleeves and the contrasting stitching on the pants contributed to her ensemble's retro appeal.
Selena Gomez wearing her first outfit of the day to arrive at the BBC Radio One studios in London, England, on March 11, 2016
Her second outfit of the day was a complete turnaround from the first. Her red Marni sleeveless sweater featured a sequined abstract design on the front and a sexy cutaway design on the back. It was decidedly more modern and experimental. A deconstructed blue-and-white Marni layered skirt with a cutaway square split and frayed edges gave her look an avant-garde twist.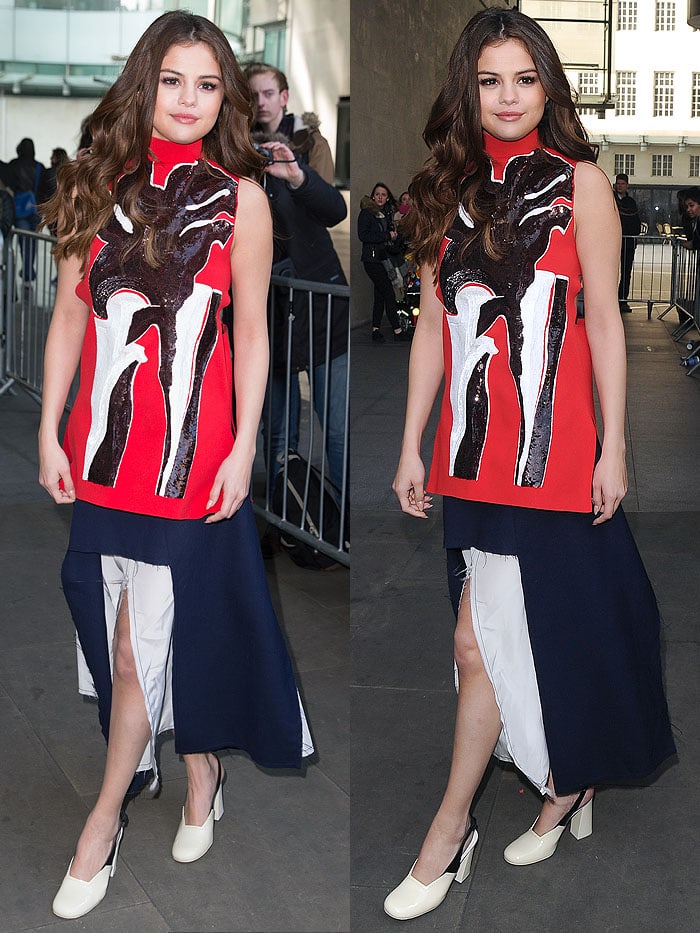 Selena wearing her second outfit at the BBC Radio One studios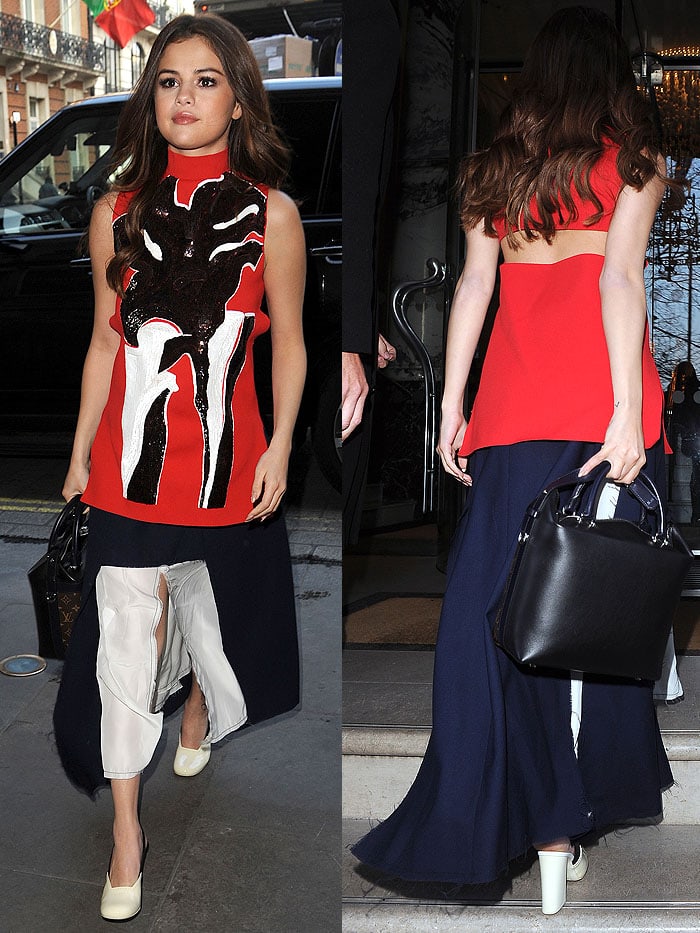 Selena returning to her hotel after her visit to BBC Radio One
Sel's third and last look was a simple yet sexy and feminine Victoria Beckham pre-fall 2016 LBD. The dress — cut low, clinging to her small waist, and worn obviously without a bra — highlighted the 23-year-old's shapely frame.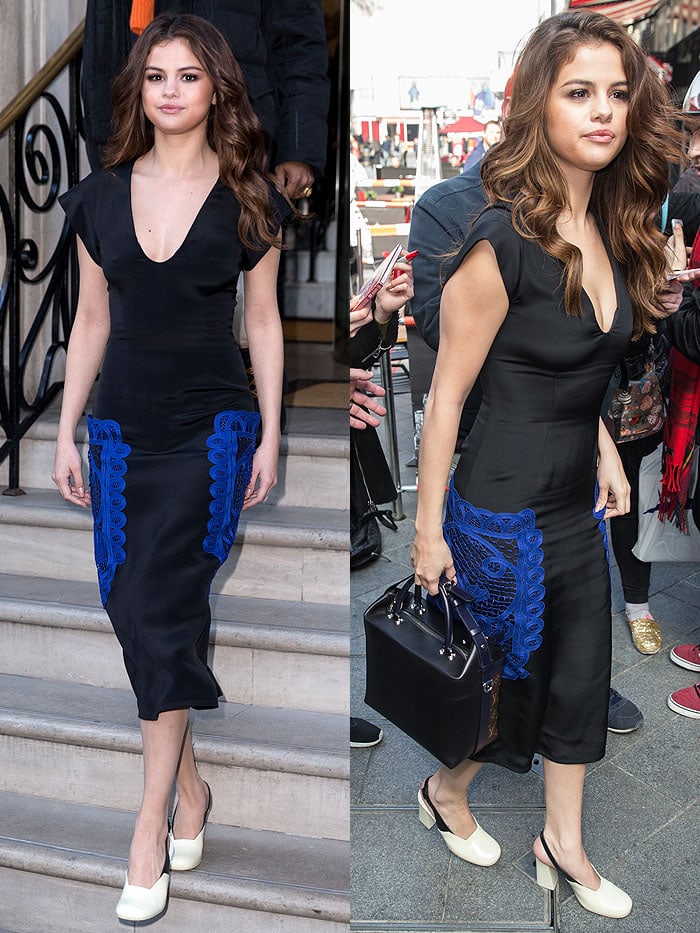 Selena Gomez leaving the Langham Hotel and arriving at the Capital Radio FM studios
Completing all three of Selena's promotional day looks were retro-ish ivory white patent pumps with black slingback straps and chunky heels. They are from the Celine fall 2014 collection.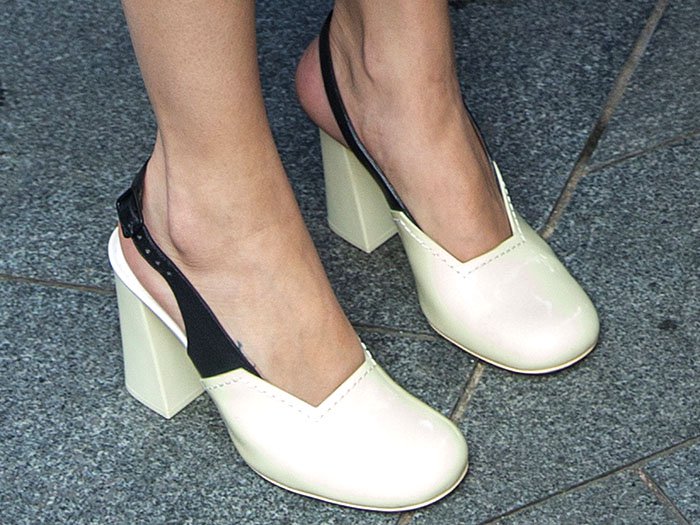 Closeup of Selena Gomez's Celine fall 2014 patent slingback pumps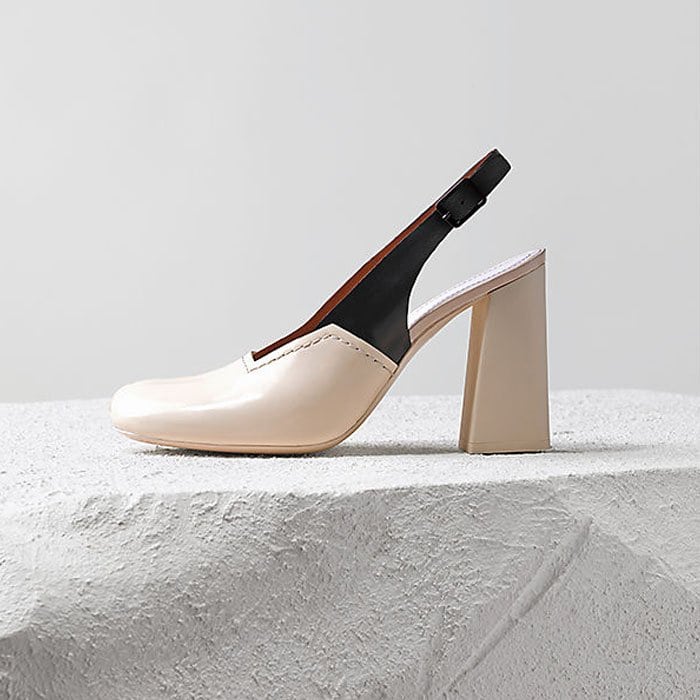 Celine fall 2014 chunky-heel colorblock slingback pumps, $580 (before: $625) at Vetsiaire Collective
We didn't think Taylor Swift was the kind to take this unofficial title-snatching lightly, so it seems she went on a little self-promotion of her own. The 26-year-old just posted pics of her recent romantic tropical vacation getaway with Calvin Harris. The photos featured a bikini-clad Tay frolicking on the beach. There's even a cliche kissing photo, with a leg pop and everything.
Or, you know, maybe Tay is just so happy that she and Calvin have been together for a year now and just wanted to share the love? Maybe it's just a coincidence that the skin-baring pics are the fastest way to earn enough Instagram followers to overtake Selena once again.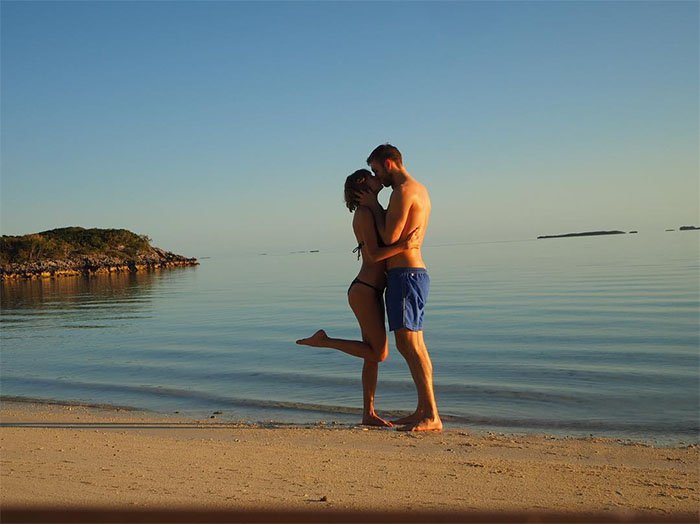 Taylor Swift's Instagram post taken during her romantic beach getaway with boyfriend Calvin Harris — posted on March 16, 2016
Taylor Swift's Instagram post captioned, "Taylor Swift + Adam Wiles" — posted on March 16, 2016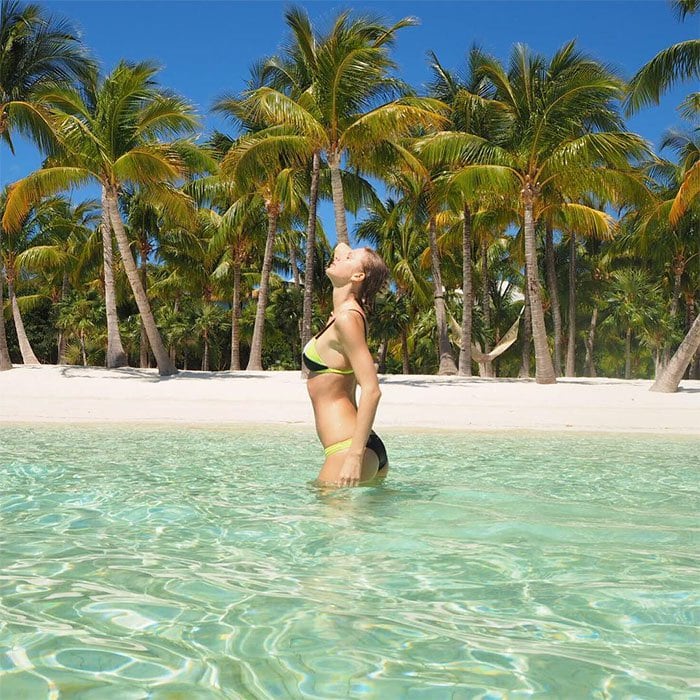 Taylor Swift enjoying the clear blue waters at her tropical destination in an Instagram post she shared on March 16, 2016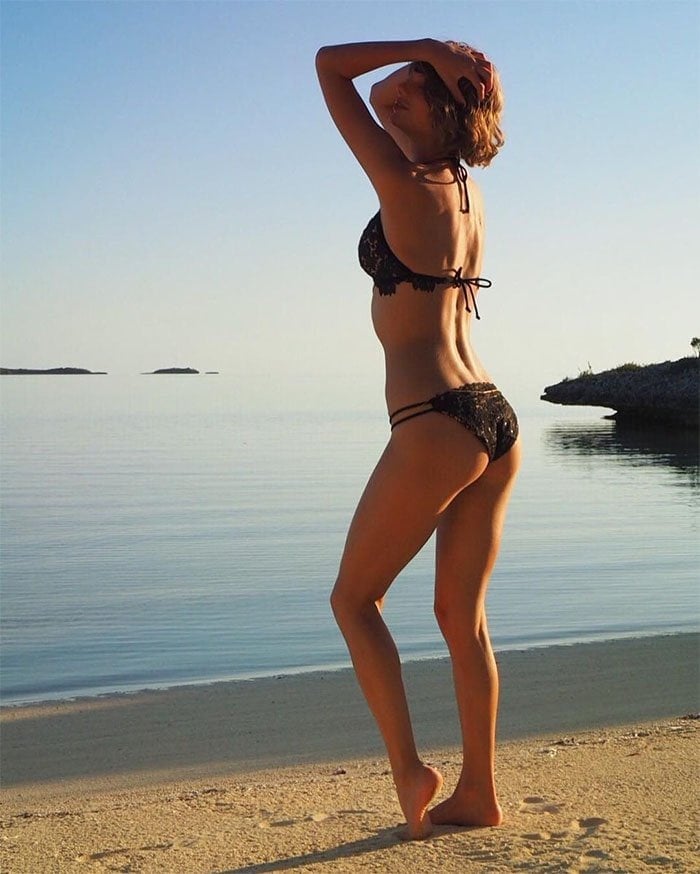 Calvin Harris sharing a snap of girlfriend Taylor Swift doing a sexy bikini post on a beach — posted on March 16, 2016
Credit: Mario Mitsis/Tony Oudot/Will Alexander/WENN/Taylor Swift's and Calvin Harris' Instagram