Teresa Palmer promoted her movie "I Am Number Four" at a photocall in Madrid, Spain yesterday.
Looking considerably less made up than the last time we saw her, the 25-year-old actress looked a bit washed out in a grey long sleeve top and a yellow floral pleated miniskirt which she paired with mustard lace-up booties.
Daniel John Caruso, Teresa Palmer and Alex Pettyfer attend the "I Am Number Four" (Soy el Numero Cuatro) photocall held at Santo Mauro Hotel in Madrid, Spain on March 16, 2011
Teresa Palmer in a grey long sleeve top
With a face and a figure like that, how hard can it be to make Teresa Palmer look celebrity-pretty? Yet somehow, her stylists achieved in making her look like she DID just come off the 13-hour flight from LA to Madrid and NOT the fresh, young star that she is.
Oh well, at least they know how to pick out the fiercest shoes for her!
Teresa Palmer's booties look deceivingly plain when viewed from the front (and when paired with this blah outfit) but they really are so much more. They're also by Alexander Wang, the designer notorious for making must-have "It" boots season after season, so you know that they can't be just any regular ol' boot.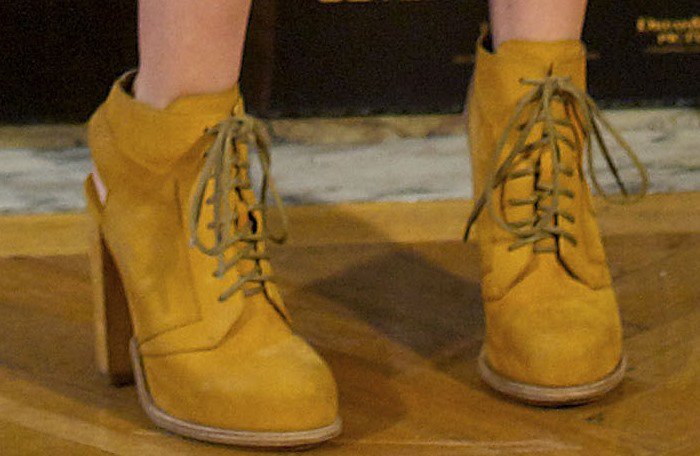 Teresa Palmer rocking Alexander Wang Dakota lace-up nubuck booties
Alexander Wang 'Dakota' Lace-Up Nubuck Booties, $650 at Shopbop
Looks like Alexander Wang has got another "It" boot in his hand. The color, the covered 5″-high stacked heel and not the mention the sexy cutout back all scream "YOU MUST HAVE THIS FOR SPRING".
I got a feeling that celebrities are already lining up for this boot and that we're going to see one of them wearing these very soon.
Credit: Sean Thorton / WENN