Nicole Scherzinger is rumored to be dating rugby player turned popstar Thom Evans after weeks of exchanging flirty text messages.
On Wednesday last week, Thom broke his silence and told Mail Online that he finds Nicole "lovely and stunning, talented and amazing."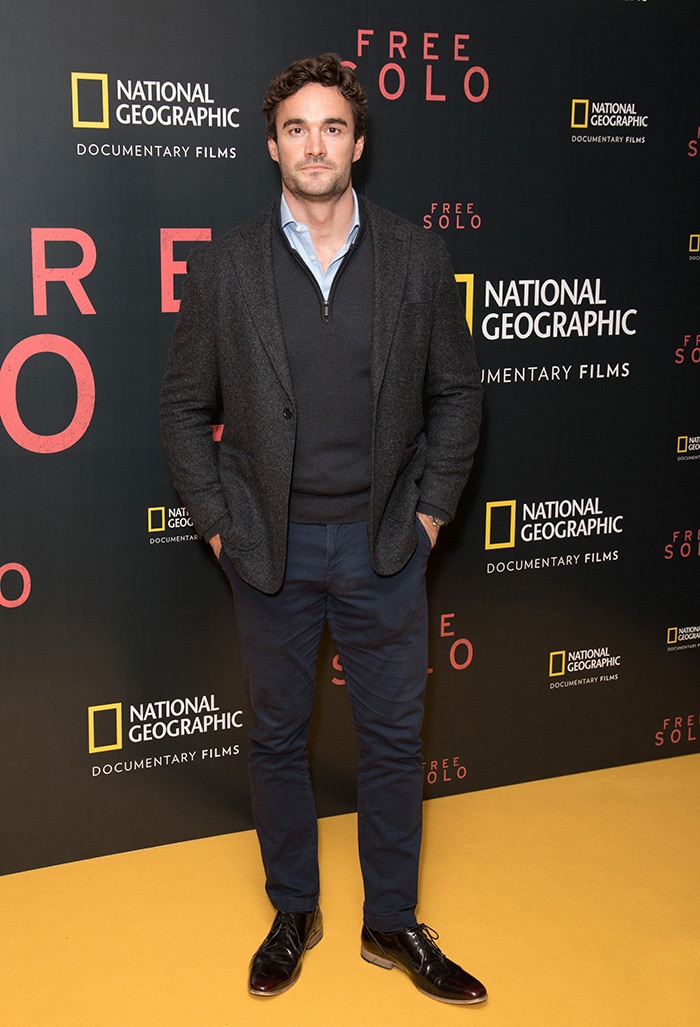 Thom Evans at the Free Solo film screening in London on December 11, 2018
"She's stunning. And has [romance] crossed my mind? Yes. But we don't have much time," he admitted. "To be honest, we are focusing on the bromance and getting to the final. We are working on choreography, vocal lessons, and it's all so full on. So there's not a lot of time for much else," he added.
The two met last month on the celebrity edition of The X Factor, on which Nicole is a judge and Thom is in the competition as part of the rugby singing group Try Star.
For the first time since Thom spoke about their reported fling, Nicole Scherzinger stepped out to attend the Gay Times Honours 500 in London on Thursday.
Nicole Scherzinger attends the Gay Times Honours 500 at Magazine London on November 21, 2019
She looked radiant in a Raisa Vanessa Fall 2019 velvet mini dress in white, silver and apricot color combination. It has bold, structured shoulders and cutout detailing on the long sleeves and décolletage.
The thigh-grazing mini also has a cinched-in waist that allowed her to show off her curves.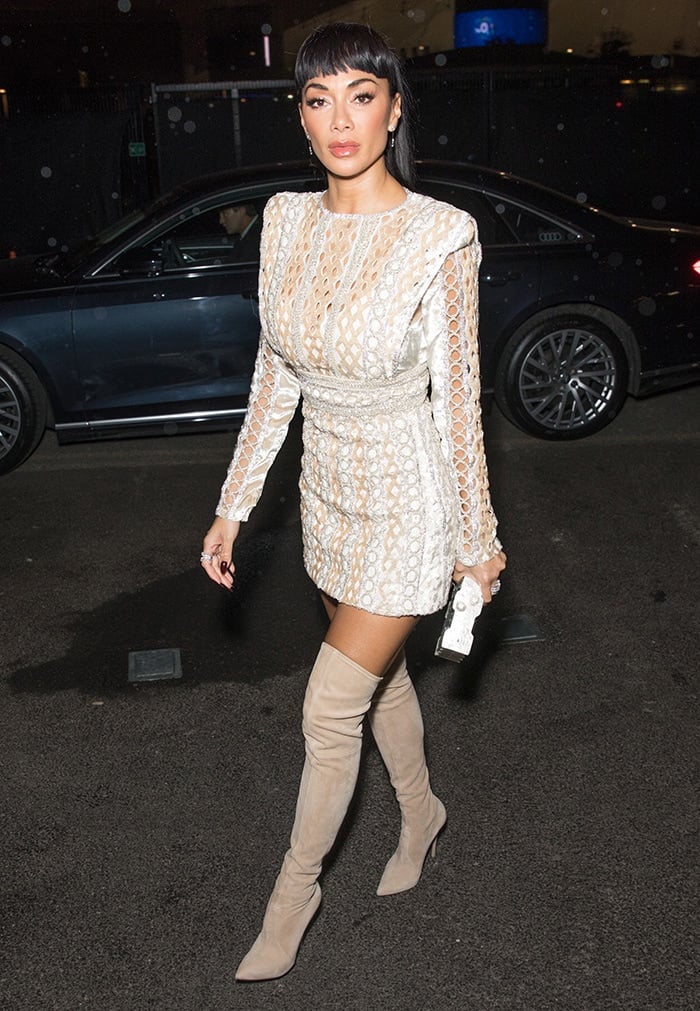 Nicole Scherzinger flaunts her curves in Raisa Vanessa cutout mini dress
The former Pussycat Dolls member debuted her new clip-in fringe and pulled her raven tresses back into a ponytail. She accentuated her features with neutral makeup and glossy pout.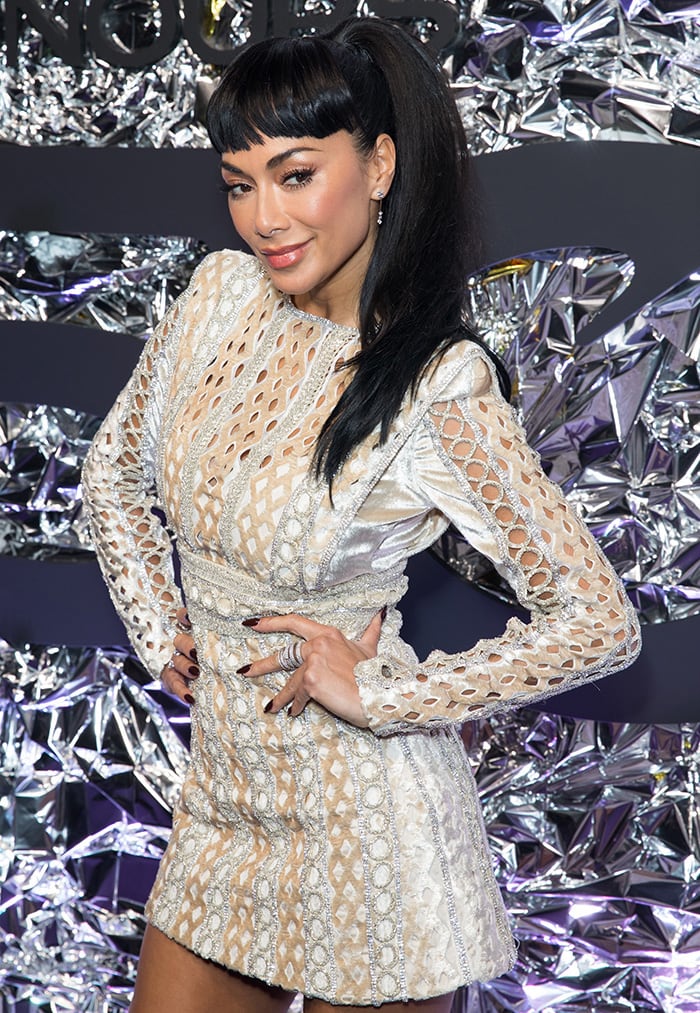 Nicole Scherzinger wears her hair in a ponytail with clip-in bangs
A pair of dangling earrings, several rings, and over-the-knee boots completed her look.
Her Casadei 'Blade' thigh-high boots are made of pale beige suede material and feature a stretch fit with stitched panels, pointed toes, and signature stainless steel blade stiletto heels.
Nicole Scherzinger pairs her mini dress with Casadei thigh-high boots
Casadei 'Blade' Thigh-High Boots, $1,440 at Casadei and Farfetch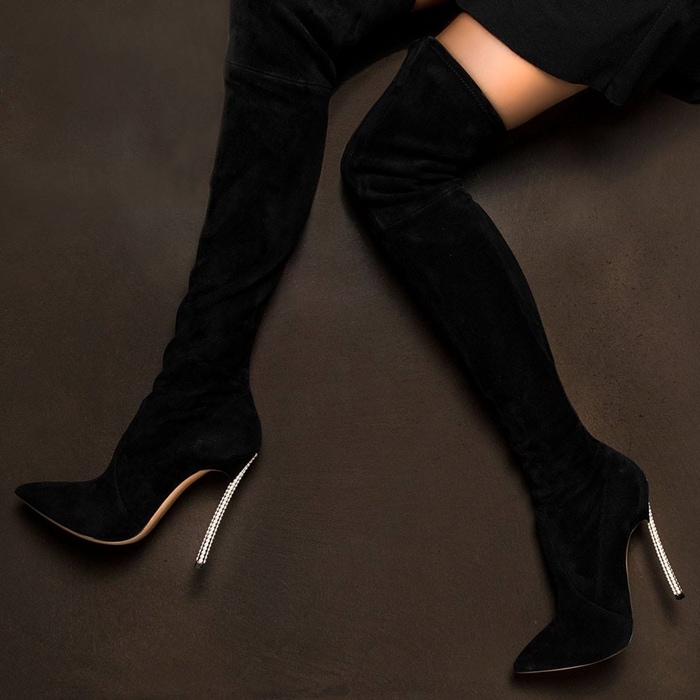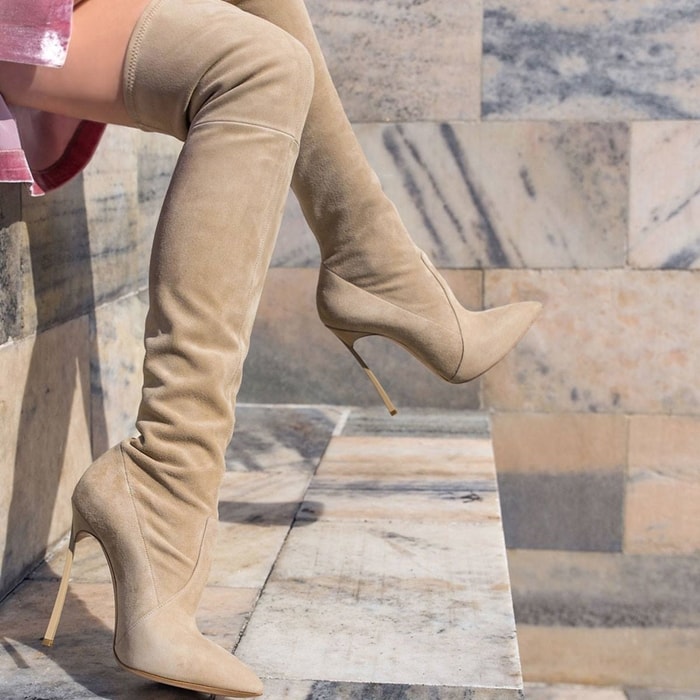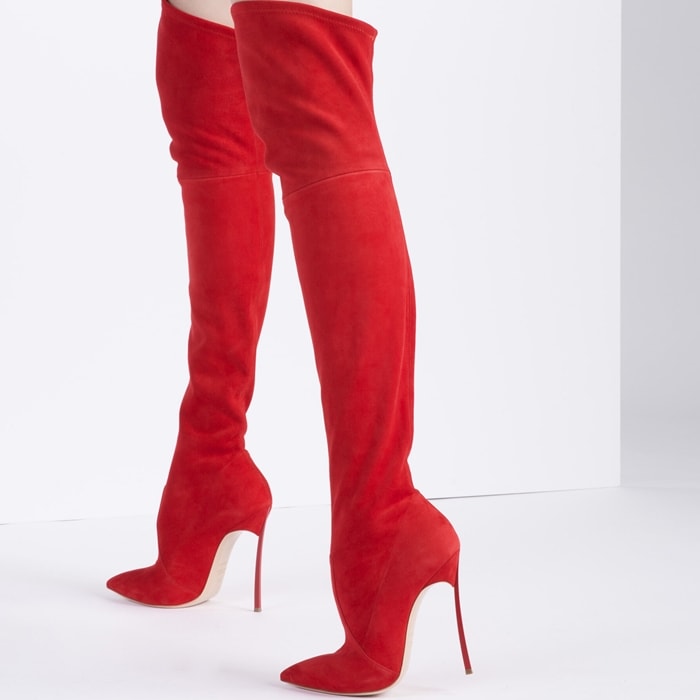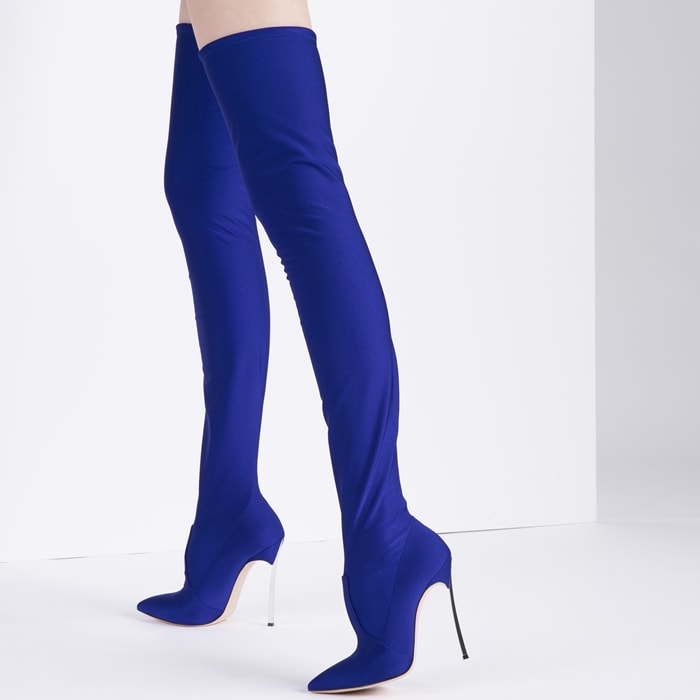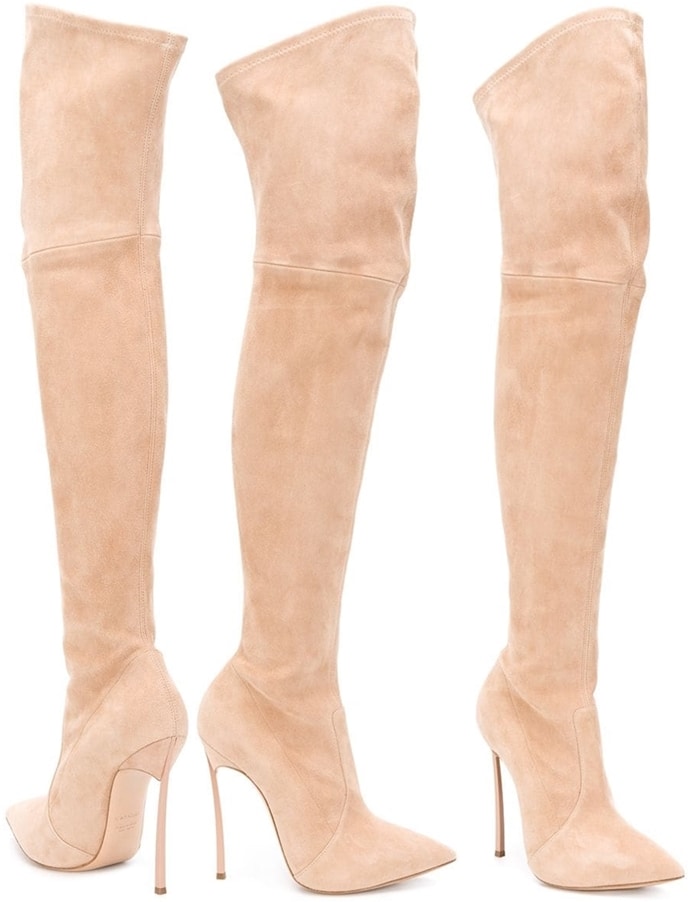 Nicole's outing came just hours after Thom Evans appeared on ITV's Loose Women. When asked about the singer, he said: "Look, Nicole is lovely but I've been concentrating on the bromance… I just want to get to the finals." Who wouldn't want to date Nicole? She's lovely," he added.
Nicole's friends, however, are reportedly against their budding romance and have warned the 41-year-old singer to stop dating the 34-year-old hunk.
An insider told The Sun: "Her friends have watched her suffer repeated heartbreak so they feel protective of her and want to help her avoid making the same mistakes by dating someone who might not be right for her."
"They have warned Nicole about getting involved with Thom and suggested she cool off the romance before it gets serious, fearing she will just be left heartbroken again by yet another toyboy who probably can't give her the commitment she's craving."
He was previously in a relationship with actress Kelly Brook. She was pregnant with their child in 2011 but had a miscarriage. They broke up in 2013.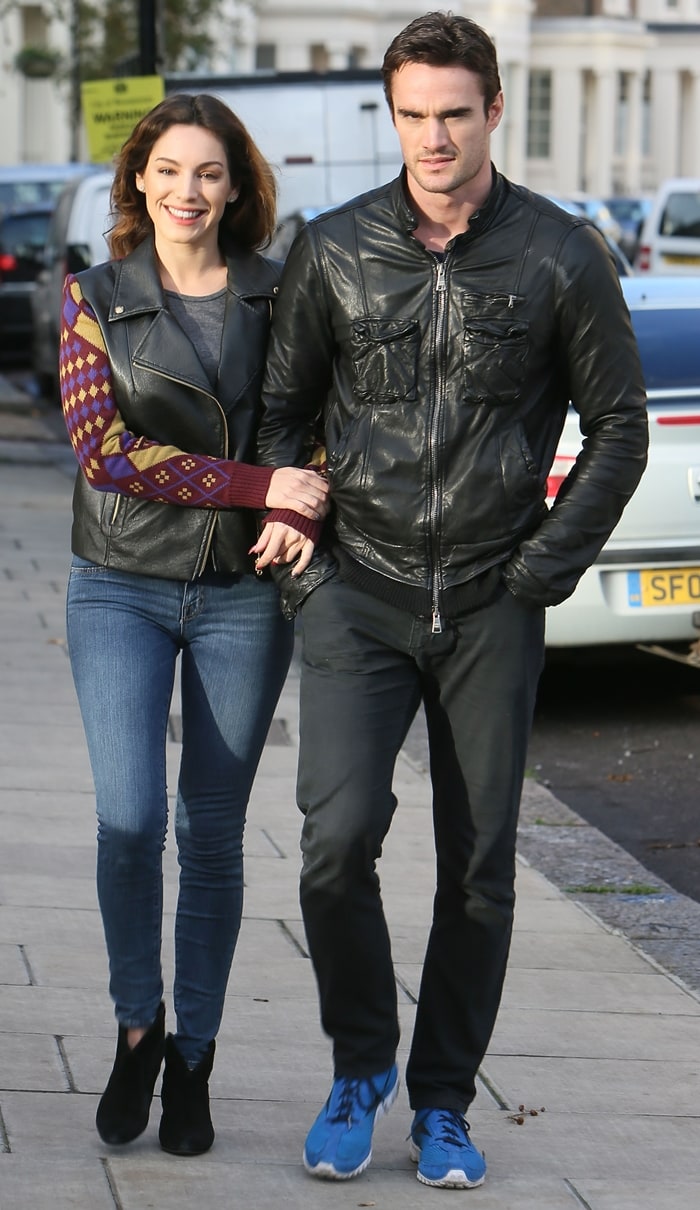 Kelly Brook out with boyfriend Thom Evans for her birthday lunch in London, England, on November 23, 2012
On Saturday's episode of The X Factor: Celebrity, Nicole voted Thom and his group off the show. Rumor has it that she did that to "save their romance" as she couldn't stand people mocking their relationship on the show.
A source said: "She chose to get rid of his group Try Star because it would stop people scrutinizing what she has with Tom. And she knew they were the weaker act."
Credit: Phil Lewis/ WENN