Michelle Rodriguez is calling it like it is. The Fast and the Furious star candidly opened up about how well the seventh iteration of the franchise did at the box office.
Box office numbers weren't a result of the film's plot, Michelle insisted, but rather, a result of the late Paul Walker's role in the film.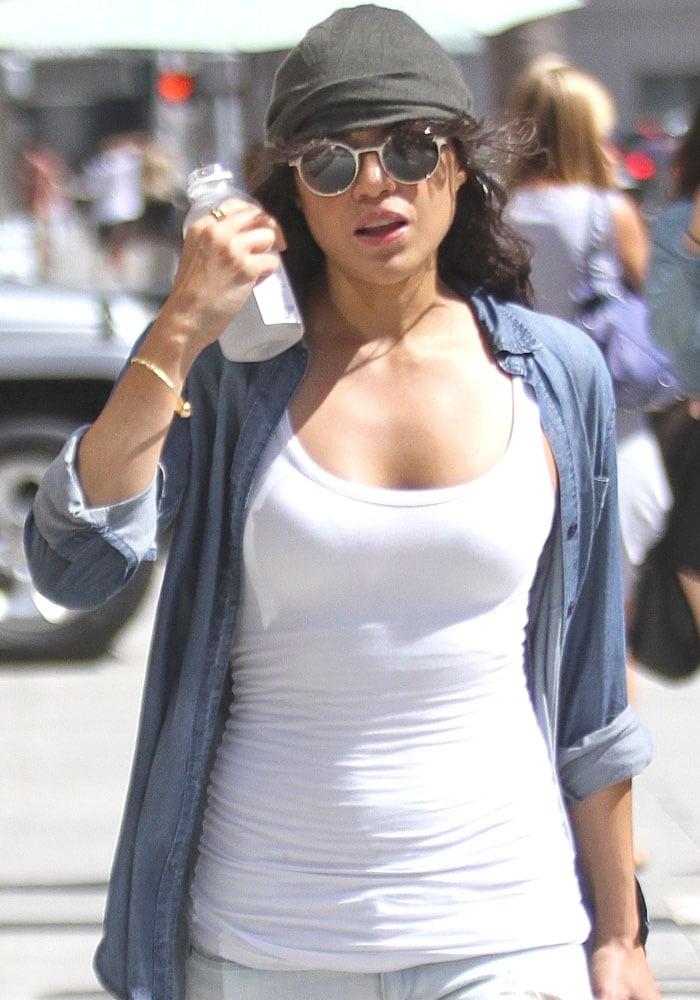 Michelle Rodriguez shops in Beverly Hills on August 26, 2015
The actress, who plays Letty in the wildly successful franchise, insisted that the tired and reliable formula will no longer work for the next movie and that writers have to step up their game. In fact, she already has an actress in mind: Angelina Jolie.
Film writers — if you're not sure where to start? No worries. Michelle has some suggestions. The 37-year-old suggested adding some strong new female characters to the franchise.
"That would be sexy," Rodriguez said about adding Angelina Jolie to the Fast and Furious franchise. "We've definitely got to bring up the ante, man. Whoever it is — it has to be a powerful presence that hasn't been seen before." One thing she knows for sure is she doesn't want her female costar to be her enemy.
"The grand majority of the time in films, we're always fighting each other. I feel like it's time to evolve girls. Let's stop hitting each other and let's stop fighting each other, and let's start getting together and ganging up on people."
Michelle Rodriguez pairs a white tank top and white ripped jeans with an unbuttoned shirt for her casual stroll
Michelle was recently spotted strolling around Los Angeles.
For her outing, the actress wore a white top underneath an unbuttoned chambray top. She paired her layered look with white ripped jeans.
Michelle Rodriguez lets the hem of her white pants slouch around the tops of her Versace sandals.
Michelle completed her look with a headwrap, round sunglasses, and thong sandals from Versace.
We're not too keen on Michelle's laid-back style. Some could pull it off, but we think this outfit just looks sloppy on the actress. We'd rather see these Versace "Palazzo" thong sandals styled in a different way.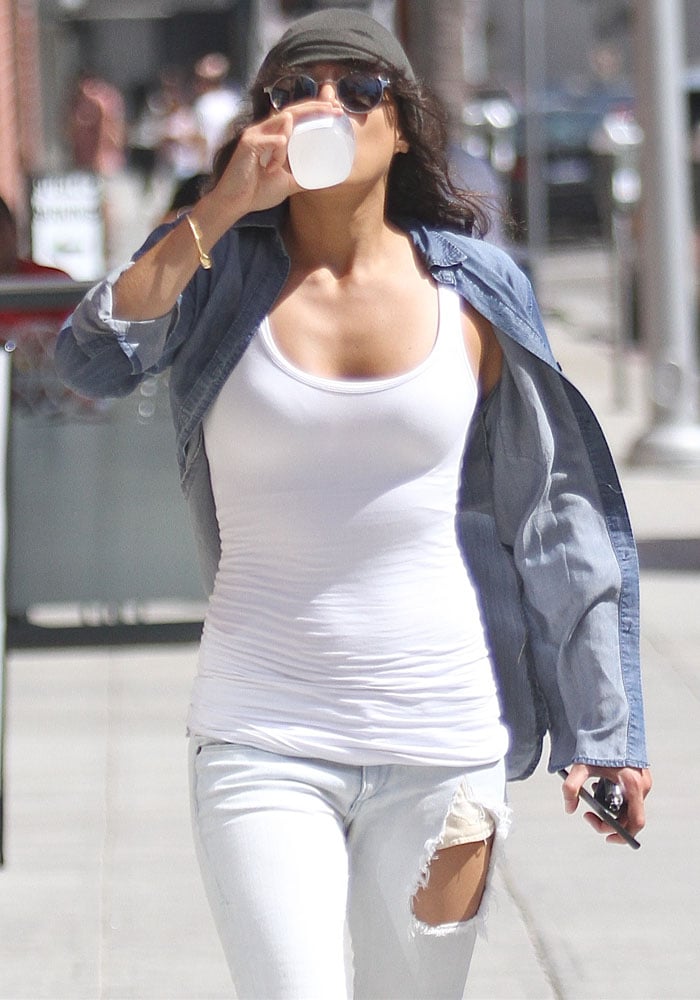 Michelle Rodriguez takes a drink from a plastic bottle as she strolls through Los Angeles
Get this gold-embellished sandal by clicking your way over to Farfetch.
Versace "Palazzo" Flat Thong Sandals, $725
Credit: WENN