Mariah Carey flashed her bra while attending a special event for UN Secretary-General Ban Ki-moon held at a private residence on Wednesday evening in Los Angeles.
She supported her good friend Brett Ratner, who hosted the event.
The 46-year-old entertainer shocked by turning up in a racy outfit consisting of a push up bra, skintight leather pants, and a matching black jacket.
Mariah Carey curls her hair for a performance at a special event for UN Secretary-General Ban Ki-moon held August 10, 2016 at a private residence in Los Angeles
To complete her jaw-dropping plunging biker-inspired getup, Mariah sported a pair of sky-high strappy heels and flaunted her eye-catching engagement ring from her fiancé James Packer.
Mariah Carey flaunts her cleavage in a black lacy push-up bra
Mariah left her leather jacket halfway unzipped, putting her cleavage on full display.
Mariah Carey half-zips her leather jacket and leaves her black lace bra on full display
In addition to her ring, she also accessorized with a charm bracelet.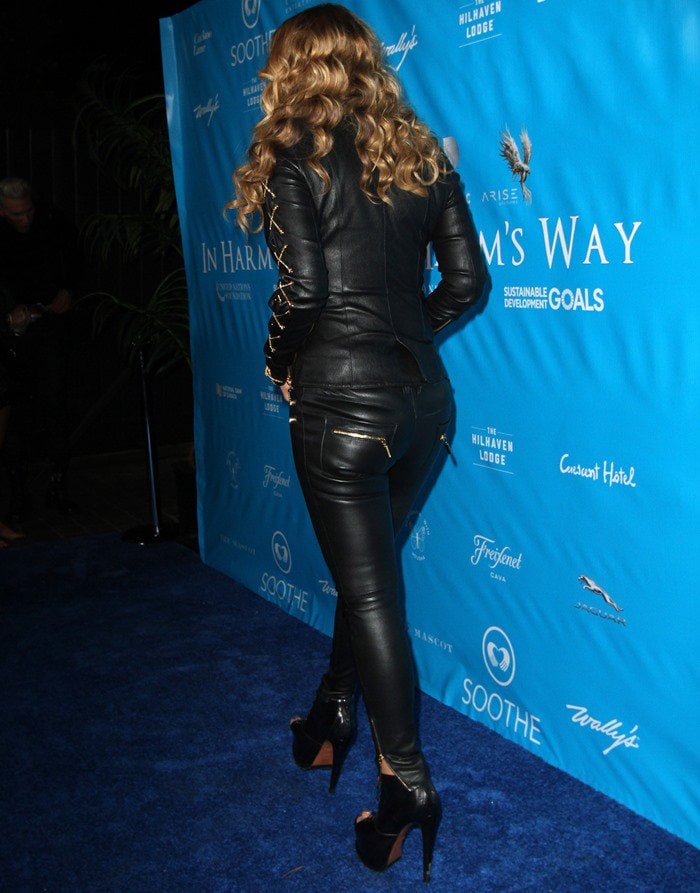 Mariah Carey shows off her figure in skintight black leather leggings at a private Los Angeles event
She wore her hair down in curls and sported heavy eye makeup.
Mariah Carey shows off her massive engagement ring from fiancé James Packard
The "All I Want for Christmas Is You" hitmaker teetered on a pair of equally-racy black leather sandals.
Mariah Carey's feet in lace-up black platform sandals
Her sandals featured dramatic platforms, peep toes, stiletto heels and lace-up fronts.
Mariah Carey's feet in black platform peep-toe sandals
Do you think this ensemble was appropriate for the type of event Mariah was performing at?
Credit: WENN/Adriana M. Barraza