If you've ever commuted through a city or traveled through an airport, you'll have seen someone carrying a TUMI bag. The brand is amongst the most sought-after bags for travel and office use as a luxury label with almost 50 years in the industry.
These investment-worthy bags might come with a steep price tag, but TUMI is at the forefront of innovation with sustainable manufacturing and a focus on lifelong use.
This American brand was acquired by Samsonite in 2016 and is the ideal splurge purchase for a frequent flyer or anyone looking to invest in an everyday bag.
TUMI is an American lifestyle and accessories brand that focuses on innovation, sustainable manufacturing, and lifelong use to provide investment-worthy bags
TUMI has a global presence with over 120 standalone stores and a presence in department stores and online retailers like Bloomingdale's, Nordstrom, and Zappos.
We're deep-diving into the brand to help you decide whether you should invest in a TUMI bag.
What Is TUMI?
TUMI is a suitcase and handbag manufacturer founded by Charlie Clifford in 1975. The name comes from a Peruvian TUMI ceremonial knife and is a nod to Clifford's time in the Peace Corps in Peru. The brand made a name for itself with its black-on-black ballistic nylon.
While TUMI is most known for its luggage, its handbags offer the same durability, elevated craftsmanship, and resiliency as its suitcases.
These bags are designed for multi-purpose, taking you from the office to travel days and everywhere in between. TUMI utilizes exclusive materials focusing on sustainability as it continues to evolve and test products.
You'll see TUMI's innovation and commitment to quality in every detail of its bags.
The brand puts a metal plate with a unique 20-digit registration number inside each bag, designed to reunite owners with their bags and luggage if it's lost in transport or stolen. You can register your bag through the TUMI Tracer program.
Is TUMI a Sustainable Brand?
TUMI is one of the most popular sustainable luggage brands with a focus on quality craftsmanship, creating bags that are designed to last a lifetime. The products made using recycled materials are held to the same quality standards as other TUMI products.
The brand uses a range of recycled materials, including post-consumer recycled plastic bottles and recycled nylon, and is working to eliminate PVC materials from its manufacturing process.
TUMI's eco-friendly materials include:
Recycled Paper used for TUMI hangtags.
Water-based poly fabric for the coating process instead of solvent-based coating, leading to less water pollution.
Recycled plastic for the interior lining, zipper tape, webbing, and binding of bags.
Recycled zinc leads to less environmental damage from mining and less zinc going to landfills.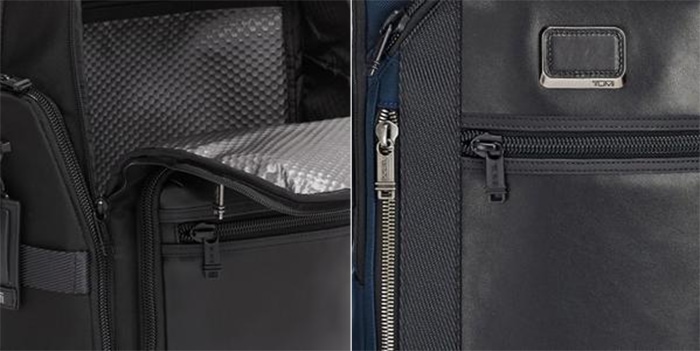 TUMI uses eco-friendly materials, such as water-based poly-fabric and recycled zinc
At the forefront of TUMI's sustainability is its global repair network. It aims to ensure that fewer bags end up in landfills by repairing broken bags and tracking down lost TUMI pieces through the Tracer recovery program.
TUMI is minimizing its carbon footprint with a commitment to reduce its carbon emissions by 15% and transition to 100% renewable energy by 2025.
What Is So Special About TUMI?
What sets TUMI apart from similar lifestyle and luggage brands is its focus on taking inspiration from innovative industries, from aviation to motorsports.
TUMI has over 125 patents to its name, reflecting the brand's focus on manufacturing next-generation styles.
TUMI puts their luggage through many tests to make sure it can survive daily use and frequent travel
TUMI products go through extensive testing before hitting the market, ensuring that these products can withstand daily use and frequent travel. Some of TUMI's 30 unique tests include:
Tumble test where the bag is tossed in a tumbler 125 times.
A handle jerk test to ensure its security.
Zipper tensile test to prevent tears from regular use.
A mileage cycle test to ensure smooth wheel operation for the suitcase.
TUMI Bag Repairs & Warranties
You might be attracted to TUMI for its bag repair policy and warranties. If you're a frequent traveler and want an everyday bag, these policies can give you extra peace of mind.
Your first year of owning a TUMI bag is worry-free, with the brand covering all repair expenses for any damage that occurs within the first 12 months of ownership. TUMI will replace your product if they assess it as being damaged beyond repair.
TUMI will cover all repair expenses for any damage that occurs within the first 12 months of ownership and replace your product if they assess it as being damaged beyond repair
You'll get a five-year warranty with your TUMI bag, covering manufacturing defects and regular wear and tear. It's worth noting that wallets and accessories only have a two-year warranty. The five-year warranty does not cover any damage caused by airlines after the first year.
The Most Popular TUMI Bags
TUMI offers an extensive range of bags focusing on travel pieces and office-appropriate styles.
While its focus is on functional bags, TUMI has increasingly been extending its product ranges to include more casual, everyday styles. We're sharing three best-selling TUMI bags to consider adding to your shopping list.
1. Arrive Hannover Briefcase
The Hannover briefcase is a sleek but spacious everyday bag that holds everything from your laptop to everyday essentials and travel staples.
It features a quick-access pocket to store your phone or wallet with leather-wrapped handles and a carrying strap.
A sleek, modern briefcase, the Arrive Hannover Briefcase is spacious enough to hold your laptop, papers, and other essential accessories
This bag is part of TUMI's Arrivé collection, inspired by automotive design with high-polish chrome detailing and magnetic zippers. The Hannover bag is a contemporary style that is your ultimate travel companion.
2. Alpha 3 Brief Pack
Do you want to invest in an office bag to elevate your workwear wardrobe? Look no further than the Alpha 3 Brief Pack.
This spacious silhouette is designed to keep you organized on the go with enough pockets to carry everything you'll need, from your tech essentials to office must-haves.
You can compartmentalize this backpack to keep your everyday items, or gym essentials separate from your work staples.
The Alpha 3 Brief Pack boasts a spacious, well-organized design with plenty of pockets and dedicated space for your laptop, tablet, and other essentials
3. Voyageur Valetta Tote M
TUMI's 'Voyageur' bag is a contemporary take on the classic tote silhouette. It's a lightweight catch-all bag for everyday wear, whether heading to the office, college, or running errands.
This bag is just as functional as it is stylish, with multiple interior and exterior pockets. You can add a strap as an additional purchase for extra functionality.
A contemporary take on the traditional tote, the Voyageur Valetta Tote M is a lightweight carryall that can hold your day's essentials
Shop the best-selling TUMI bags on the brand's official website.