Tyra Banks went totally nude at the 2018 BET Awards! And by totally nude, we mean color-wise.
The model-turned-entrepreneur rocked a monochromatic beige look in a $7,500 Stello "Blitzen" embroidered jumpsuit and clay-colored Alexander Wang "Nova" suede slingback heels ($550 at Nordstrom), styled with a honey-hued blunt bob and tan nail polish.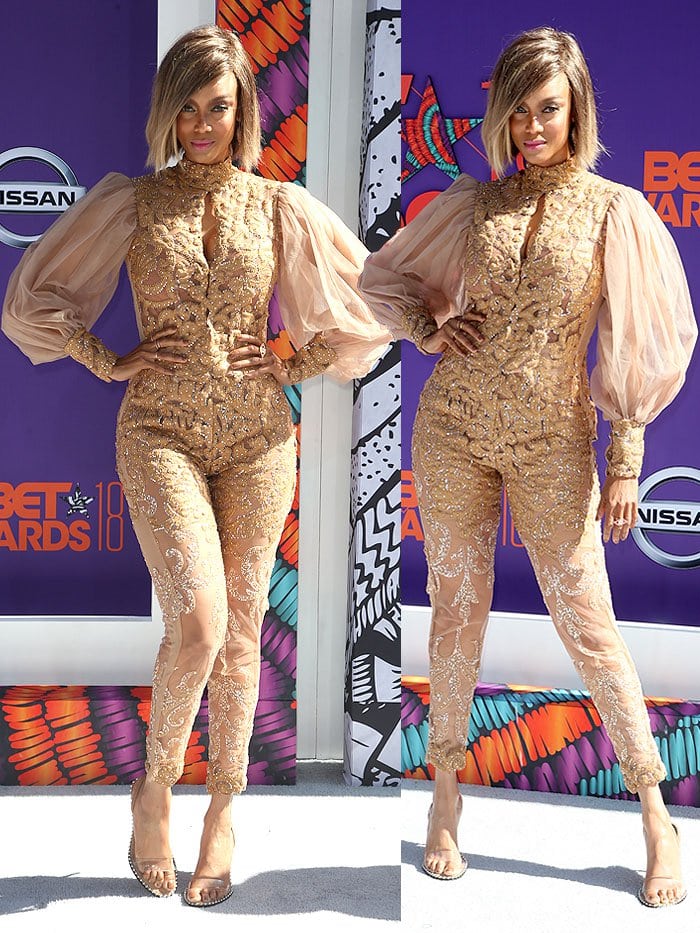 Tyra Banks in a nude Stello "Blitzen" jumpsuit and Alexander Wang "Nova" sandals
We feel like the whole purpose of wearing nude hues from head-to-toe is to create that clean, "like I'm wearing nothing" look and Ty completely defeated that by picking busy, crystal-speckled, and metal-ball-studded beige pieces.
Tyra Banks' honey-hued blunt bob
Nevertheless, we got to take our hats off to Tyra for daring to wear those massive chiffon bell sleeves.
Tyra Banks at the 2018 BET Awards at Microsoft Theater in Los Angeles, California, on June 24, 2018
Tyra Banks showing off her feet in clay suede Alexander Wang "Nova" studded slingback sandals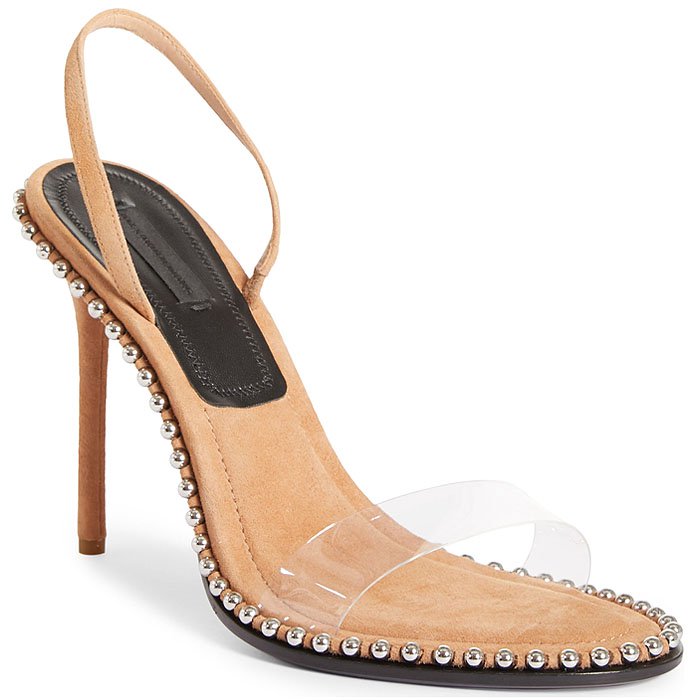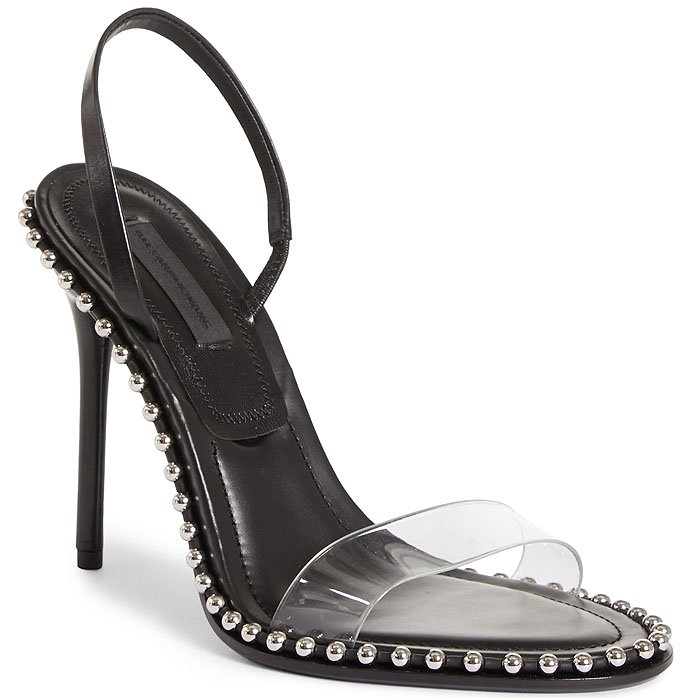 If you ask Tyra, sleeves are having a fashion moment right now. The 44-year-old supermodel chose yet another massive-sleeved dress by Marc Bouwer to wear to the 2018 Billboard Music Awards.
The "America's Next Top Model" creator looked like an '80s black Barbie come to life in the black-velvet frock, which she styled with a black-blonde ponytail, Jared Lehr green-and-gold earrings, and pearl-ankle-strap black-satin sandals.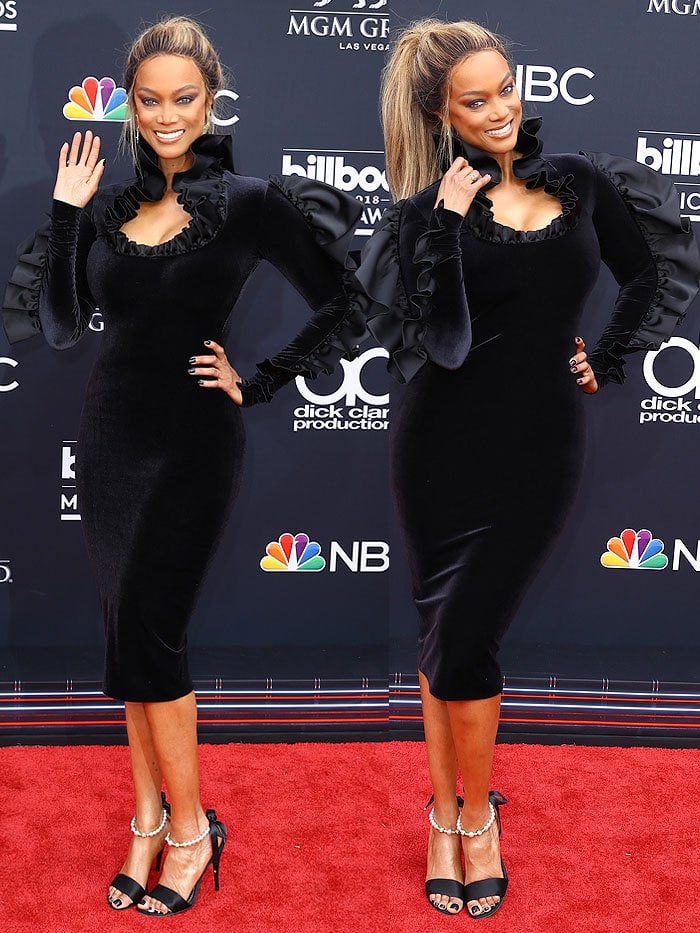 Tyra Banks in a Marc Bouwer ruffled black-velvet dress and pearl-ankle-strap sandals
Tyra Banks wearing Jared Lehr jewelry at the 2018 Billboard Music Awards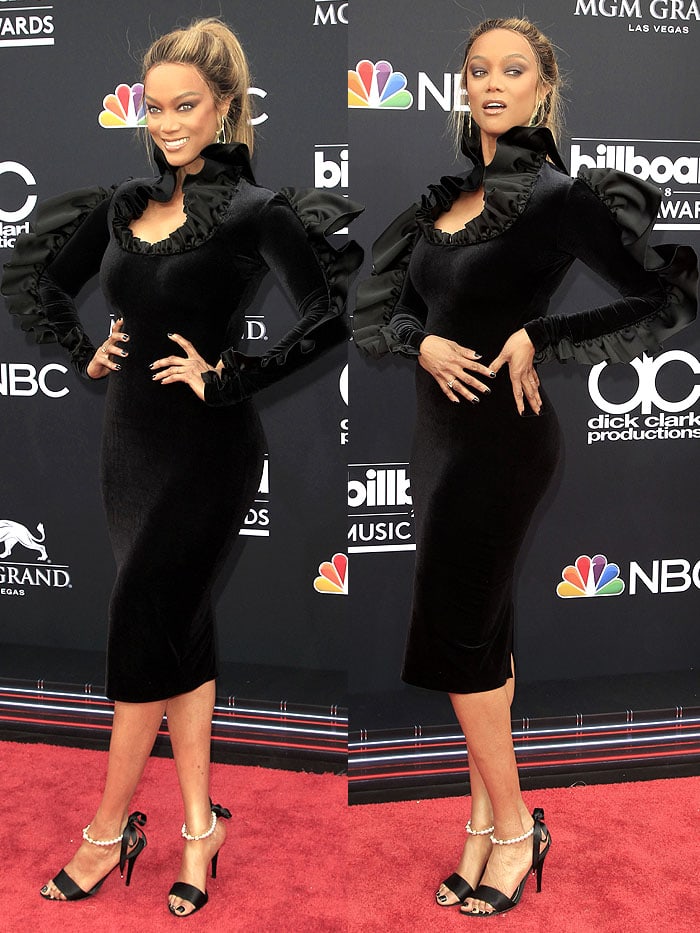 Tyra Banks wearing a Marc Bouwer black-velvet ruffle-sleeved dress with pearl-ankle-strap sandals and Jared Lehr jewelry at the 2018 Billboard Music Awards at MGM Grand Garden Arena in Las Vegas, Nevada, on May 20, 2018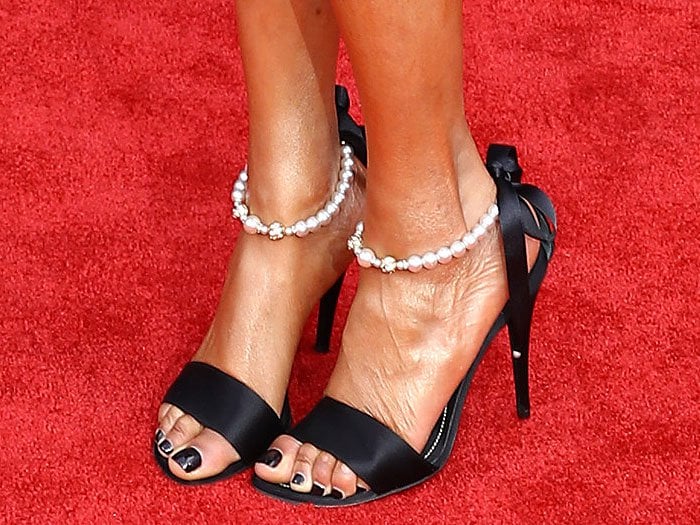 Tyra Banks showing off her feet in black-satin sandals with pearl ankle straps
Credit: Apega / Dave Bedrosian / FayesVision / Future Image /Judy Eddy / WENN