As Congress convened to confirm President-elect Joe Biden's win, an angry mob of President Donald Trump supporters stormed the US Capitol on Wednesday afternoon.
Trump reportedly incited the violence after telling his supporters that he would never concede to Biden at the Save America rally.
"And after this, we're going to walk down there, and I'll be there with you, we're going to walk down… to the Capitol. And we're going to cheer on our brave senators and congressmen and women. And we're probably not going to be cheering so much for some of them. Because you'll never take back our country with weakness. You have to show strength and you have to be strong."
Urging his supporters not to accept the election results, he added: "We will never give up. We will never concede. It doesn't happen. You don't concede when there's theft involved."
President Donald Trump reportedly incited the US Capitol siege on January 6, 2021
The President later shared a message via Twitter, justifying his supporters' actions.
"It's time to go home now. I know your pain. I know you're hurt. We had an election that was stolen from us. It was a landslide election and everyone knows it, especially the other side," he said in a video, which has since been removed by Twitter.
"It's a very tough period of time, there's never been a time like this where such a thing happened, where they could take it away from all of us. From me, from you, from our country. This was a fraudulent election, but we can't play into the hands of these people. We have to have peace. So go home, we love you. You're very special. You've seen what happens, you've seen the way others are treated that are so bad and so evil. I know how you feel, but go home and go home in peace."
Following Biden's win in November 2019, Trump attempted to overturn the election by making several misleading claims of voter fraud.
After the Capitol Hill attack, the joint session resumed and the lawmakers confirmed Joe Biden's presidential win.
Just several days prior to the Capitol siege, Donald Trump and his wife Melania Trump arrived on the South Lawn of the White House after a one-week vacation at his Mar-a-Lago resort.
President Donald Trump and First Lady Melania Trump returns to the White House cutting short vacation at Mar-a-Lago on December 31, 2020
Donald Trump was in his usual dark suit, white shirt, and red tie combo, while Melania bundled up in an oversized check-print coat.
Rumored to have undergone plastic surgery, the First Lady opted for a Balenciaga coat that features a wide collar, a front button fastening, long sleeves, and a mid-length hem. It recently sold out at Farfetch.
Melania Trump bundles up in an oversized Balenciaga check-print coat
Wearing her signature tresses down, she styled her cold-weather look with a pair of black leather gloves and Saint Laurent New Wave 1 sunglasses.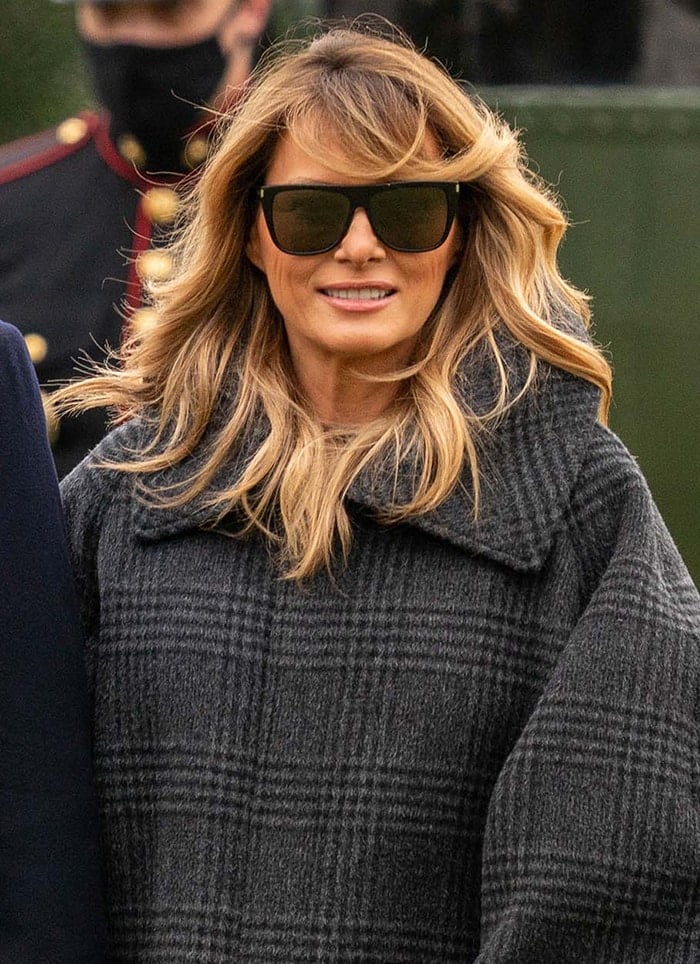 Melania Trump styles her winter look with Saint Laurent sunglasses
For her feet, the 50-year-old former model slipped into a pair of Dior Empreinte Boots, valued at $1,690.
While these soft calfskin boots have a classic design, the fashion house's signature CD logo in gold-tone gives them a chic, luxurious update.
They're a timeless pair of riding boots that feature adjustable straps and about 0.5-inch heels.
Melania Trump completes her look with black calfskin leather Dior Empreinte boots
Credit: Instar / WENN