Vanessa Hudgens has always been a trendsetter in her own way.
After breaking out of her "High School Musical" teenybopper shell to become a bohemian style maven, the actress has firmly remained on our to-watch list.
Vanessa Hudgens leaves the gym in Los Angeles on July 19, 2017
Ever since then, we've watched her style bounce between gypsy and businesswoman. Vanessa has always had a penchant for details — even when it comes to her gym attire.
We spotted Vanessa stepping out in possibly the fuzziest gym slippers we've seen in Los Angeles.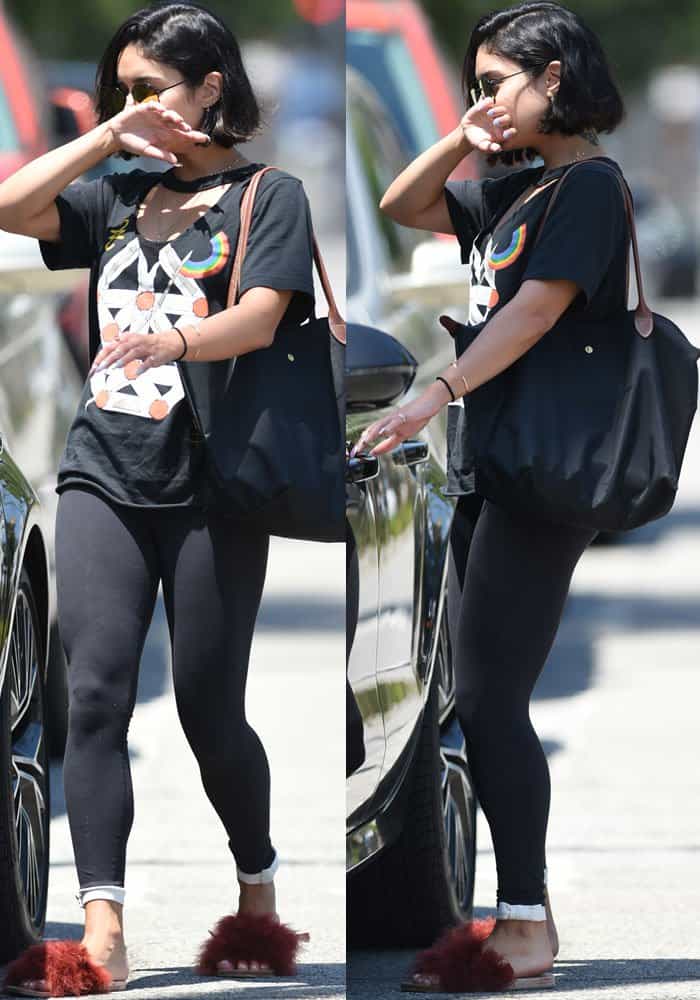 Vanessa Hudgens paired her Kate Spade x Beyond Yoga pants with one-of-a-kind gym slippers
Vanessa left the gym in an otherwise normal-looking outfit comprised of a black t-shirt and a pair of leggings. The actress sported a pair of black Kate Spade x Beyond Yoga pants (available at Shopbop) that had adorable white bows at the hem.
Vanessa Hudgens wears Brother Vellies "Marabou Lamu" slide slippers
The "Grease: Live" star was visibly uncomfortable with the cameras, hiding her face behind her hand and a pair of oversized sunnies. She used a Longchamp "Le Pliage" tote as her gym bag.
The most interesting part of her gym look was the Currant-colored pair of Brother Vellies "Marabou Lamu" slide slippers she sported on her feet.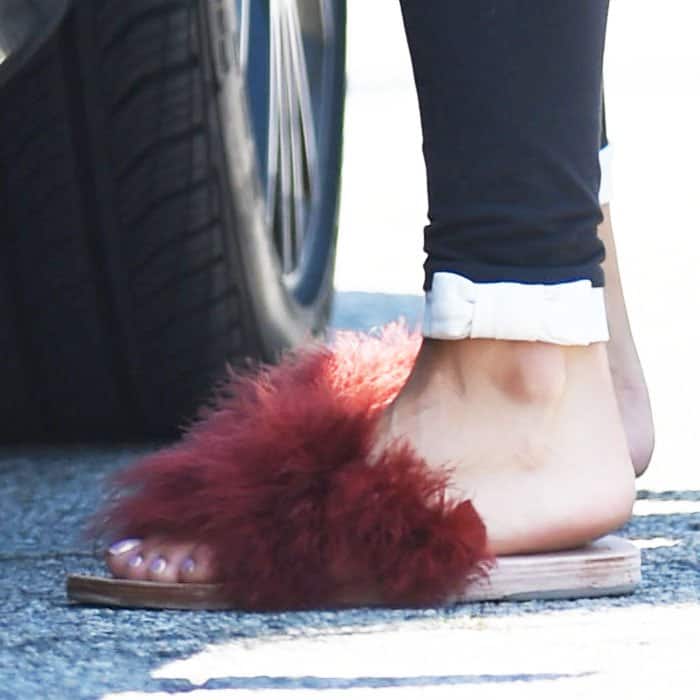 Vanessa Hudgens follows the fur slide trend with her yoga slippers
We've seen gym shoes and yoga slippers, but not quite as fancy as this pair, which cost a staggering $285 at Farfetch.
It seems Vanessa has developed a thing for sporting furry slides to the gym, considering we've previously spotted her wearing the Gucci "Princetown" mules. We think this is actually her third pair of furry slides.
Brother Vellies Marabou Lamu Slide Sandals, $285 at Farfetch

A slim slide sandal inspired by traditional Kenyan footwear gets a lavish update in fluffy, richly colored feathers
Credit: WENN