We're used to seeing her in sleek, streamlined black outfits. But last week, Victoria Beckham surprisingly ditched her signature look as she visited her Mayfair flagship store for "a day of festive filming."
The Christmas spirit came quite early for the 46-year-old fashion designer, who was seen wearing a bright red dress for a sit-down interview with Lorraine's Mark Heyes.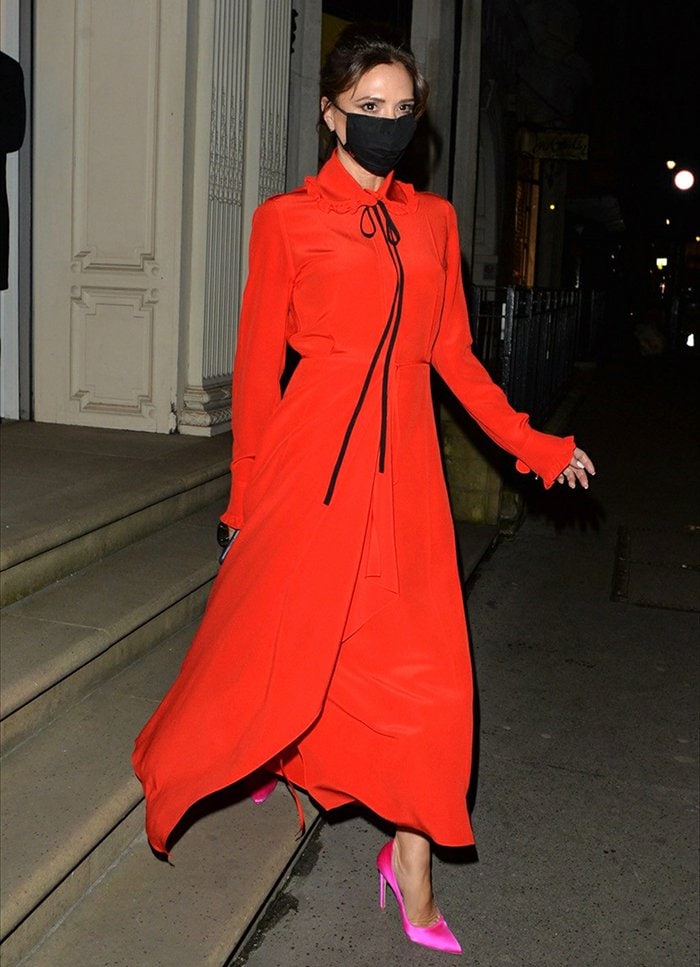 Victoria Beckham leaving her Dover Street store after an interview with Lorraine's Mark Heyes on December 7, 2020
Proving she's her own best advertisement, Victoria looked gorgeous as she sashayed down the stairs in her Pre-Spring/Summer 2021 dress.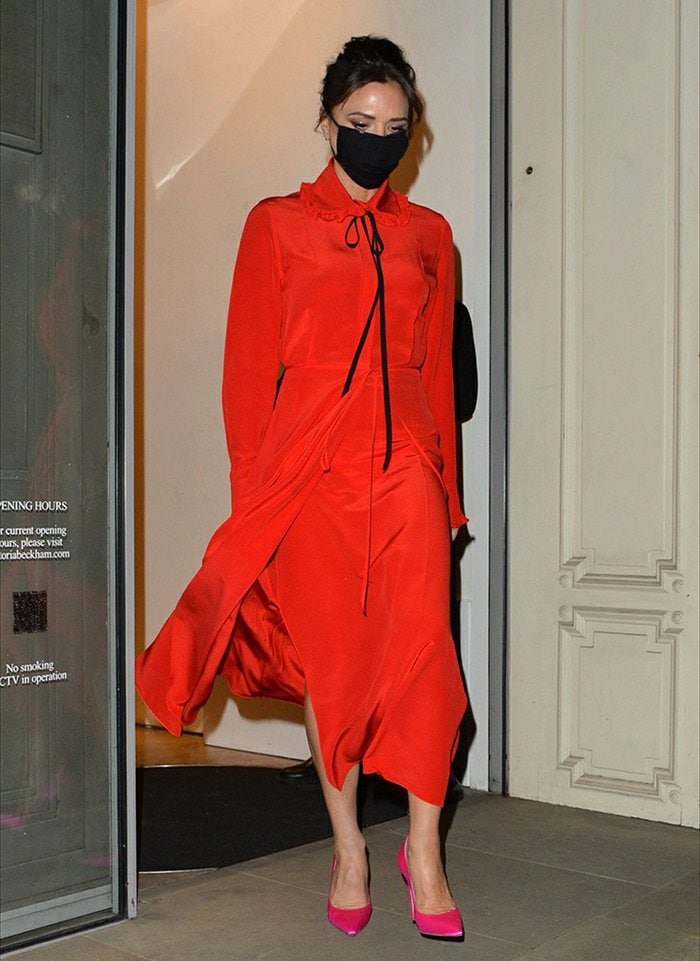 Victoria Beckham wears a flowy red dress from her pre-spring/summer 2021 collection
The $1,850-long-sleeved silk frock flows beautifully over her body, accentuating her slim frame with a waist-tie accent.
It also has a '70s Victorian-inspired ruffled collar with a contrasting delicate black necktie that gives it a romantic vibe.
A waterfall ruffle detail along the front and the ruffled cuffs complete this statement-making number.
Victoria Beckham looks festive in her Victorian-inspired red midi frock
Allowing her dress to take center stage, the mom-of-four skipped wearing elaborate jewelry and simply opted for tiny gold earrings.
She then ramped up the elegance with a chignon hairstyle and simple makeup that highlighted her eyes.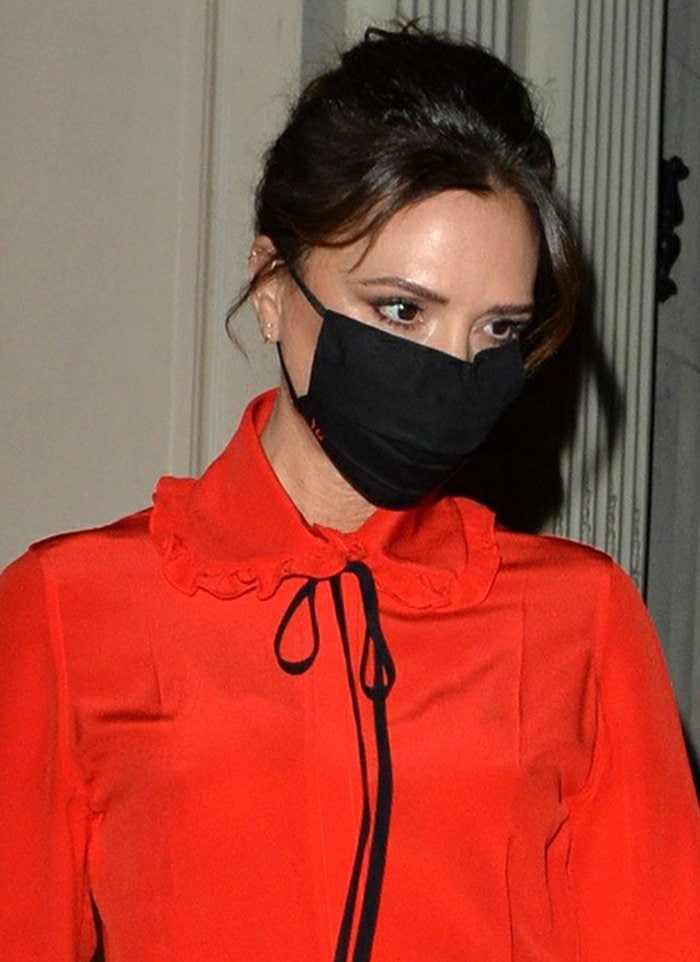 Victoria Beckham styles her hair up in a chignon and stays protected with a black face mask
Adding more color to her already bright look, Victoria slipped into a pair of hot pink VB 90 pumps.
Made from satin, these updated classic pumps feature a razor-sharp silhouette with about 3.5-inch heels.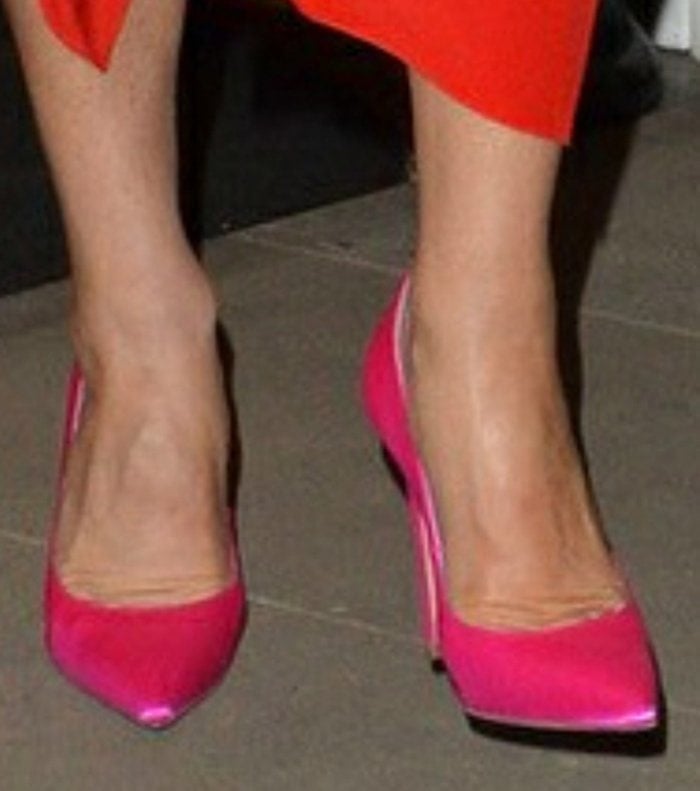 Victoria Beckham teams her red dress with a pair of hot pink VB 90 pumps
Victoria also shared with her Instagram followers a photo of her outfit for the interview.
View this post on Instagram
While she usually tries to keep her personal life private, Victoria opened up about how the Beckhams spend Christmas and also gave insight into her son Brooklyn's upcoming wedding.
"They are so happy. She's wonderful, sweet, and kind. She's such a lovely, warm woman. We couldn't have asked for Brooklyn to meet a more adorable lady," Victoria said of Brooklyn's fiancée, Nicola Peltz.
She added: "It's nice with everything that has gone on this year that Brooklyn has found his soulmate and the lady he wants to spend the rest of his life with."
Her eldest son, 21, popped the question to actress Nicola, 25, in July, less than a year after they went public with their relationship.
Brooklyn Beckham and fiancee Nicola Pelts leaving Craig's Restaurant on January 7, 2020
Victoria also talked about how their family celebrates Christmas. "I don't know who is more excited, the kids or David! We've had Christmas music playing in the Beckham house for about a month and a half."
As for their Christmas outfit, Posh Spice said they wear matching PJs. "We have matching Beckham Christmas PJs – a little monogram with our names on."
She also revealed that David is the chef since her culinary skills are "not great."
Credit: Instar / WENN