Victoria Justice was at the 2010 Teen Vogue Young Hollywood Party held at Paramount Studios in Los Angeles, CA last October 1. As the 17-year-old actress is one of the hottest teen celebrities right now, she was right in place at the star-studded event.
Victoria Justice chose to wear a grey short-sleeved wrap skirt dress and black gladiator platform sandals. Her outfit was not surprisingly from Michael Kors, who was one of the major sponsors of the night. She accessorized with black and gold jewelry and finished off her look with a feathery fringe clutch:
Victoria Justice arrives on the red carpet at the 2010 Teen Vogue Young Hollywood Party on October 1, 2010
Alright, another feathery fringe spot! I know not a lot of people are fans of feathers on handbags but it's just that we so rarely see them that I get ecstatic whenever I spot one. The last time we saw a feathered handbag was on Olivia Palermo and before that it was just Jennifer Lopez, so this one on Victoria Justice brings up the tally to a grand total of three.
Here's Victoria Justice's clutch up close: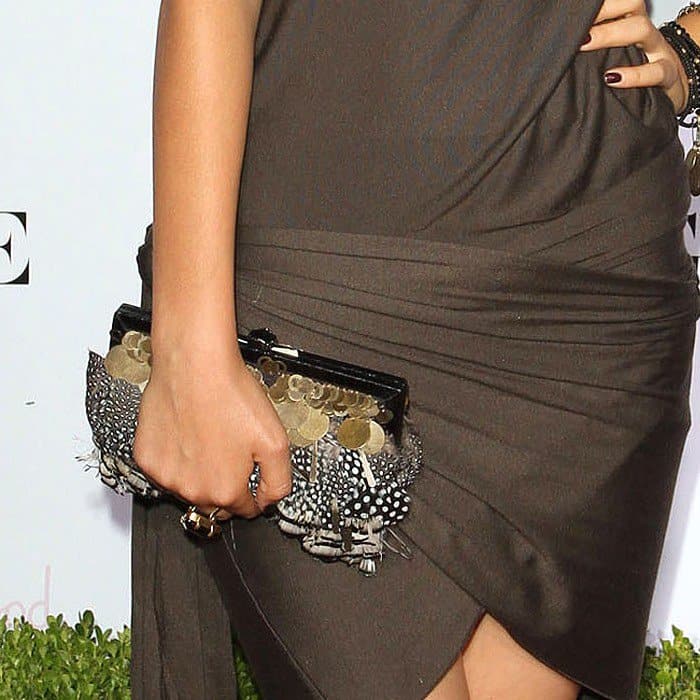 The fringe is a mix of feathers and gold sequin circles, which makes for an interesting textural design on the clutch's body. The lock is adorned with a precious jewel clasp.
Victoria Justice's clutch is the Kotur 'Fino' feather clutch. I wasn't able to get an exact price on it, but Kotur handbags are generally priced between $300 to $900 with some items going as high as $1,500.
Feather fringe clutches are beautiful but they don't have to be as expensive as Victoria's! Here are 3 feather fringe clutches (the most expensive one set at just $56.00!) to prove just that:
From top: Magid Roll Feather Clutch, $53.00; ASOS Nude Feather Clutch, $43.81; Magid Kiss-Lock Feather Clutch, $56.00
Credit: FayesVision / WENN