The Twilight films' success gave Christian Serratos a considerable boost in visibility within the film and television industry.
She appeared in various television shows and movies during the following years, including 96 Minutes and The Secret Life of the American Teenager.
Apart from the vampire films, her most notable role has been in the cult-favorite television show, The Walking Dead.
The Walking Dead
Christian Serratos has a penchant for supernatural and monster stories, as this series focuses on the struggles of humans trying to survive a zombie outbreak.
Serratos plays the fictional character Rosita Espinosa, who appears in the fourth season. She first makes an appearance towards the end of the tenth episode but is quickly promoted to a series regular because of the fan's positive reactions and warm welcome.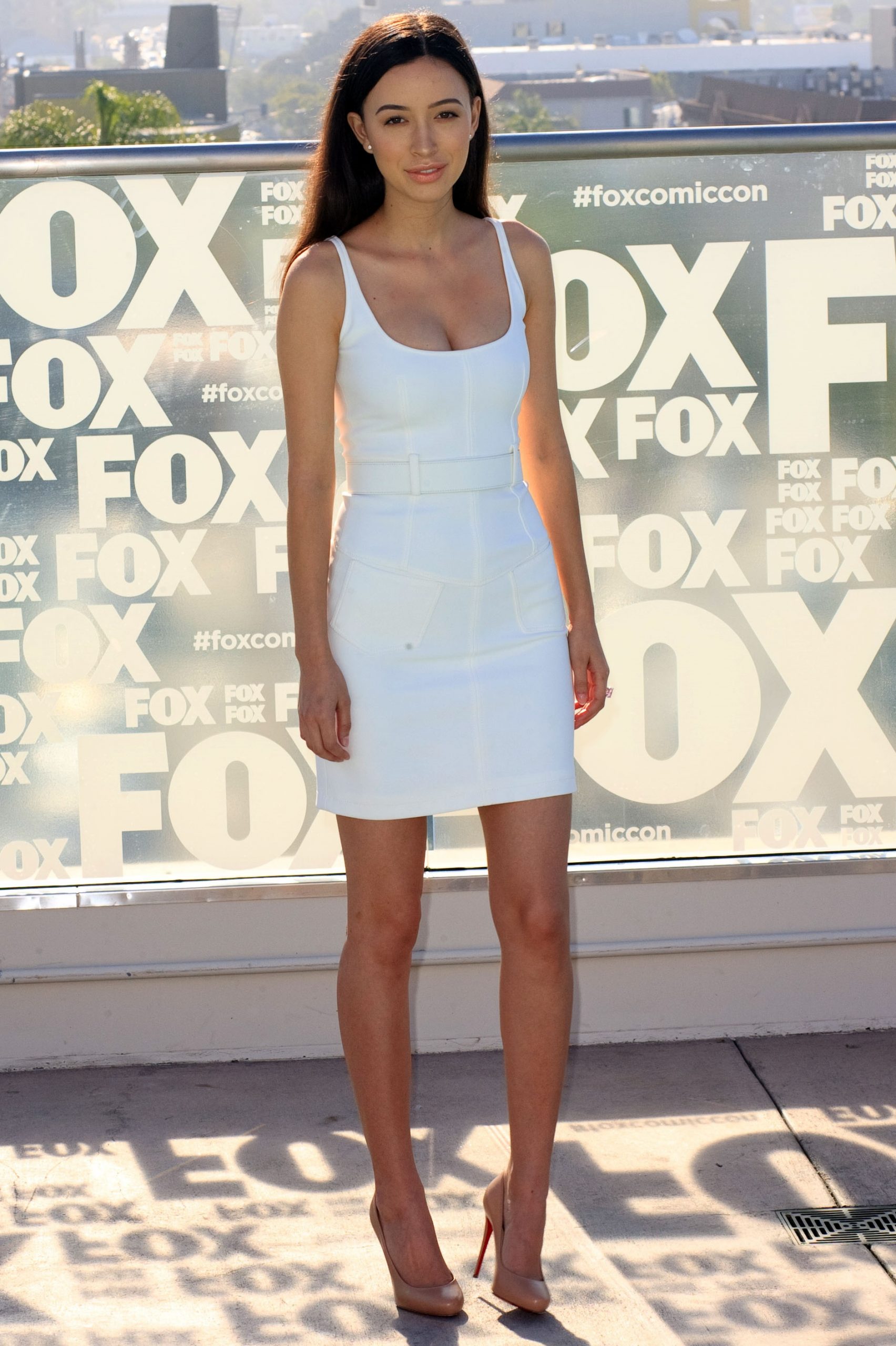 Christian Marie Serratos plays Rosita Espinosa in AMC's The Walking Dead TV series
By the fifth season, she is a central cast member with a developing storyline, and by the seventh season, her name has been added to the main credits.
PETA Activism
Serratos is a huge proponent of animal activism and has been a PETA member for many years now. She has been a vegetarian for most of her life, even before being cast in the first vampire movie installment, and actively promotes organizations that fight for animal rights.
In 2009, shortly after Twilight's release, she became involved with PETA and modeled for one of their "Celebrity Sexy Ads." In the advertisement, she posed nude while in a forest or woods, with the caption, "I'd rather go nude than wear fur."
A stark contrast to her good-girl character, Angela Weber, this ad demonstrated her devotion to animal rights. Ever since then, she has been an active member of the organization.
Animal rights activist Christian Marie Serratos has posed for a number of PETA campaigns promoting a vegan lifestyle
For the past decade, she has contributed to promoting the end of animal abuse, using her social media and personal influence to raise awareness of the horrible conditions that animals face worldwide.
Selena: The Series
In 2019, Serratos was cast as the titular character in the Netflix series Selena, which tells the story of the famed singer/songwriter through her teenage years and early stardom and her relationship with her family.
As the casting and production began in 2019, Christian Serratos had to leave The Walking Dead filming earlier in the ninth season to take on this new project.
As she explained to The Los Angeles Times, there is a ton of pressure for her to perform well for this series and do justice to Selena. Serratos even questioned whether she should accept the project initially because she was so nervous about its reception and critiques.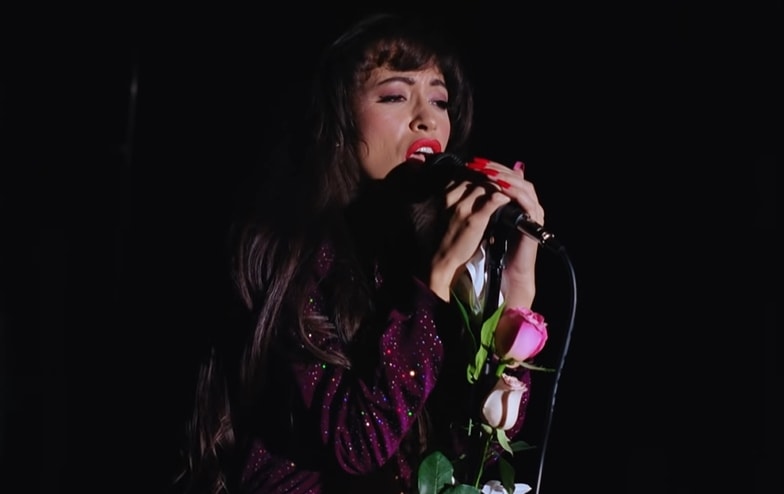 Christian Serratos as Selena in the American biographical drama streaming television Selena: The Series
Selena's legacy is massive, with fans still heavily devoted even 25 years after her death. There were already comparisons between Serratos and Jennifer Lopez, who starred as Selena in the 1997 biographical drama after the castings were announced.
However, Serratos is eager to prove herself and take on a challenging role. She gathered research and spent a lot of time watching old videos and studying Selena's behavior and mannerisms to impress during the audition and filming.
Raised in Burbank, California, Serratos even worked diligently with a dialect coach to nail the southern accent.
The first part of the television series was filmed in 2020 under strict COVID-19 safety regulations and protocols.
It aired at the end of the year on December 4, to mixed reviews. Serratos was praised for her performance and likeliness to Selena, but critics felt that the script and storyline were lacking.
Where Is She Now?
Christian Serratos is currently working on the Netflix television series Selena, which is set to renew another season if it does well on its May release.
She has spent the past year filming the show and staying home with her family due to the pandemic and consequent lockdowns.
Serratos has a four-year-old daughter, named Wolfgang, with her husband David Boyd, the lead singer of the band New Politics. During her stay at home, she has taken up new hobbies and is even trying to learn Farsi.
Christian Serratos had a daughter named Wolfgang in 2017 with her husband, New Politics singer David Boyd
The second part of Selena: The Series is set to air soon, with the intended release date on May 4, 2021. If the season receives a warm response and generates enough attention, it will be renewed for another.
We will have to wait for the next episodes and see how the story plays out! This television series is the only current project on Christian Serratos's schedule, as the pandemic has slowed a lot of productions and halted many films and T.V. shows.
Serratos has been an onscreen favorite since she first appeared on Nickelodeon. Thanks to her talents, the actress managed to land a part in one of the most successful movie franchises of the 21st century while only 18 years old.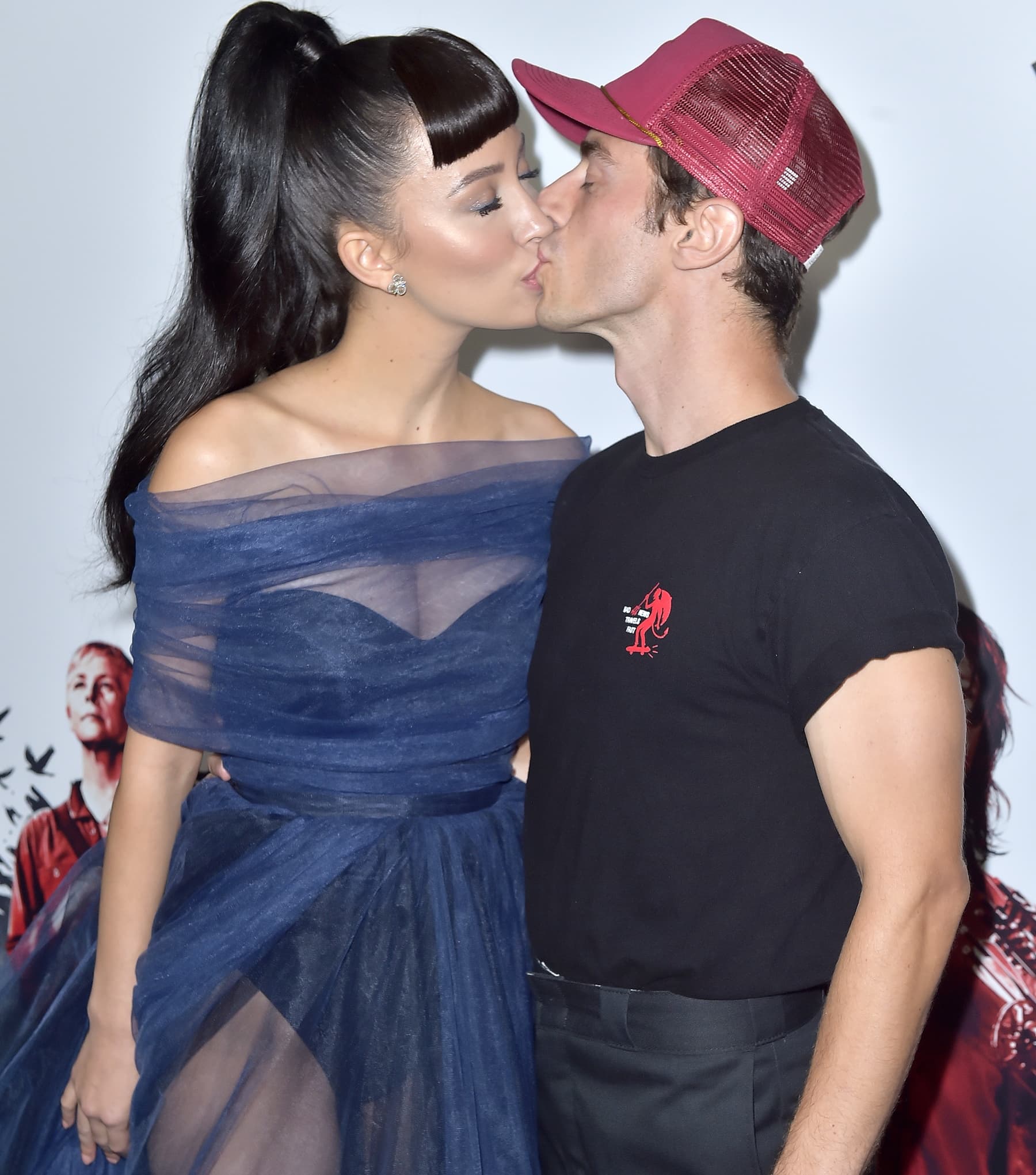 Christian Serratos is married to Danish-American singer, songwriter, and dancer David Boyd
Serratos continued to wow audiences with her acting skills and quickly became a fan favorite of every movie and series she appeared in. Despite COVID-19, she has remained active in the film industry and continues to prove her talents. We're excited to see more of Christian Serratos' work and support her wherever she appears next!
In February 2013, Christian Serratos attended the Los Angeles premiere of 21 & Over at Westwood Village. She wore a pair of Christian Louboutin Clou Noeud pumps, which unfortunately have been out of stock for a long time now.
Christian Serratos wears a silver mini dress at the 8th Annual Teen Vogue Young Hollywood Party held at Paramount Studios, Los Angeles, California, on October 1, 2010
Since this was the first time we had featured the 'Nickelodeon' star, we decided to take a look at what other shoes she wore at the start of her career.
Christian Serratos shows off her sexy feet in Christian Louboutin Clou Noeud heels
We were happy to see that she loves the 'Clou Noeud' pumps as much as we do.
Christian Serratos wears at AllSaints dress at the 13th Annual Young Hollywood Awards presented by Bing at Club Nokia, Los Angeles, California, on May 20, 2011
In fact, Christian has sported them several times on the red carpet. Would you like to show off your feet in these peep-toe heels?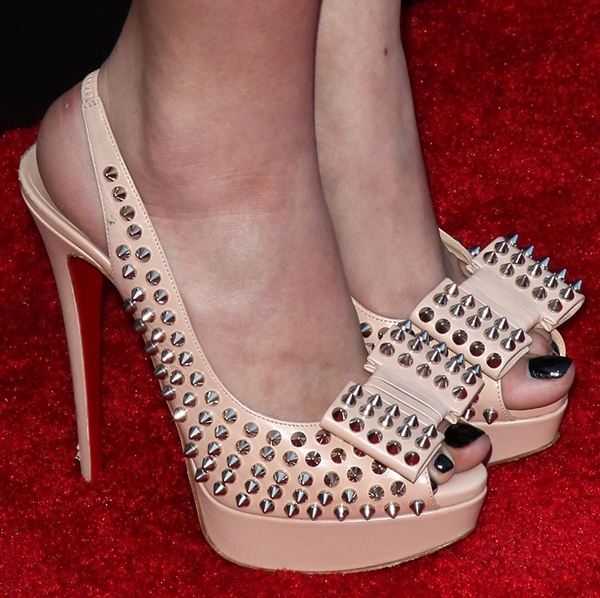 Christian Serratos shows off her feet in her favorite spiky Christian Louboutin Clou Noeud sandals
Since she has been wearing the same shoes to red carpet events since 2010, at least we know what her favorite shoes are. Luckily, it's not the only pair in her shoe closet:
1. Christian Serratos in Sexy Sandals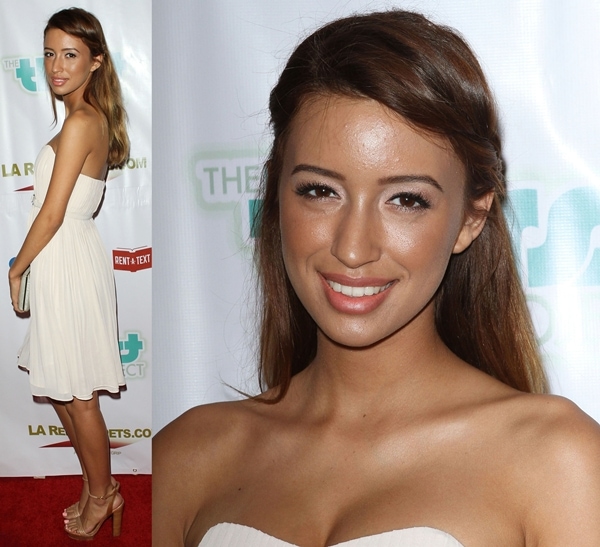 Christian Serratos flaunts her legs at the 2nd Annual Thirst Gala held at the Beverly Hilton Hotel, Beverly Hills, California, on June 28, 2011
Christian Serratos displays her pretty toes on the red carpet
2. Christian Serratos in Christian Louboutin Peep-Toe Pumps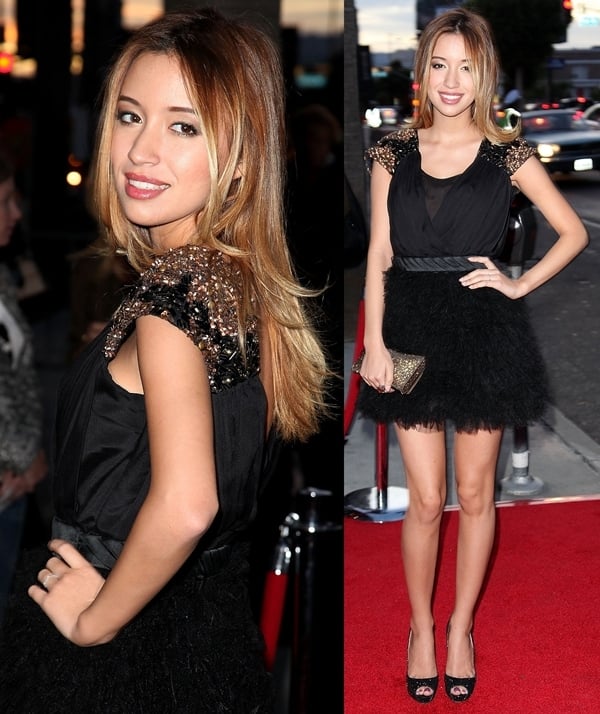 Christian Serratos wears a pleated tulle cocktail Gabriela Cadena dress with beaded shoulder detail at the premiere of FX's American Horror Story at the Arclight Cineramadome Hollywood, California, on October 2, 2011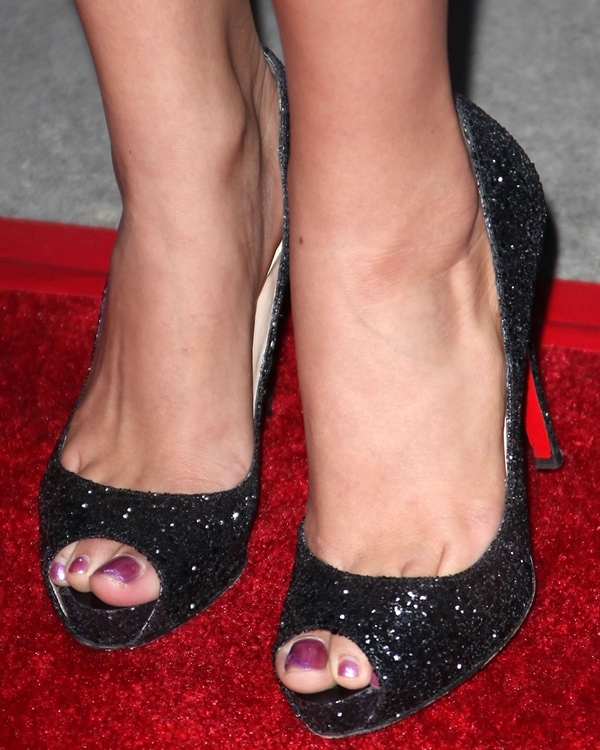 Christian Serratos shows off her feet in Christian Louboutin peep-toe shoes
3. Christian Serratos in Rene Caovilla Crystallized Platform Ankle-Wrap Sandals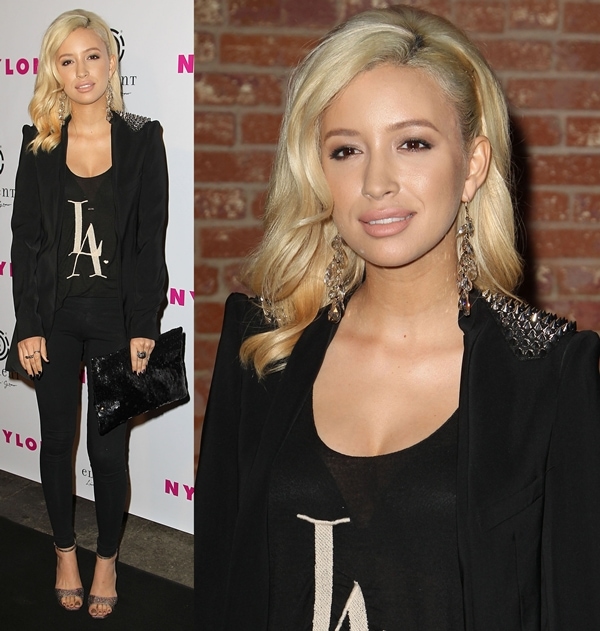 Christian Serratos at the NYLON Magazine August Issue Launch Party in Hollywood on July 31, 2012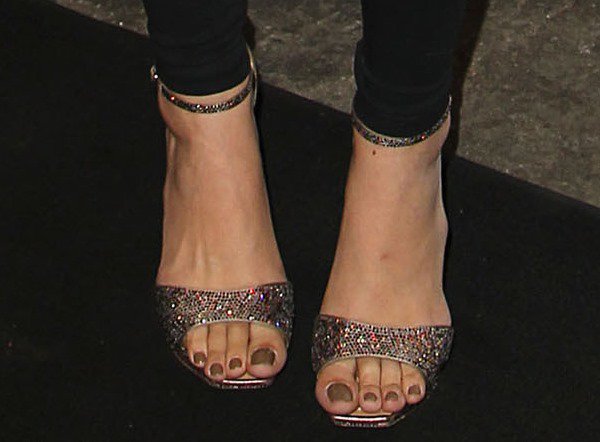 Christian Serratos displays her feet in Rene Caovilla crystallized platform ankle-wrap sandals
4. Christian Serratos in Yves Saint Laurent 'Tribute' Pumps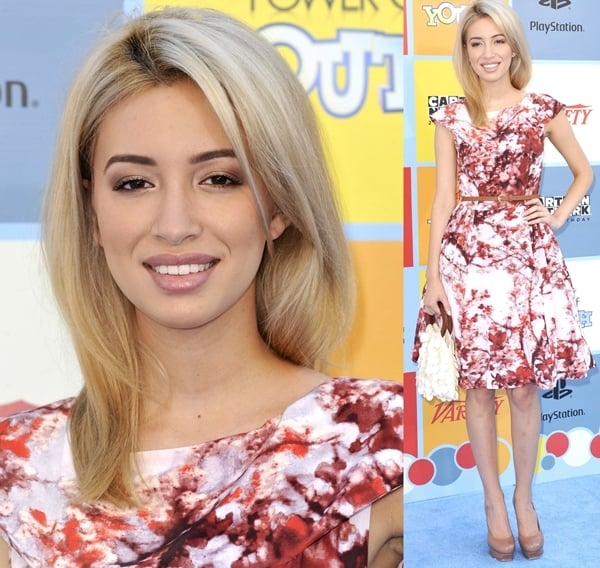 Christian Serratos wears a pretty floral dress at Variety's Power of Youth presented by the Cartoon Network at Paramount Studios, Los Angeles, California, on September 15, 2012
Christian Serratos shows off her feet in Saint Laurent platform pumps
5. Christian Serratos in Sexy Black Pumps
Christian Serratos wears a black dress at the Express And Vogue 'The Scenemakers' celebration at Chateau Marmont Hollywood, California, on September 27, 2012
Christian Serratos shows off her feet in black platform pumps
6. Christian Serratos in Hot Wedges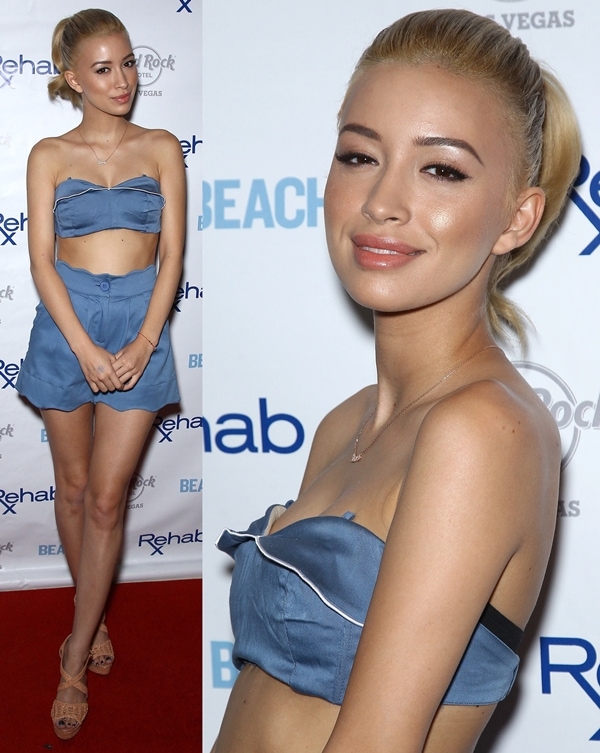 Christian Serratos looks fabulous at Hard Rock Hotel and Casino in Las Vegas, Nevada, on September 30, 2012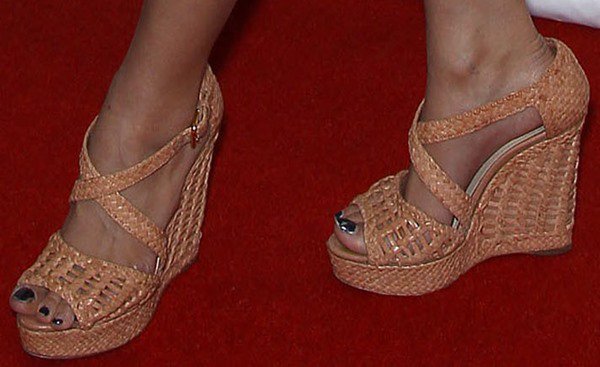 Christian Serratos displays her pretty feet in hot wedges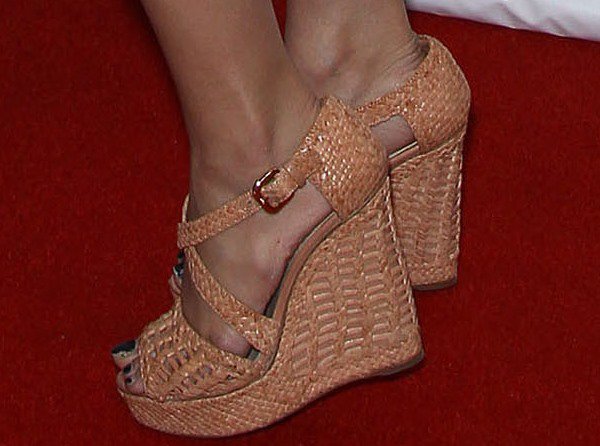 Christian Serratos added several inches of height in platform wedges
Which of Christian's outfits do you like the most? How would you rate her sense of style on a scale from 1 to 10?
Credit: Brian To / FayesVision / Judy Eddy / Ryan / Apega / WENN / Tony Forte / Nikki Nelson