Do you want to be treated like Cinderella on your wedding day? If the answer is yes, you really can't go wrong with a pair of bridal heels from Christian Louboutin. These are the French shoe maestro's top 10 wedding shoes for 2018.
1. Nu Lamé Guipure Lace 'Very Lace' 120 mm Bridal Heels, $995 at Nordstrom
In this season's nu lamé guipure lace, the lofty Italian-crafted "Very Lace" epitomizes luxury. Finished with a 100mm specchio leather heel, this platform peep toe court shoe perfects your glamor look.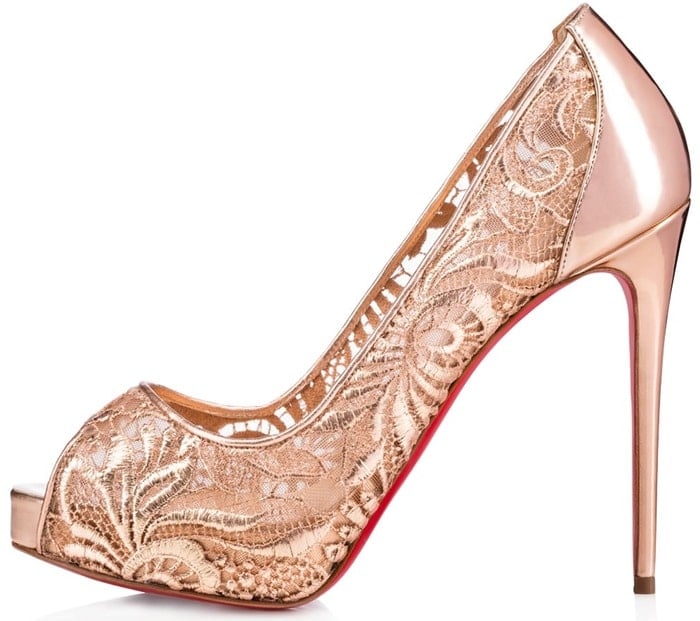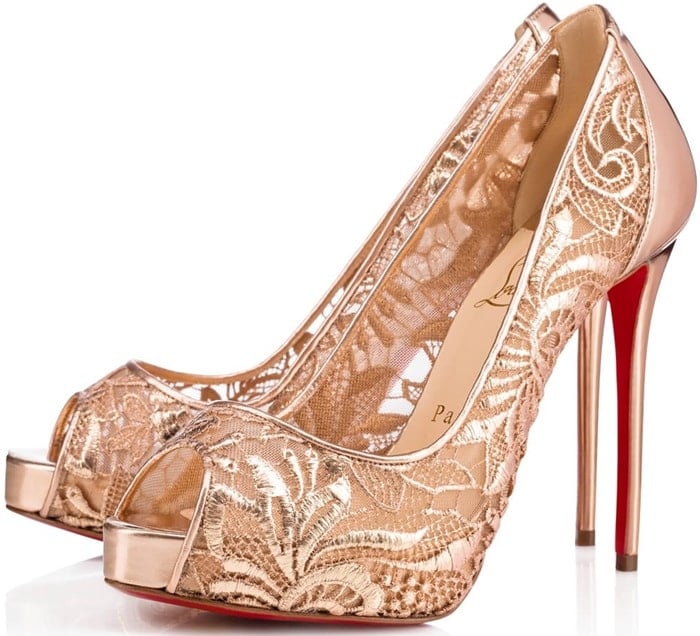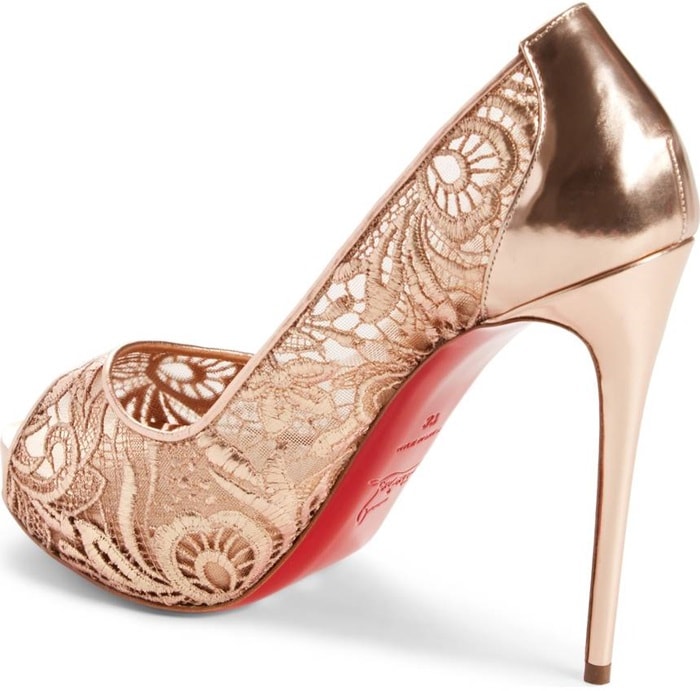 2. Nu Crepe Satin 'Miss Pigalle' Bridal Pumps, $875
"Miss Pigalle" is the signature Christian Louboutin icon dressed up in nu crepe satin, with a slender platform and an elegant handmade bow. This 120mm pump embodies formality and grace.
3. Light Silk Crystal Dégradé 'Twistissima Strass' Pumps, $1,245
"Twistissima" showcases the foot's elegant curves with its low-cut vamp and receded heel detail. In voile patent leather and mesh with a light silk crystal dégradé at the pointed toe, this 85mm cross-strap pump is a ravishing shoe for evening. Jane Seymour wore these heels to AARP's 2018 Movies For Grownups Awards.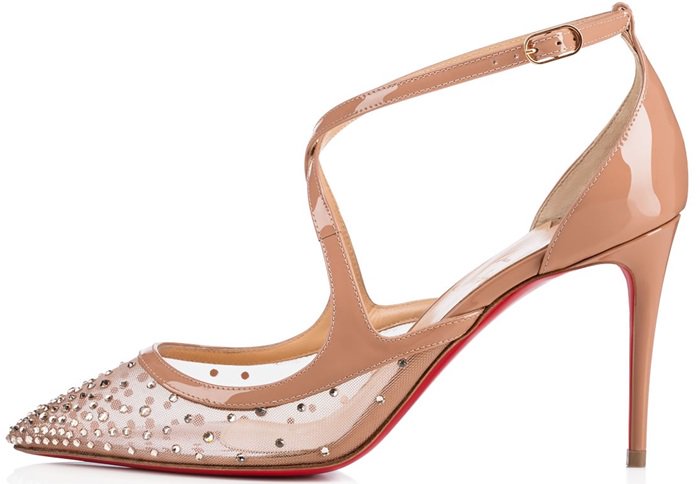 4. Silver Aliglitter "Biblio" Pointy-Toe Pumps, $775
"Biblio" is the signature classic 100mm "Decollete 554" silhouette fashioned with a layered toe box and small triangular cutouts outlined by vintage specchio piping. In silver aliglitter with embossed dino laminato and specchio leather, this pair is a metallic marvel.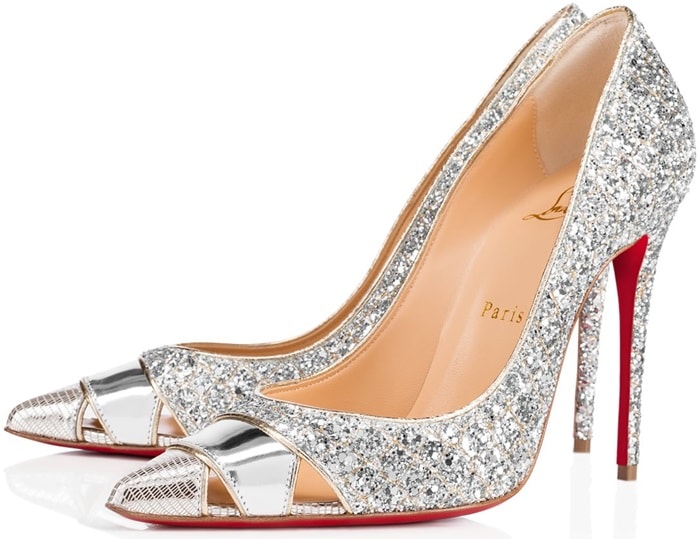 5. Ivory Chantilly Lace and Crepe Satin 'Follies Lace' 100 mm Pumps, $795
"Follies Lace" is an exquisite piece of footwear finery. Featuring ivory chantilly lace and crepe satin, this pointed-toe pump hints at haute couture. A highly delicate style, it's best to slip them on when you arrive at your destination.
6. Crystal-Encrusted 'Circonvolu Strass' 100 mm Sandals, $2,495
"Circonvolulu's" strappy silhouette is sculpted by hand into this exquisite crystal-encrusted leatherwork pattern. Accented in glossy aurora boreale patent, this 100mm sandal style is a timeless evening jewel.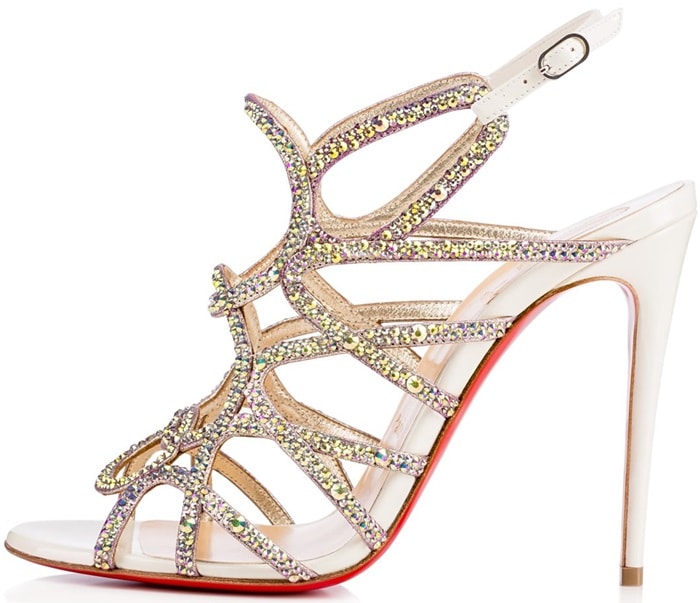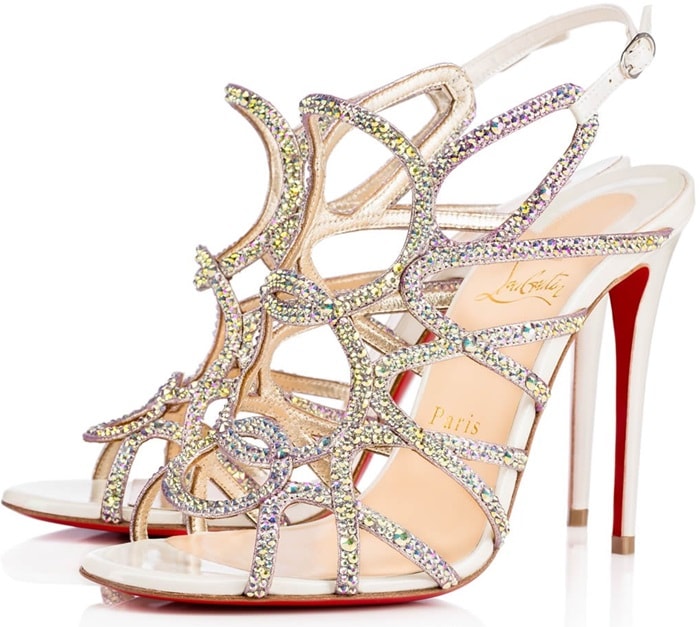 7. Nude Patent Leather 'Crystal Queen' Sandals, $2,245 at Neiman Marcus
Make the best dressed list in Christian Louboutin's "Crystal Queen" heels that we've spotted on Shailene Woodley. This slender platform sandal is encrusted in dazzling crystal shards of varying sizes. Set against nude patent leather, the crystals draw the eye to their sparkling splendor.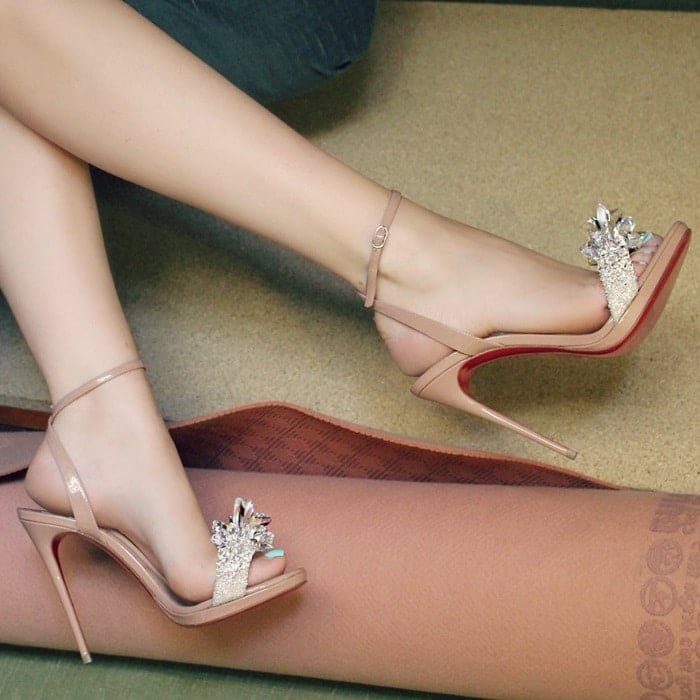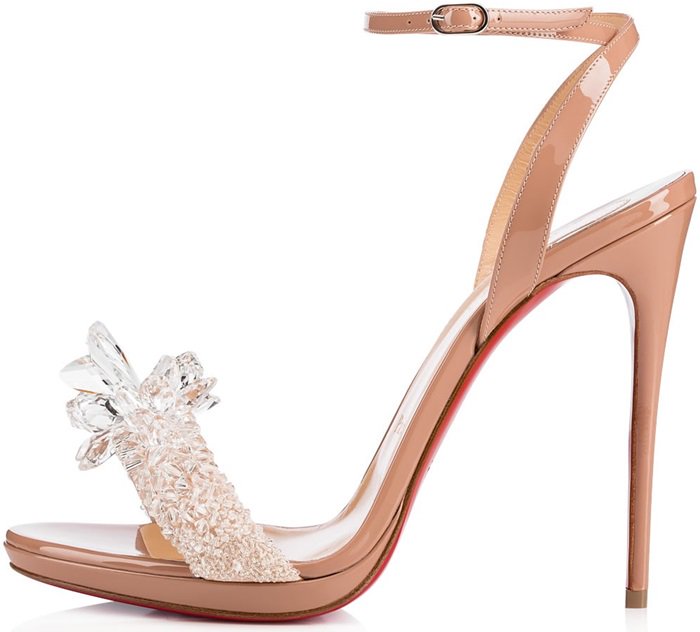 Taraji P. Henson also wore the "Crystal Queen" sandals in black to the premiere of her new movie 'Acrimony' in New York City. The 47-year-old 'Empire' actress showed off some leg in a bathrobe from Roberto Cavalli and Kimberly McDonald jewelry.
Taraji P. Henson in Roberto Cavalli at the 'Acrimony' New York premiere on March 27, 2018
Taraji P. Henson showed off some leg in a bathrobe from Roberto Cavalli and Kimberly McDonald jewelry
Taraji P. Henson's feet in Christian Louboutin crystal-embellished sandal in patent leather
8. Glittered Roccia Python Print 'Follies Strass' 100 mm Bridal Shoes, $1,195
Light up the evening in neutral mesh "Follies Strass" pumps that are embellished with a sparkling gradient of hand-placed crystals and complemented by a sumptuous 100mm glittered roccia python print leather heel.
9. Gold Metallic Mesh "Very Rete" Wedding Shoes, $965
In a nearly full covering of this season's gold metallic mesh, the alluring "Very Rete" from Christian Louboutin epitomizes elegance. With a peep toe and 'sirene' laminated leather spike heel & slender platform, this 120mm beauty makes your party look.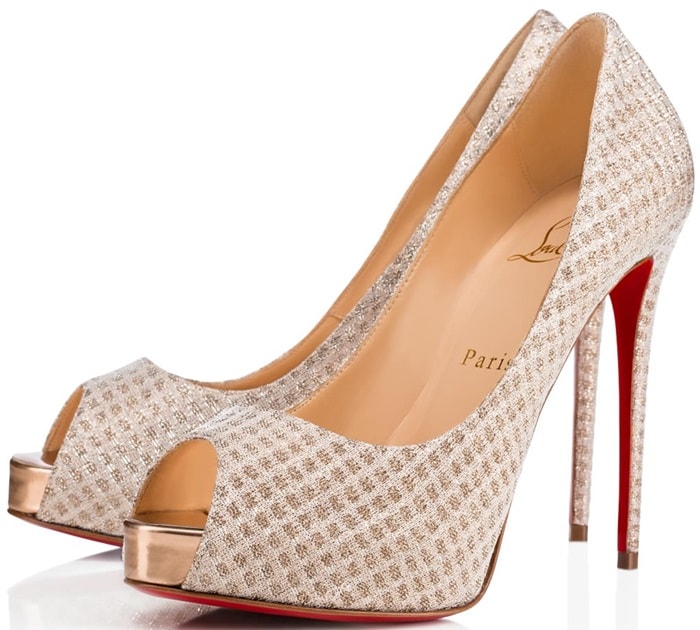 10. Checked Quadro Lurex "New Very Prive" 120mm Bridal Heels, $825
"New Very Prive" is a chic update on the signature classic "Very Prive" worn by Christina Aguilera and Holly Madison. Featuring a slender platform and 120mm spike heel, this peep-toe pump in nude checked quadro lurex and specchio leather makes a captivating statement.
Credit: WENN / Derrick Salters