On Wednesday, President Trump and First Lady Melania Trump toured the NASA headquarters ahead of Elon Musk's SpaceX launch in Cape Canaveral, Florida.
Donald Trump and his wife Melania Trump traveled from the White House to Florida on May 27, 2020, to watch the SpaceX launch of two U.S. astronauts to the International Space Station, but the launch was canceled due to poor weather
The Slovenian-American former model rocked white Manolo Blahnik BB pumps that are available in many colors at Nordstrom. You can find plenty of inexpensive alternatives at Zappos.
Earlier in the morning, Melania departed the White House with her husband in a patterned white and blue midi dress featuring scalloped trim.
Melania Trump wore a patterned white and blue midi dress
'Look forward to being back with you on Saturday!' Trump tweeted from Air Force One in the evening as he traveled back to Washington, D.C. from the Kennedy Center. The historic SpaceX and Nasa launch was canceled minutes before liftoff amid bad weather.
Melania Trump's Dior square sunglasses in metal
The 49-year-old First Lady of the United States accessorized with Dior square sunglasses in metal.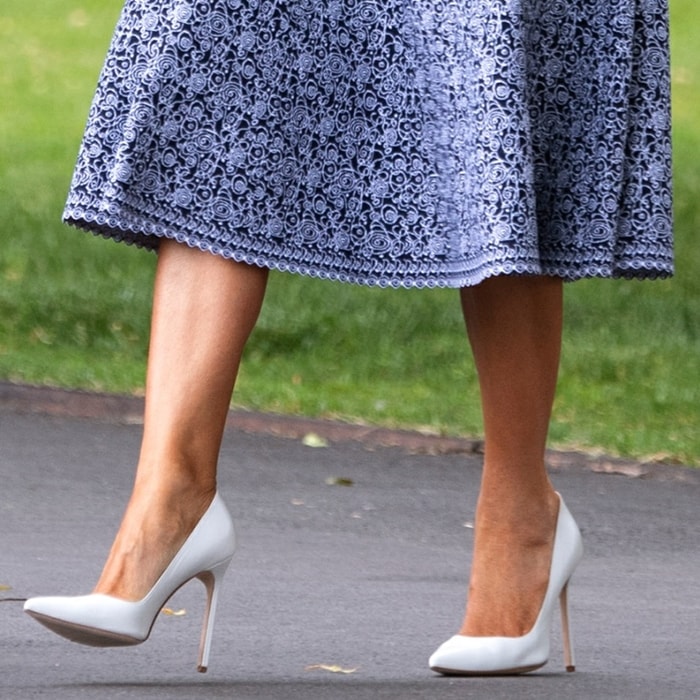 Melania Trump showed off her feet in white Manolo Blahnik pumps
Credit: Instar / WENN