Vanessa Hudgens was spotted checking messages on her phone while arriving on a flight at LAX Airport on Wednesday in Los Angeles. She returned home from a vacation in New Zealand.
Actress Vanessa Hudgens tries to go incognito as she wears a wide-brimmed hat and aviator sunglasses at Los Angeles International Airport (LAX) while listening with her earphones on February 25, 2015
The 26-year-old American actress and singer covered her long, black hair and face with a light brown wide-brimmed hat and dark sunglasses.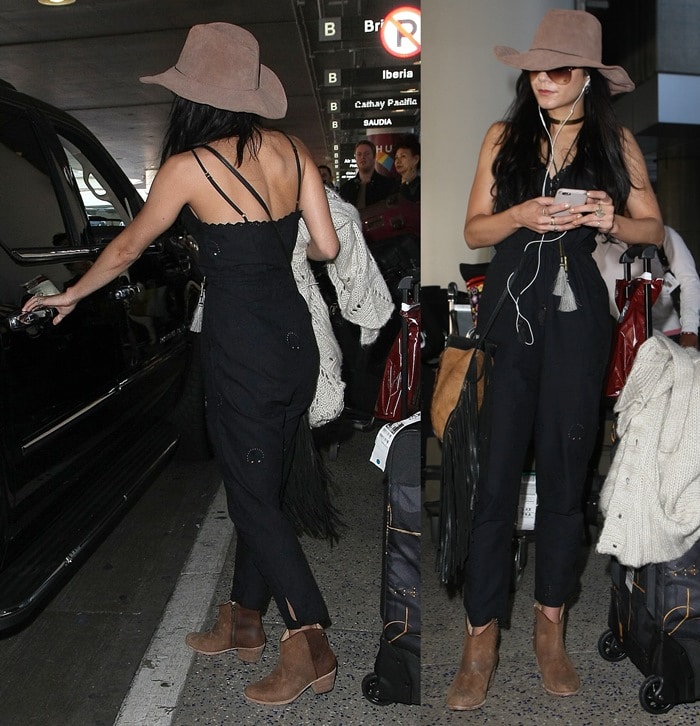 Vanessa Hudgens rocked a simple black jumpsuit and rugged ankle boots
She sported a simple black jumpsuit and completed the outfit with a pair of rugged ankle boots from Koolaburra.
Actress Vanessa Hudgens is often seen in Koolaburra boots
How do you like Vanessa's stacked-heel ankle boots? You can find them in three different colors at Amazon.
Koolaburra Notela Boots, $146.25 – $194.95 at Amazon
Credit: WENN/JP8