The Academy Awards, or the Oscars, is one of the most prestigious events honoring Hollywood's most outstanding talents and skills.
Will Smith won Best Actor at the 2022 Academy Awards after hitting Chris Rock (Credit: InstarImages)
While the 2022 Oscars was another spectacular celebration of fashion, talent, and A-List glamor, it also featured A-list drama when actor Will Smith slapped comedian Christ Rock.
What Happened at the 2022 Oscars?
When Rock presented the award for best documentary feature, he made a joke that referenced Pinkett Smith's medical condition, Alopecia. "Jada, GI Jane 2, I can't wait to see it."
The remark was directed at Pinkett Smith's shaved head, reminiscent of the 1997 character G.I. Jane which featured Demi Moore with a buzz cut. The actress has been publicly sharing her journey with Alopecia since 2018.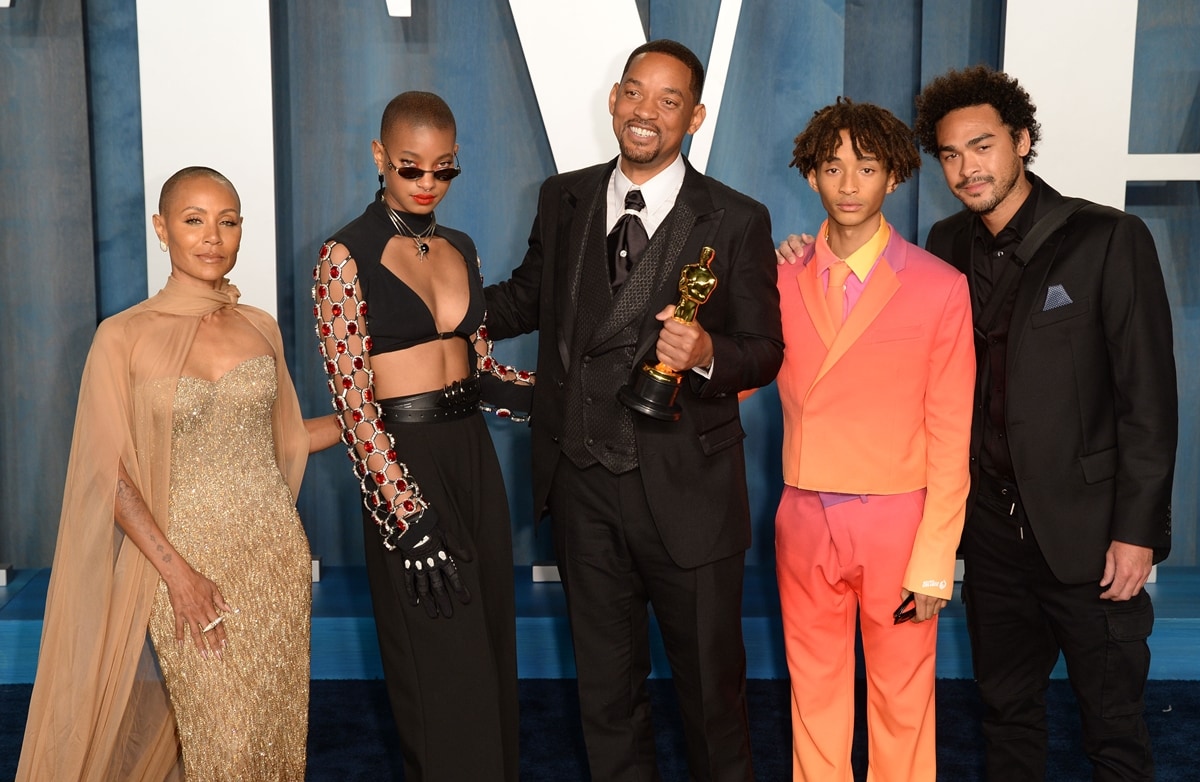 Jada Pinkett Smith, Willow Smith, Will Smith, Jaden Smith, and Trey Smith celebrate Will's Best Actor Oscar for King Richard at the 2022 Vanity Fair Oscar Party hosted by Radhika Jones at Wallis Annenberg Center for the Performing Arts on March 27, 2022, in Beverly Hills, California (Credit: InstarImages)
While she appeared visibly annoyed, rolling her eyes at the comedian's antics, Smith rose from his seat and slapped a visibly shocked Chris Rock. "Wow, Will Smith just smacked the s**t out of me," remarked Rock upon the encounter.
Rock attempted to roll with the violent encounter while on stage. Will Smith returned to his front-row seat and shouted at Chris Rock to keep his wife's name out of his mouth.
During the commercial break, Smith could be seen talking to his PR representative and Denzel Washington.
Will Smith's Apology
Just 15 minutes later, Smith took to the stage to accept his award for Best Actor for his portrayal of Richard Williams in King Richard. The movie features the story of Serena and Venus Williams's upbringing.
Smith plays the role of the famous tennis stars' father and coach. While accepting his award, Will Smith apologized to the Academy and fellow nominees, visibly tearful and stating, "This is a beautiful moment."
View this post on Instagram
Although he didn't make a statement in apology to Rock, the actor stated, "Love makes you do crazy things," seemingly referring to why he slapped Chris Rock.
He later apologized to Chris Rock via an Instagram post, stating, "I would like to publicly apologize to you, Chris. I was out of line, and I was wrong. I'm embarrassed, and my actions did not indicate the man I want to be. There is no place for violence in a world of love and kindness."
Jada Pinkett Smith in a strapless Dolce & Gabbana dress covered with Swarovski crystals and Will Smith in a Dolce & Gabbana mohair wool tuxedo (Credit: InstarImages)
Smith said that he "reacted emotionally," calling his behavior "unacceptable" and "inexcusable."
Jada Pinkett Smith made a brief public statement on the incident via Instagram on Tuesday: "This is a season for healing, and I'm here for it."
The Academy Awards Are Launching an Investigation
The Academy released a statement that reported they do not "condone violence of any form."
Although the original statement did not mention Will Smith specifically, a later statement was released the following day, adding there would be an official review of the incident.
"We have officially started a formal review around the incident and will explore further action and consequences in accordance with our Bylaws, Standards of Conduct, and California law."
There has been a public outcry from fans and fellow actors alike that there was not enough action taken by the Academy for Will Smith's violent actions.
Despite Will Smith's carefully worded apology, the story is not over yet. The Academy's investigation will continue for several weeks.
"The Board of Governors today initiated disciplinary proceedings against Mr. Smith for violations of the Academy's Standards of Conduct, including inappropriate physical contact, abusive or threatening behavior, and compromising the integrity of the Academy," The Academy shared in another statement.
"Consistent with the Academy's Standards of Conduct, as well as California law, Mr. Smith is being provided at least 15 days' notice of a vote regarding his violations and sanctions, and the opportunity to be heard beforehand by means of a written response. At the next board meeting on April 18, the Academy may take any disciplinary action, which may include suspension, expulsion, or other sanctions permitted by the Bylaws and Standards of Conduct."
The Academy is investigating Will Smith's physical assault on Chris Rock that occurred after the comedian made a joke about Jada Pinkett Smith's hair (Credit: LanKS / Shutterstock)
"Mr. Smith's actions at the 94th Oscars were a deeply shocking, traumatic event to witness in-person and on television. Mr. Rock, we apologize to you for what you experienced on our stage and thank you for your resilience in that moment. We also apologize to our nominees, guests, and viewers for what transpired during what should have been a celebratory event."
"Things unfolded in a way we could not have anticipated. While we would like to clarify that Mr. Smith was asked to leave the ceremony and refused, we also recognize we could have handled the situation differently."
To present the award for Best Female R&B Artist at the 2010 BET Awards, Jada donned a very short, tight nautical playsuit paired with a tuxedo jacket.
Jada Pinkett Smith in a very short, tight nautical playsuit paired with a tuxedo jacket (Credit: Adriana M. Barraza / WENN)
Her lace-up booties from Alexander McQueen completed the outfit.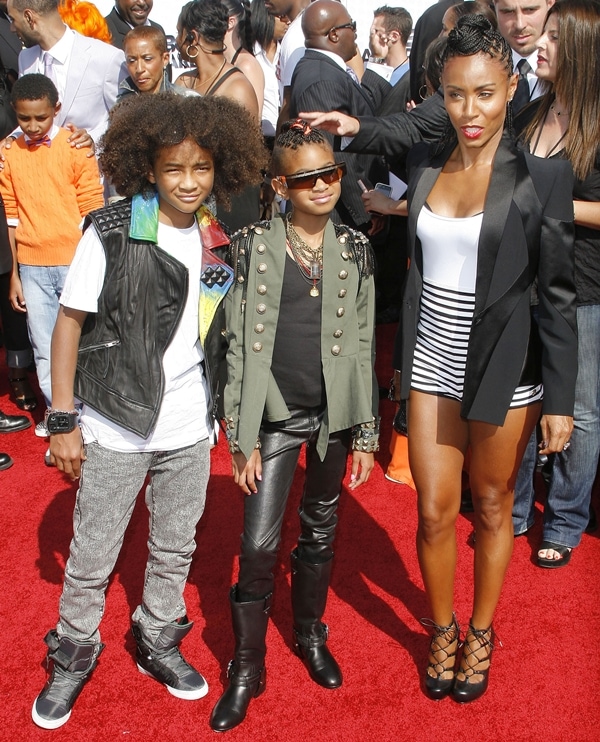 Jaden Smith, Willow Smith, and Jada Pinkett Smith at the 2010 BET Awards held at the Shrine Auditorium in Los Angeles on June 27, 2010 (Credit: Adriana M. Barraza / WENN)
How do you like her braided hairstyle?
Jada Pinkett Smith rocking lace-up booties from Alexander McQueen (Credit: Adriana M. Barraza / WENN)