While working on her movie "Adrift," which was partly shot in Fiji and New Zealand in 2017, Shailene Woodley ended up meeting Ben Volavola, an Australian-born Fijian international rugby union footballer who plays for French Top 14 team Racing 92.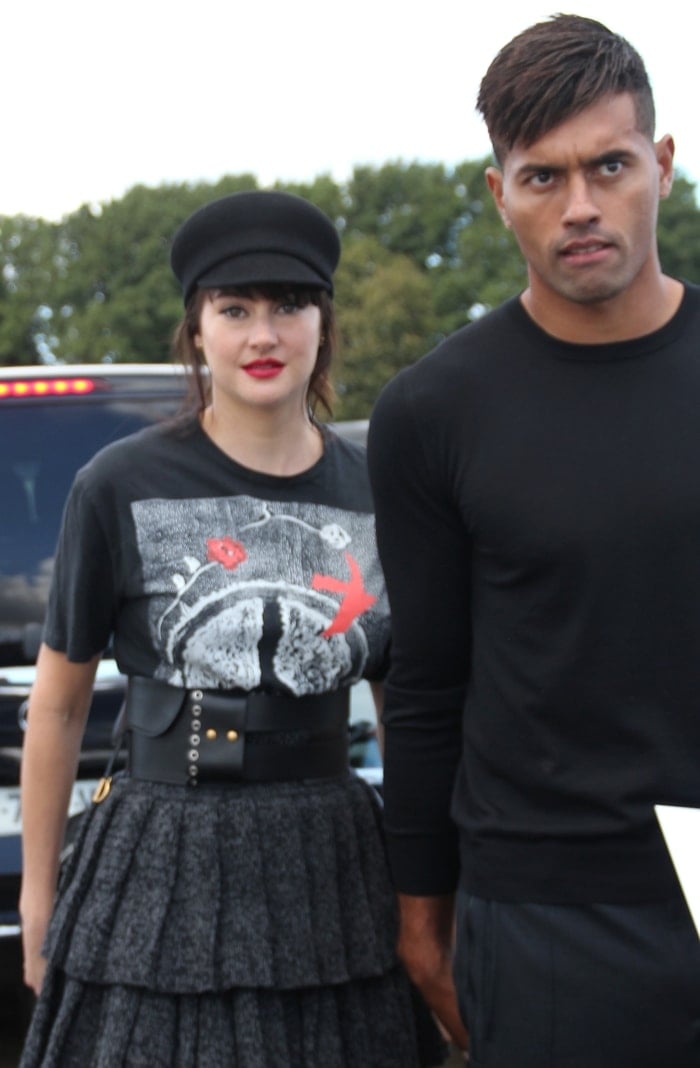 Shailene Woodley met her boyfriend Ben Volavola while filming Adrift, a 2018 American romantic drama film filmed in Fiji and New Zealand
In July 2019, she discussed with Jimmy Kimmel what it's like to date her handsome boyfriend, who is of Indian and Fijian descent. They made their relationship official in January 2018 by sharing a few photos on Instagram.
In May 2018, her rugby player boyfriend Ben Volavola joined Shailene Woodley for the premiere of her movie Adrift in Los Angeles.
Ben Volavola joined his girlfriend Shailene Woodley at the premiere of her new movie
She looked incredible in a silver Rochas Pre Fall 2018 gown styled with matching Barbra platform sandals with a knotted front from Giuseppe Zanotti.
Shailene Woodley styled a shimmering Rochas gown with Giuseppe Zanotti shoes
In a May 2019 interview with Instyle, Shailene revealed that she prefers sex do dating.
"I mean, I love sex," Woodley explained to the fashion magazine. "I love the power of emotional connection via physicality. Who doesn't? But now I'm only interested in those unexpected impactful connections."
"Recently I was speaking with a friend, and we were like, 'When was the last time you met someone and had the ability to say, 'I'm so attracted to you. I think your mind stimulates my mind in ways I can't explain. Creatively, I'm feeling a 10. Physically, I can't wait to know what you feel like. And you scare the shit out of me'?'" she added.
Shailene Woodley, pictured at Harper's BAZAAR celebrates "ICONS By Carine Roitfeld" at The Plaza Hotel presented by Cartier – Inside on September 6, 2019, in New York City, loves sex but hates dating
Shailene Woodley served up some serious leg at the 2020 Golden Globe Awards last Sunday.
The Fault in Our Stars actress turned heads in her custom Balmain gown, which features a risky thigh-high slit. Putting her flawless leg on display, the dress features royal blue and black sequin embellishments in a geometric pattern. It also has a black sequin-embellished geometric circle motif on the décolletage that furthers its modern art-deco vibe.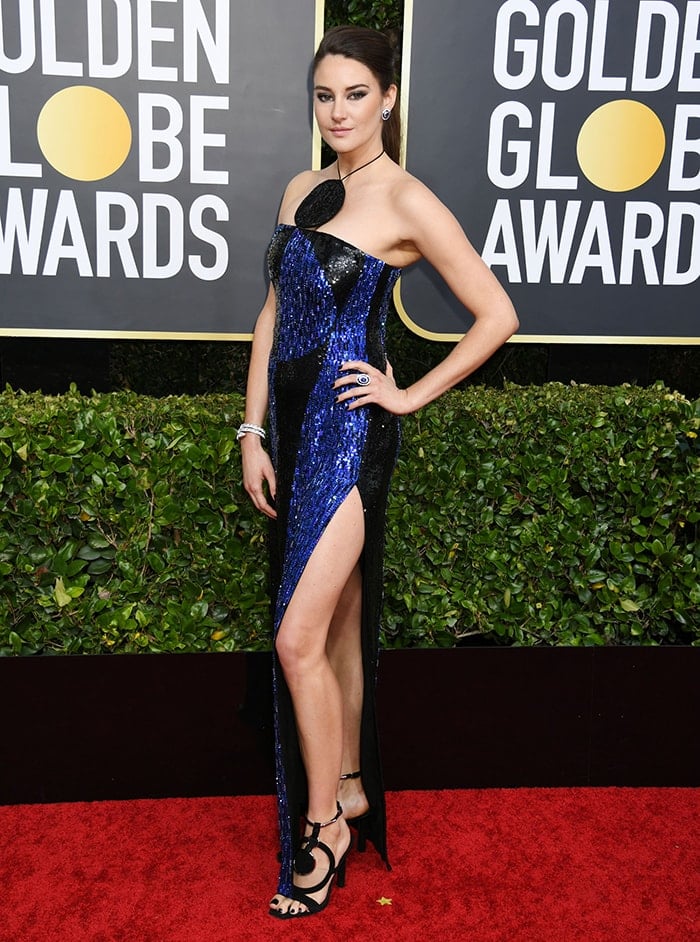 Shailene Woodley serves up serious leg at the 77th Golden Globe Awards in Los Angeles on January 5, 2020
Shailene stars in the drama series Big Little Lies, which scored a Golden Globe nomination for Best TV Drama Series. Her co-stars Nicole Kidman and Meryl Streep were nominated for Best TV Drama Actress and Supporting Actress, respectively, but they went home empty-handed.
Shailene wore the same look to the 21st Annual InStyle and Warner Bros. Golden Globe after-party.
Shailene Woodley in a custom blue and black sequin-embellished Balmain gown
Celebrity makeup artist Alex Babsky gave Shailene a fierce makeup look to complement her sleek gown. Using Lancome products, he brushed up her eyebrows and highlighted her eyes with jet black eyeliner, mascara, and smoky eyeshadow.
He kept the rest pared down with natural mauve lipstick and a subtle flush of color on the cheeks.
Hairstylist Danilo pulled her sleek tresses back into a ponytail with a slightly teased front. For her nails, celebrity manicurist Mel Shengaris used Chanel Beauty pure black nail polish.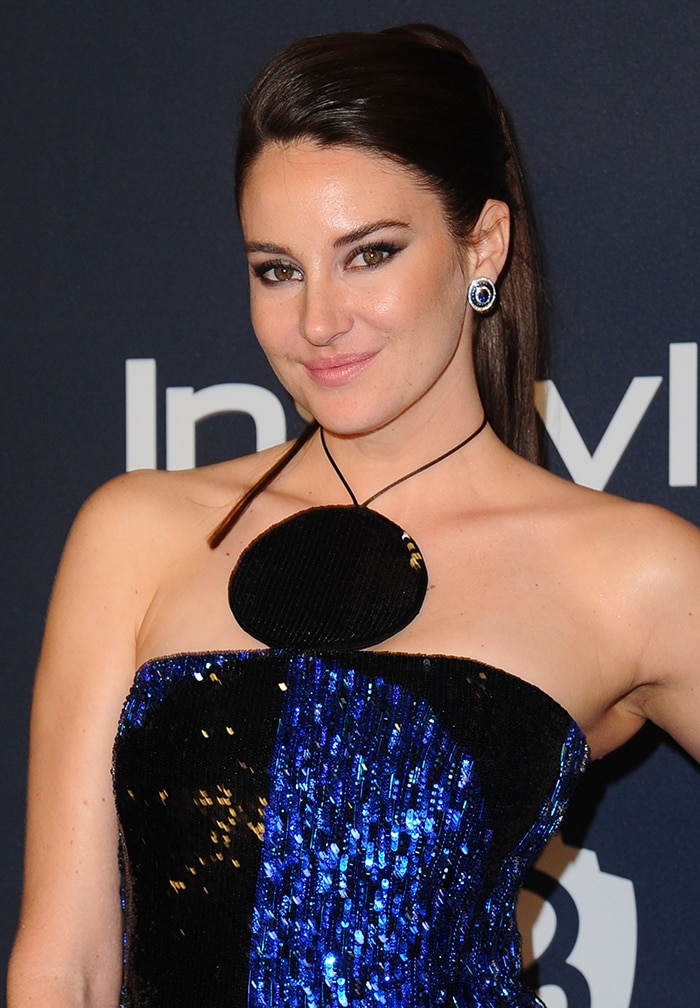 Shailene Woodley wears a ponytail with smoky eye-makeup
Giving the artsy look some added sparkle, Shailene accessorized with Bulgari High Jewelry, which included a pair of earrings, a matching ring, and a serpent bangle.
She teamed up her gown with a pair of geometric suede sandals from Balmain's Spring 2020 collection.
They feature circular suede embellishments with silver metal trims along the front, metal-trimmed ankle straps, PVC front panels, square toes, and about 3.5-inch round heels.
Shailene Woodley shows off her feet in geometric Balmain sandals
Credit: Instar / WENN / Adriana M. Barraza