After visiting the gym in Los Angeles on Tuesday for a workout, Lucy Hale got some retail therapy at Sephora in Studio City.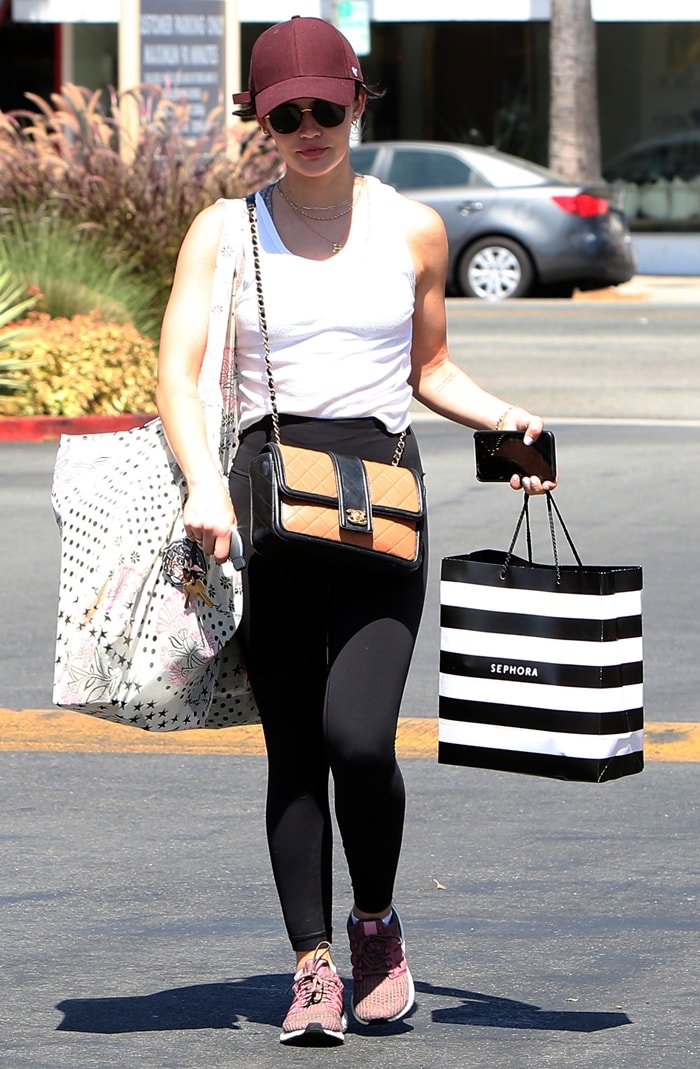 Lucy Hale in Align yoga pants strolls back to her car after a spot of retail therapy at Sephora in Studio City, Los Angeles, California, on September 3, 2019 (Credit: WENN / Avalon)
The 30-year-old actress styled a white tee with a burgundy cap from '47 and black Align yoga pants ($98 at Lululemon) that are designed to minimize distractions and maximize comfort.
Lucy Hale wears a burgundy cap from '47, a privately held American clothing brand founded in 1947 by twin Italian immigrant brothers, Henry and Arthur D'Angelo (Credit: WENN / Avalon)
In an interview with Harper's Bazaar, the 5′ 2" (157 cm) actress said the workout she finds most challenging is yoga. Unfortunately, we do not know if she wears yoga shoes.
"I don't dislike it, it's just hard for me to sit still," she told the fashion magazine in November 2018. "There are some yoga classes where you're floating the whole time, but there's just a specific type of yoga, like Bikram, where you're just holding these poses, it's super challenging and hot and you have to be still, and that's difficult for me."
She completed her look with trace maroon adidas UltraBoost 4.0 sneakers in "Trace Maroon" and "Base Green" hues that you can buy for $179.95 at Zappos.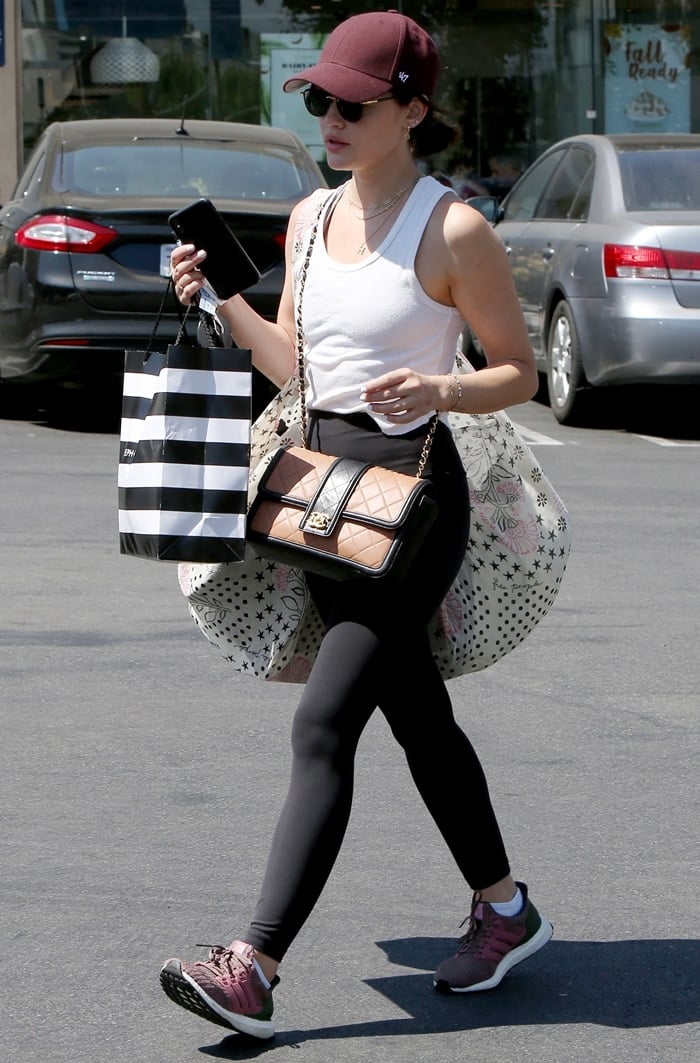 Lucy Hale shows how to wear trace maroon Adidas UltraBoost 4.0 sneakers with yoga pants (Credit: WENN / Avalon)
Built to go the distance on city streets, these neutral shoes feature a soft, stretchy knit upper that adapts to the changing shape of your foot as you run for lightweight support.
Responsive midsole cushioning combined with a flexible outsole delivers a smooth and energized ride.
UltraBoost Running Shoes, $180 at Nordstrom and Zappos