We came across these pictures of Yoon Ambush outside the Louis Vuitton show that was held yesterday in Paris (during the Fall 2014 Menswear Fashion Week). Truth be told, we had to look her up to find out who she was.
Apparently, she is the face (and brain) behind a jewelry line called Ambush. Her husband and partner, Verbal, is a Korean Japanese rapper who has worked with big names such as Kanye West, Kylie Minogue, and Pharrell.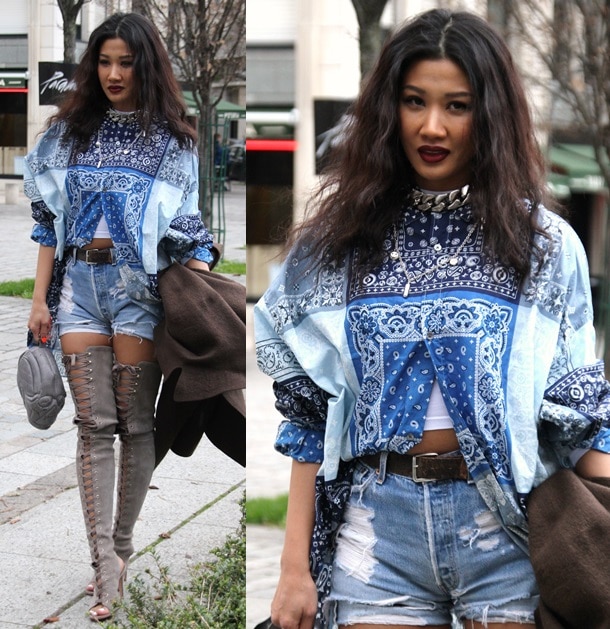 Yoon rocking a printed shirt with high-waist denim shorts and open-toe, thigh-high lace-up boots for the Louis Vuitton Fall 2014 Menswear show during Paris Fashion Week in France on January 16, 2014
Let's just say we had a difficult time ignoring her outfit the minute we saw it. An outfit consisting of denim shorts paired with a printed top plus peep-toe and thigh-high lace-up boots isn't exactly the kind of mix you would normally see on the streets. It's very fashion-forward — the kind of look avant-garde bloggers would put together. It is obviously a little over the top and perhaps a tad busy, but you have to admit, she was able to carry it with flair, agree? Would you be able to wear the outfit without feeling self-conscious?
If you're one of the rare few who would love to steal Yoon's fashion-forward style, then try the following thigh-high lace-up boot options from Bebe and Jeffrey Campbell.
The pair from Bebe is almost a dead ringer for Yoon's boots in terms of silhouette. The only difference is that this set is closed at the back (no heel cups), whereas Yoon's boots feature cutouts that expose the wearer's heels.
Bebe 'Taryn' Lace-Up Thigh-High Open-Toe Boots, $199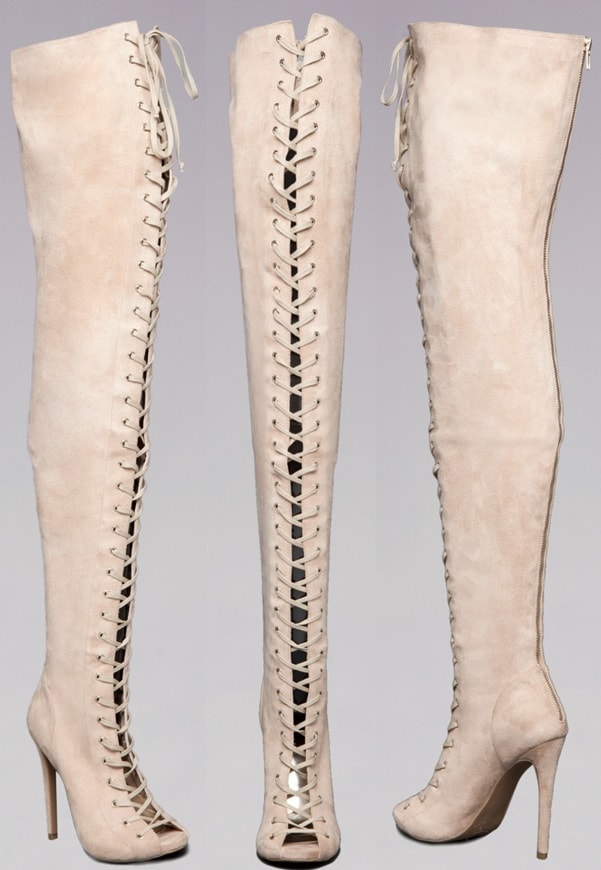 If you prefer gothic style, the "Longview" from Jeffrey Campbell would be the perfect pair to slip into. These boots feature chunky rubber platforms, sky-high block heels, and a decorative lace-up detail that start from the bottom of the shoes and extend all the way up to the thighs.
Jeffrey Campbell "Longview" Thigh-High Lace-Up Boots, $402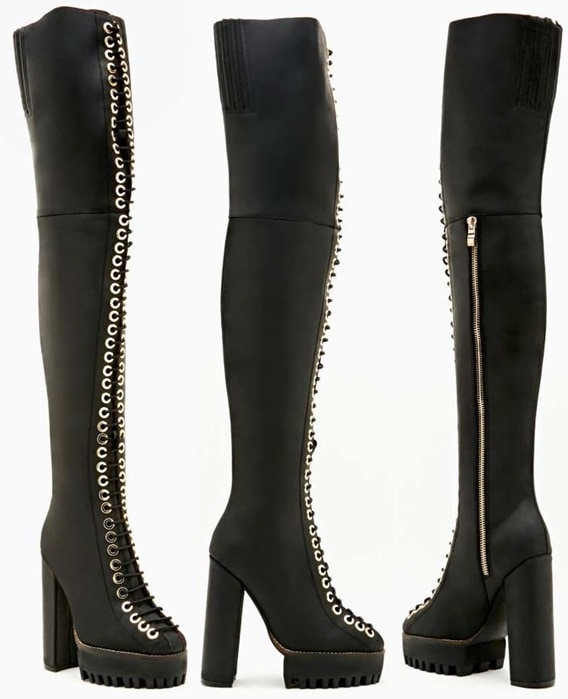 We also love these tribal lace up peep toe thigh high boots that we found at UrbanOG.
Tribal Lace Up Peep Toe Thigh High Boots
Credit: WENN