Above Suspicion is based on the true story of a newly married F.B.I. agent stationed to a Kentucky Appalachian mountain community.
There, he becomes entangled in an unlawful relationship with a poor local woman, who later becomes his star informant. She sees him as a way out, but it's actually a ticket to tragedy for both of them.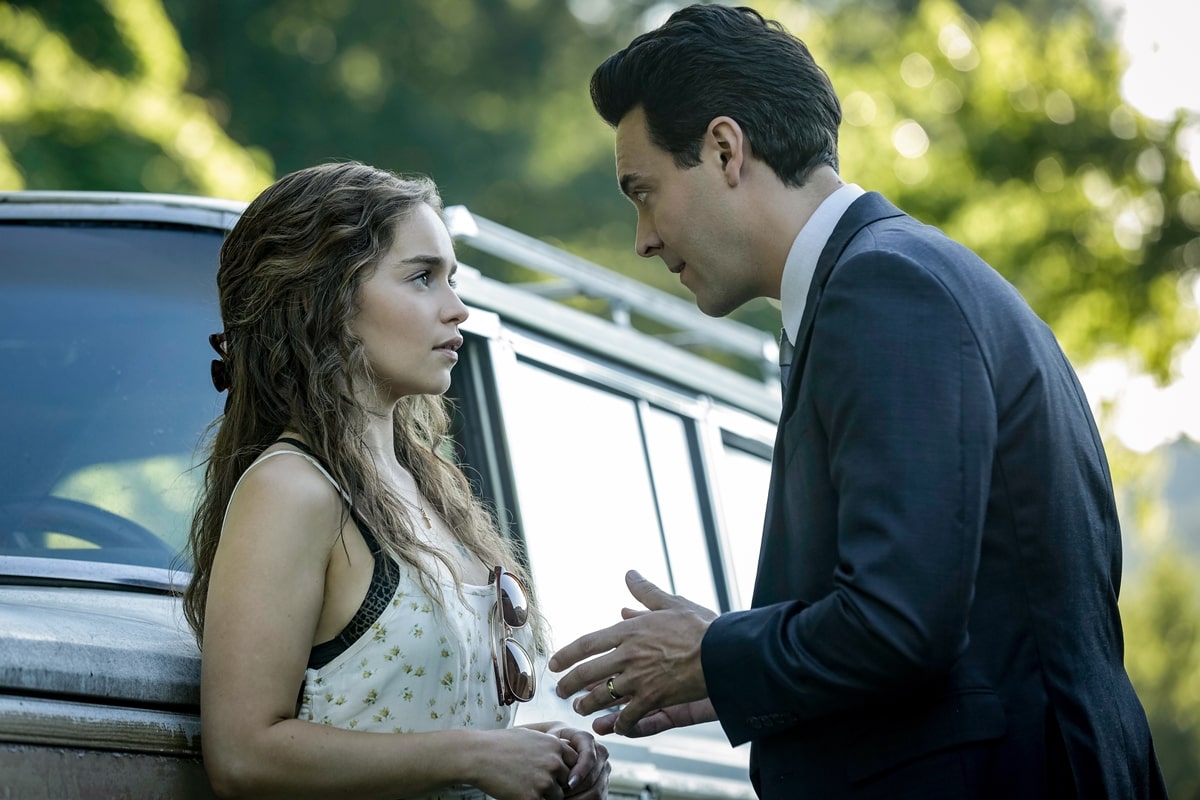 Emilia Clarke as Susan Smith and Jack Huston as Mark Putnam in the 2019 American crime thriller film Above Suspicion (Credit: Lionsgate)
This scandal rocked the nation's highest law enforcement agency, culminating in the first-ever murder conviction of an F.B.I. agent.
While it starred Emilia Clarke and some other big stars, Above Suspicion was a failure and poorly received by critics. But why was this?
Lacks Conviction
Emilia Clarke plays the character of Susan Smith. In some scenes, her persona appears like a femme fatale, but she's a local drug dealer seeking a way out.
However, the film requires her to be more vulnerable than that. As the story progresses and Susan becomes Agent Putnam's informant, we're supposed to think that she's sincere in her desire to regain his love and start over.
But it's never clear whether Clarke agrees with this interpretation of the character. Her performance lacks sincerity and depth; it's difficult to connect with a character and her story if the acting isn't convincing.
Emilia Clarke's true-crime thriller film Above Suspicion is based upon Joe Sharkey's non-fiction book of the same name (Credit: Lionsgate)
Even though the story had promise, it received 25% on rotten tomatoes and 5.6/10 on IMDb. The movie was a failure and poorly revived by critics and has been slated by Matt's Movie Reviews as being a "throwback to the worst aspects of 90s thriller filmmaking."
People believed the film and story had potential but regardless of the interesting aspects to it, some thought that there wasn't quite enough there for a movie to make it work and to keep the viewer interested.
According to Diane Pershing of Malibu Times, this could partly be down to the fact that "it's not a particularly special film, the genre has been done and overdone, but it is anchored by a stellar performance by the always-riveting Emilia Clarke."
Is a Big Star Enough to Carry a Mediocre Film?
Although the movie came out in 2019, it was made 2 years prior to its release. Completed in 2017 and announced during the 2016 Cannes Film Festival, the film could have been released at the height of Clarke's popularity.
Could this be the reason it wasn't received as widely and praised as highly as they expected?
"Sitting on the shelf for nearly five years hasn't done Above Suspicion any favors, but it proves Emilia Clarke is a timeless and versatile actress who deserves better," writes Nate Adams of The Only Critic.
Harrowing Story, Shallow Film
Early on, we learn that Putnam ends up killing Smith, putting an end to any suspense. The "cheap-looking and tawdry drama Above Suspicion" is based on Joe Sharkey's non-fiction book of the same name (available on Amazon).
"But the movie foolishly gives away the ending at the very beginning of the film," writes Carla Hay of Culture Mix Online in her review.
This film could've captivated audiences and kept them questioning right up until the end. How can a film have great reviews when the storyline is revealed minutes into the viewing experience?
Putnam stuffed Smith's body into the trunk of the car, where it sat for an entire day until being abandoned in a roadside ravine. It would have remained there if it hadn't been for Putnam's confession to the crime and leading investigators to the body a year later.
It's an intriguing narrative of a crime motivated by passion and fear. Putnam acted out because he lacked control over Smith. Putnam turned himself in, his remorse overwhelming him.
"We had absolutely no evidence. Not one scintilla or shred of evidence to bring a charge or convict this man," prosecutor John Paul Runyon told Associated Press.
"In the 28 years that I have been a prosecutor, this is the first experience that I have had where a lawyer called me on a telephone and said, 'I have a man who wants to confess to murder, or homicide, and wants to go to the penitentiary,' and we had absolutely no evidence."
Emilia Clarke and Jack Huston were cast in 2016 as leads in the film Above Suspicion (Credit: Lionsgate)
Interestingly though, the real Mark Putman is shown in the ending credits mentioning the murder of Susan Smith. Today, Putnam is remarried and lives in Georgia.
This true story has gritty and dark moments that could've made a great cinematic impact, instead, was mediocre and underwhelming. It takes more than just a story and well-known stars to make a critically acclaimed film.
Emilia Clarke became known for her role as Daenerys Targaryen, a.k.a. Khaleesi/Mother of Dragons, on HBO's "Game of Thrones."
And, while you would think landing a role of that caliber would be enough to get a celeb some street recognition — apparently, it is not.
Emilia revealed in an April 2016 episode of "Conan" that she doesn't really get recognized while out in public.
"I'll be walking with Kit Harington, who plays Jon Snow, or Gwen, who plays Brienne of Tarth, and people will be like, 'Can you take this picture for us?'" she said. "And I'm like, 'Sure! Definitely, I can!'"
We're pretty sure we'd recognize Emilia… but maybe that's just us.
Regardless of Emilia's street notoriety, her presence was definitely felt at the season six premiere of "Game of Thrones" held at TCL Chinese Theater in West Hollywood.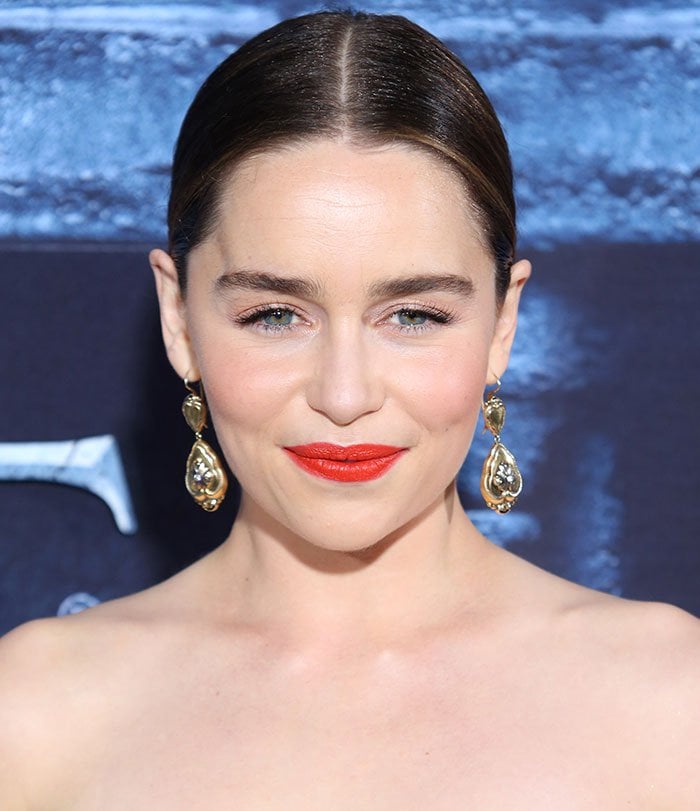 Emilia Clarke wears her hair up at the "Game of Thrones" season 6 premiere held on April 10, 2016, at TCL Chinese Theatre in Los Angeles (Credit: WENN)
The then 29-year-old actress accentuated her curves and ample cleavage in a stunning black velvet dress from Erdem's Fall 2016 collection.
Emilia Clarke shows off her collarbones and legs in an Erdem dress (Credit: WENN)
The form-fitting strapless number featured white orchid embroidery, a sweetheart neckline, and a thigh-high split that offered a glimpse of her leg.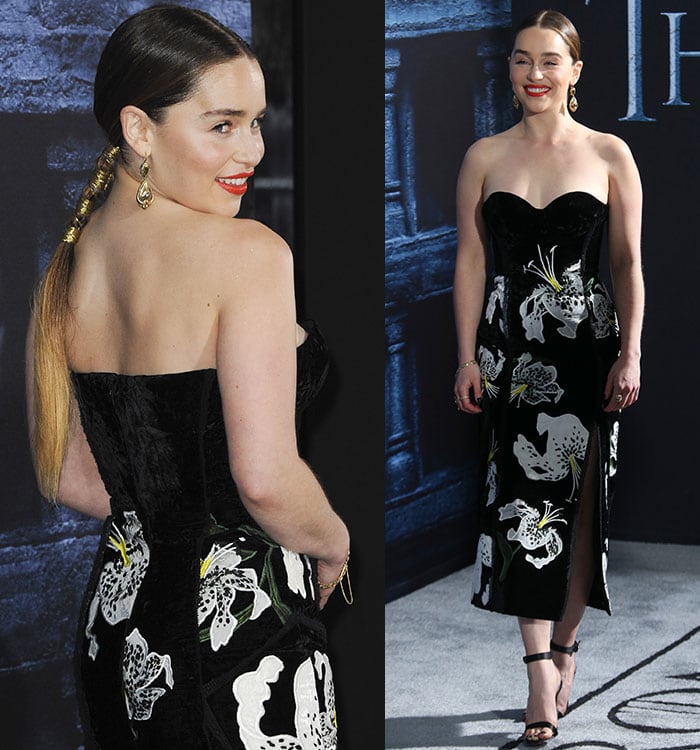 Emilia Clarke wears a dark floral-printed Erdem dress to the "Game of Thrones" season premiere (Credit: WENN)
She kept her neck bare but showcased a pair of chunky gold earrings along with a gold bracelet and a couple of rings.
The "Terminator Genisys" star wore bold red lipstick and pulled her long ombre tresses back into a sleek ponytail with a middle part.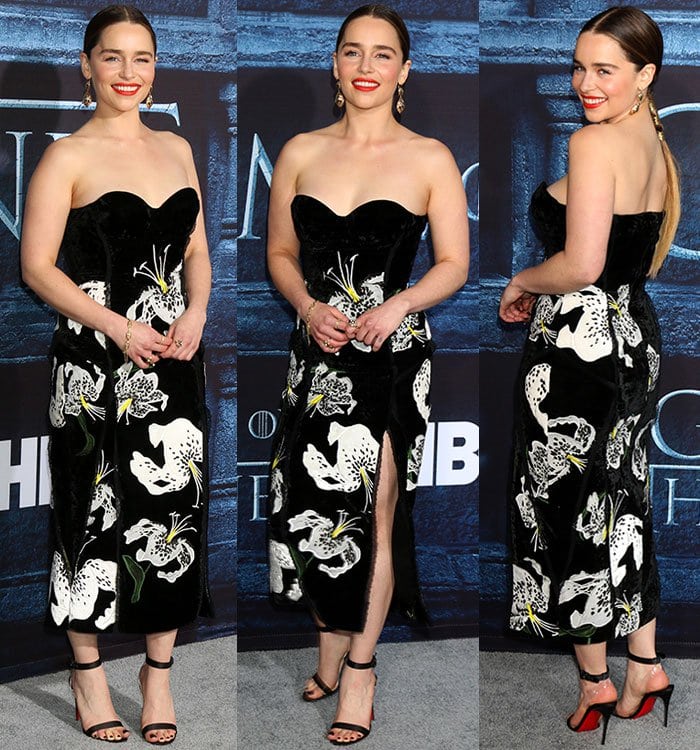 Emilia Clarke looks dark and dramatic in an Erdem floral dress (Credit: Apega / Nicky Nelson / FayesVision / WENN)
Emilia completed her look with a pair of black sandals from Christian Louboutin x Jonathan Saunders.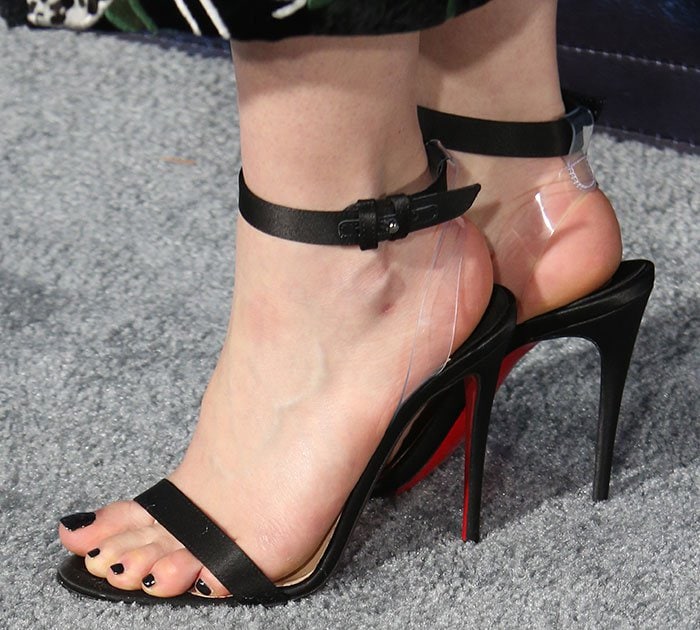 Emilia Clarke's feet in Christian Louboutin x Jonathan Saunders sandals (Credit: WENN)
These sandals have also been spotted on a number of celebrities, including Miranda Kerr, Daisy Lowe, and Kerry Washington.