Julianne Hough looked positively radiant at the 2021 Environmental Media Associations Awards on Saturday amid the controversy surrounding the reality competition series-turned-documentary special The Activist.
The upcoming CBS show came under fire after the show's format was announced. It was designed as a competition-based show in which six activists from around the world would compete "to bring meaningful change to one of the three urgent universal causes: health, education and the environment."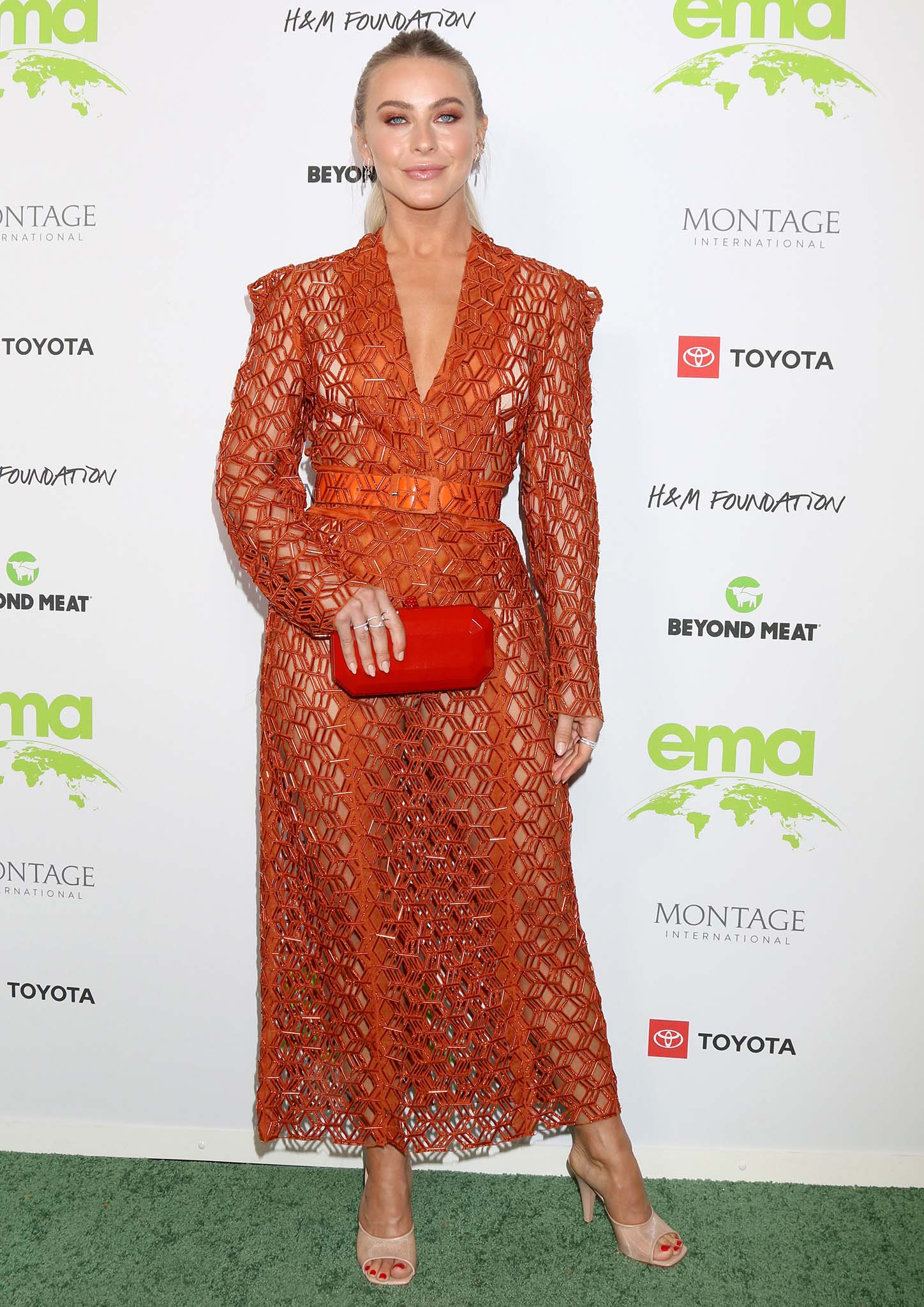 Julianne Hough at the 2021 Environmental Media Associations Awards at Gearbox LA on October 16, 2021 (Credit: Nicky Nelson / WENN)
Celebrities Usher, Julianne Hough, and Priyanka Chopra were tapped to host the reality series that was scheduled to premiere on October 22.
In addition to being assessed by the celebrity judges, The Activist contestants were to be evaluated based on their ability to generate social media engagement.
"Could very well be the worst idea for a TV show ever," wrote Sierra Club's social media manager Andy Wilson on Blending Cool.
"Measuring the success of activism by engagement and social metrics is inherently wrong. I have seen campaigns do incredible, powerful work that isn't quantifiable by how many retweets it got. And I have seen apparently incredibly popular things on social media fizzle and not take hold, never affect change. This is the same silly notion that if somehow we only get enough signatures on a Change.org petition that something will happen. Newsflash: that's not how the world works … And it reinforces this zero-sum game ideology that we can't deal with all of our issues together, that we have to pit the interests of the environment against health against education, as though these things are like The Highlander and there can be only one social ill we solve."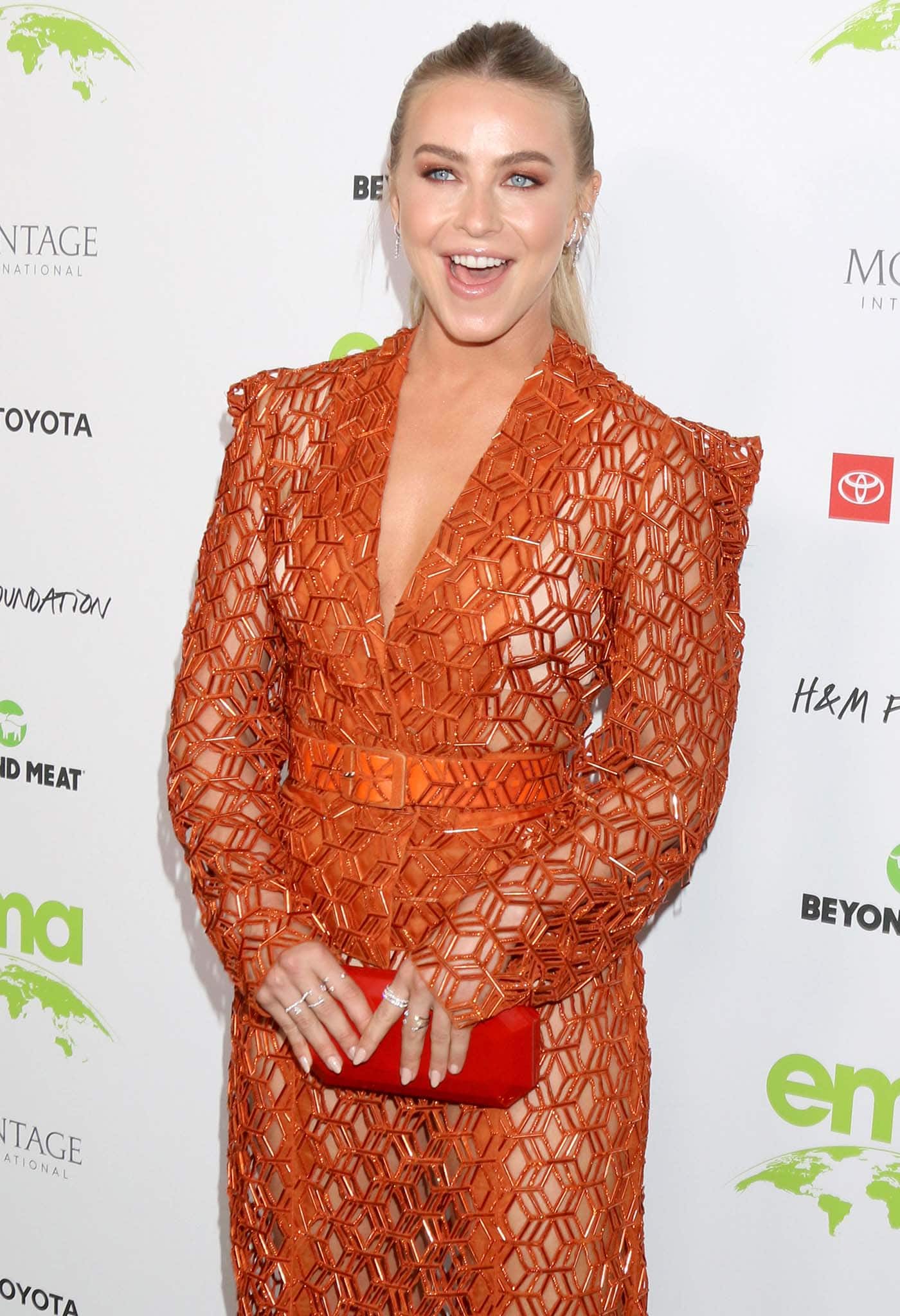 Julianne Hough tells People that The Activist controversy gave her fire to focus on the things that need attention (Credit: Nicky Nelson / WENN)
"The contestants don't compete for actual funds to do good works but merely for the right to crash an international conference and try to shake down world leaders for cash? Instead of a crown of glory, that almost sounds like the second circle of hell … A show that tries to exploit a wave of genuine social activism to create a culture of hazy (or lazy) online engagements is an unhelpful distraction from the real work going on and the real challenges we face," The Washington Post columnist Michele L. Norris wrote about the main prize being a trip to the G20 Summit in Rome to meet with world leaders.
Following the backlash from social media, CBS announced that it's changing the format from a reality competition to a one-time documentary special.
Speaking to People at the EMA Awards on Saturday, Julianne Hough said the controversy gave her "more of a fire to focus on the things that need attention."
"I think the greatest thing that I learned is to listen to what's happening, to gather information, and to really try to learn."
She added: "I think that the greatest thing you can do is to just learn and to grow and to be open to different perspectives."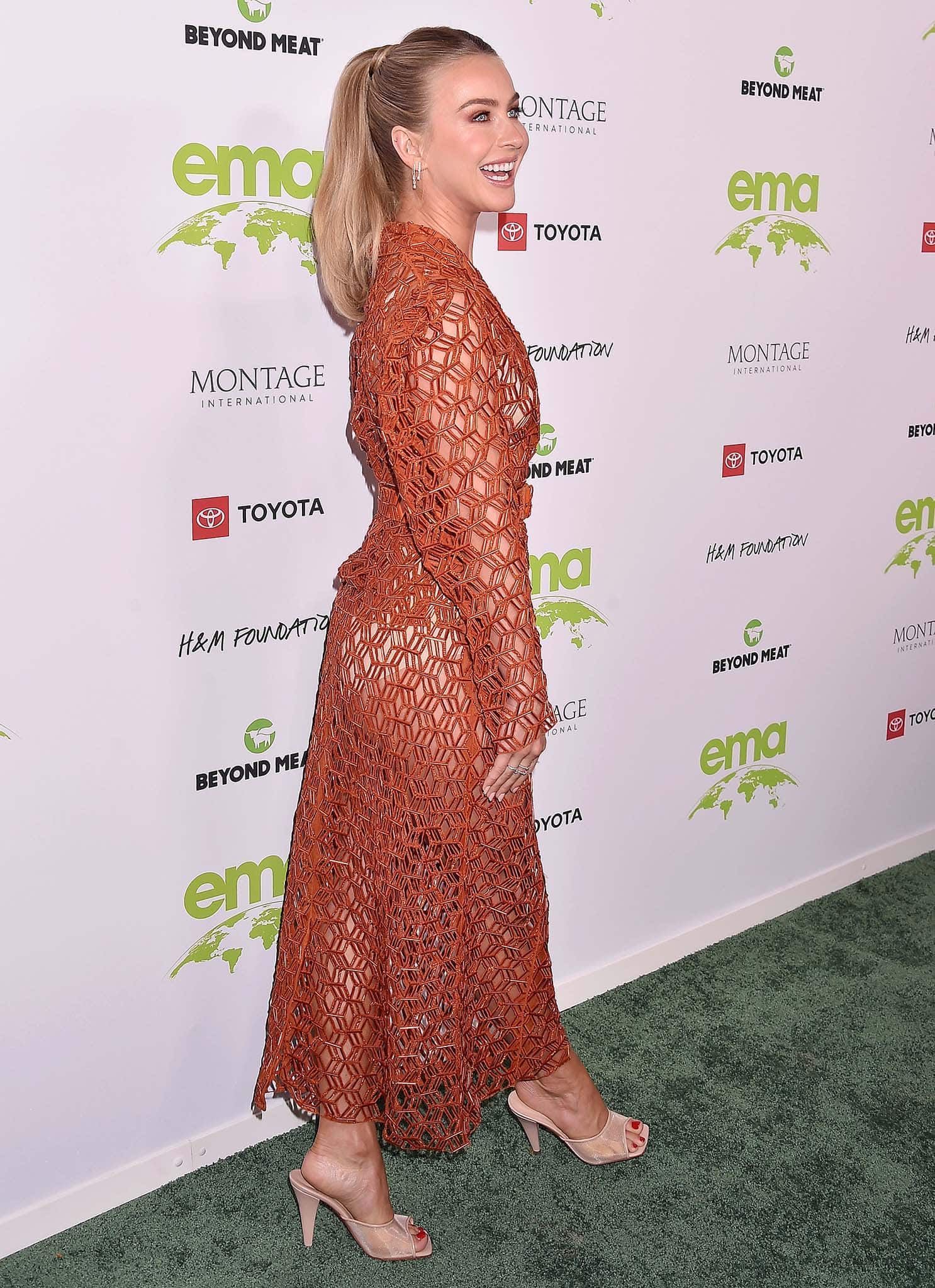 Julianne Hough shows her underwear underneath an Aliette Fall 2021 orange cutout set (Credit: Avalon / WENN)
"The last few days have been a powerful demonstration of real-time activism," Hough wrote in an apology on Instagram on September 15.
"I do not claim to be an activist and wholeheartedly agree that the judging aspect of the show missed the mark and furthermore, that I am not qualified to act as a judge."
Arriving at Gearbox LA, the 33-year-old Footloose star turned heads in an orange cutout set from the NYC-based luxury fashion label Aliette Fall 2021 collection.
Showing a glimpse of flesh, her outfit included a see-through plunging blazer top with pointed shoulders and a matching ankle-length skirt that offered a peek at her legs. Both feature sparkly beads that trim the hexagonal cutouts.
She then highlighted her waist with a matching orange belt and protected her modesty with a slip underneath.
The Aliette Fall 2021 outfit features a plunging see-through cutout blazer and a matching skirt (Credit: Mega / WENN)
Julianne also mentioned reaching out to multiple activists on social media amid the controversy, and many showed "their deepest kindness by sharing and opening up" during her "time of learning."
"I reached out to so many people who offered their knowledge and their perspective in a way that was inviting and welcoming versus being judgmental. That was kindness at its finest, and it really showed that humans really do want to unify and help each other, and that touched my heart."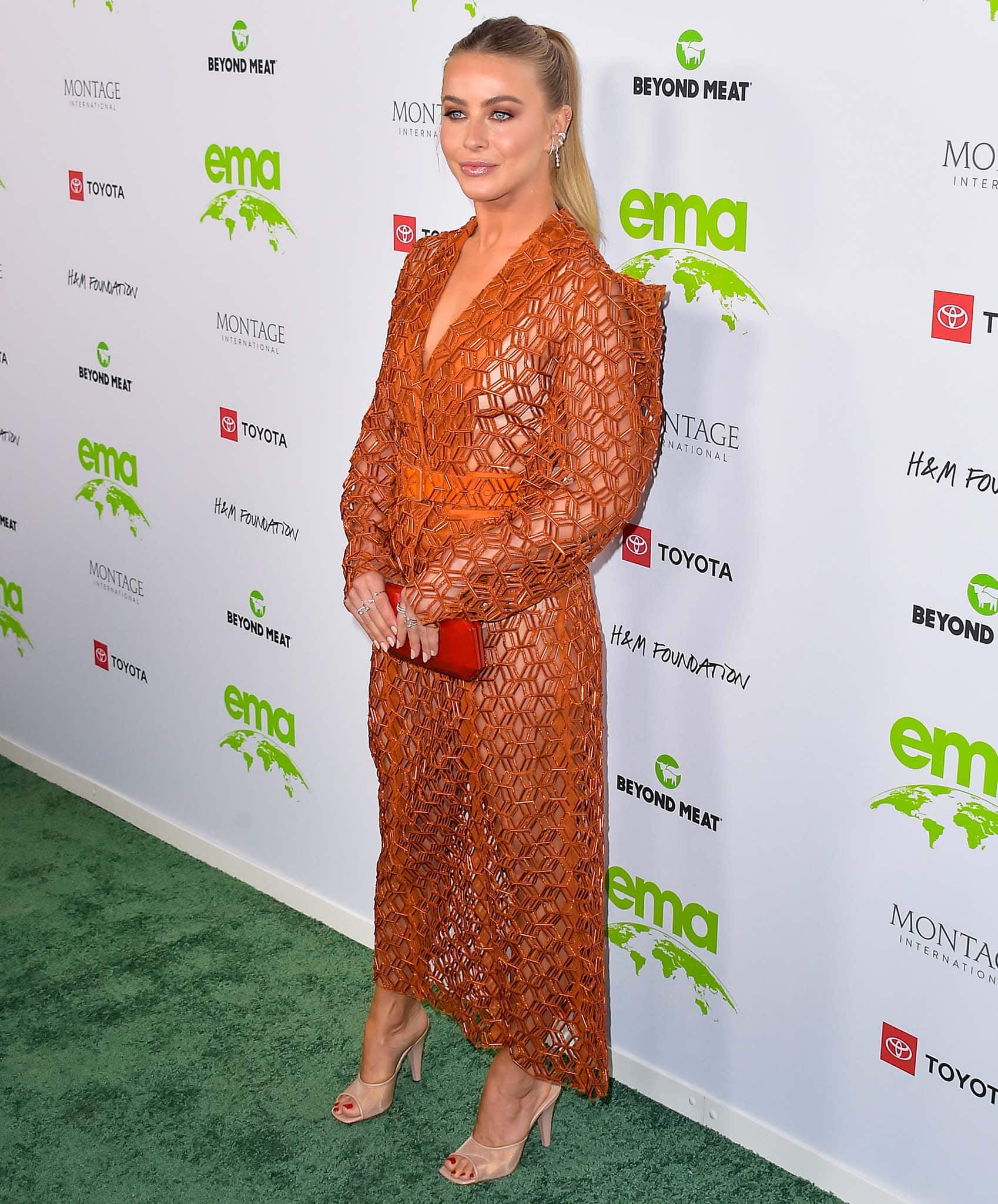 Julianne Hough reached out to several activists amid the show's controversy (Credit: Mega / WENN)
Brooks Laich's ex-wife accessorized her look with multiple sparkling earrings and matching rings.
For her beauty look, Julianne wore a slicked high ponytail and enhanced her features with copper smokey eyeshadow, blush, and nude lip gloss.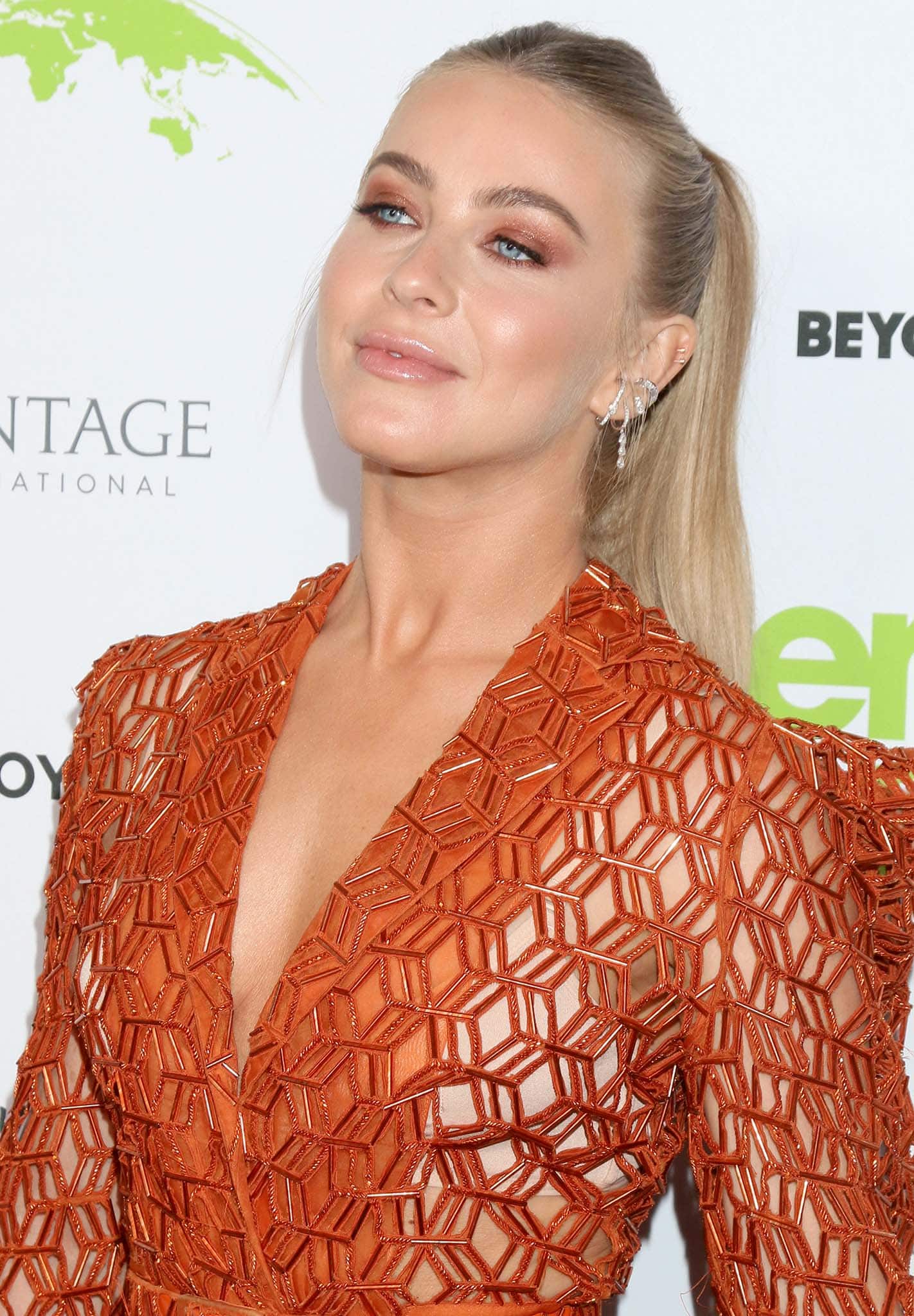 Julianne Hough glams up with slicked high ponytail, copper eyeshadow, and nude lip gloss (Credit: Nicky Nelson / WENN)
Carrying a $4,650 red Perry clutch from Tyler Ellis, Derek Hough's sister completed her red carpet look with sheer nude mules, called the "Immy" from Andrea Wazen .
They have leather-trimmed mesh straps, open square toes, and 3-inch triangular heels.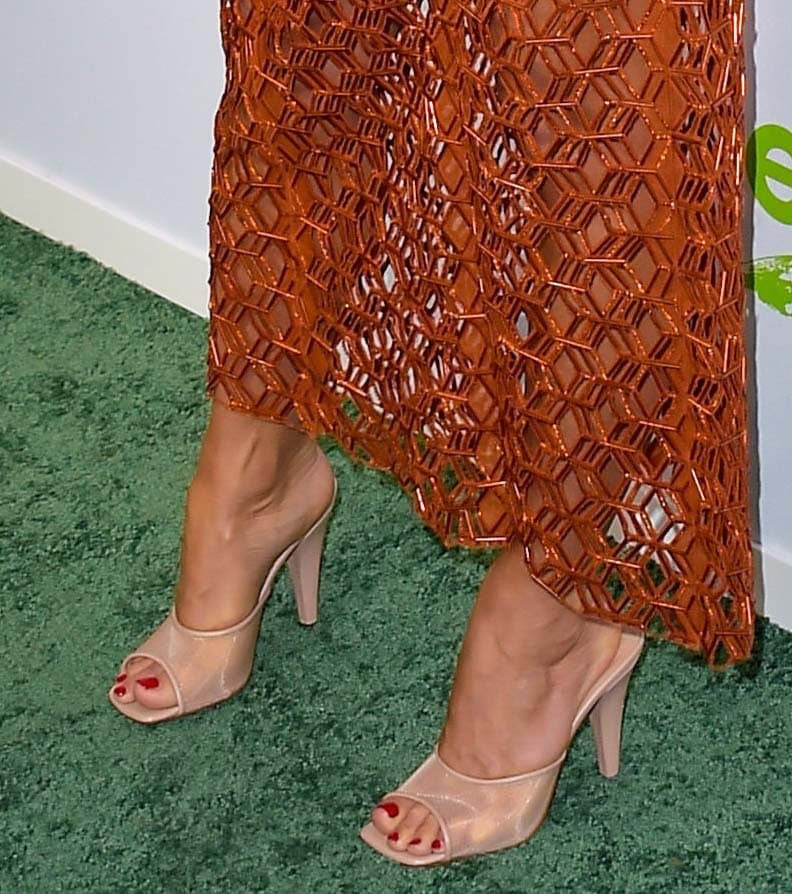 Julianne Hough pairs her orange dress with nude mesh square-toe mules (Credit: Mega / WENN)
Andrea Wazen 'Immy' Mules, $478
Immy is a comfy mule with a discrete lingerie-like mesh strap and a chunky cone-shaped heel