While the pandemic has caused spikes in divorces and breakups, other couples have fared better and found silver linings amid the crisis. Case in point: Zooey Deschanel and Jonathan Scott.
Arriving at the Environmental Media Association Awards on Saturday, the couple told People that quarantine helped strengthen their relationship. They met on the set of James Corden's Carpool Karaoke in August 2019 while filming a sibling-themed episode with Emily Deschanel and Scott's twin brother Drew.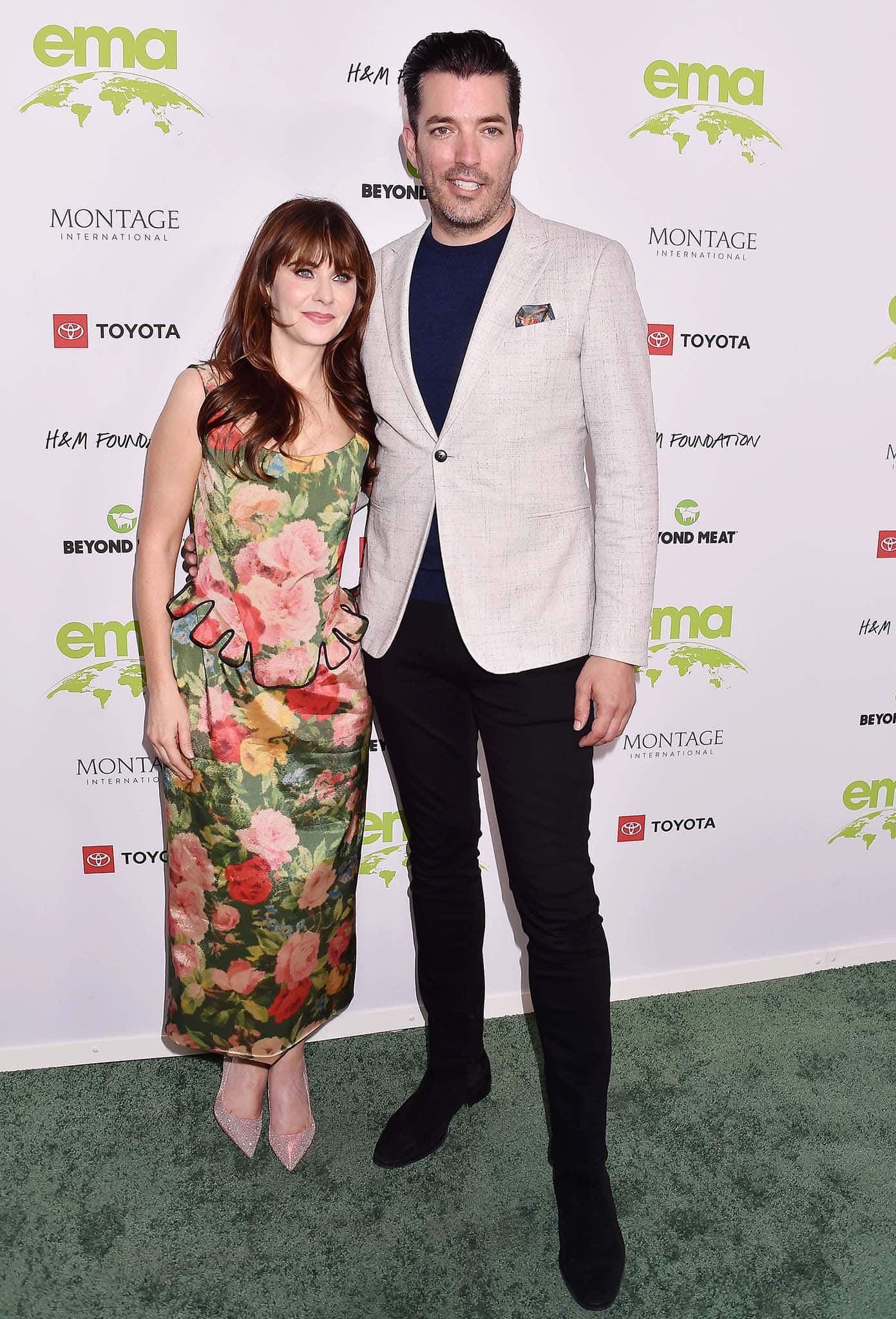 Zooey Deschanel and Jonathan Scott at the Environmental Media Association (EMA) Awards Gala on October 16, 2021 (Credit: Mega / WENN)
"When COVID first started I was like, 'OK, we have trampoline time and movie time,'" Zooey explained about spending time with Scott and her children, Charlie Wolf Pechenik, 4, and Elsie Otter Pechenik, 6.
Jonathan added: "Look at it this way, I'm stuck with someone who I'm madly in love with, who's an amazing chef." He also noted that Zooey's risotto cake is "to die for." "I don't know where this has been my whole life, but it is amazing."
Zooey Deschanel and Jonathan Scott share a kiss on the green carpet (Credit: Mega / WENN)
The quarantine period also helped him realize how much he loves Zooey. "I discovered having been in other relationships in the past, this was the first time I noticed that all of the love and effort and the things I was doing were being reciprocated. I was like, 'what?' So I think I'll hold onto this one."
He also shared one thing he'll never forget that Zooey did something for his father.
"When we first started dating and the first time she met my parents via Zoom, she found out what my dad's favorite song was, which is 'Danny Boy' because my dad is Scottish. And she sang it on Zoom, and I could see the tears welling up in my dad's eyes. And I knew she was in."
Zooey Deschanel and Jonathan Scott open up how the pandemic helped strengthen their relationship (Credit: Nicky Nelson / WENN)
For the event, the Property Brothers star wore a black tee and pants combo layered underneath a beige blazer with a pocket square that matched his girlfriend's floral outfit.
The New Girl actress appeared to be in full bloom as she walked the green carpet in a Richard Quinn Spring 2020 English country garden ensemble.
It boasts a cleavage-baring sleeveless peplum top and a matching maxi skirt that's entirely covered in floral prints.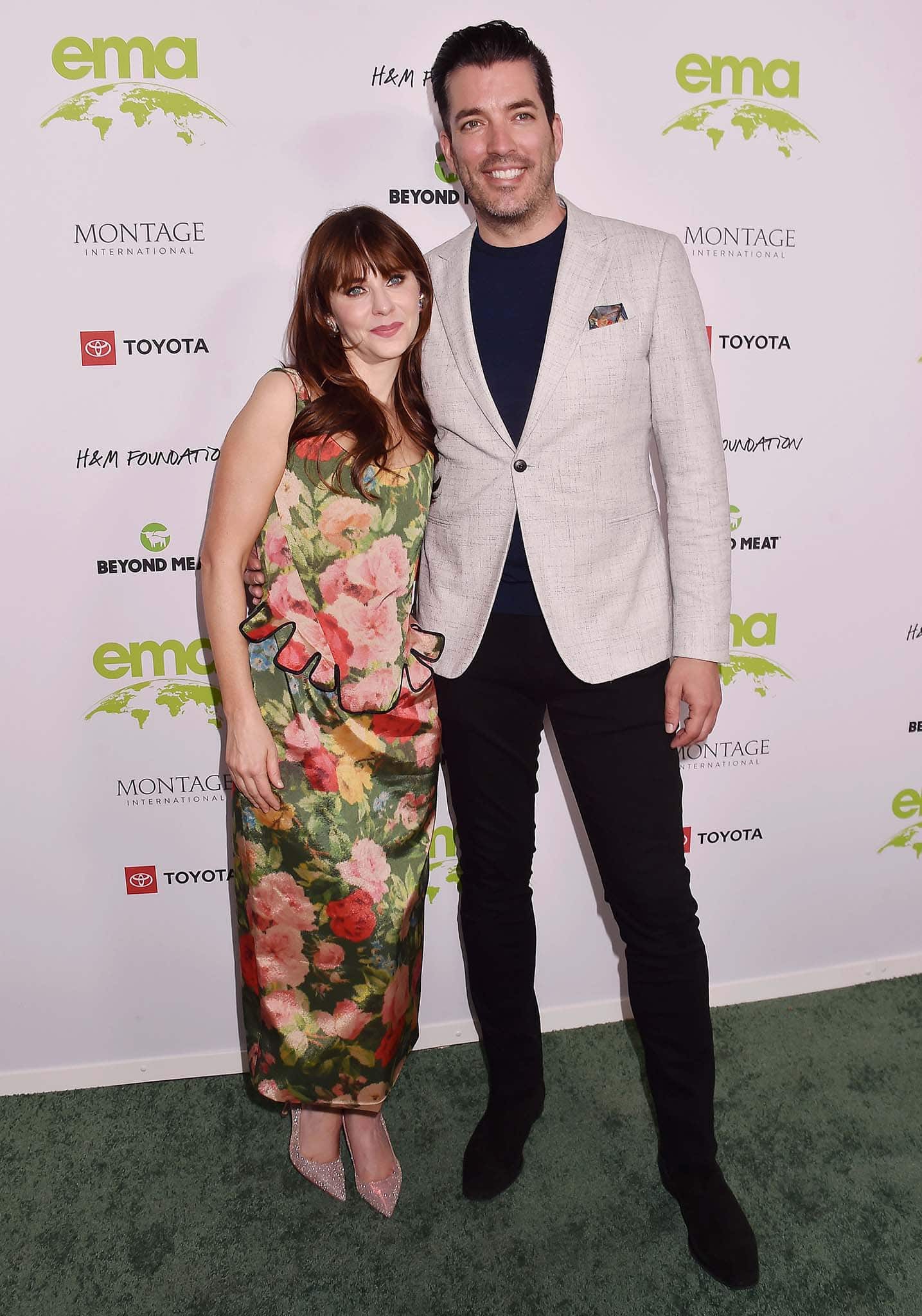 Jonathan Scott wears a black tee, pants, and a beige blazer with a printed pocket square (Credit: Mega / WENN)
Allowing her outfit to take center stage, Zooey went bare neck, accessorizing with just a pair of large pearl statement earrings encrusted with multicolored gems.
She kept the look feminine with her soft curls and pink lipstick and added a dramatic touch to the look with subtle smokey eyeshadow.
Completing her cute and girly ensemble was a pair of nude pumps with sparkling crystal embellishments.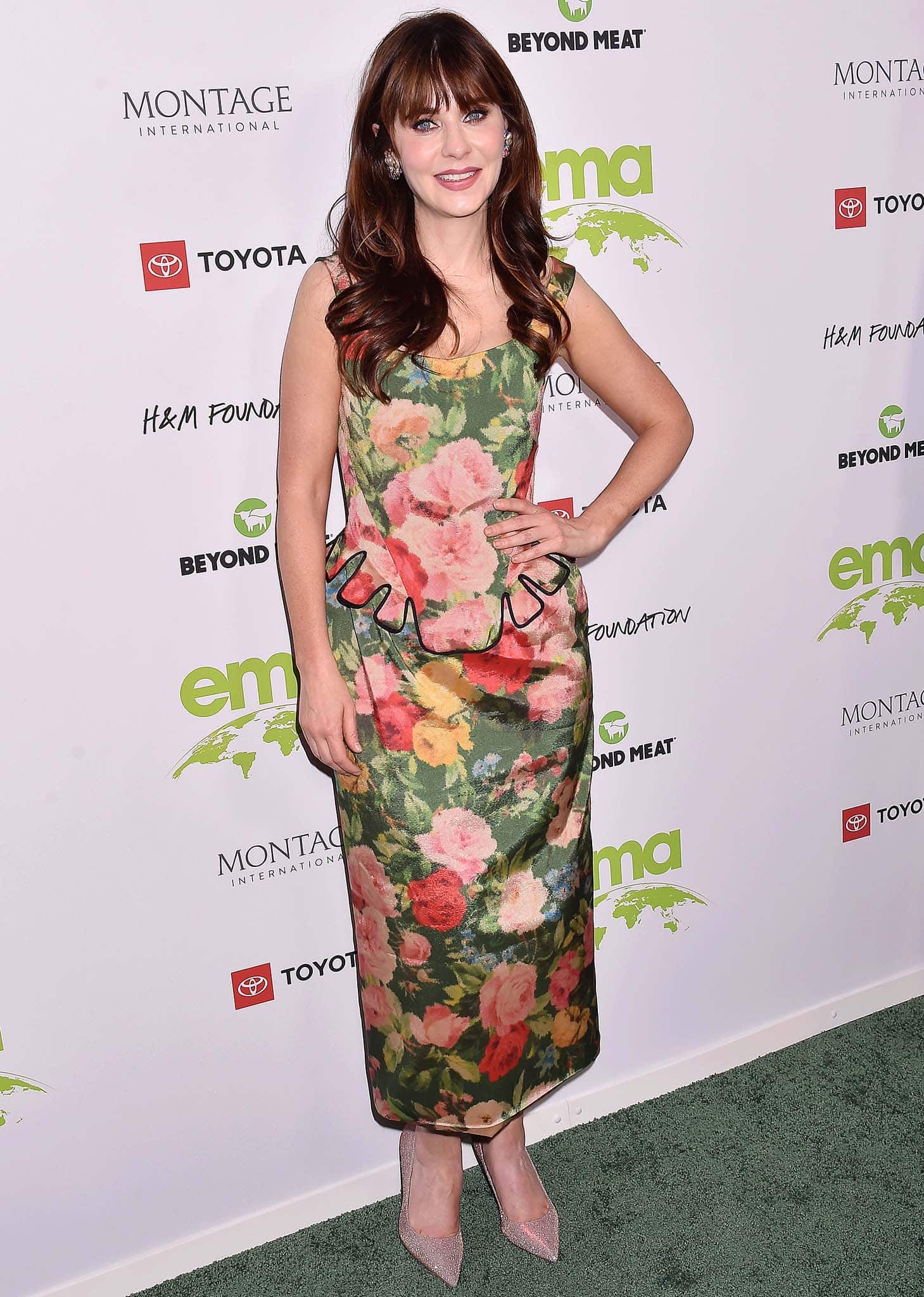 Zooey Deschanel looks blooming in her Richard Quinn Spring 2020 floral dress (Credit: Mega / WENN) (Credit: Mega / WENN)
Zooey is set to star in Dreamin' Wild, an indie musical biopic that tells the story of musicians Donnie and Joe Emerson, whose family leveraged their farm in the 1970s to produce the brothers' self-recorded pop-funk album of the same name.
Dreamin' Wild, the album Donnie and Joe recorded as teenagers in 1979, remained unknown until it was re-discovered in 2012.
The Guardian tells the amazing story about how a record collector named Jack Fleischer in 2008 discovered their record while browsing an antique shop in Spokane.
Casey Affleck will portray the adult Donnie with Walton Goggins as adult Joe and Zooey as Donnie's wife, Nancy.
Jonathan Scott and Zooey Deschanel at the We're Here LA premiere at the Sony Studios in Culver City on October 8, 2021 (Credit: Mega / WENN)
Early this month, the 41-year-old actress and the 43-year-old reality TV star hit the red carpet for the HBO Max series We're Here in Culver City.
The couple arrived in matching printed outfits, with Jonathan in a floral printed shirt tucked into a pair of jeans and layered with a burgundy blazer.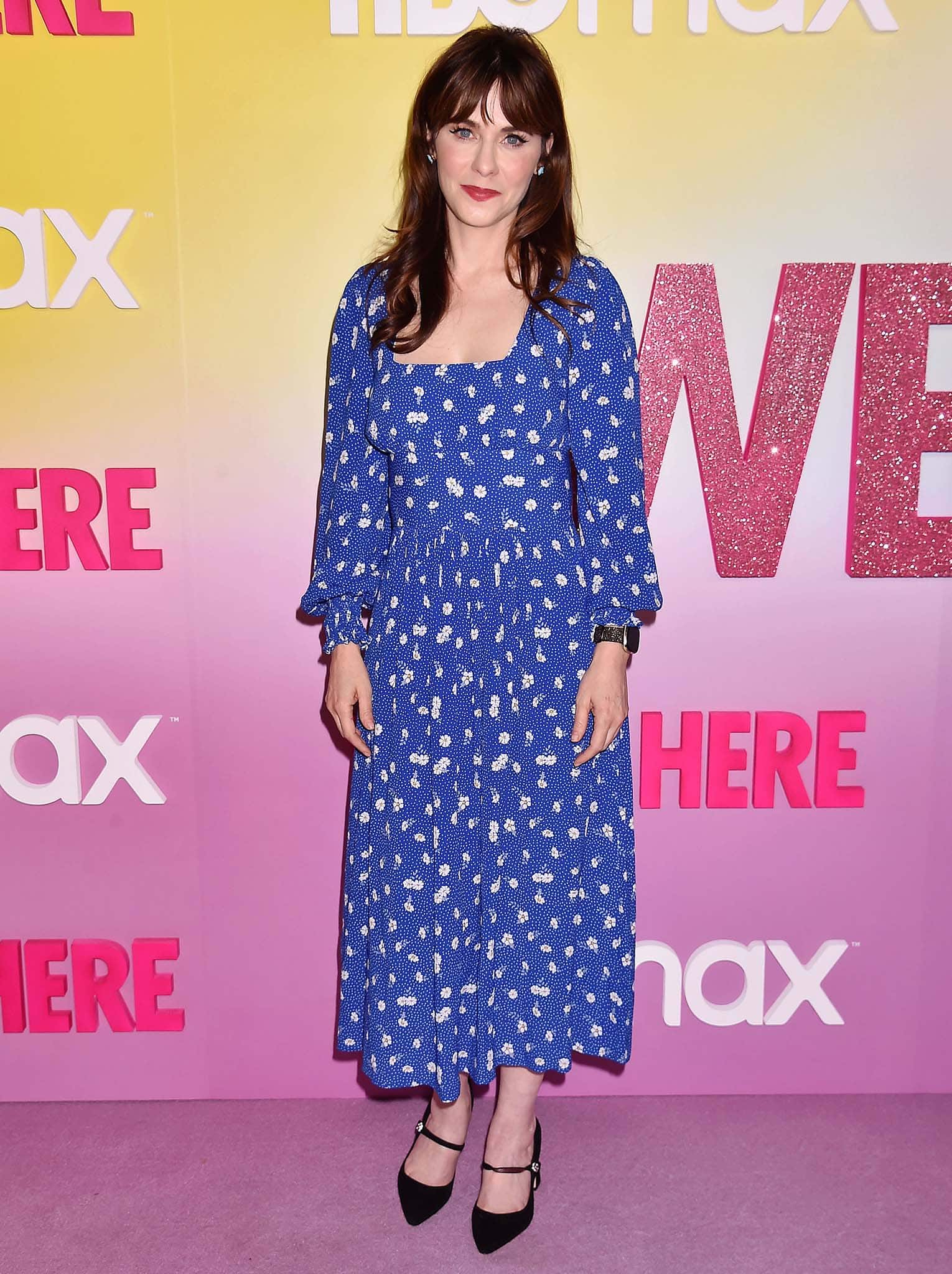 Zooey Deschanel opts for a feminine blue floral dress with a low-cut square neckline (Credit: Mega / WENN)
Zooey, meanwhile, opted for a blue floral dress with a low-cut square neckline, a cinched waist, and bishop sleeves.
She glammed up with winged eyeliner and red lipstick as she styled her signature fringed tresses in loose curls.
Zooey Deschanel wears her signature fringed tresses down in loose curls and glams up with red lipstick and winged eyeliner (Credit: Nicky Nelson / WENN)
A pair of black suede "Maren" pumps from Kate Spade rounded out her look. These Mary Jane shoes feature an almond toe, an instep strap with a jeweled button, and a 3.5-inch block heel.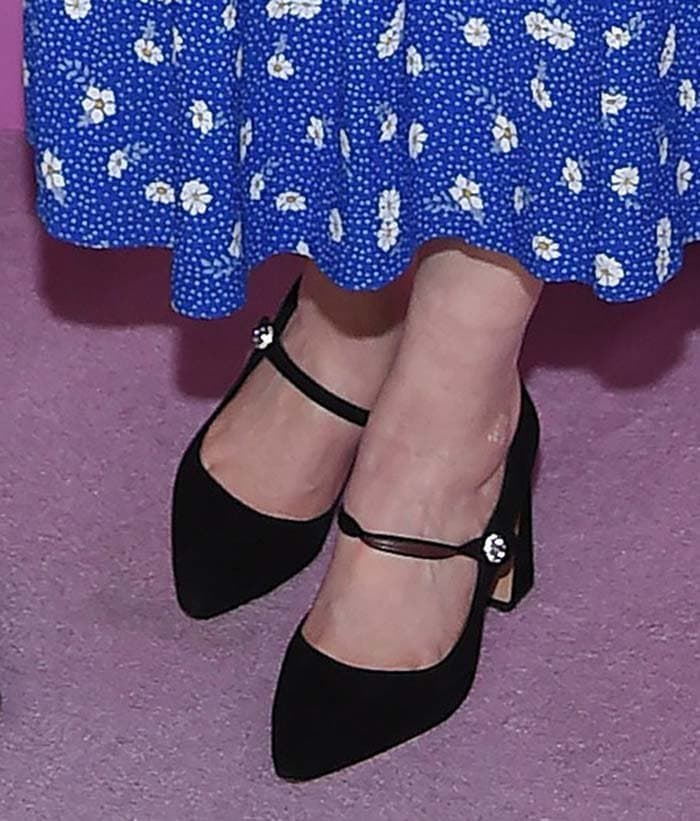 Zooey Deschanel slips into a pair of Kate Spade Maren Mary Janes (Credit: Mega / WENN)
Kate Spade New York 'Maren' Mary Jane Pumps, $198 at Kate Spade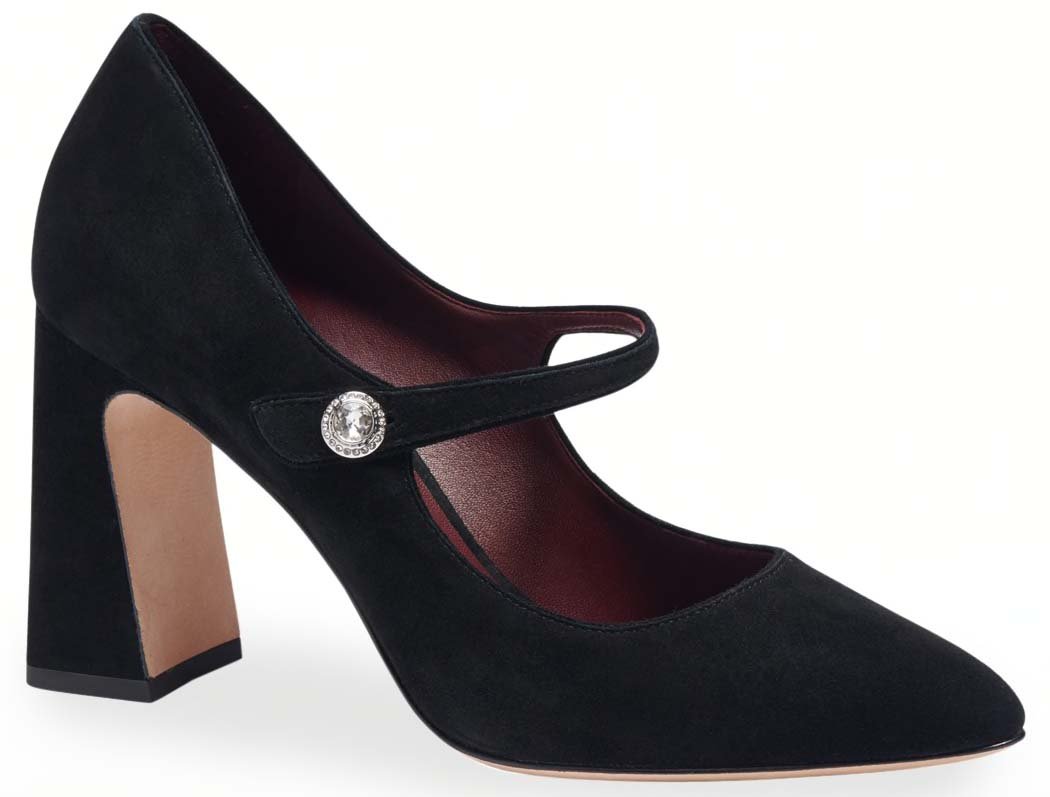 A contemporary pair of Mary Jane pumps with a crystal button and a high block heel