Adele is one of the most talented and most famous women on the planet.
Known for her powerhouse vocals and insightful, breathtaking lyrics, the musician has had one of the most successful careers in entertainment of anyone in history and has gained millions of international fans along the way.
Amidst her rise to stardom, Adele also became a symbol of body positivity, as her figure when she first became famous was much different than it is now.
Adele in a black Armani Privé dress at the 2022 BRIT Awards held at The O2 Arena on February 8, 2022, in London, England (Credit: Cubankite / Shutterstock)
However, due to life changes and career expectations, the singer has transformed her body and is now 100 pounds lighter than she was when the world first met her.
Let's take a look at Adele's incredible journey to fame, and discuss her unbelievable weight loss transformation.
Adele's Background
Adele is from a working-class family in London. The British singer was raised by a single mother and is a graduate of the BRIT School for Performing Arts and Technology in Croydon. Some of her famous classmates include singers Leona Lewis and Jessie J.
Adele was not focused on a singing career while in school, but her talent said otherwise. After recording a demo and releasing it online, she gained popularity on the bygone social media website MySpace.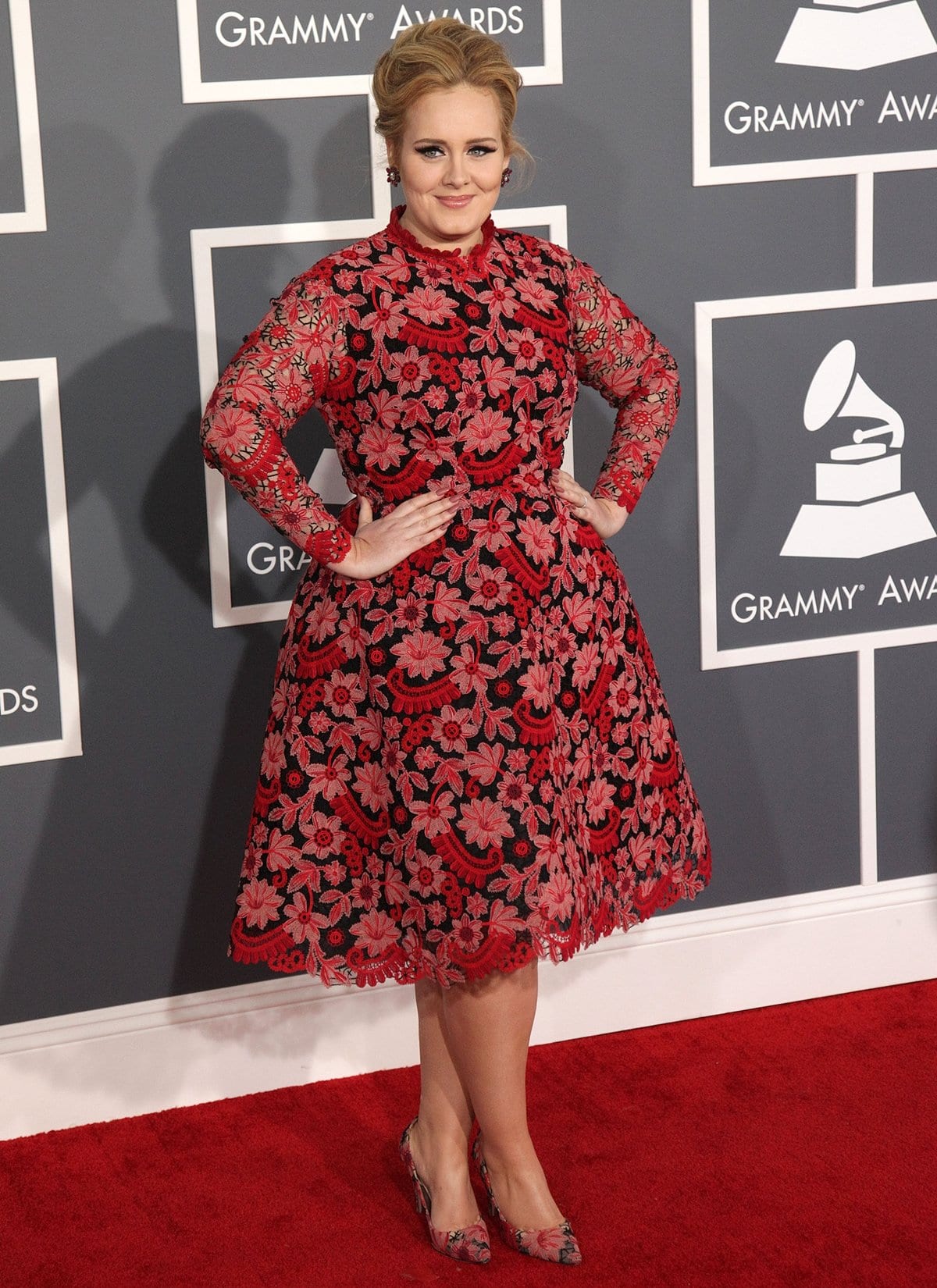 Adele in a floral Valentino dress and matching heels at the 2013 Grammy Awards held on February 10, 2013, at the Staples Center in Los Angeles (Credit: DFree / Shutterstock)
From this, she not only gained a slew of fans before even having a contract, but she also scored a coveted record deal. Adele signed with XL Recordings in September 2006, and by 2008 she had released her debut album.
Inside Her Early Career
Since her debut album, Adele has been a household name. Her first album, 19, was met with critical acclaim and sold very well.
In 2009, the success of her first album led the star to win the elite Best New Artist award at the Grammy Awards, and she also took home the award for Best Female Pop Vocal Performance that night.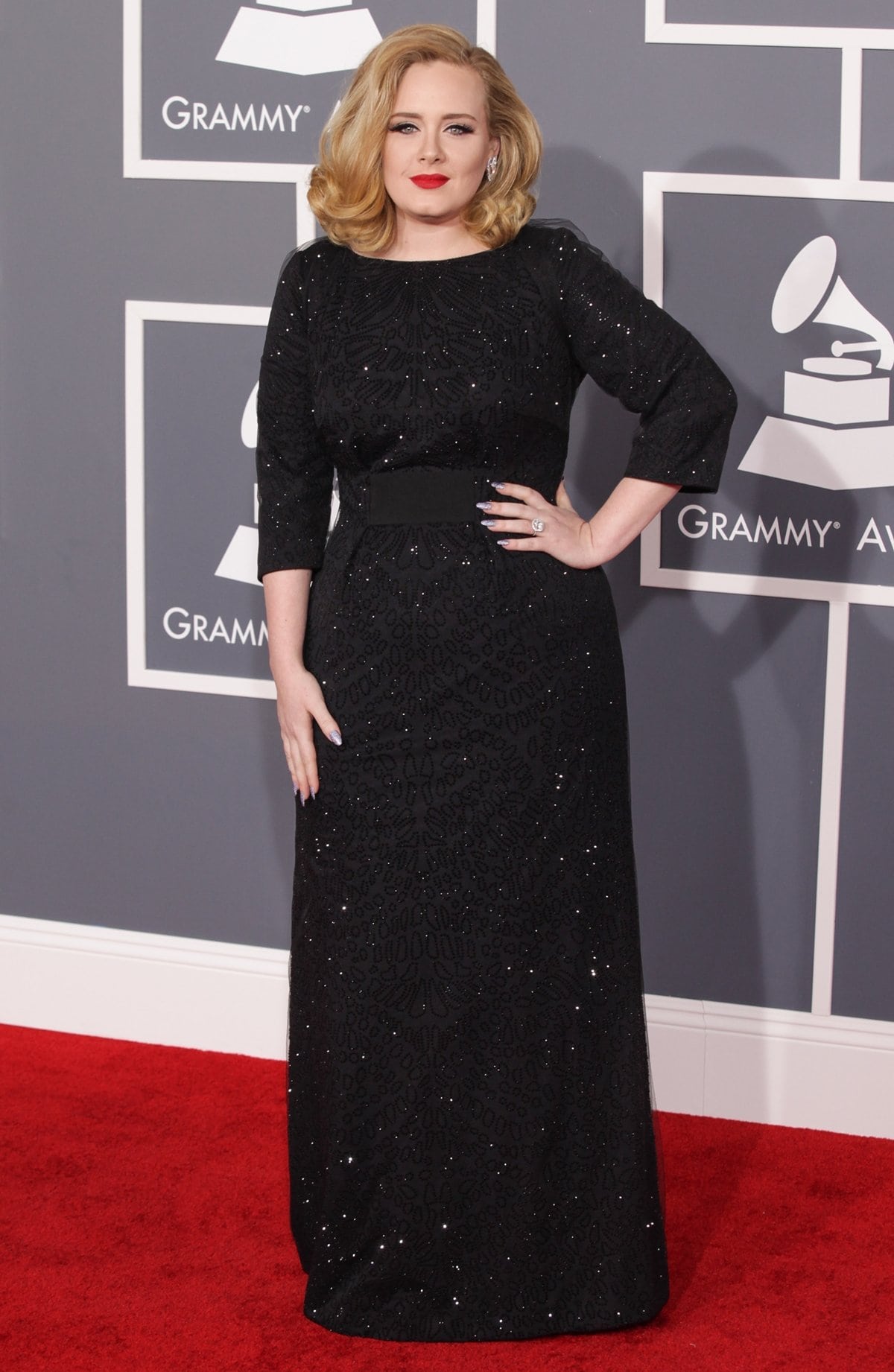 Singer Adele in a sparkling Giorgio Armani gown and De Beers earrings at the 54th Annual GRAMMY Awards held at the Staples Center on February 12, 2012, in Los Angeles, California (Credit: DFree / Shutterstock)
In 2011, Adele released her follow up album, 21, continuing the theme of naming albums according to the year of her life in which she recorded them, and this album was even more successful than the previous, spawning hits like "Someone Like You" and "Rolling in the Deep."
A Closer Look at Her Weight
When Adele came on the scene, she was a full-figured woman, and she was proud of it. Her weight was a common topic of conversation, especially among fans with similar body types.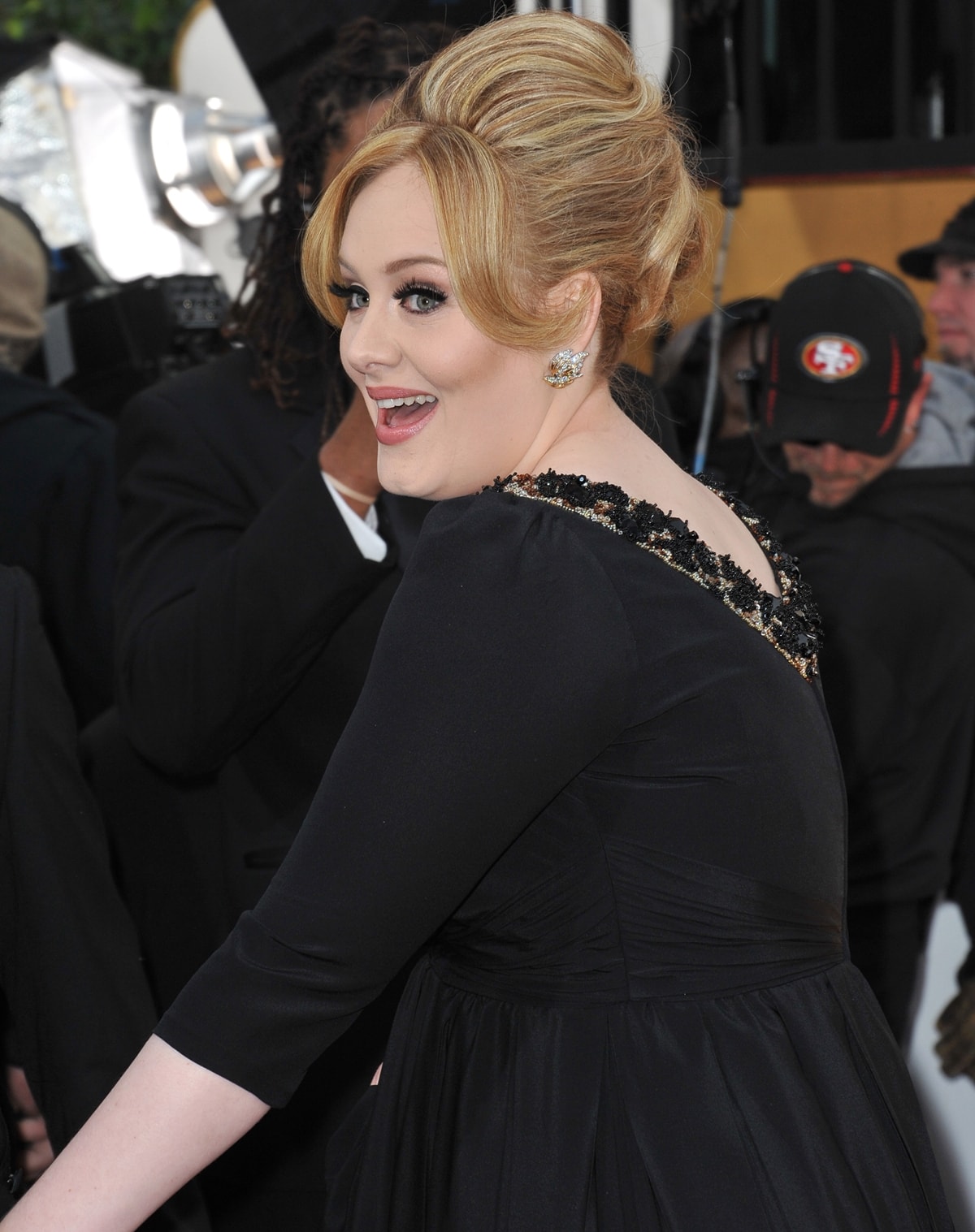 Adele had struggled with body image issues and claims to have lost 100 pounds (Credit: Featureflash Photo Agency / Shutterstock)
Adele wore this as a badge of honor, as she saw herself as proof that anybody can be successful, no matter their body type. Adele has never claimed to be particularly unhappy with her body type, but there were some life events that served as an impetus behind her weight loss.
Adele's Weight Loss Transformation
Adele has actually undergone a couple of weight loss transformations, the first of which was mainly induced by a desire to be in better shape before a tour.
Singer Adele in a black Burberry dress with Cartier jewelry at the 70th Annual Golden Globe Awards held at The Beverly Hilton Hotel on January 13, 2013 in Beverly Hills, California (Credit: Featureflash Photo Agency / Shutterstock)
As we know, it does require physicality to not only sing well but put on a good performance. Before launching a world tour, Adele exercised to prepare.
What Motivated Her
The second time Adele lost weight, it was due to an unfortunate life event. Adele and her husband, Simon Konecki, the father of her child, divorced, and this led her to experience some rather crippling anxiety.
Adele, who won the Oscar for best original song for Skyfall, poses in a black Jenny Packham dress in the press room the 85th Annual Academy Awards at Dolby Theatre on February 24, 2013 in Hollywood, California (Credit: Ga Fullner / Shutterstock)
To combat her mental health woes and improve her state of mind, Adele sought relief through exercise. After discovering a very effective workout routine, the singer shed nearly 100 pounds.
How She Stays Fit Now
Although she initially lost weight due to anxiety relief, Adele wanted to continue transforming her body.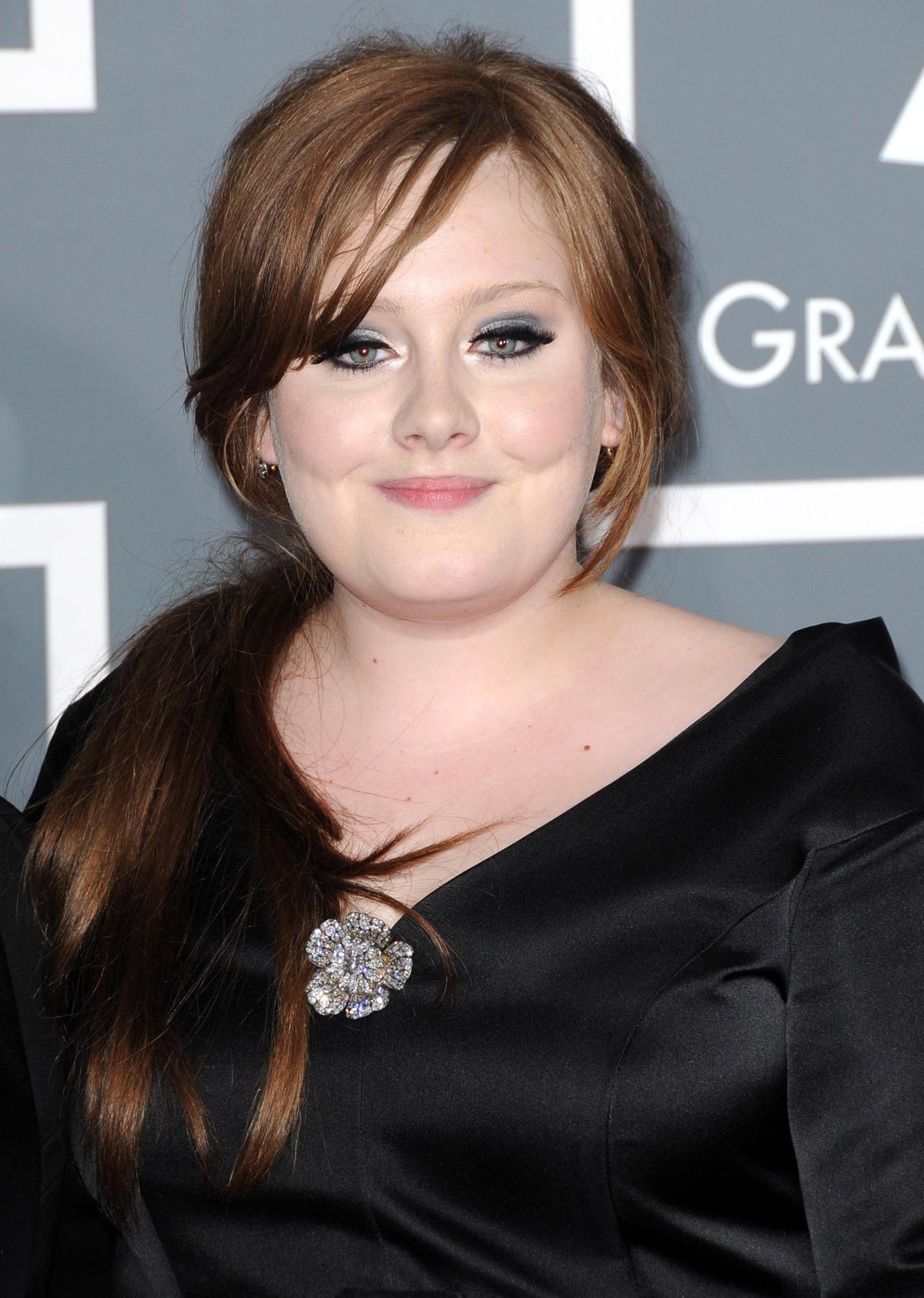 Singer Adele prior to her weight loss at the 51st Annual GRAMMY Awards held at the Staples Center on February 8, 2009 in Los Angeles, California (Credit: s_bukley / Shutterstock)
During the COVID-19 pandemic, Adele, while on lockdown like the rest of the world, worked out three times a day, and it clearly worked for her. She slimmed down even further, and debuted her new body, much to the surprise of the world.
"I think one of the reasons people lost the plot was because actually, it was over a two-year period. It was because of my anxiety. Working out, I would just feel better," she told British Vogue in October 2021.
"It was never about losing weight, it was always about becoming strong and giving myself as much time every day without my phone. I got quite addicted to it. I work out two or three times a day…so I do my weights in the morning, then I normally hike or I box in the afternoon, and then I go and do my cardio at night. I was basically unemployed when I was doing it. And I do it with trainers. It's not doable for a lot of people."
Unhappy Reactions
Some fans, though, were not quite so taken with Adele's new figure. Those who had seen Adele as a role model for body positivity and a symbol of success despite one's figure were a little crushed to see that Adele had lost so much weight.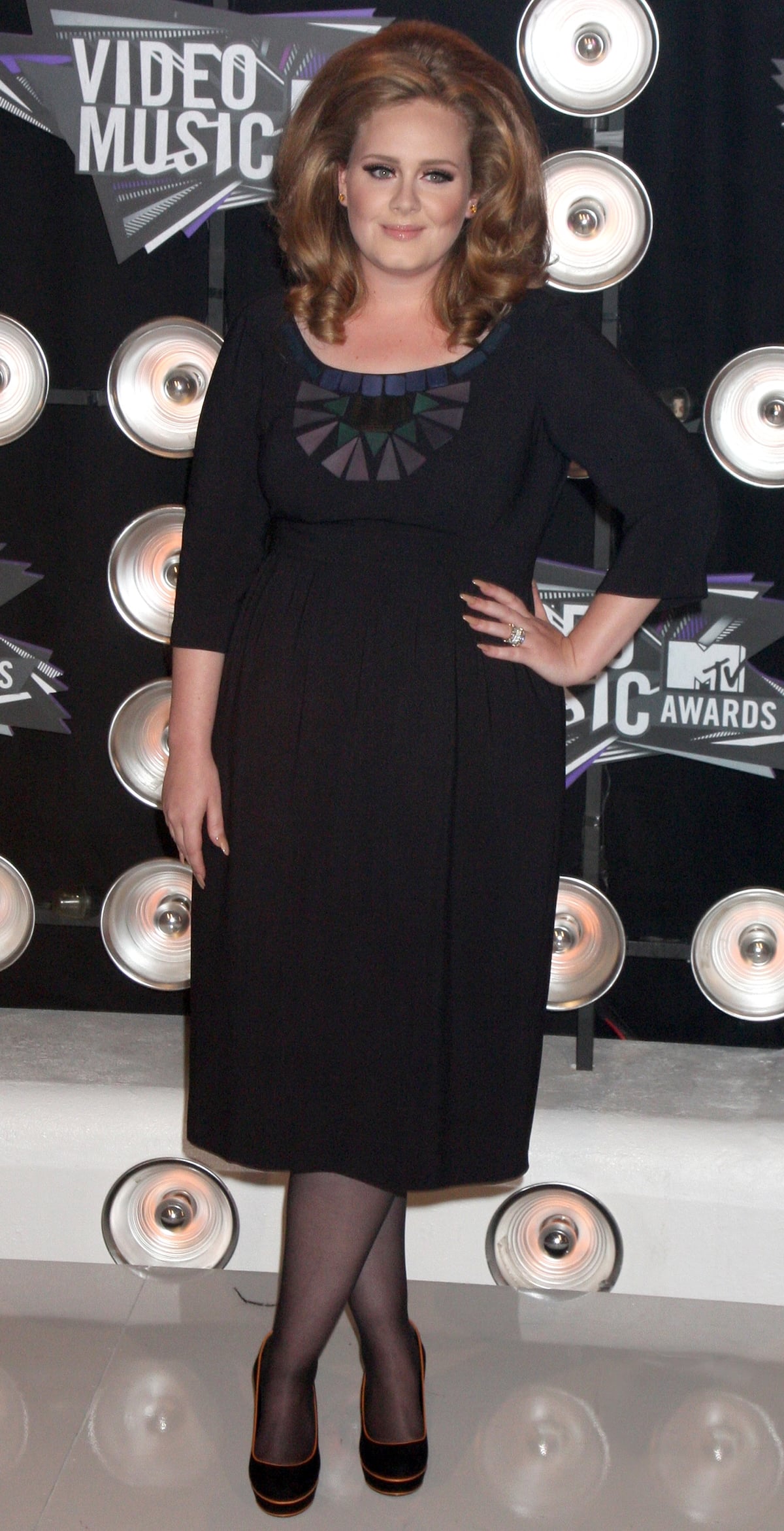 Adele in a black Burberry dress at the 2011 MTV Video Music Awards at the Nokia Theatre LA. Live on August 28, 2011, in Los Angeles (Credit: Kathy Hutchins / Shutterstock)
Adele shed some light on her thoughts on the world's perception with Oprah, noting that she can't let the thoughts of others dictate how she sees and carries herself. She is focused on her own health and her own body and is not worrying about what others think.
"[Working out] was about my anxiety, mainly. I had the most terrifying anxiety attacks after I left my marriage — it made me so confused and made me feel as if I had no control over my body," Adele told Oprah Winfrey in November 2021.
"I noticed how much I trusted my trainer's presence when I was feeling so lost, but also I didn't have any anxiety when I was out at the gym," she continued. "It became my time — me having a plan every day when I had no plans."
View this post on Instagram
"I [wasn't] shocked or even phased by it — my body has been objectified my entire career. Am I too big or am I too small, am I hot or not or whatever — I never looked up to anyone because of their body," Adele revealed.
"I was body positive then and I'm body positive now," she added. "It's not my job to validate how people feel about their bodies. I feel bad that it's made anyone feel horrible about themselves, but that's not my job."
Adele's Career Now
Adele did not need to lose weight to continue having a successful career, and it's hard to say whether her career was impacted by her weight loss or not. But what is clear, is that no matter her weight, she has remained successful.
Adele shows off her size 8 (US) feet in floral Valentino pumps (Credit: Kathy Hutchins / Shutterstock)
In 2021, Adele released her fourth studio album entitled 30, again in keeping with her album title theme. This is the first album she released in six years, and it was more than welcome by fans.
Adele before her weight loss in 2009 and after weight loss in 2022 (Credit: Cubankite / Shutterstock / s_bukley)
Her lead singer off the album, "Easy On Me", debuted at number one in the United States, as did the album. 30 was met with high critical acclaim and became the best-selling album of the year worldwide.
Adele was set to have her own Las Vegas residency, but that fell through due to a variety of factors. Regardless, Adele had an incredibly successful year and return to music, one that probably would've happened whether she had lost 100 pounds or not, as she is supremely talented.
Inside Her Personal Life
Post-divorce, Adele has been enjoying the success of her career and motherhood. She has found love again and has been dating sports agent Paul Rich for over a year.
While she hasn't mentioned what her plans are for future albums, we do know she intends to continue making music, and we hope to see her perform her Vegas residency sooner than later. No matter what she weighs, Adele is one of the best musicians on earth.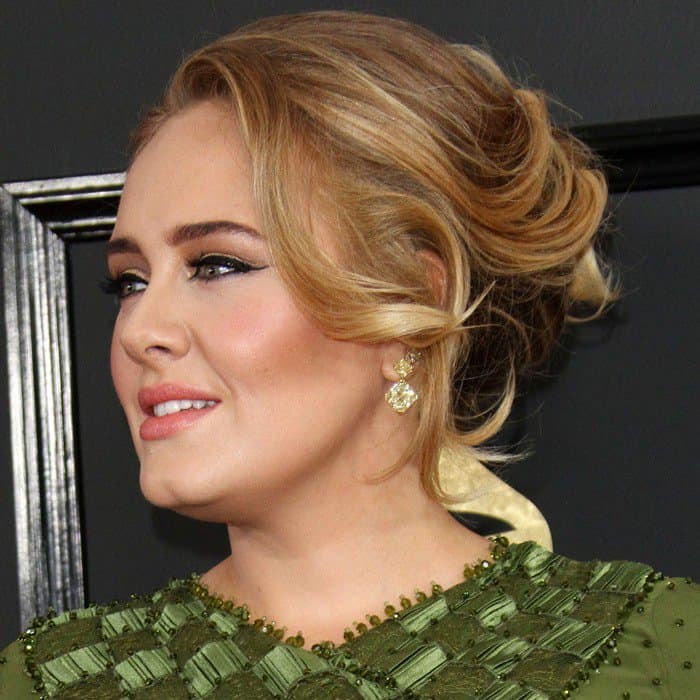 Adele coordinated with jewelry from New York-based jewelry designer Lorraine Schwartz (Credit: Adriana M. Barraza / WENN)
In February 2017, Adele rocked the red carpet at the 2017 Grammys held at the Staples Center in Los Angeles.
She was nominated in five categories this year including Album Of The Year (25), Record Of The Year ("Hello"), Song Of The Year ("Hello"), Best Pop Solo Performance ("Hello"), and Best Pop Vocal Album (25).
Adele rocked an olive green bead-embellished pleated dress from Givenchy Haute Couture by Riccardo Tisci (Credit: Adriana M. Barraza / WENN)
In addition to winning all five categories she was nominated for, Adele opened the show with a performance of "Hello."
Prior to her performance, the then 28-year-old entertainer stunned on the red carpet in an embellished gown from Givenchy's Fall 2016 Couture collection.
Adele showed that green is her color in a Givenchy gown from the Fall 2016 Couture collection (Credit: Adriana M. Barraza / WENN)
Her long-sleeved olive green dress was matched with a pair of pumps from the same French luxury fashion house and jewelry from Lorraine Schwartz.
Adele paired her olive green dress with matching high heel pumps (Credit: Adriana M. Barraza / WENN)
Do you think Adele looked matronly in military green or was she one of the evening's best-dressed celebrities?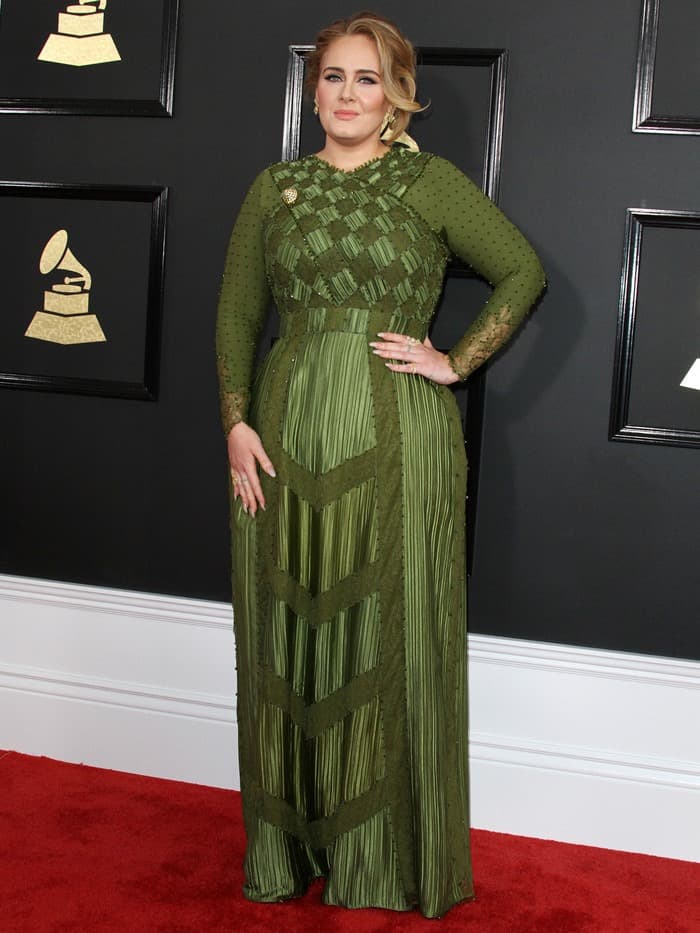 Adele made the red carpet her own at the 59th Annual GRAMMY Awards 2017 held at the Staples Center in Los Angeles on February 12, 2017 (Credit: Adriana M. Barraza / WENN)