When it comes to making a jaw-dropping entrance, there's no one quite like Adriana Lima.
The 42-year-old Brazilian supermodel recently graced the red carpet at the 80th Venice International Film Festival, and let's say she left everyone in awe with her mesmerizing presence.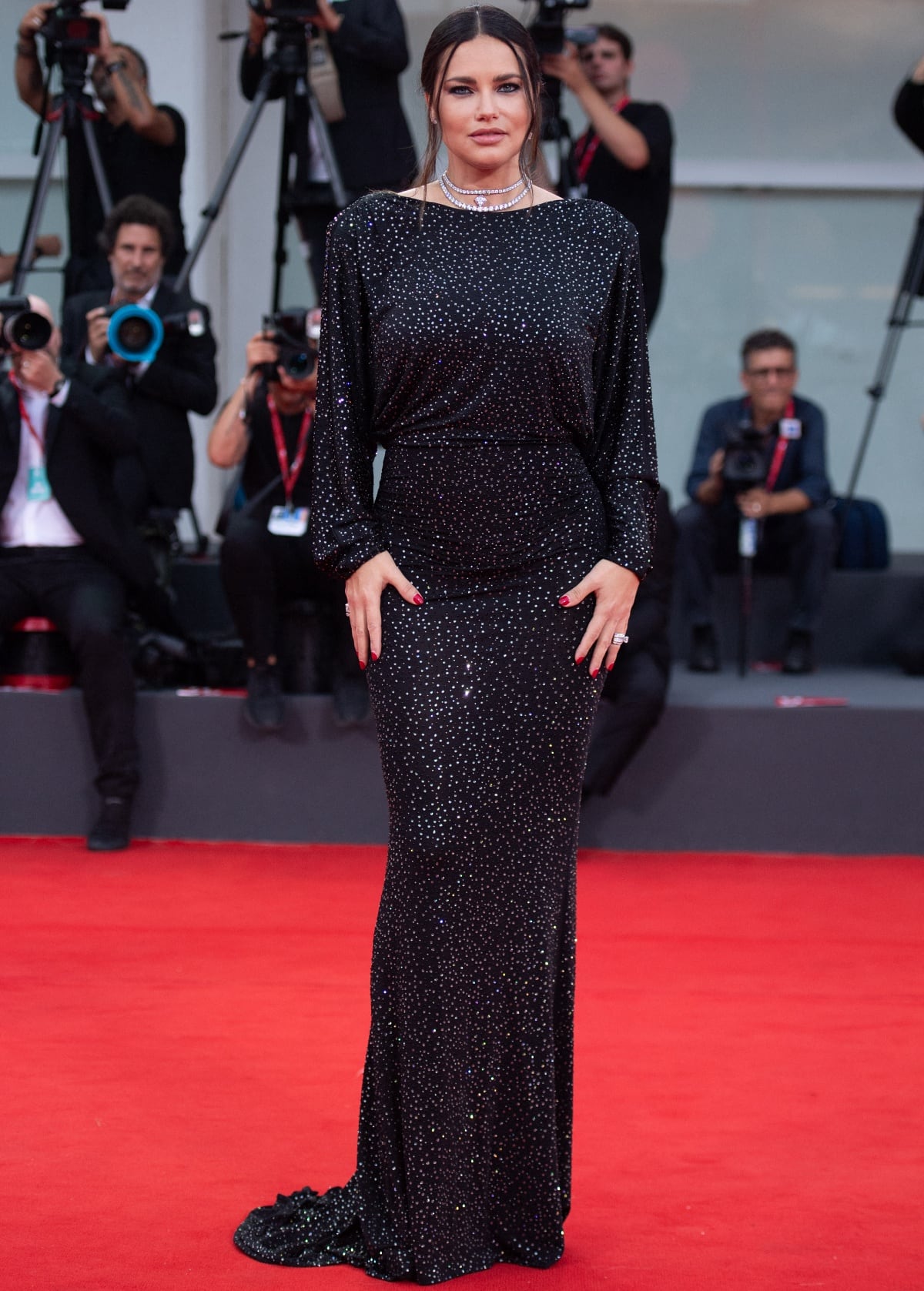 Adriana Lima made a stunning entrance at The Killer premiere during the 80th Venice International Film Festival in Venice, Italy on September 3, 2023 (Credit: Abaca Press / INSTARimages)
Although the red carpet was missing some Hollywood stars due to an ongoing strike, Adriana's appearance more than made up for it with her radiant charm and impeccable style.
On Sunday evening in Venice, Italy, the mom-of-three attended The Killer's premiere dressed in a custom Pinko gown that took everyone's breath away.
With its sultry backless silhouette, the shimmering black ensemble hugged her supermodel figure in all the right places, showcasing her timeless beauty.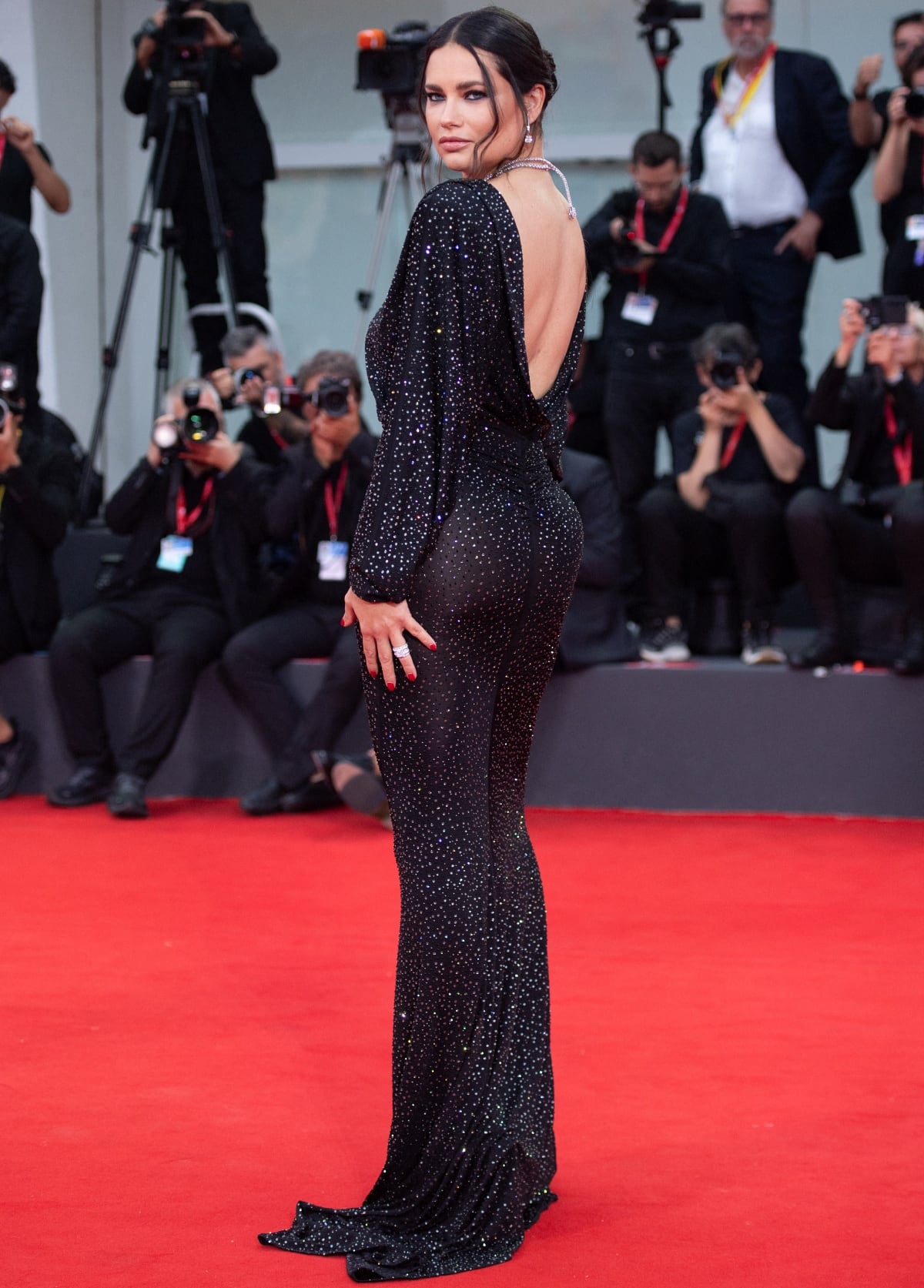 Adriana Lima wearing a custom Pinko gown with a sultry backless silhouette (Credit: Abaca Press / INSTARimages)
Embellished with studded detailing throughout, it added a touch of glamour to her already stunning attire. The floor-length train skirt that concealed her shoes created a captivating effect as it gracefully trailed behind her.
But it wasn't just the gown that stole the show. Adriana paired her all-black look with a dazzling double pearl necklace from Hassanzadeh Jewellery, elevating her outfit to another level of luxury.
And the accessories didn't stop there. Matching diamond rings and pendant earrings from the same brand showcased her impeccable taste.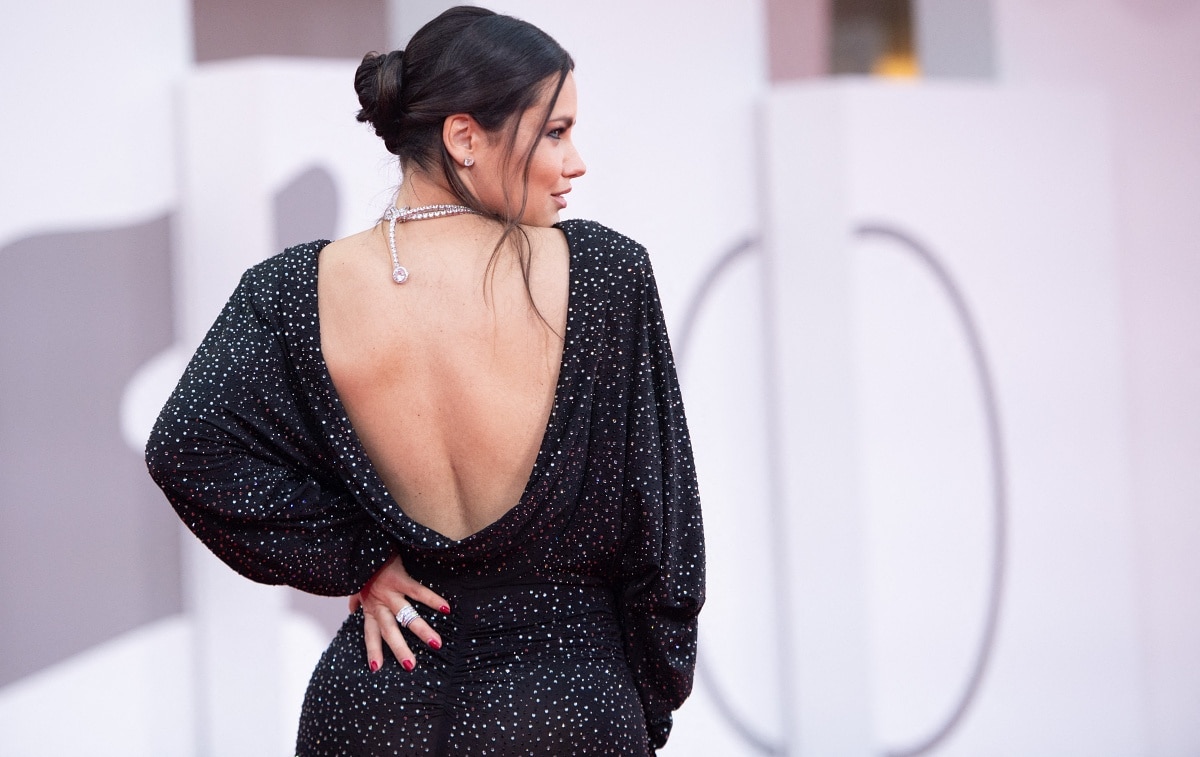 Supermodel Adriana Lima showcased the stunning details of her look, from the backless silhouette of her gown to the gorgeous pieces of jewelry she wore for a glamorous finish (Credit: Abaca Press / INSTARimages)
Adriana's beauty choices were equally on point. Her brown tresses were styled in a low bun, with two wavy locks framing her gorgeous features.
Smokey eye makeup enhanced the allure of her captivating eyes, and her lips were adorned with soft nude lipstick, adding the perfect finishing touches to her red carpet look.
Adriana Lima's beauty look consisted of smokey eye makeup, soft nude lips, and a low bun with wavy tendrils framing her gorgeous face (Credit: IPA / INSTARimages)
She didn't walk the red carpet alone; Adriana was captured posing alongside Venice Film Festival's president and renowned film critic, Alberto Barbera.
Adriana Lima posing for photographs with Alberto Barbera on the red carpet during the 80th Venice International Film Festival (Credit: Abaca Press / INSTARimages)
Adriana Lima's presence at the 2023 Venice Film Festival was a double treat for her fans, as she had already wowed the audience at the Maestro premiere the day before.
She continued showcasing her love for Pinko during the festival, wearing another custom-made gown from the brand, emphasizing her slender physique.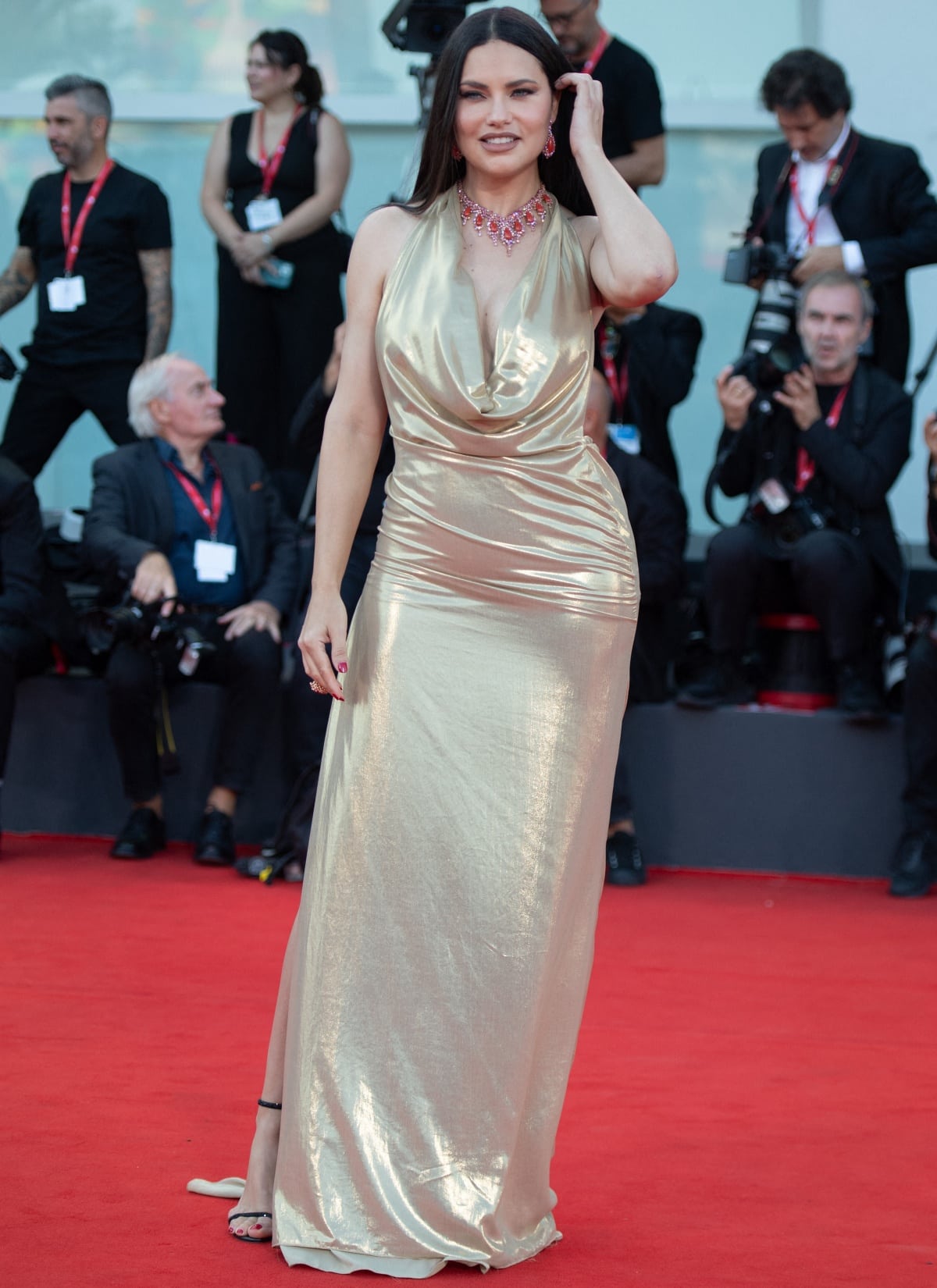 Adriana Lima turning heads at the Maestro premiere during the 80th Venice International Film Festival in Venice, Italy on September 2, 2023 (Credit: Abaca Press / INSTARimages)
Her elegant halter neck dress featured a plunging cowl neckline and shiny gold fabric, reaffirming her status as a fashion icon.
She accessorized with pieces from the Damiani Mimosa jewelry collection, including an eye-catching diamond red necklace, matching droplet earrings, and a large red ring.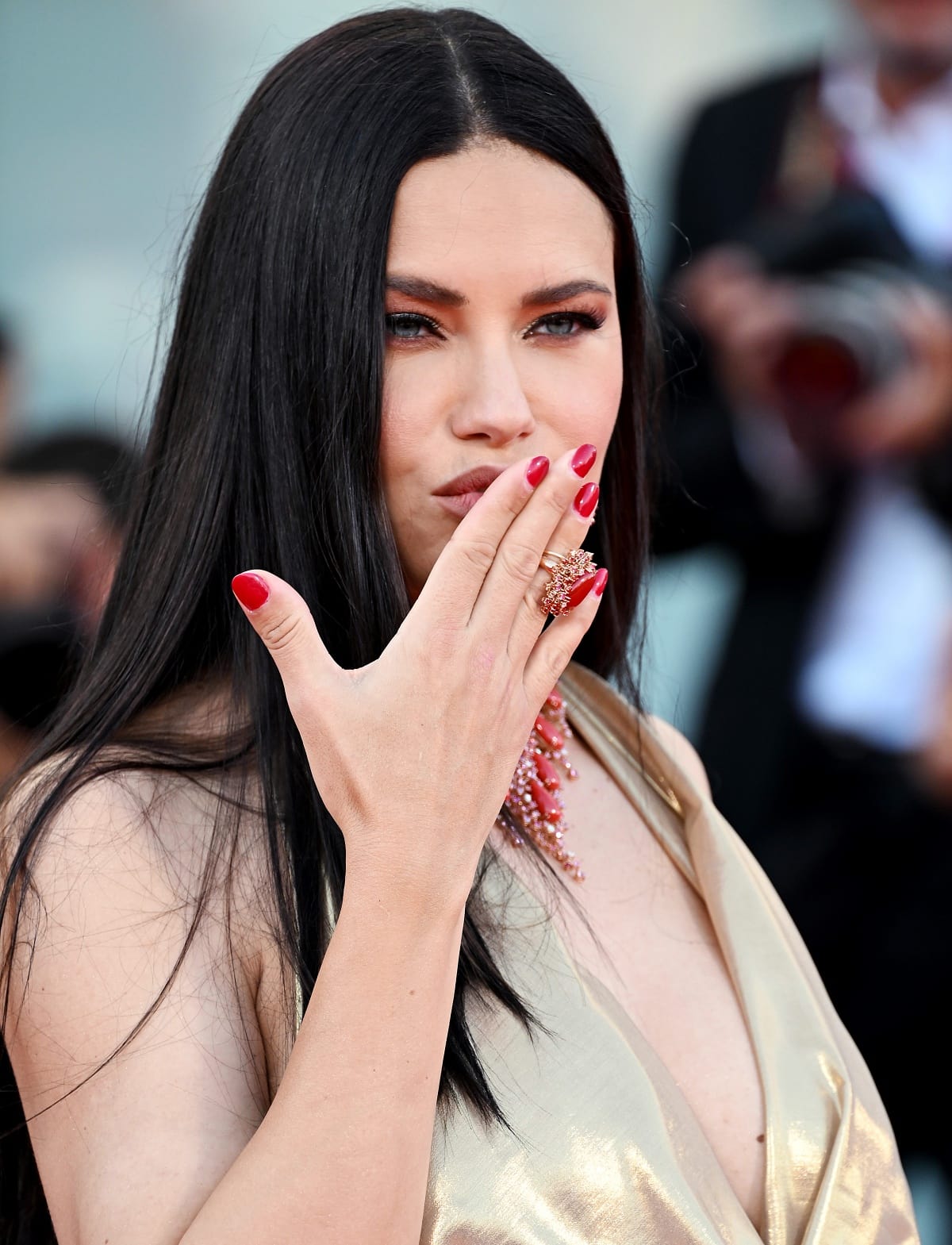 Adriana Lima showing off her large red ring, which matched her eye-catching diamond necklace and sultry red nails (Credit: IPA / INSTARimages)
Her luscious brown hair cascaded down her shoulders while she slipped into black sandals with toe straps for her footwear, elevating her statuesque frame.
Adriana Lima's bespoke gown from the Italian women's fashion brand Pinko was a radiant vision with its gleaming gold fabric and a striking plunging cowl neckline (Credit: IPA / INSTARimages)
Adriana took to her Instagram account to treat her followers with a glimpse of her sultry ensemble, featuring two captivating photographs that showcased her slender back. Her caption teased, "on my way to @labiennale."
View this post on Instagram
Last month, Adriana Lima, who has long-standing ties with the lingerie brand, returned to Victoria's Secret for a new campaign, The Icon by Victoria's Secret collection. This collection celebrates a range of shapes and sizes, promoting comfort and confidence.
Adriana, who served as the retailer's longest-running model and a Victoria's Secret Angel from 1999 to 2018, along with other iconic models, such as Gisele Bündchen, Naomi Campbell, and Candice Swanepoel, graced the campaign, proving that beauty knows no boundaries.
View this post on Instagram
She shared a stunning black-and-white photograph on her Instagram modeling a slip dress from the collection and wrote in the caption, "Make It Your Signature @victoriassecret #YoureAnIcon."