After turning heads at the prestigious 2023 Cannes Film Festival, Alessandra Ambrosio graced the orange carpet with her presence once again.
Attending the Race to Erase MS 30th Anniversary Gala at Fairmont Century Plaza in Los Angeles on June 2, the wealthy supermodel exuded elegance while accompanied by her mother, Lucilda Nivia de Mello Ambrosio.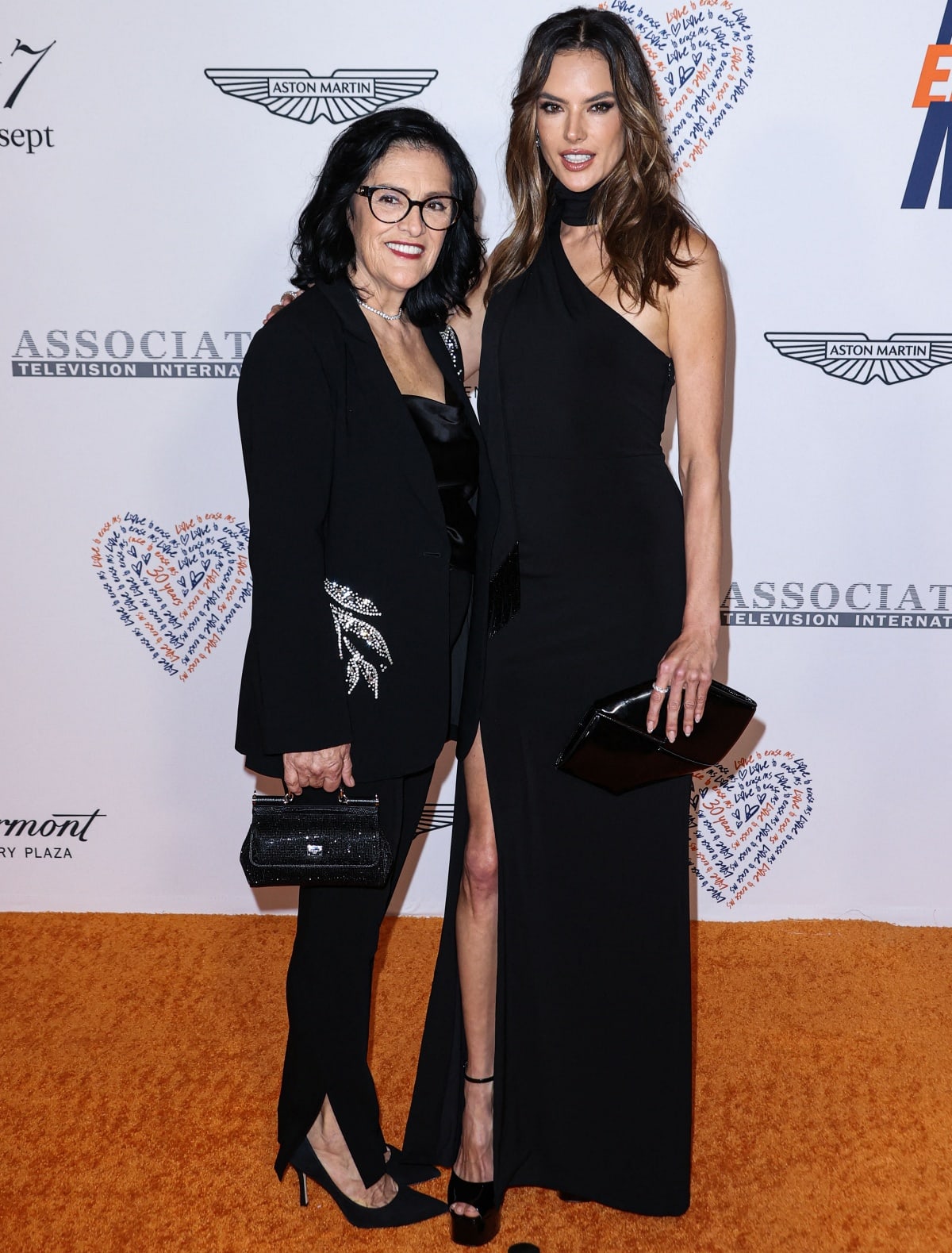 Lucilda Ambrosio and Alessandra Ambrosio made quite the beautiful pair at the 30th Annual Race to Erase MS Gala held at the Fairmont Century Plaza in Los Angeles, California on June 2, 2023 (Credit: Abaca Press / INSTARimages)
The Race to Erase MS Gala stands as a beacon of hope, raising funds for groundbreaking research and innovative therapies to combat multiple sclerosis through the foundation's Center Without Walls program.
Radiating confidence and allure, Ambrosio donned an all-black ensemble that left spectators in awe.
The 42-year-old former Victoria's Secret Angel's choice of attire was a strappy, maxi-length, bodycon dress by the celebrity-approved label Cinq à Sept.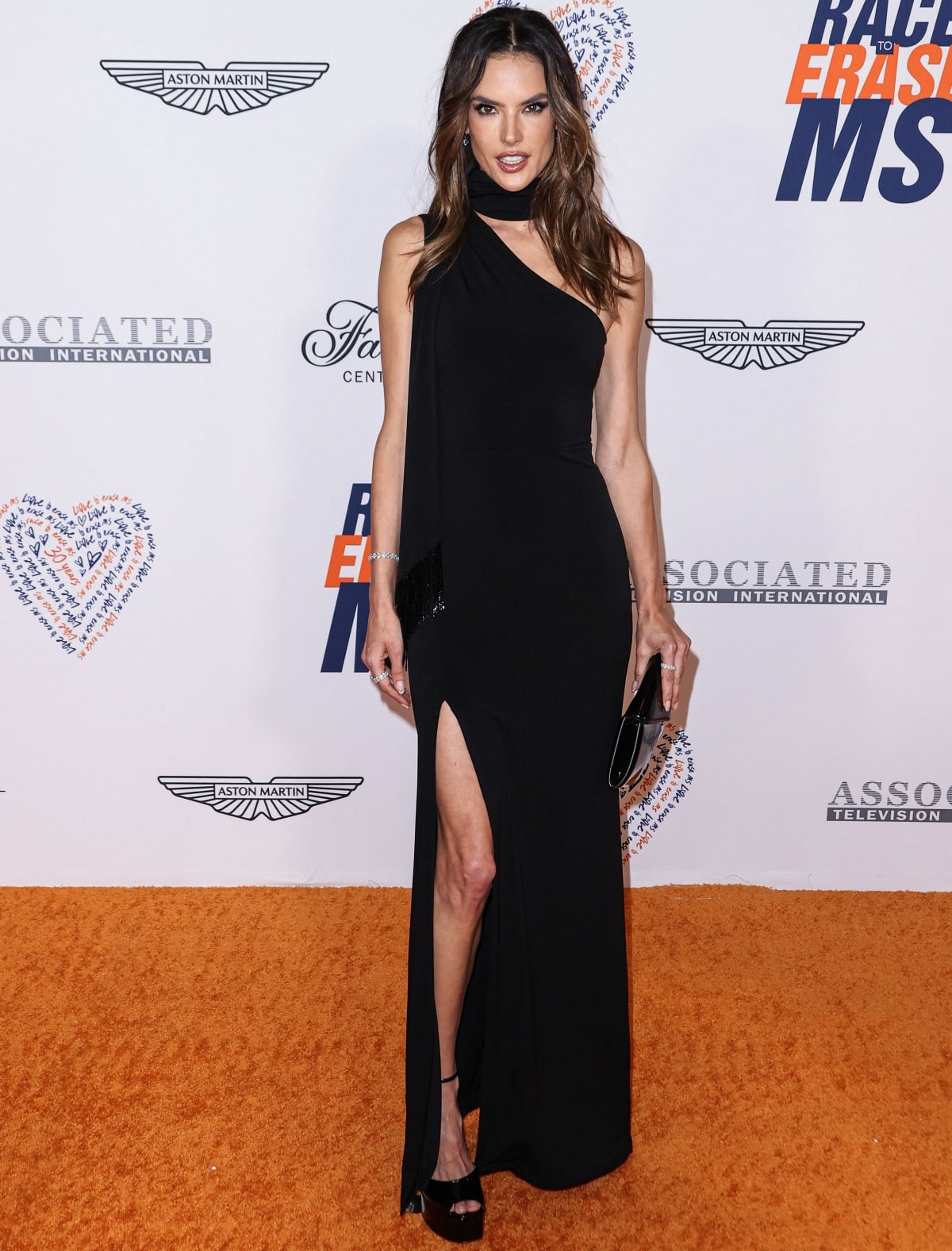 Alessandra Ambrosio looks stunning in a Cinq à Sept black bodycon dress with a scarf neck detail (Credit: Abaca Press / INSTARimages)
This mesmerizing gown boasted an asymmetrical bodice, drawing attention to her graceful neckline. Adorned with a statement scarf neck detail featuring a tassel hem embellished with crystalized fringe, it cascaded effortlessly down Ambrosio's shoulder, adding a touch of luxury to her ensemble.
The sleeveless Mia dress also revealed a daring front-facing slit, teasing a glimpse of the tall Brazilian model's statuesque legs.
Complementing her impeccable attire, Ambrosio accentuated her appeal with a selection of dazzling accessories. In one hand, she grasped a gleaming geometric clutch, showcasing her impeccable taste, while her wrists and fingers sparkled with the brilliance of diamond-encrusted jewelry.
Alessandra Ambrosio's beach waves softened her look with face-sculpting bronzer, smoky black eyeshadow, and nude gloss (Credit: Abaca Press / INSTARimages)
The Casino Royale star opted for shimmering drop earrings, a captivating diamond tennis bracelet, and a statement ring collection, creating an ensemble that exuded understated elegance.
Keeping her brunette hair styled in beach waves, Ambrosio heightened the drama with smoky black eyeshadow while her lips shimmered with a nude gloss. Luminous bronzer sculpted her face, emanating a natural glow that complemented her radiant smile.
The mother-of-two's footwear stole the spotlight as she gracefully stepped onto the orange carpet in striking black peep-toe platform sandals.
Crafted with patent leather uppers, these shoes exuded a high-shine appeal, while the thin ankle straps, buckle closures, and lofty platform soles combined style with comfort. She flaunted towering stiletto heels to enhance her stunning stature further, taking her frame to new heights.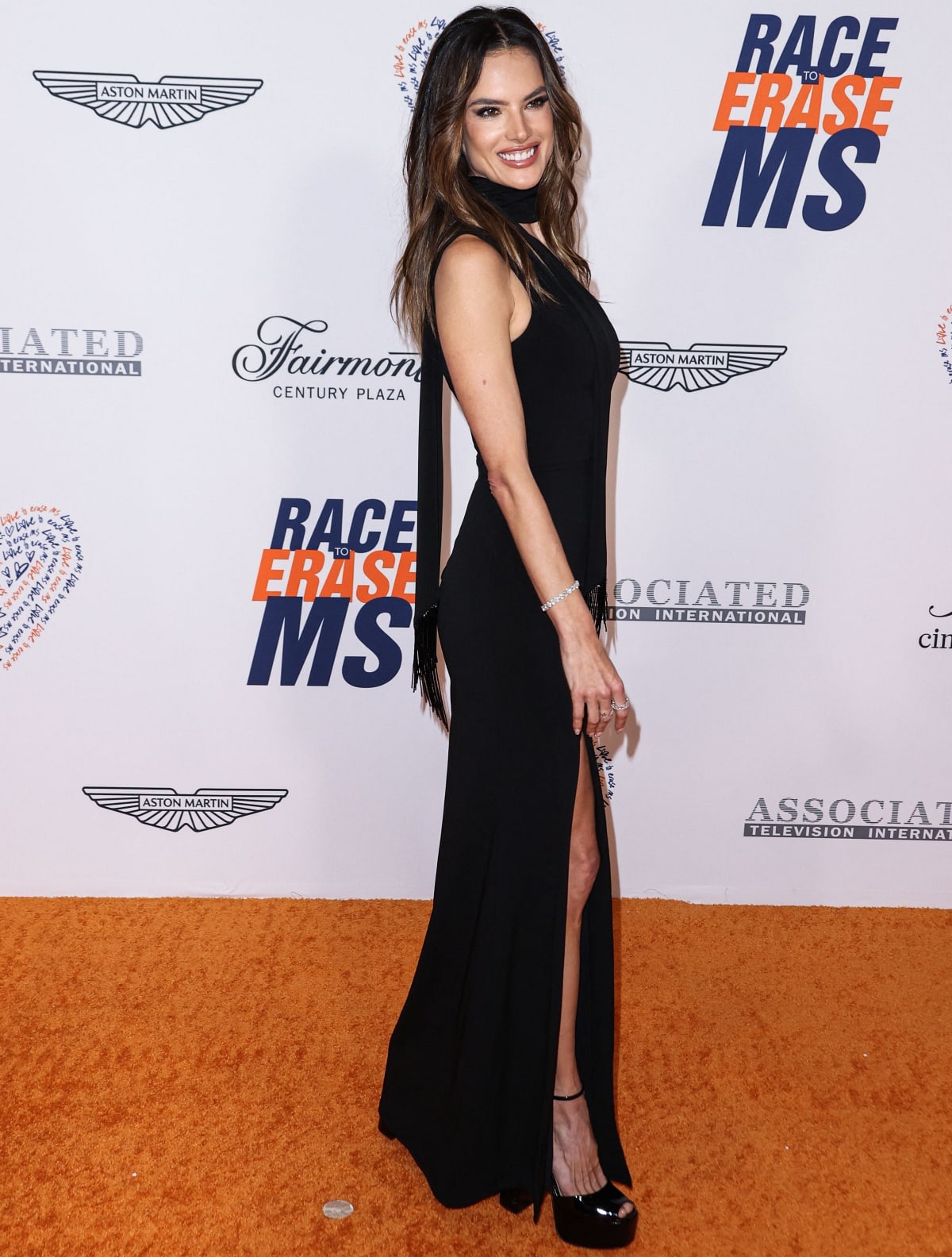 The slit on Alessandra Ambrosio's dress provided a glimpse of her towering platform heels (Credit: Abaca Press / INSTARimages)
In an exclusive interview with WWD, Alessandra Ambrosio shared invaluable insights into the art of posing like a supermodel on the red carpet.
Emphasizing the importance of calming one's nerves, Richard Lee's girlfriend advised, "Take a few deep breaths before you get in, because sometimes, when you get a little nervous it can be uncomfortable and you forget to breathe. So I think this is the most important… What I always tried to do is to take long breaths and just be in the moment."
When it comes to posing, Ambrosio emphasized considering the dress's cut and accentuating its best features, adding, "Posing depends on the cut of the dress, it depends on what you want to accentuate. But definitely try having a good posture, like keeping your shoulders back and I think just try to be natural. If you feel like you want to smile, smile. If you feel like, you know…just be elegant. Just be yourself."