Quentin Tarantino, the legendary cinematic mastermind known for his undying passion for cinema and directing blockbuster hits, has garnered worldwide fame for his successful and iconic Hollywood movies.
From cult classics like Pulp Fiction and Kill Bill to recent hits like Django Unchained, Tarantino's directorial prowess has left an indelible mark on the film industry.
While many are familiar with his professional accomplishments and collaborations with stars like Brad Pitt, his life remains mysterious to those outside his inner circle.
Quentin Tarantino and his wife Daniela Pick cozying up to each other at the Close Encounter premiere during the 16th Rome Film Fest in Rome, Italy on October 19, 2021 (Credit: KIKA Press / Cover Images)
Tarantino has a penchant for keeping his private affairs away from the public. However, one person has been a constant source of love and support throughout his illustrious career – his wife, Daniella Pick.
Let's delve into the fascinating story of Quentin Tarantino and Daniella Pick's relationship, exploring how their love found its way back to each other after separation.
Daniella Pick: The Woman Who Stole Quentin Tarantino's Heart
Daniella Pick is a woman of many talents. She embarked on a remarkable musical journey at 17, alongside her sister Sharona, forming the dynamic duo known as "The Pick Sisters."
Music runs in Pick's blood, as her father is the Israeli pop singer Svika Pick, renowned for his iconic performances in the 1970s, particularly his Hebrew rendition of the Broadway show Hair.
Inspired by her father's legacy, Pick started her pop career in the early 2000s alongside her sister, creating captivating tracks that resonated with audiences worldwide. Hits like "Shuv Hageshem," "Zot Ahava," and "Hello Hello," showcased their undeniable talent and passion.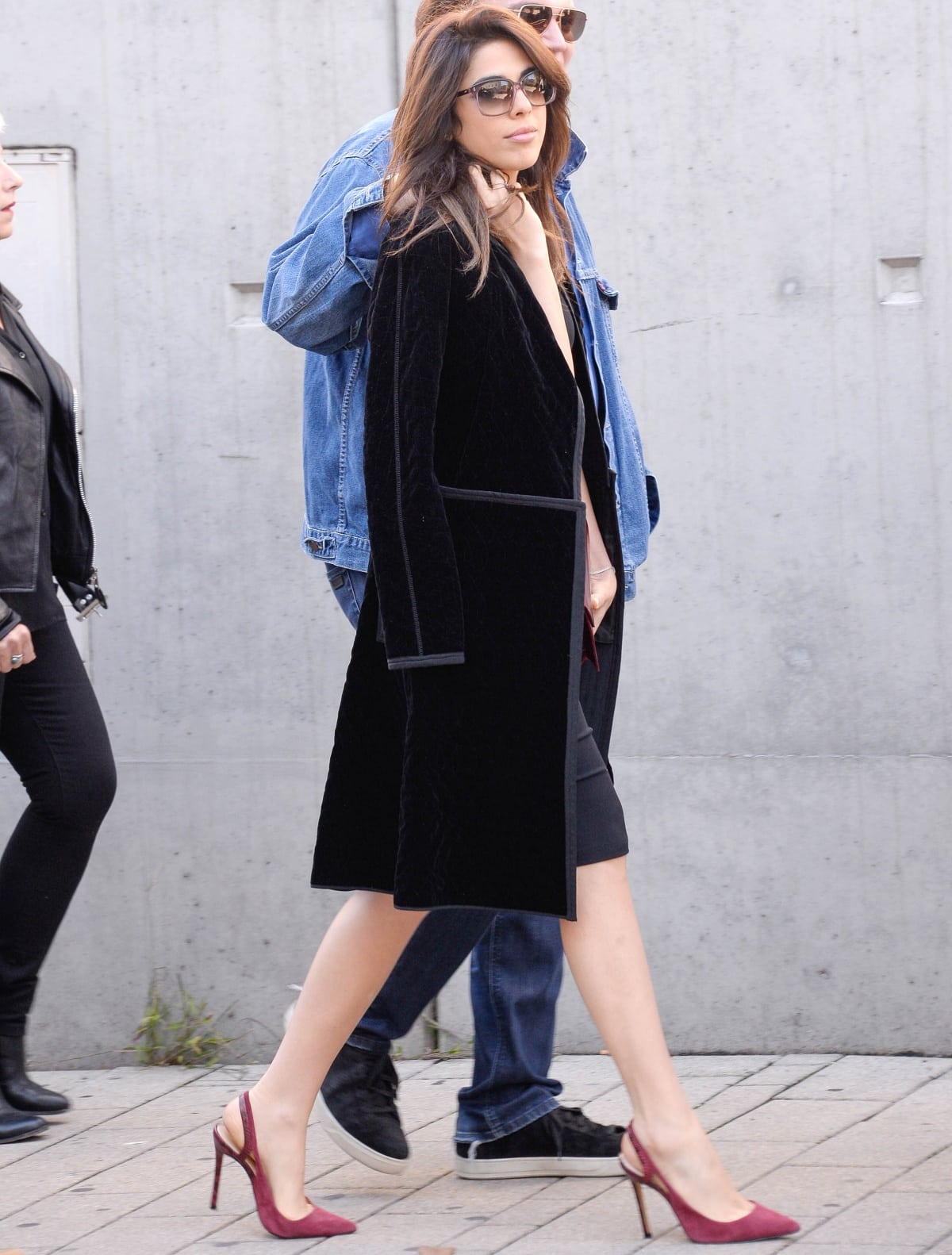 Daniela Pick attending the unveiling of Catherine Deneuve's honoring plate after the re-enactment of the first black and white film Sorties d'Usine directed by Louis Lumiere in 1895 as part of the 8th Festival Lumiere in Lyon, France on October 15, 2016 (Credit: Julien Reynaud / APS-Medias / Abaca / Startraksphoto)
Pick decided to explore her artistic endeavors as time passed, venturing into a solo career that allowed her to further showcase her unique voice and musical prowess.
However, her talents don't end there. Pick's captivating presence and stunning looks have also propelled her into the world of modeling, gracing the covers of prestigious Israeli fashion magazines like Go Style and Yedioth.
With an estimated combined net worth of $100 million with her husband, Daniella Pick has carved her path to success and continues to thrive in her respective fields as an actress, model, and singer.
However, her accomplishments extend beyond her achievements. She is the loving and devoted wife of Quentin Tarantino, standing by his side throughout the highs and lows of his filmmaking journey.
How Did Quentin Tarantino and Daniella Pick Meet?
In Hollywood romances, Quentin Tarantino and Daniella Pick's love story is a tale of twists, separations, and, ultimately, a happily ever after.
Their love story began in 2009 when Quentin Tarantino visited Israel to promote his film Inglourious Basterds. During this time, fate brought them together, as Tarantino crossed paths with Pick, sparking a connection that would later transcend geographical boundaries.
"I was in Israel for the premiere of ' Inglorious Bastards ' in Tel Aviv, and I met her in a club. We danced all night, we danced for three hours. I had to throw my shirt away when it was over because it was just stained like a dying horse," the director said in a November 2022 interview with radio host Howard Stern.
"I've never had this kind of party before, and I've been to some great parties, but not like this. [Daniella] is to die for. She's a beauty, and her dad was Israel's most famous pop singer, Svika Pick," he added.
In September 2009, at the Whip It movie premiere in Hollywood, they made their relationship debut as a couple. However, at that time, Pick was listed as Tarantino's "unidentified guest," keeping their romance hidden from the public.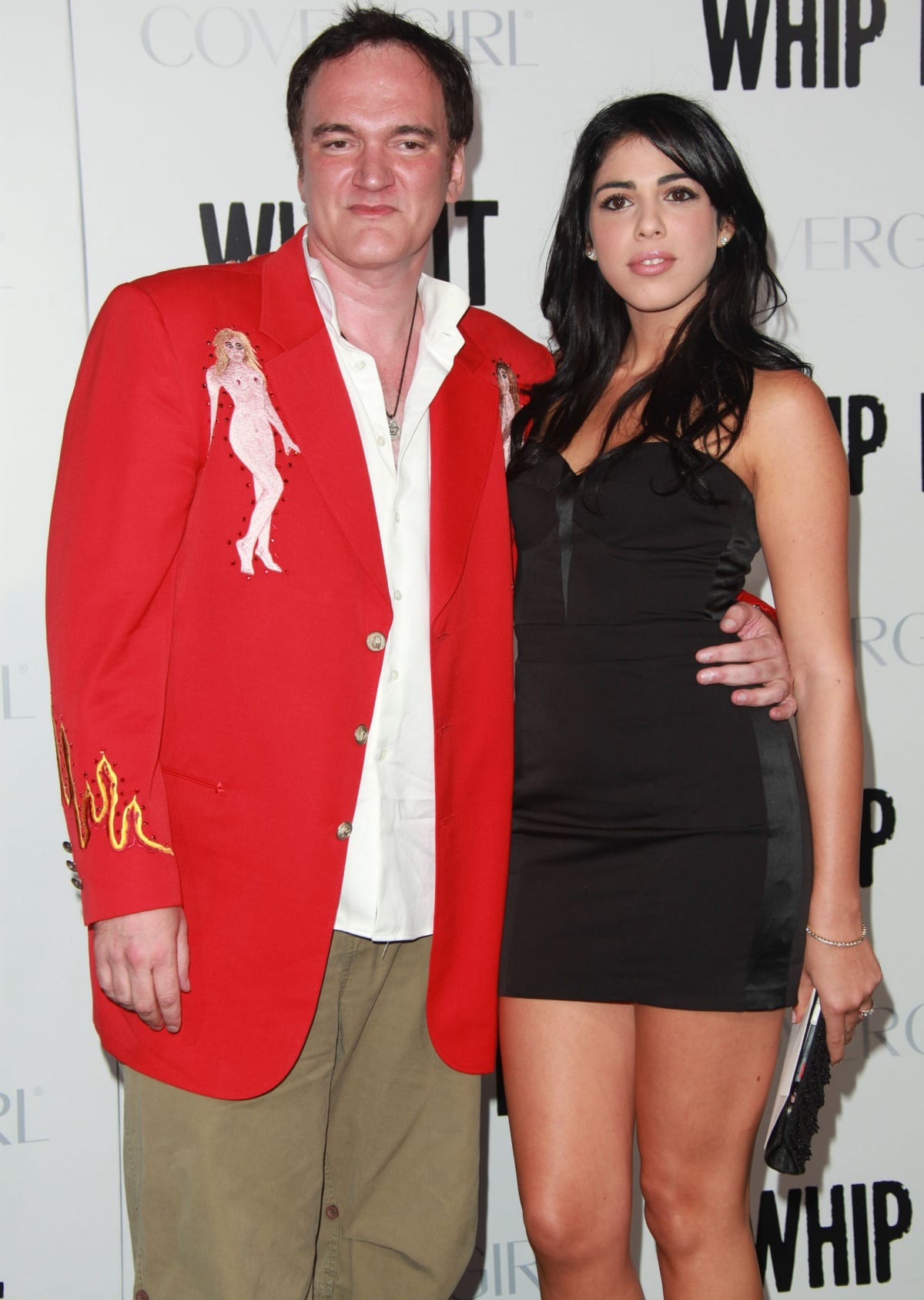 Quentin Tarantino with Daniela Pick make their debut as a couple at the premiere of Whip It in Los Angeles, California on September 29, 2009 (Credit: Jen Lowery / Startraksphoto)
Before publicly acknowledging their relationship, Tarantino expressed his reservations about marriage. In an interview with GQ Magazine in June 2009, he stated his devotion to filmmaking and reluctance to settle down.
He said, "Here's the thing. When I'm doing a movie, I'm not doing anything else. It's all about the movie. I don't have a wife. I don't have a kid. Nothing can get in my way. The whole world can go to hell and burst into flames. I don't care. This is my life."
Tarantino clarified, "I'm not saying that I'll never get married or have a kid before I'm 60. But I've made a choice, so far, to go on this road alone. Because this is my time. This is my time to make movies."
Breakup and Reunion: Tarantino and Pick's Second Chance on Love
Fate had other plans in store for Quentin Tarantino and Daniella Pick. After three years of dating, the couple faced challenges that led them to part ways in 2012.
But love has a funny way of finding its path back, and four years later, Tarantino and Pick found themselves again drawn to each other. Resuming their relationship, they picked up where they left off, realizing their connection was too strong to ignore.
"Everyone knows who she is, she grew up in the limelight, she's like a princess. But we let things drift. I continued to live my life and she, hers," the director told Howard Stern.
"Six years later, I went on a cruise that I was invited to, and I met a friend of the Pick family there… She called Daniella and said to me: 'I just talked to her, and it turns out she just broke up with her boyfriend. So when you're done with the cruise, call her.'"
Tarantino decided to give her a call, and they had a very pleasant conversation "because she was happy to hear from him."
"We decided to meet again, without making any promises, we didn't know what was going to happen. We said to ourselves that she shouldn't come to America and that I shouldn't come to Tel Aviv, and we decided to meet in Paris," Tarantino added. "I think we prepared for it to work. We met in Paris, and we've been together ever since."
Tarantino and Pick took their relationship to the next level with little time. In June 2017, they became engaged after just a year of dating again.
The following year in November, they tied the knot in an intimate ceremony. They had a reception at the renowned Hollywood hotspot Mr Chows, graced by the presence of their closest friends and esteemed guests like Uma Thurman, Bruce Willis, and Samuel L. Jackson.
Quentin Tarantino and Daniella Pick first met at a club in 2009 when Tarantino was in Israel promoting his film Inglourious Basterds (Credit: INSTARimages)
At a press conference after unveiling the film Once Upon A Time In Hollywood in Cannes, Tarantino joyously declared his recent marriage, saying, "I just got married six months ago… I've never done that before and now I know why. I was waiting for the perfect girl."
In an interview with The J Post, Daniella Pick shared glimpses into their married life, portraying a quiet and blissful existence filled with laughter, deep conversations, and shared moments in Tarantino's private screening room, indulging in their mutual love for movies.
Pick said, "We are very family-oriented, we love to be at home, to go out to dinner [and] to watch movies, both at home and at theaters. Quentin really loves my cooking… We spend a lot of time during the day together, laughing, talking. He's a gentleman, romantic, funny and a hunk… He's a genius and an incredible husband."
Their love story blossomed further with their first child, a baby boy named Leo, born on February 22, 2020. Despite Tarantino's initial uncertainties about having children, he has embraced fatherhood with open arms.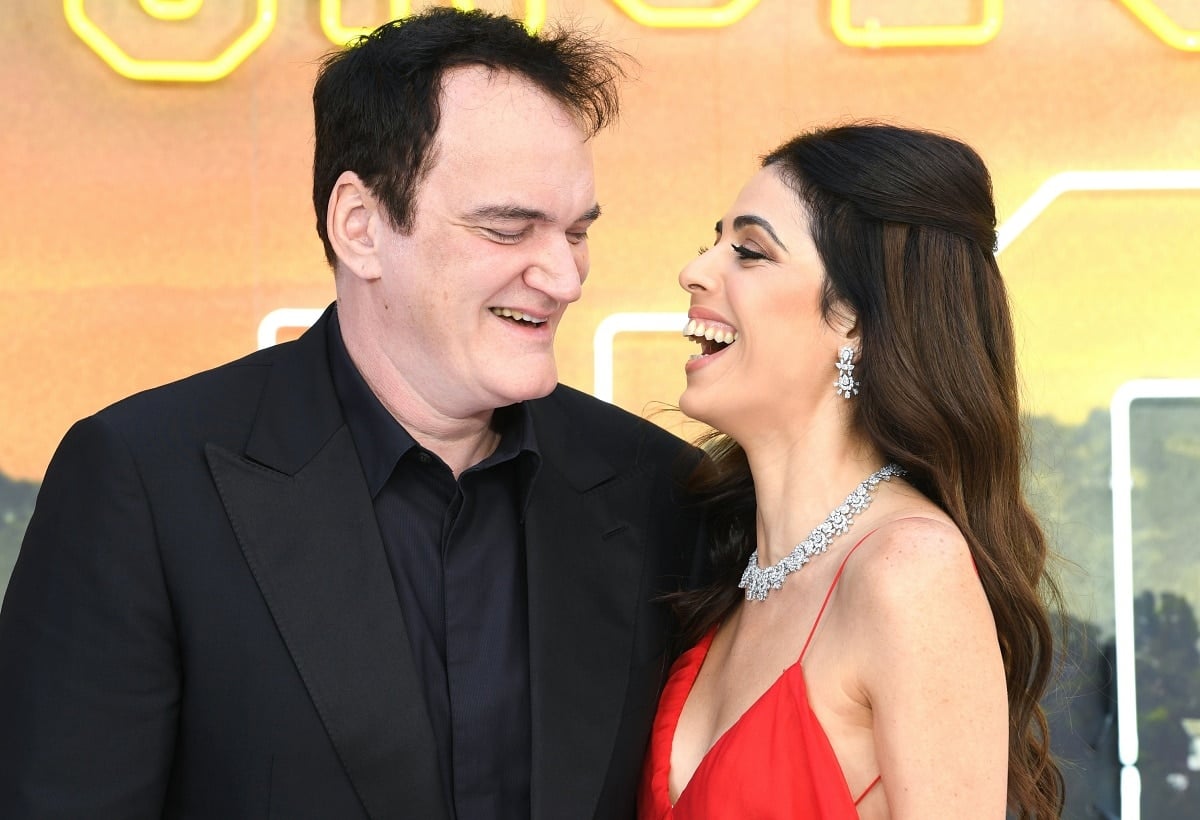 Quentin Tarantino and Daniela Pick sharing a laugh at the UK premiere of Once Upon a Time in Hollywood in London, England on July 30, 2019 (Credit: Doug Peters / PA Images / INSTARimages)
On Jimmy Kimmel's show, he humorously revealed that they almost chose a different name for their son, quipping, "We almost didn't name him that because people would assume I named him after Leonardo DiCaprio. There's nothing wrong with that, but … he's named after my wife's grandfather, but also because, just in our hearts, he was our little lion. So he's a lion. That's how we thought about him."
Their journey as parents continued, and on July 2, 2022, Tarantino and Pick welcomed their second child, a daughter, expanding their family and filling their lives with even more love and joy.
Tarantino and Pick's 20-Year Age Gap and Height Difference
Quentin Tarantino, an acclaimed American film director, writer, producer, and actor, was born on March 27, 1963.
He is 60 years old and has established a remarkable career spanning over two decades, with notable films like Reservoir Dogs and his latest work, Once Upon A Time In Hollywood, featuring his wife.
Daniella Pick, an Israeli singer, model, and actress, was born on November 21, 1983, in Ramat Hasharon, Israel. She is 39 years old and has significantly contributed to the entertainment industry.
Despite their substantial 20-year age gap, Tarantino and Pick have demonstrated that age is merely a number in their relationship.
When they first encountered each other in 2009, Tarantino was 46 years old, while Pick was a youthful 26. However, their connection remained strong, eventually leading them back to each other, transcending the age difference and solidifying their bond.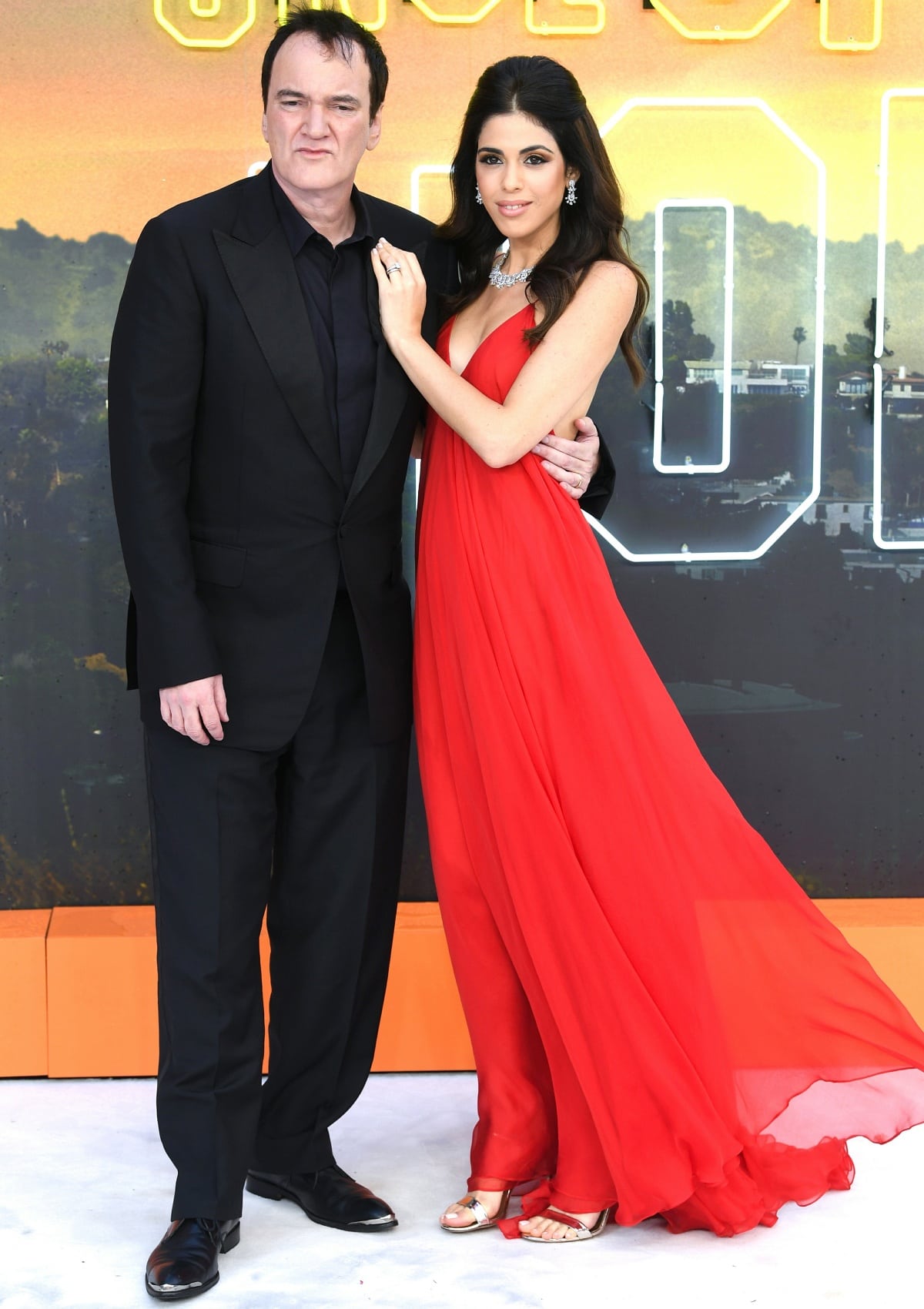 At five feet and eight inches, despite the help of Daniela Pick's metallic leather heels, Quentin Tarantino still towers over his wife at a little over six feet (Credit: Doug Peters / PA Images / INSTARimages)
In addition to their age gap, there is also a noticeable difference in their heights.
Daniella Pick stands at 5 feet and 8 inches (174 cm) tall, while Quentin Tarantino measures 6 feet and 1 inch (185.4 cm). Tarantino is 5 inches taller than his wife, highlighting their physical contrasts.
Who Has Quentin Tarantino Dated in the Past?
Quentin Tarantino, the renowned director known for his outspoken nature, has always had plenty to say on various topics. However, regarding his romantic life, Tarantino has chosen to keep things private.
While he rarely divulges details about his love life, several rumored relationships have caught the public's attention.
In 2014, rumors circulated that Tarantino had been involved with the talented actress Uma Thurman. Their close working relationship and undeniable chemistry on-screen in films such as Pulp Fiction fueled speculation about their romantic connection.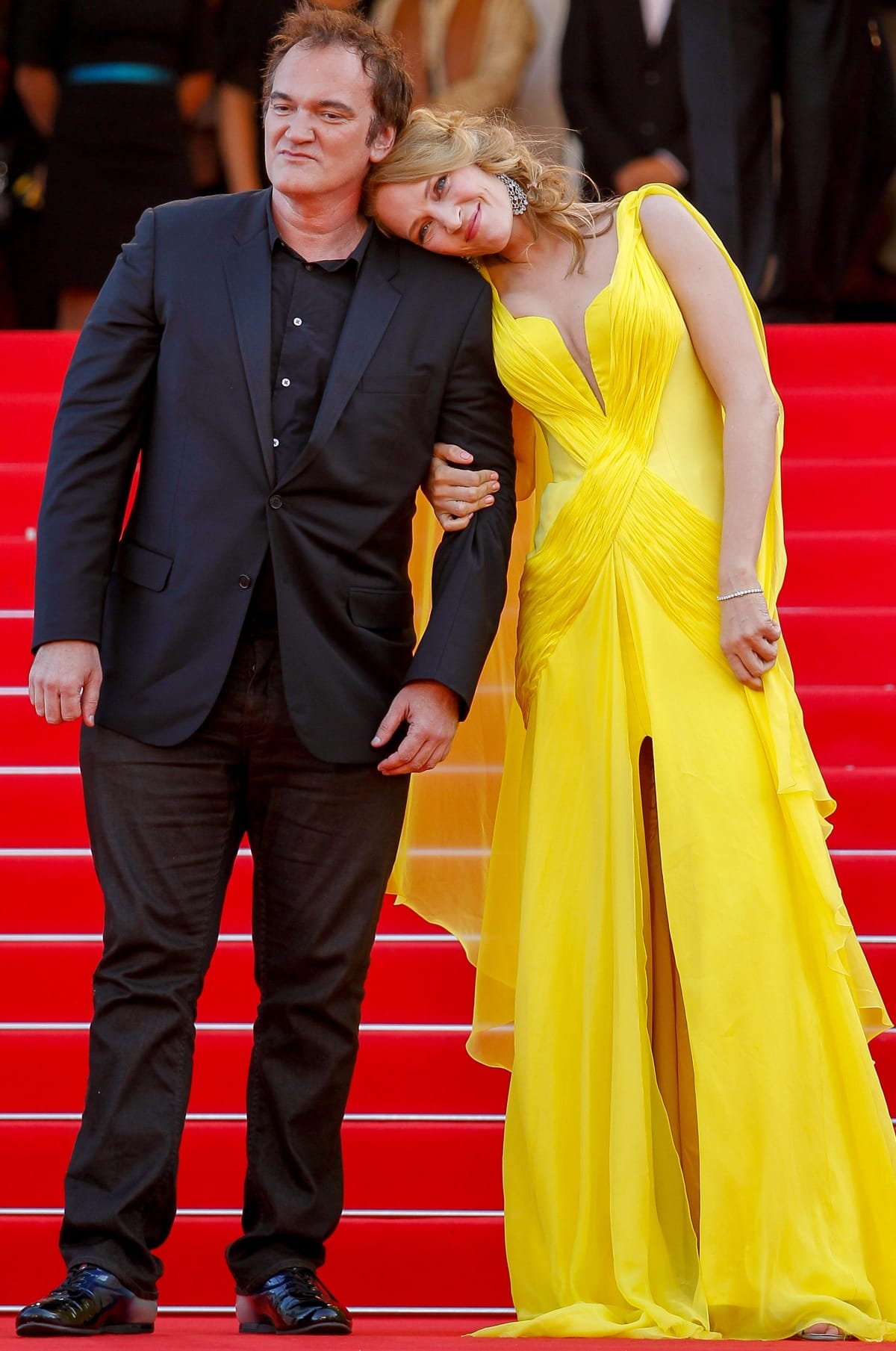 Quentin Tarantino and Uma Thurman keeping close to each other at the premiere of Sils Maria during the 67th Cannes Film Festival in Cannes, France on May 23, 2014 (Credit: INFphoto)
Additionally, in 2002, it was rumored that Tarantino had a brief romance with American actress Vivica A. Fox. And going further back to 1995, there were whispers of a relationship between Tarantino and the witty comedian Kathy Griffin.
Apart from these rumored relationships, there are a few confirmed romantic entanglements that Tarantino has experienced.
Notably, Tarantino dated the talented actress Mira Sorvino from 1996 to 1998. Sorvino has openly spoken about the love they shared during their time together.
In addition, Tarantino's dating history includes other notable women such as Shar Jackson, Serah Henesey, Julie Dreyfus, and fellow Award-winning director Sofia Coppola.