Love is a mysterious journey filled with unexpected twists and turns. This sentiment rings particularly true for the charismatic Hollywood actor Brad Pitt.
Since his much-publicized divorce from Angelina Jolie in September 2016, the successful actor has been entangled in rumored relationships with a string of captivating women. Among these figures were Emily Ratajkowski and Nicole Poturalski.
However, fate had something different in store for Brad. It led him to the loving arms of jewelry designer Ines de Ramon.
Ines de Ramon, born on December 19, 1992, has an age difference of approximately 29 years with Brad Pitt, who was born on December 18, 1963 (Credit: Abaca Press / INSTARimages / Roger Wong)
In the latter half of 2022, whispers of a new romance began circulating. They were first spotted together in November of that year, igniting curiosity among their fans.
Little did they know, Brad had a "good thing going" with Ines, and they had been nurturing their love for "a few months" before their public appearance. A secret courtship had flourished behind closed doors, leaving us eager to uncover the details of their romantic history.
Let's explore the paths that led Brad Pitt and Ines de Ramon to each other, unraveling their previous relationships and remarkable stories that shaped their hearts, setting the stage for their current affection.
Who Is Ines de Ramon?
Ines-Olivia de Ramon is a private individual who grew up in a Christian household. Her parents are not well-known in the entertainment industry, which has allowed her to maintain a low-profile lifestyle.
She pursued her education and obtained a Management and Business Administration degree from the University of Geneva in 2013. In addition to her mother tongue, Ines is fluent in three other languages.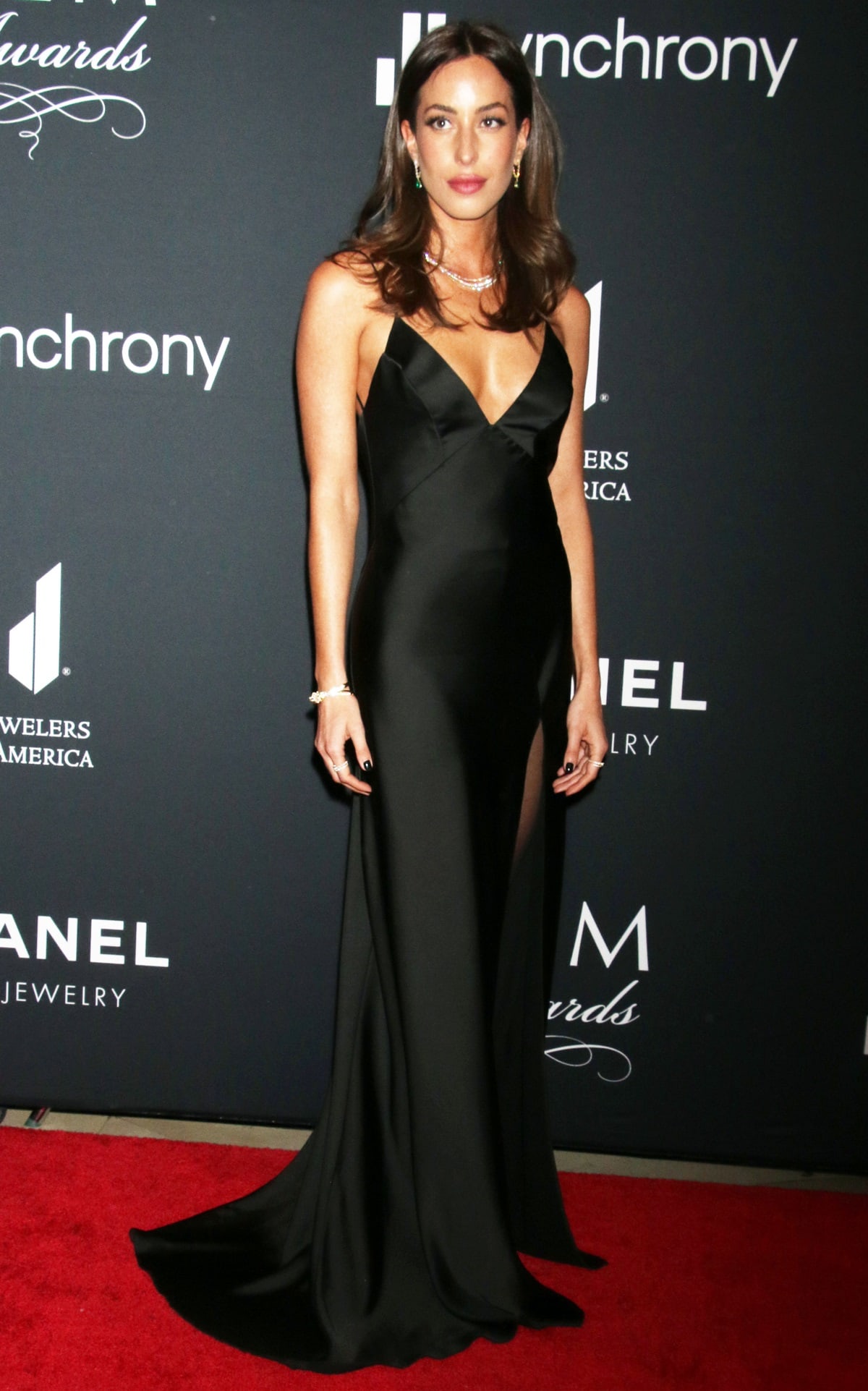 Ines de Ramon turned heads in a plunging black dress that showcased her figure with a bold neckline and a high slit at the 21st annual GEM Awards presented by Jewellers of America at Cipriani 42nd Street in New York on March 17, 2023 (Credit: : Roger Wong / INSTARimages)
Ines started her career as a trainer for prominent figures specializing in fitness. According to her LinkedIn profile, since 2020, she has been head of wholesale sales at Anita Ko Jewelry, a prestigious jewelry store catering to luxury clientele.
Some notable celebrity clients of the brand include Kourtney Kardashian and Hailey Bieber.
How Did Brad Pitt and Ines de Ramon Meet?
Brad Pitt and Ines de Ramon's relationship reportedly began through a mutual friend, and they hit it off instantly. Although the couple has yet to make a joint appearance on the red carpet, the Bullet Train star has brought Ines as his date to several high-profile events.
The timing of their romance coincided with a period of self-reflection for Brad following his divorce from Angelina Jolie. During this time, Brad discovered a newfound passion for sculpting, which he described in an interview with Financial Times in October 2022.
He shared, "I was looking at my own life and really concentrating on owning my own shit: where was I complicit in failures in my relationships, where have I misstepped."
Brad Pitt and his girlfriend, Ines de Ramon, kicked off 2023 with a sun-kissed getaway. He showed off his abs while enjoying the sunny weather in Cabo San Lucas. Ines opted for a topless day by the pool, where they both enjoyed some leisurely reading by the water. https://t.co/7aJBcyHWoe

— Your Next Shoes (@yournextshoes) June 1, 2023
This self-reflection led the Award-winning actor to take an honest inventory of himself, adding, "For me, it was born out of ownership of what I call a radical inventory of self, getting really brutally honest with me, and taking account of those I may have hurt."
Shortly after revealing his passion for sculpting, Brad Pitt was seen with Ines de Ramon. The couple attended a star-studded Bono concert in Los Angeles on November 15, 2022. They mingled with fellow A-listers Cindy Crawford, Rande Gerber, and Sean Penn, marking their first public outing together.
In December 2022, Brad attended the Los Angeles premiere of Babylon, accompanied by Ines as his guest. Although they did not walk the red carpet side by side, they were reportedly spotted at the premiere's afterparty, often seen with their arms around each other.
View this post on Instagram
The same month, Ines joined Brad to celebrate his 59th birthday at a party at the Italian eatery Pace in Hollywood. Photographs captured the couple getting out of a car together, showcasing their growing bond.
As the year ended, the duo welcomed 2023 with a trip to Cabo San Lucas, Mexico. Paparazzi shots obtained by Page Six revealed the couple enjoying poolside sunbathing on New Year's Eve. Ines was even sunbathing topless while conversing with Brad, who was immersed in reading from a binder.
Despite being unable to spend the day together on Valentine's Day due to filming commitments, Brad did not fail to show his affection for Ines. According to sources, he sent her a beautiful bouquet of pink peonies. Photographs from Daily Mail captured Ines' joy as she carried the large bouquet, beaming from ear to ear.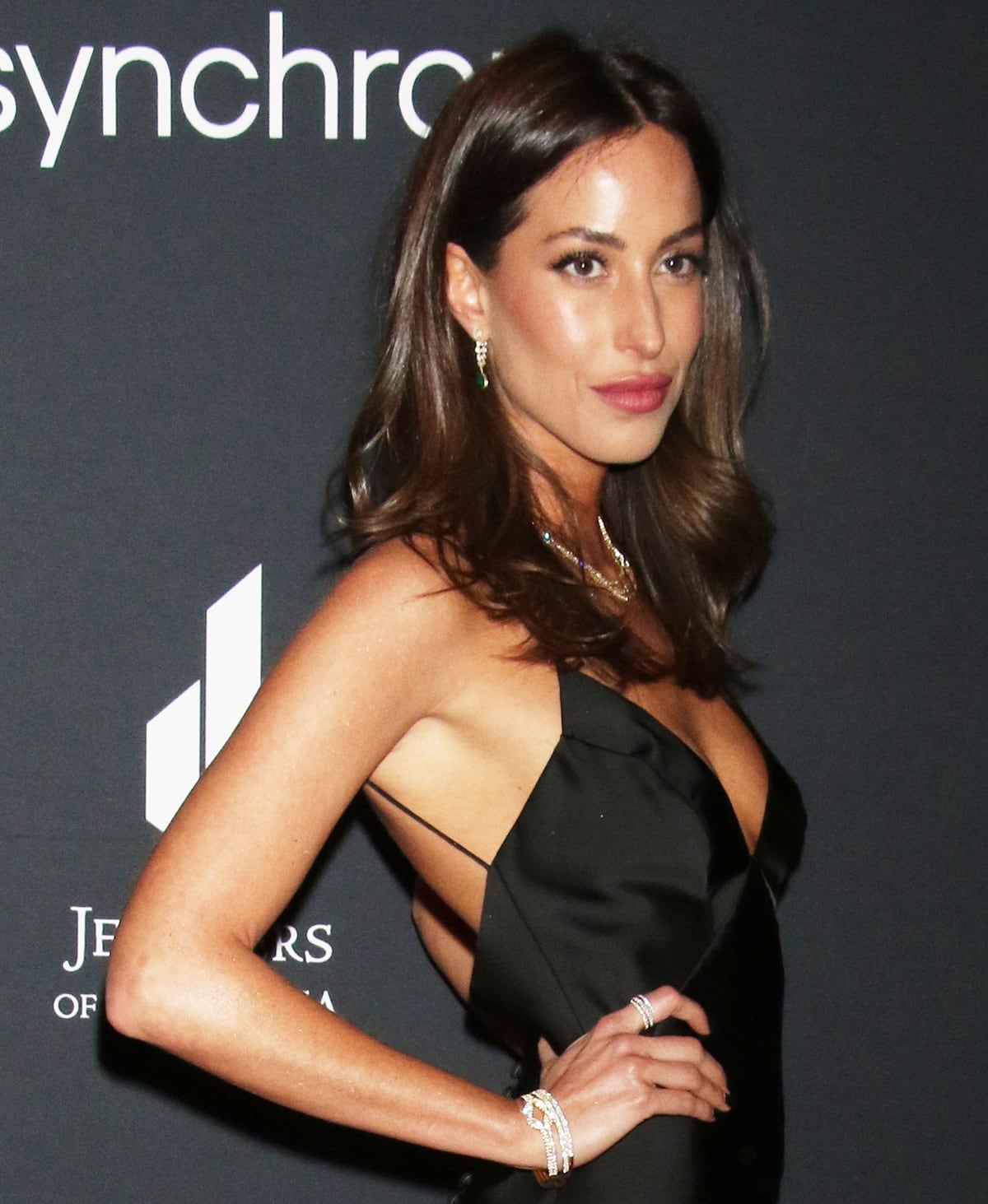 Inés-Olivia de Ramon has been Vice President at Anita Ko Jewelry since January 2020, with previous experience in the jewelry department at Christie's and four years in the retail department of Swiss jewelry company De Grisogono (Credit: Roger Wong / INSTARimages)
Later in February 2023, Brad attended France's prestigious César Awards alone. However, he reunited with Ines at the event's after-dinner at Fouquet's on the Champs-Élysées.
The couple enjoyed each other's company as they mingled with other guests, further solidifying their growing connection.
Brad Pitt and Ines de Ramon's Age and Height Difference
Brad Pitt, born on December 18, 1963, in Shawnee, Oklahoma, is a renowned actor and producer. He is 59 years old, having established himself as one of the most accomplished and recognizable faces in the entertainment industry.
On the other hand, Ines de Ramon was born on December 19, 1992, in New Jersey. Ines is a fitness enthusiast, health coach, and social media influencer.
At 30, she has already made a name for herself in the wellness industry, inspiring many with her dedication to fitness and healthy living.
Only 23 years old at the time, Brad Pitt was a struggling actor when he landed a role on the hit TV show 21 Jump Street in 1987 (Credit: Fox)
Regarding physical attributes, the dashing Brad Pitt stands at 5 feet 11 inches (180.3 cm). In comparison, the captivating Ines de Ramon measures a statuesque 5 feet 8 inches (173 cm), resulting in an intriguing height difference of approximately 3 inches (7.3 centimeters) between Brad and Ines.
Despite their age and height disparities, Brad and Ines have found happiness together.
According to an exclusive source from Us Weekly in January 2023, "Brad and Ines are having a really wonderful time with each other. Their relationship feels comfortable and playful." Moreover, Ines has become "a big hit with Brad's friends," demonstrating her ability to connect with people around her.
The insider noted that the nearly 30-year age gap "isn't an issue for either of them." Despite the substantial age gap of almost three decades between the two, the source revealed that Brad has "more energy than ever." They are also "excited about what's to come next as their relationship evolves."
Brad Pitt's Relationship History
Brad Pitt, renowned for his striking looks and global fame, has an illustrious dating history with a star-studded lineup.
Among his exes are Hollywood superstars like former wives Angelina Jolie and Jennifer Aniston, former fiancée Gwyneth Paltrow, and ex-girlfriends including Juliette Lewis.
Looking back at the Once Upon a Time in Hollywood actor's dating history starts with his reported fling with singer Sinitta in the 1980s, which lasted from 1986 to 1988.
Jennifer Aniston and Brad Pitt were one of the most popular couples in Hollywood during the late 1990s and early 2000s (Credit: DFree / Shutterstock)
During the late 1980s, Brad also dated actress Jill Schoelen, whom he met on the set of the horror movie Cutting Class. They got engaged, but their relationship ended after only three months when Jill left him for a movie director in 1989.
From late 1989 to 1993, The Lost City actor found love in the arms of actress Juliette Lewis. Before they separated, the couple shared three years, living under the same roof and collaborating on various projects, including their co-starring roles in Kalifornia and Too Young to Die.
In November 1994, Brad was accompanied by model Jitka Pohlodek as his date to the Legends of the Fall premiere. While their romance remained private, neither publicly spoke about their brief connection.
Gwyneth Paltrow and Brad Pitt met in 1994 on the set of the film Seven, began dating soon after, got engaged in 1996, and broke up in 1997 (Credit: Startraksphoto)
Moving forward, Brad Pitt's romantic journey led him to Gwyneth Paltrow. They started dating in 1994 after meeting on the set of the 1995 thriller Se7en, where Gwyneth portrayed his character's wife.
They became one of the iconic blonde-haired couples of the '90s and got engaged two years later. However, in June 1997, they decided to part ways before exchanging vows.
The Love Triangle of Brad Pitt, Jennifer Aniston, and Angelina Jolie
The next significant relationship in Brad Pitt's dating history was with Hollywood star Jennifer Aniston. Their love story began in 1998, courtesy of a setup orchestrated by their agents.
Brad proposed to Jennifer in 1999, and the couple sealed their love with a wedding in Malibu on July 29, 2000. However, they shocked the world in January 2005 when they announced their split. The Murder Mystery 2 star filed for divorce in March 2005, and it was finalized by October of that year.
Angelina Jolie entered the picture when she and Brad Pitt met while filming Mr. & Mrs. Smith in 2003. At the time, Brad was still married to Jennifer.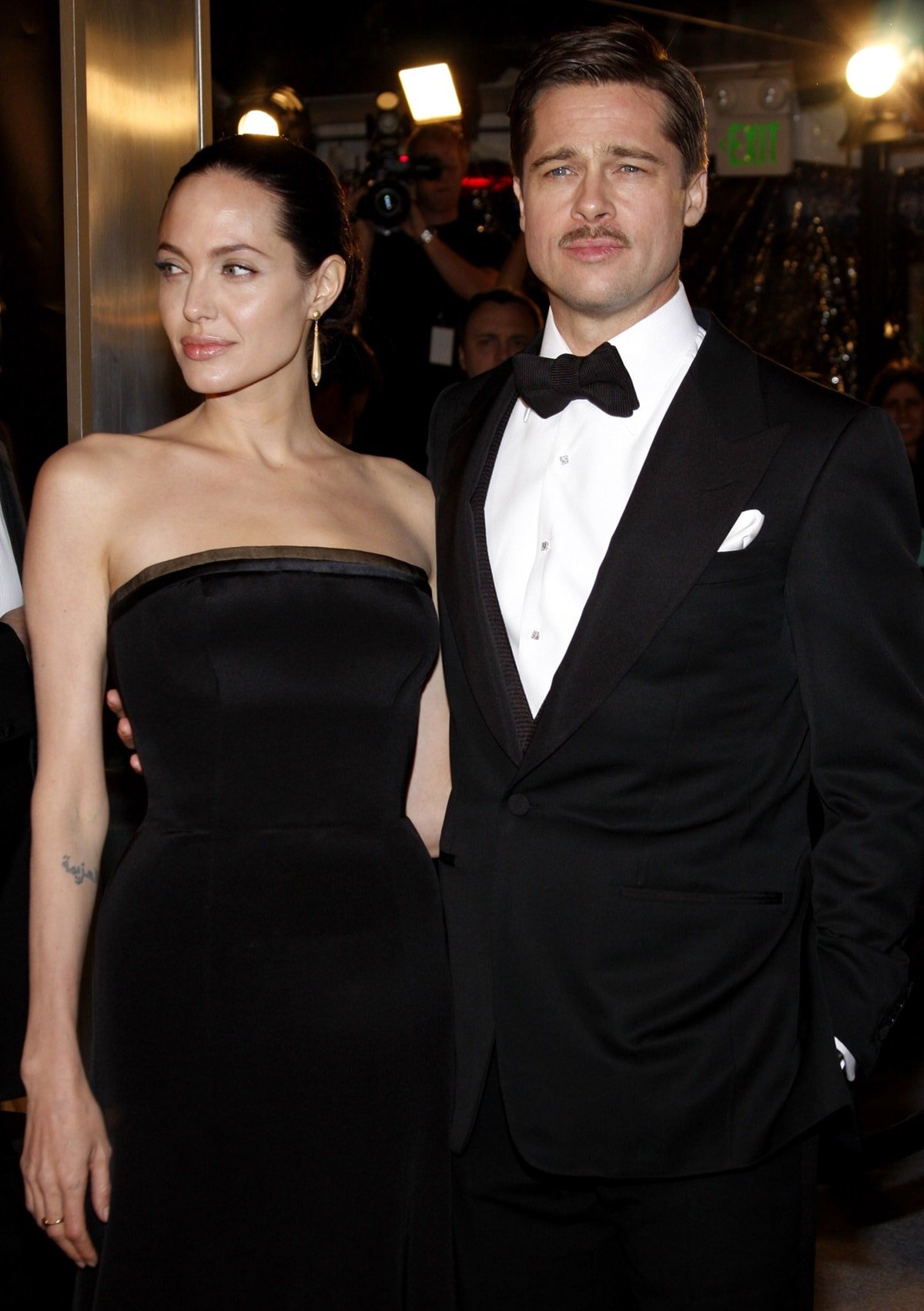 Angelina Jolie and Brad Pitt met on the set of the 2005 film Mr. & Mrs. Smith, in which they played a married couple who are secretly assassins (Credit: Tinseltown / Shutterstock)
After a decade of being a couple, attending red carpet events together, and embracing the joys of parenthood with their six children (Maddox, Pax, Zahara, Shiloh, and twins Vivienne and Knox), Jolie and Brad finally tied the knot in August 2014.
However, their marital bliss was short-lived, as Jolie filed for divorce from Brad in September 2016, just over two years after their second wedding anniversary.
Following his separation from Jolie, Brad Pitt was briefly linked to MIT professor and architect Neri Oxman in April 2018. However, Neri later denied dating Brad in October of the same year.
Angelina Jolie and Brad Pitt had six children together, of whom three are biological and three adopted (Credit: Tinseltown / Shutterstock)
In August 2020, reports surfaced about Brad dating model Nicole Poturalski.
It was revealed that they had known each other for at least a year before their romance came to public attention. However, details about their low-key relationship remain scarce, and they reportedly split by October 2020.
Most recently, in late September 2022, Brad found himself amid rumors linking him to successful model Emily Ratajkowski. These speculations emerged after Emily's separation from her estranged husband, Sebastian Bear-McClard.
Who Was Ines de Ramon Married to?
Before her relationship with Brad Pitt, Ines de Ramon was previously married to Paul Wesley, renowned for his portrayal of Stefan in the popular series The Vampire Diaries.
The couple exchanged vows in an intimate ceremony held in 2019. Their marital bond endured for three years until their relationship ended in September 2022.
View this post on Instagram
Recently, Paul Wesley, also known by his birth name Pawel Tomasz Wasilewski, initiated the process of divorcing Ines de Ramon.
Paul filed the necessary legal documents in the Los Angeles Superior Court in February, citing "irreconcilable differences" as the primary cause for the split. Ines' romantic involvement with Brad Pitt possibly influenced his decision.
The filed paperwork submitted by Paul emphasized that the specific date for the property division between the former couple has yet to be legally determined. As the divorce proceedings continue, the public eagerly awaits further updates.