Brie Larson, known for her captivating beauty, mesmerized the crowd again at Saturday's 2023 Cannes Film Festival closing ceremony.
From her first appearance on the red carpet, where she exuded elegance in a long-sleeved dress with a silver and gold metallic tunic, to her inspiring workout ensemble featuring a cropped top and lace skirt, Brie never fails to leave us in awe with her impeccable sense of style, particularly in her Chanel ensembles.
Julia Ducournau and Brie Larson attend the "Elemental" screening and closing ceremony red carpet during the 76th annual Cannes film festival at Palais des Festivals on May 27, 2023, in Cannes, France (Credit: Abaca Press / INSTARimages)
The 33-year-old actress sported a breathtaking Chanel couture dress that perfectly closed out her duties on the esteemed festival's Grand Jury for the momentous occasion of the Elemental premiere.
Originally showcased on the runway as part of Chanel's Spring 2023 Haute Couture collection, this exquisite gown exuded a sense of ethereal beauty.
The sheer mesh fabric of the dress was embroidered with intricate sparkling floral embellishments, infusing an intriguing intricacy into the seemingly effortless silhouette.
Her outfit featured a low-cut neckline, and the subtle split at the back revealed a tantalizing glimpse of Brie's legs, enhancing the dress' allure.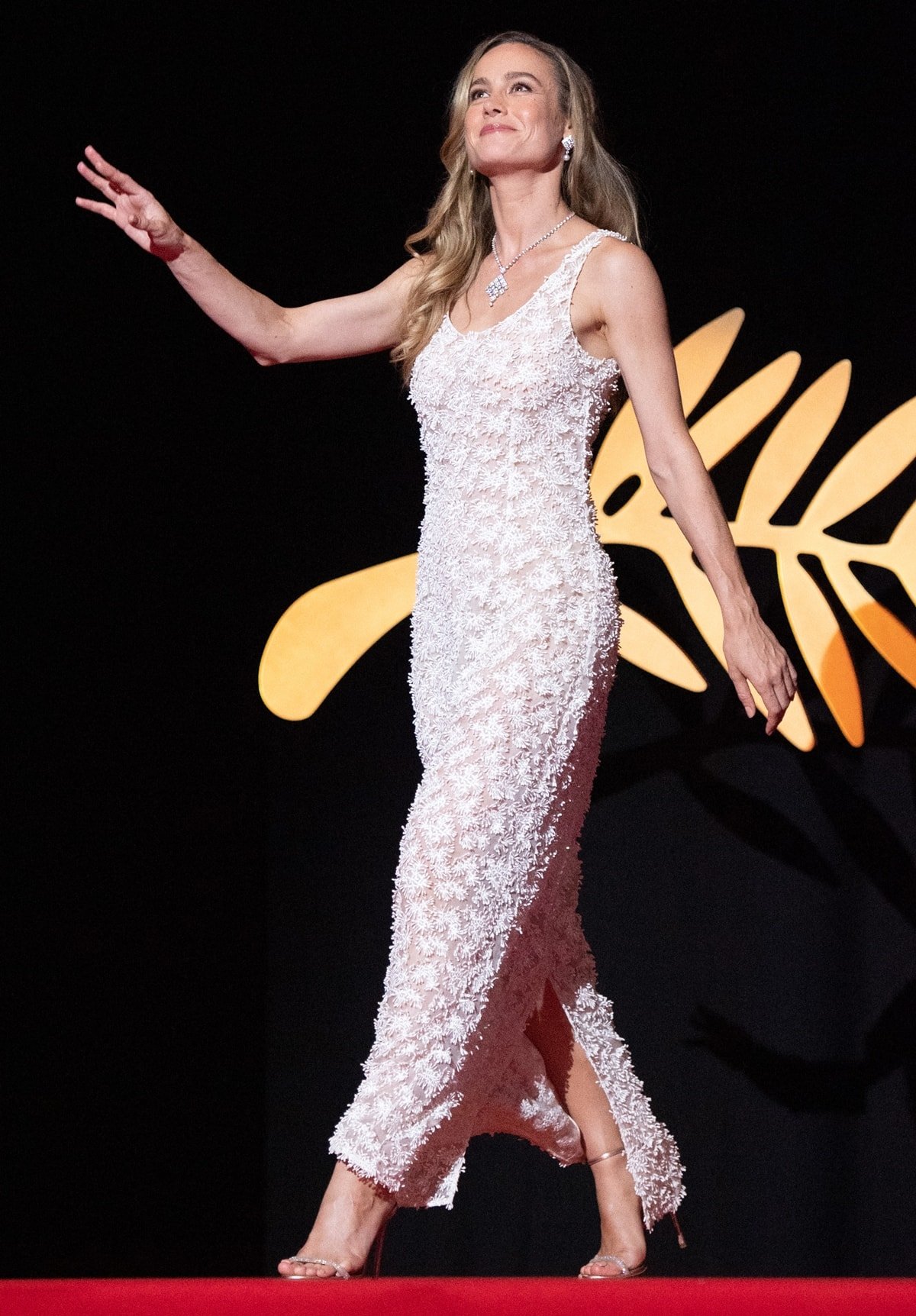 Brie Larson graced the closing ceremony of the Cannes Film Festival in a mesh Chanel shift dress adorned with shimmering floral embellishments styled with elegant high-heeled Aquazzura sandals (Credit: Abaca Press / INSTARimages)
The Captain Marvel star opted for a pair of high-heeled, open-toed Aquazzura silver sandals to accentuate her height further.
Adding a touch of glamour to her ensemble, Brie adorned herself with a stunning set of geometric diamond jewels from Chanel's esteemed High Jewelry collection.
Combining the mesh dress, sparkling floral motifs, and dazzling accessories created a visually captivating look that commanded attention. Celebrity stylist Samantha McMillen worked magic in dressing the Nissan commercial star for the occasion, ensuring every detail was meticulously curated.
Accompanied by hairdresser Bryce Scarlet, Brie's dirty blonde tresses were styled into glamorous waves, enhancing her radiant beauty. Makeup artist Nina Park added the finishing touches with sparkly eyeshadow, black eyeliner, pink lipstick, and a coral blush, resulting in an elegant look.
In a heartfelt Instagram post, Brie Larson shared photos of her awe-inspiring ensemble, captured moments before she was moved to tears during the Cannes closing ceremony.
Brie Larson adorned herself with a stunning set of geometric diamond Chanel High Jewelry (Credit: Abaca Press / INSTARimages)
Reflecting on her experience as a jury member, she expressed profound appreciation for the opportunity and its impact on her life, writing, "These last two weeks have been an honor of a lifetime. To be a juror means being in constant contact with the other brillant minds who make up the jury as a whole – while discussing the extraordinary talent behind each film we deliberated. I will sincerely miss seeing, hearing, learning, sharing, and debating with them every day. It's changed me forever. And I do not say that lightly."
Brie extended her gratitude to the exceptional filmmakers whose passion and craftsmanship left an indelible mark on her during the festival.
The Fast X actress added, "Thank you to every person behind each frame of the films I saw. Your passion and craftsmanship didn't go unnoticed. This festival, the jurors, and the films in them have changed the course of my life – and the impact of that is beyond comprehension right now."
View this post on Instagram
In a separate video post, Brie thanked her dedicated Chanel team, who had been instrumental in curating her stunning looks throughout the festival.
The Scott Pilgrim vs. the World star wrote, "Thank you thank you THANK YOU @chanelofficial for being part of my journey at @festivaldecannes. Being a jury member, the conversations about cinema, and the continued intertwining of cinema and fashion will stick with me forever."