It's no secret that models must look a certain way to find work. Most models also need to reach a certain height, much taller than average. Here's how tall model Alessandra Ambrosio is compared to other women:
How Alessandra Ambrosio Became Famous
Alessandra Ambrosio is a Brazilian model best known for working with Victoria's Secret. Ambrosio was an Angel for the famed lingerie company for over ten years and has become one of the most recognizable models in the world.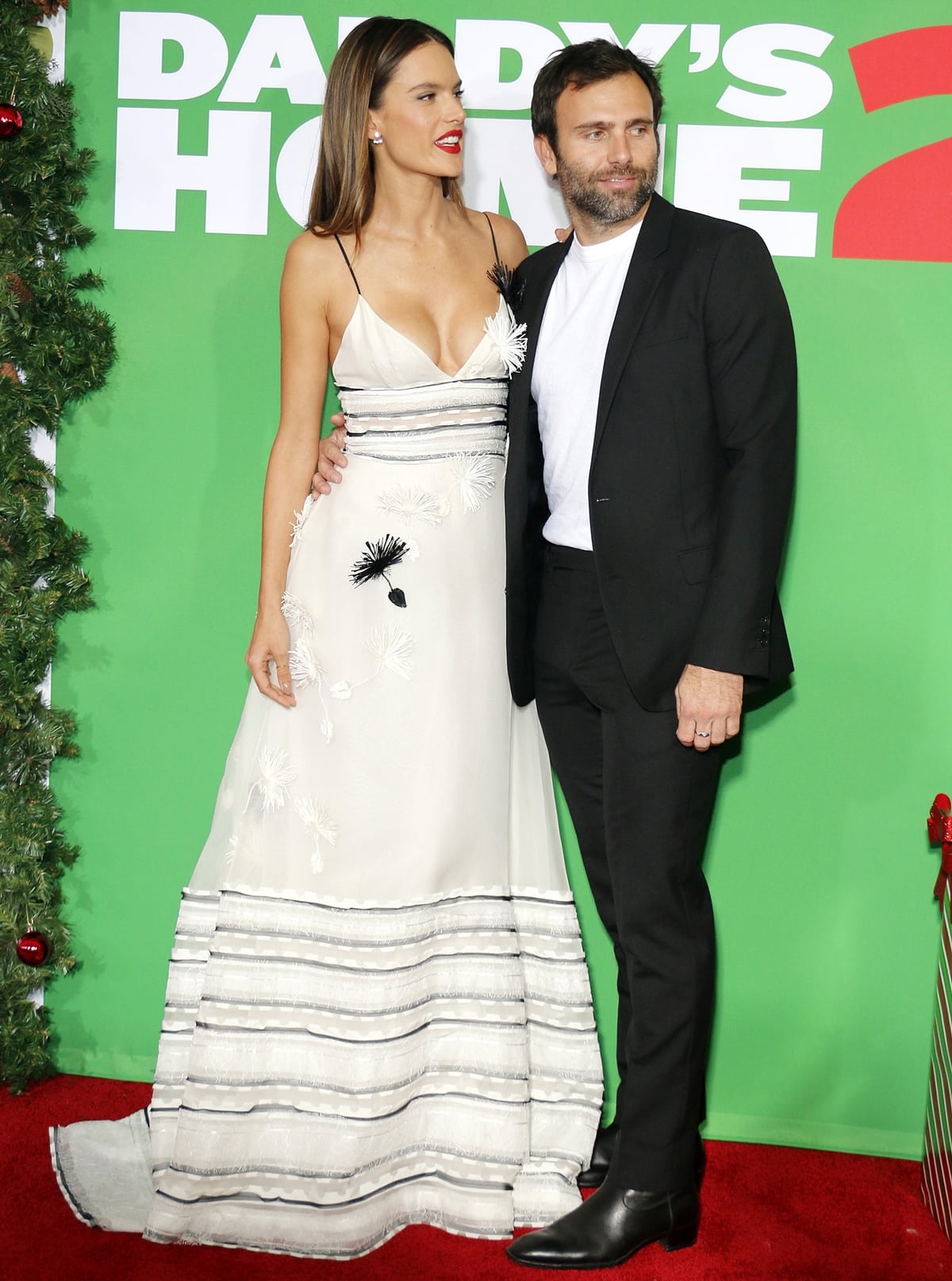 Alessandra Ambrosio is much taller than her ex-boyfriend Jamie Mazur, with whom she has two children (Credit: Tinseltown / Shutterstock)
Ambrosio began modeling at a young age when she entered a competition with Elite Model Look in Brazil. She was one of 20 finalists, which started her storied career.
The former Angel has modeled for many of the world's most prestigious high fashion houses. Her credits include Marc Jacobs, Ralph Lauren, Vivienne Westwood, Prada, Chanel, Christian Dior, and Louis Vuitton. Ambrosio has also been on the cover of several magazines, including GQ, Glamour, Cosmopolitan, and Vogue.
Alessandra Ambrosio's Height
Alessandra Ambrosio stands at 5'9", much taller than the average woman. The average height for women varies from country to country. Still, in the United States, the average woman stands at approximately 5'4".
3 Reasons Why Models Tend to Be Tall
Although the fashion world is changing to be more inclusive, many runways still look for models with a certain body type. Most models, particularly runway models, are very tall, usually over 5'8", and very thin.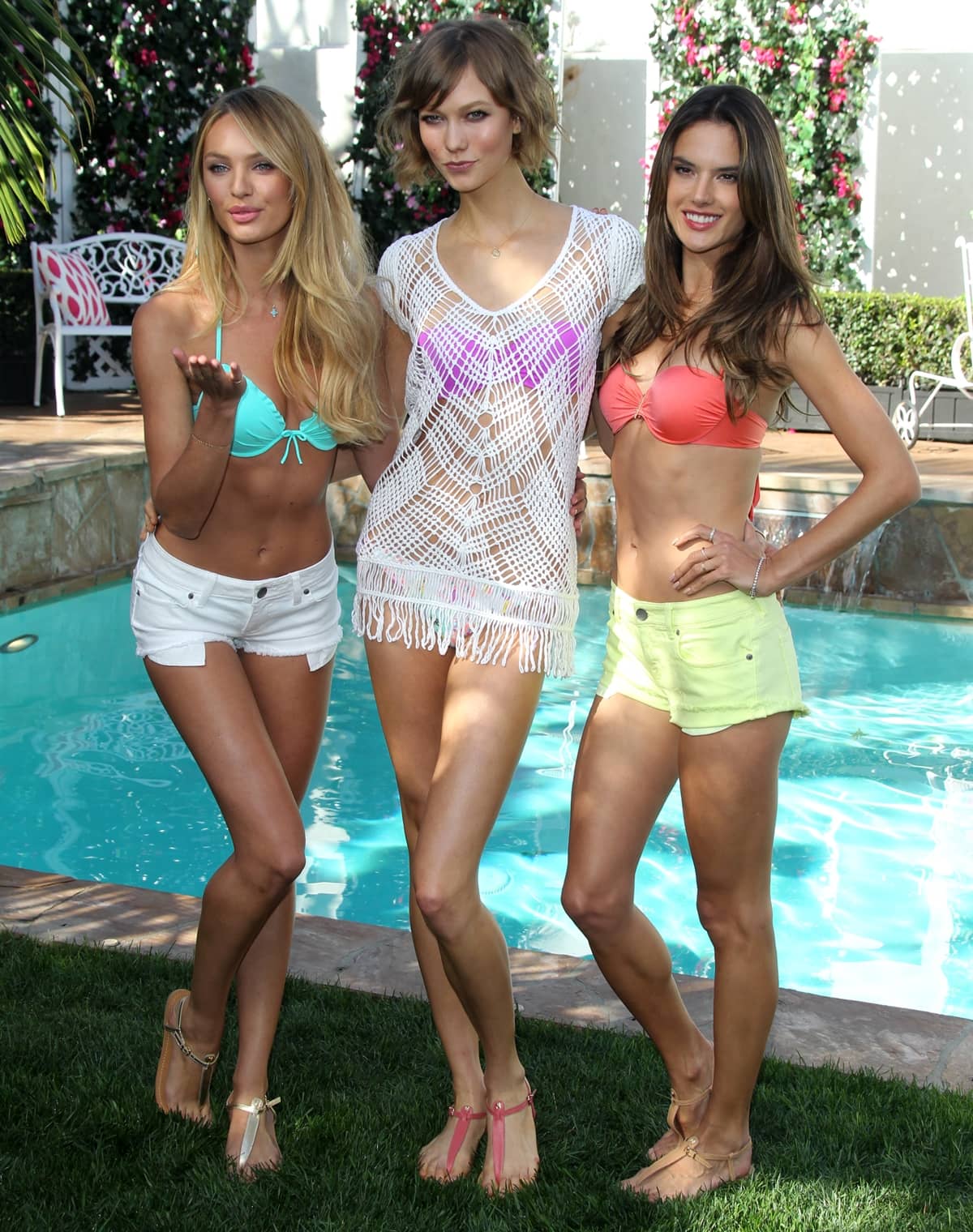 Alessandra Ambrosio is the same height as Candice Swanepoel but much shorter than Karlie Kloss (Credit: Kathy Hutchins / Shutterstock)
Designers look for models with similar body types for a few different reasons:
1. Easier to see – Designers like tall models so they can be easily seen on runways.
2. Easier to make samples – Designers also look for models with similar measurements because the clothes they make for fashion shows are samples, and each sample is the same size.
If the models were all different sizes, designers would have to make clothing that accommodates different models rather than only using one size to fit all, which would be a much longer process.
3. Matter of opinion – Some designers look for tall models because they believe clothing fits and looks better on women of a certain height.
They also believe that when models of uniform size and height wear their clothes on runways, more emphasis is put on the clothing rather than the model.
Alessandra Ambrosio's Height Compared to Other Models
Alessandra Ambrosio is tall compared to the average woman, but there are many other tall women, especially in the model industry. Here's how Ambrosio's height compares to other famous models:
Kendall Jenner, 5'10" – One of the world's hottest women, she has walked for Victoria's Secret, as well as many other famous designer runways.
Hailey Bieber – 5'7" – Insecure about her height, Hailey's work mostly consists of ad campaigns and magazine covers, but she has walked a few runways.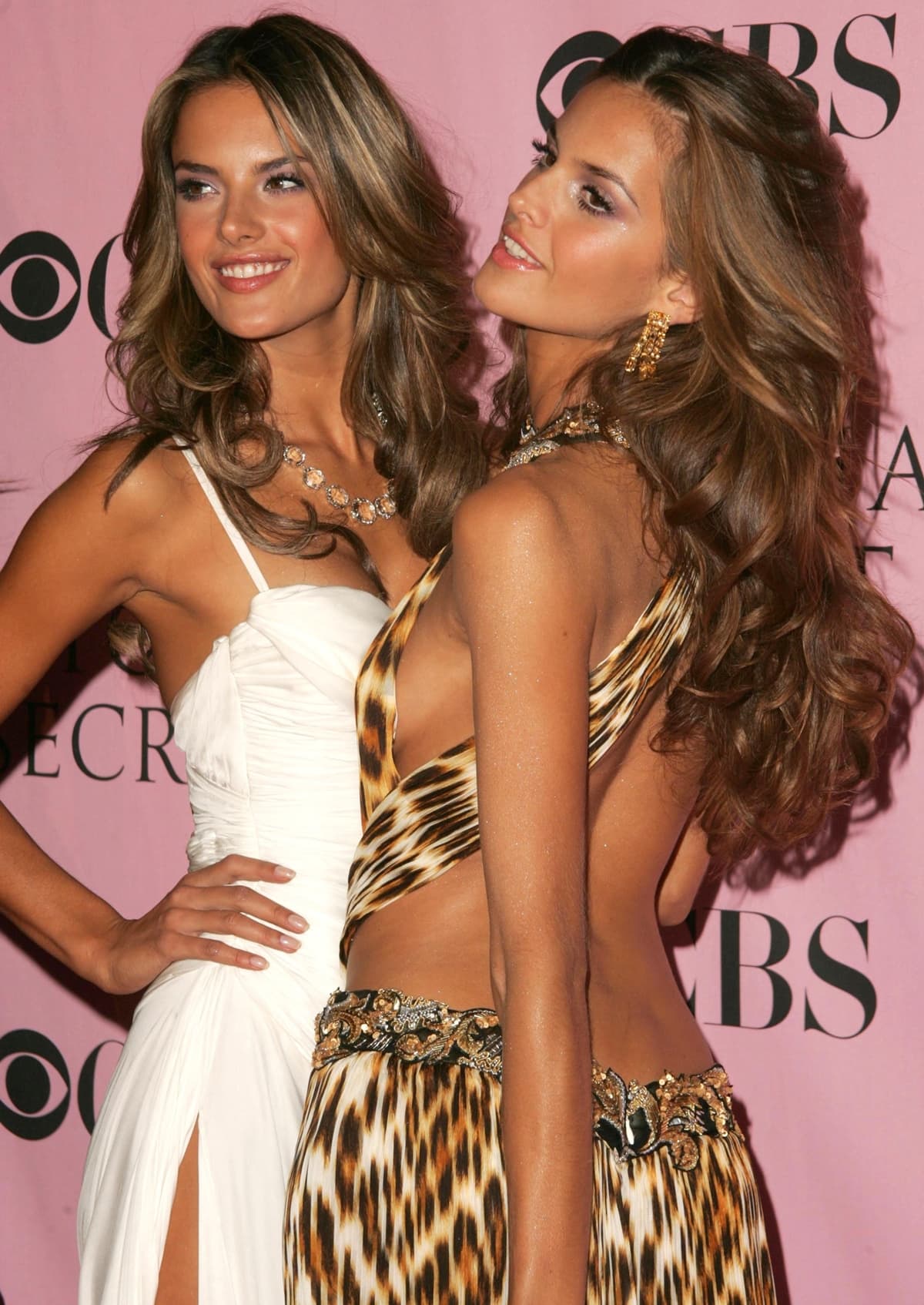 Supermodels like Izabel Goulart and Alessandra Ambrosio tend to be much taller than the average woman (Credit: s_bukley / Shutterstock)
Tyra Banks – 5'10" – Tyra Banks has done it all – walked runways, posed for Sports Illustrated's Swimsuit Issue, and mentored other models on America's Next Top Model.
Kate Moss – 5'7" – Kate Moss is one of the most famous models in the world despite only standing a couple of inches higher than the average woman.
A model doesn't have to be tall to be famous, but it helps. It certainly did for Alessandra Ambrosio.
Alessandra Ambrosio Spotted on Model's Day Out in Casual Chic Style
Model's day out! In March 2016, Alessandra Ambrosio was spotted on a lunch date with Lily Aldridge and their children at Jessica Biel's Los Angeles restaurant, Au Fudge.
Alessandra Ambrosio covers her hair with a wide-brimmed hat as she leaves Au Fudge with her children on March 29, 2016, in Beverly Hills (Credit: WENN)
Alessandra wore a white tee with a pair of distressed jeans by Frame, which she wore underneath a long striped cardigan by Rta.
Alessandra Ambrosio pairs a striped Rta cardigan with white Frame jeans (Credit: WENN)
The mom-of-two accessorized with a hat from her own line Ale by Alessandra.
Alessandra Ambrosio puts a little class into her white slip-on shoes by opting for a snakeskin-embossed pattern (Credit: WENN)
She also sported a Hermés belt, Tiffany & Co. and Cartier bracelets, and a watch by Rolex.
Alessandra polished her look with a textured leather tote from Tod's and a pair of white snakeskin slip-on shoes.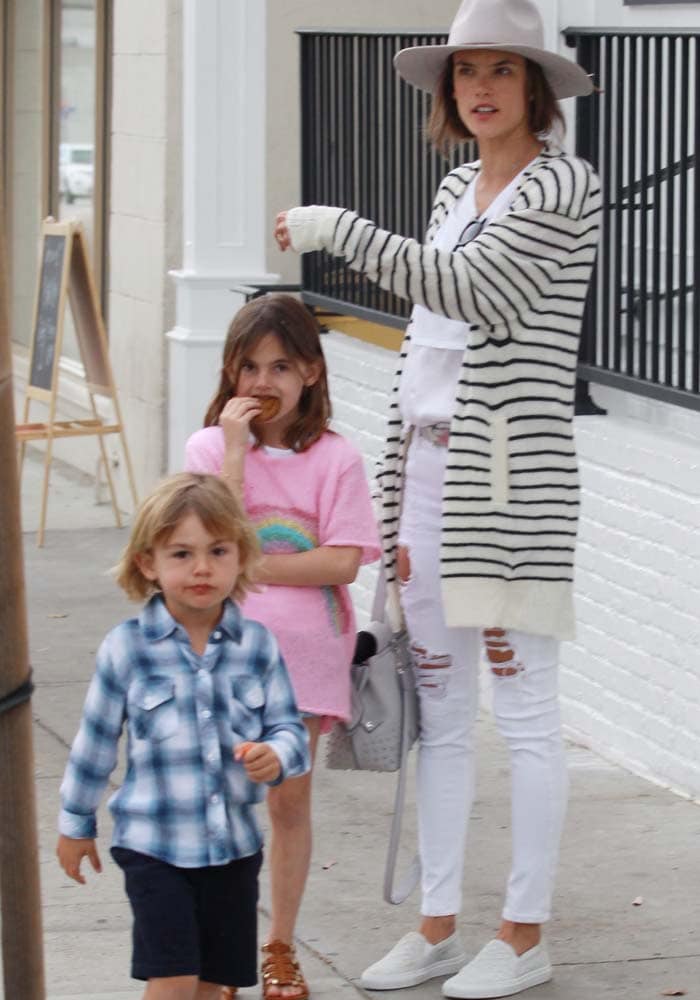 Alessandra Ambrosio and her children leave Jessica Biel's new kid-friendly restaurant, Au Fudge (Credit: WENN)
After lunch, the Victoria's Secret model uploaded an adorable kissy-face photo of herself on Instagram to thank her fans for helping her reach 6 million followers.
Alessandra Ambrosio's adorable kissy face photo (Credit: Alessandra Ambrosio's Instagram)
Copy Alessandra's style by adding a pair of white snakeskin slip-ons to your wardrobe. You can order a pair at Mytheresa and Zappos.
Cole Haan "Reiley" Snakeskin Embossed Leather Skate Slip-Ons, $215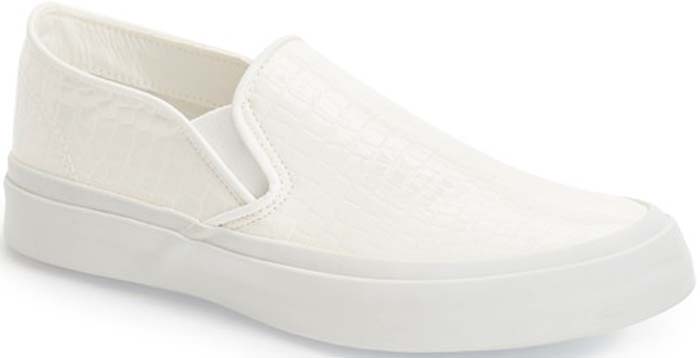 Junya Watanabe Slip-On Sneaker, $290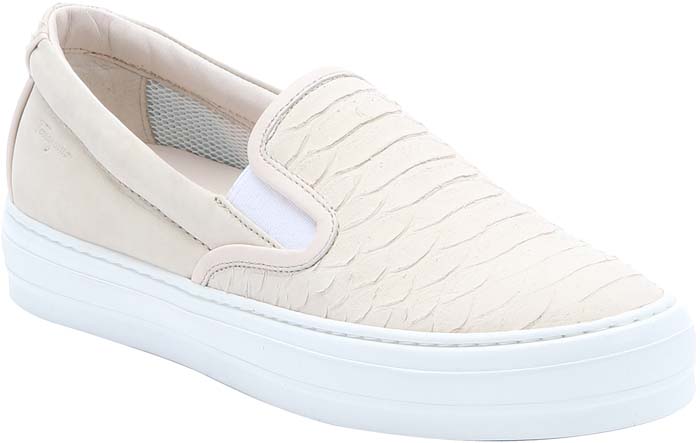 Salvatore Ferragamo Ivory Crocodile Print Leather "Pacau" Slip-On Sneakers, $450