Alice Eve, the English actress best known for her roles in movies such as "She's Out Of My League," "The Decoy Bride," and "Starter for 10," stands at a height of 5 feet 5 ½ inches (166.4 cm). This height is slightly above the average size of a British woman.
Alice Eve stood at 5ft 5 ½ inches (166.4 cm) while wearing a blue Monique Lhuillier dress at the National Gallery's Summer Party on June 15, 2023, in London, England (Credit: PA Images / INSTARimages)
Alice Eve's shoe size is 8 in the US, equivalent to a size 38 in European shoe sizing and roughly a size 5.5 in the UK.
Who Are Alice Eve's Parents?
Her parents, Trevor Eve and Sharon Maughan, are both famous actors. She has two younger brothers, actor and composer George Eve and film director Jack Eve.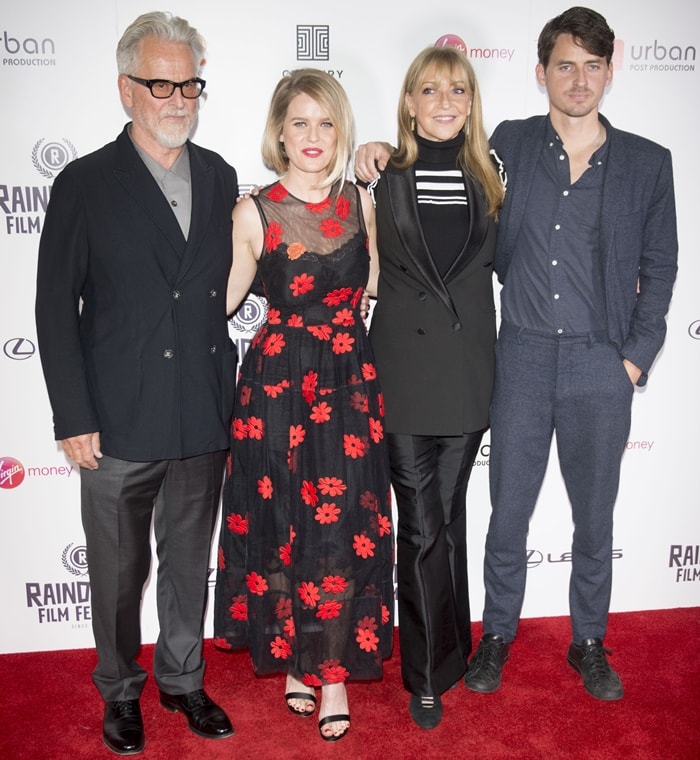 Alice Eve's father, Trevor Eve, her mother, Sharon Maughan, and her younger brother, Jack Eve, were in attendance at the official screening of "Bees Make Honey" during the Raindance Film Festival on September 23, 2017, held at Vue Leicester Square (Credit: WENN)
Her dad gained fame as the eponymous lead in the detective series Shoestring and is also known for his role as Detective Superintendent Peter Boyd in the BBC television drama Waking the Dead.
Alice's mother is best known for her roles as Sonia Bern in The Bank Job (2008), Mrs. McCleish in She's Out of My League (2010), and Dr. Heidecker in Time Lapse (2014).
Alice Eve: Facts, Rumors, and Lesser-Known Truths
Net Worth:
Alice Eve is a successful English actress, writer, director, and producer who has a net worth of $6 million as of 2023.
Full Name:
Alice Sophia Eve
Born:
Alice Sophia Eve was born on February 6, 1982, in Hammersmith, London, England, U.K.
Husband:
Alice Eve was once married to Alex Cowper-Smith from 2014 to 2017.

She has also been in relationships with Adam O'Riordan from 2009 to 2012, Ben Adams in 2008, Rufus Sewell from 2006 to 2008, and Rafe Spall from 2004 to 2006.
Kids:
Alice Eve does not have any children.
Weight:
Alice Eve has never publicly disclosed her weight, and there is no reliable source for this information. However, according to a number of celebrity gossip websites, she is rumored to weigh between 115 and 125 pounds.
Shoe Size:
Alice Eve's shoe size of 8 is considered normal for a woman in the United States.
Height:
Alice Eve's height of 5 feet 5 ½ inches (166.4 cm) is generally considered to be of average height, falling neither in the category of tall nor short. It's within the range of typical heights for women.
Nationality:
Alice Eve is a dual citizen of the United Kingdom and the United States.
Source of Wealth:
Alice Eve's net worth comes from a variety of sources, including her acting career, writing, directing, and producing.
Ethnicity:
Alice Sophia Eve has a diverse heritage, with Irish, Welsh, and English roots.
Alice Eve Stuns in Fendi Heels, Showcasing Her Timeless Style
In January 2013, Alice Eve was spotted in head-to-toe Fendi on the red carpet at the 2013 British Academy Film Awards Nominations.
She announced the nominations with Jeremy Irvine, an English actor who has starred in films such as "War Horse" (2011), "The Railway Man" (2013), and "Mamma Mia! Here We Go Again" (2018).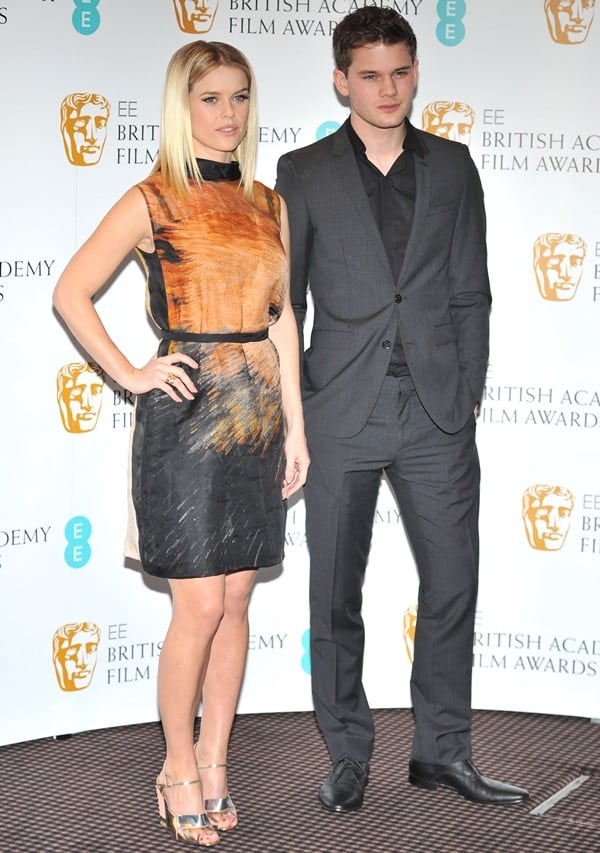 The long-awaited nominations for the 2013 British Academy of Film and Television Arts (BAFTA) were unveiled in an early Wednesday morning announcement, with Jeremy Irvine and Alice Eve proudly revealing the names of the fortunate nominees live from London, England (Credit: WENN)
Jeremy Irvine is taller than Alice Eve. Jeremy Irvine's height is approximately 5 feet 11 ½ inches (181.6 cm), while Alice Eve's is about 5 feet 5 ½ inches (166.4 cm).
Alice Eve and Jeremy Irvine at the 2013 British Academy Film Awards Nominations held at BAFTA in Piccadilly, London, England on January 9, 2013 (Credit: WENN)
The lovely blonde actress donned a stunning orange-and-black printed dress from the Fendi Spring 2013 collection.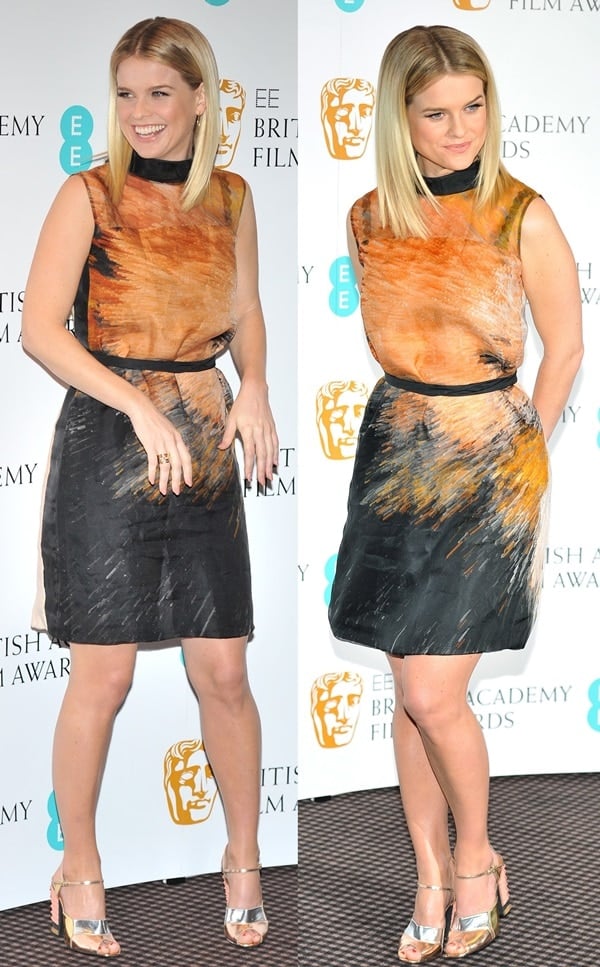 Alice Eve looked absolutely captivating in an exquisite orange-and-black printed dress from the Fendi Spring 2013 collection (Credit: WENN)
She styled the dress with pyramid stud metallic sandals from the same collection, which Nicholas Kirkwood and Karl Lagerfeld co-created.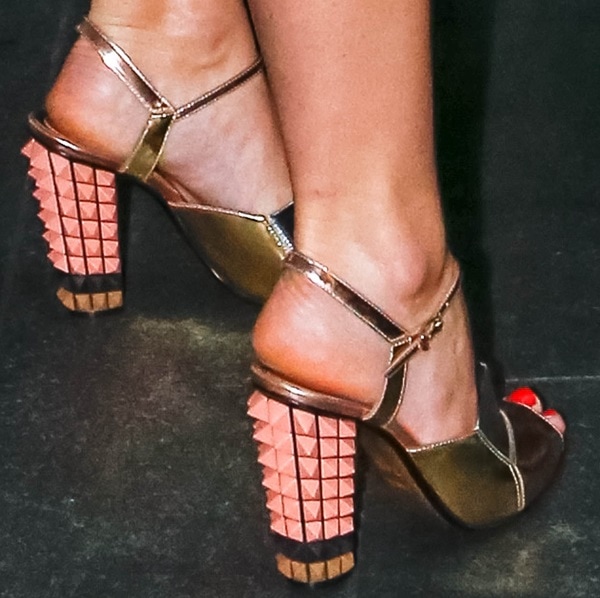 Alice Eve's shoes stand out thanks to their color-blocking, texture, and the pyramid studs adorning the heels (Credit: WENN)
The latest Fendi styles are fun and edgy, and I'd love to pair Alice's pyramid stud sandals with black pants and a tank for a semi-casual but evening-ready look.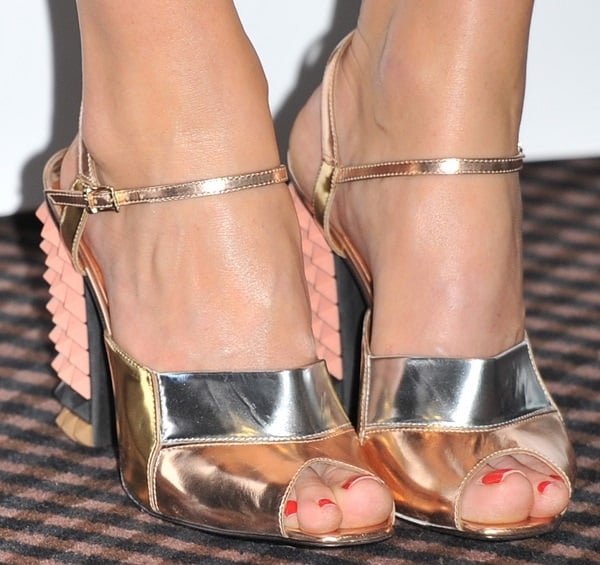 Alice Eve shows off her feet in pyramid-stud metallic sandals (Credit: WENN)
How do you like her stunning pair of Fendi heels?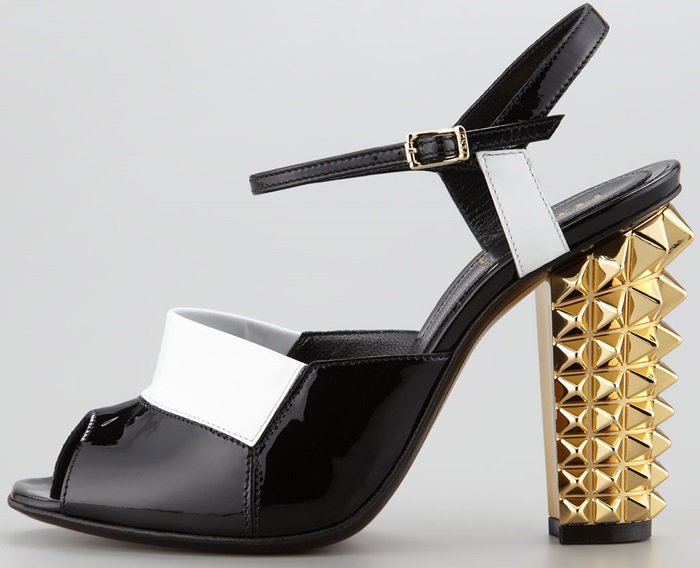 Fendi Patent Pyramid Stud High-Heel Sandals