Alicia Keys, at a height of 5 feet 5 ½ inches (166.4 cm), is slightly taller than the average American woman, who stands at approximately 5 feet 4 inches (162.6 cm).
Alicia Keys wears a size 8 in the US shoe sizing system. In the UK, her shoe size is approximately 6.5; in the European system, it's around 39.5; and in the Japanese system, it's roughly 25.5.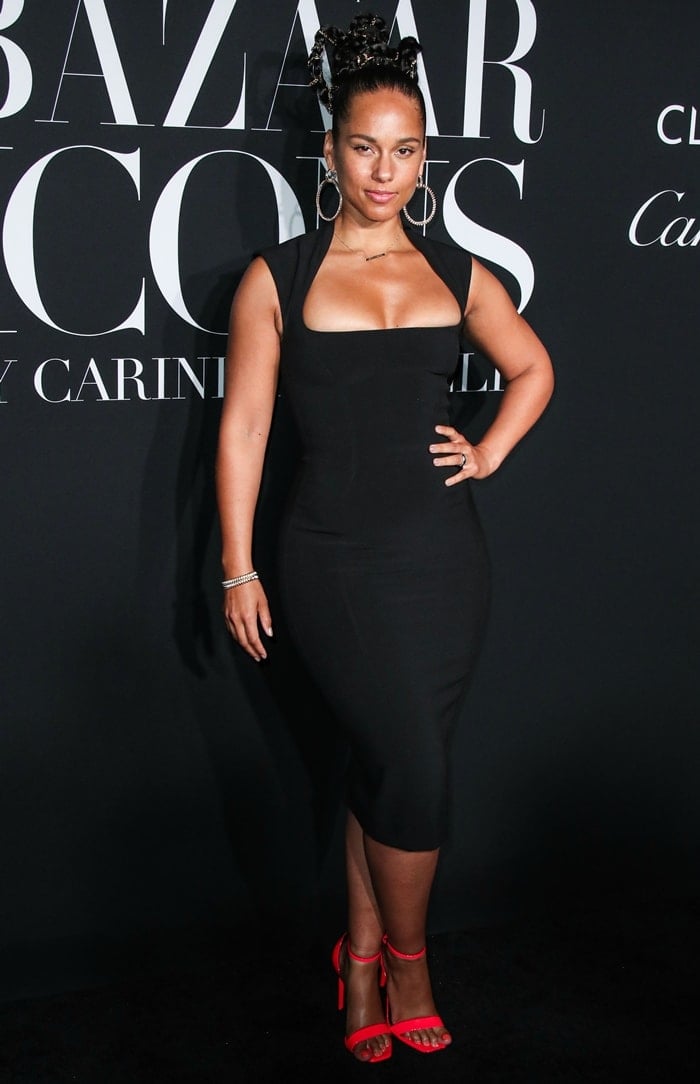 Alicia Keys wore a form-fitting black Mugler dress and Saint Laurent heels at the 2019 Harper ICONS Party at The Plaza Hotel on September 6, 2019, in New York City (Credit: Avalon / WENN)
The Grammy Award-winning American singer rose to fame with her debut album, 'Songs in A Minor.'
Keys announced her engagement to hip-hop artist-producer Swizz Beatz in 2010. They were married on July 31, 2010, in a private ceremony near the Mediterranean Sea.
Alicia Keys' sexy feet are shoe size 8 (US) (Credit: Avalon / WENN)
Is Alicia Keys' last name really Keys?
No, her real name is Alicia Augello Cook. When considering a stage name, she originally wanted to use the name "Alicia Wilde."
However, her mother, Teresa Augello, objected, saying it sounded like the name of a stripper.
Alicia Keys and her mother, Terri Augello, who is of Italian/Sicilian, English, Irish, and Scottish ancestry (Credit: WENN)
"I was like, 'Keys? I play the piano keys, and keys unlock doors. Wow, that's perfect.' It described me, what I loved to do, what I wanted to do," she responded when her manager suggested "Keys" after a "crazy dream" he had about needing to unlock a briefcase.
"I believe in names. I believe your name definitely reflects your future," she said in an interview with American magazine Jane.
Alicia Keys: Fun Facts and Surprising Rumors
Net Worth:
Alicia Keys is a successful American singer, songwriter and actress who has a net worth of $150 million as of 2023.
Full Name:
Alicia Augello Cook
Born:
Alicia Keys, born Alicia Augello-Cook, hails from Hell's Kitchen in Manhattan, New York City, New York, U.S.
Dating:
She married her longtime friend Kasseem Dean, known professionally as Swizz Beatz, on July 31, 2010.

Alicia Keys was engaged to Kerry Brothers in 2008. There have also been rumors suggesting a romantic connection between Alicia Keys and Justin Timberlake in 2002.
Kids:
Alicia Keys has two sons with her husband, producer-rapper Swizz Beatz. Their first son, Egypt Daoud Dean, was born in 2010. Their second son, Genesis Ali Dean, was born in 2014.

Alicia Keys is a stepmother to her husband Swizz Beatz's three children from his previous relationships: Prince Nasir, Kasseem Jr., and Nicole.
Weight:
Alicia Keys has never publicly disclosed her weight, and there is no reliable source for this information. However, according to a number of celebrity gossip websites, she is rumored to weigh between 115 and 125 pounds.
Shoe Size:
Alicia Keys' shoe size is 8 US, which is equivalent to a size 6.5 UK, 39.5 EU, and 25.5 JP.
Is Alicia Keys tall or short?
Alicia Keys is of average height. She stands at 5 feet 5 ½ inches (166.4 cm), which is generally considered to be within the average height range for women.
Nationality:
Alicia Keys is a natural-born US citizen.
Source of Wealth:
Alicia Keys' net worth comes from a variety of sources, including her music career, acting career, and endorsement deals. She has released eight studio albums, all of which have been commercially successful.

Her albums have sold over 35 million copies worldwide, and she has won 15 Grammy Awards for her music.

Keys has also starred in a number of films and television shows, and she has endorsed a number of products. Her net worth is a testament to her success as a musician, actress, and businesswoman.
Ethnicity/Race:
Alicia Keys' diverse ethnicity reflects her rich heritage: her father is African-American, her maternal grandfather has Italian and Sicilian roots, and her maternal grandmother's heritage comprises English, Irish, and Scottish ancestry.
Christian Louboutin Daffodile Brodee Pumps: The $2,295 Shoes Alicia Keys Wore
Hey, if by some chance you're too rich that you have more money than you can handle, here's a pair you might want to grab – the Christian Louboutin "Daffodile Brodee."
Believe us when we say the moment you lay your eyes on these shoes, you won't be able to take them off.
Christian Louboutin Daffodile Brodee Pumps, $2,295
The Daffodile Brodee is a rare "Collector" design created by Louboutin to celebrate his 20th year in the industry. He wanted to craft a pair of shoes that no one could ever forget.
These pumps feature a patchwork of multicolor sequins, rhinestones, embroidery, appliqué, ribbons, writing, metal beading, and chains
Truly, Loubi outdid himself once again, for the Daffodile Brodee is such a work of art, a masterpiece if you can call it; one worthy of a showcase in your shoe gallery.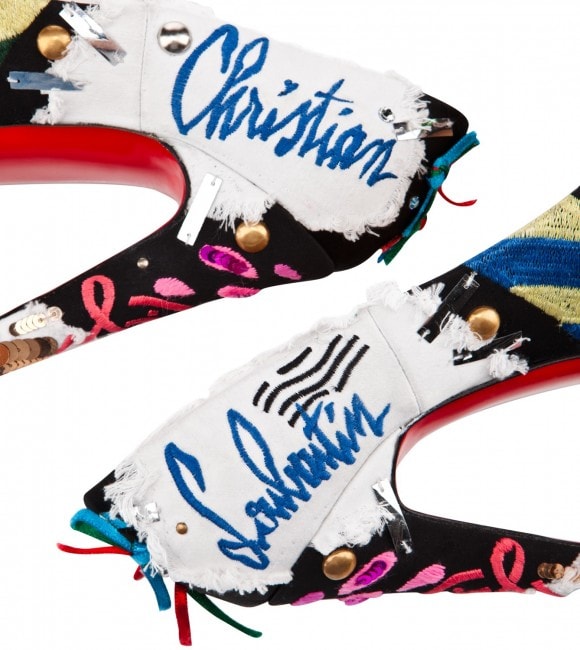 The Christian Louboutin Daffodile Brodee pumps are a limited-edition style that was released in 2013 as part of the brand's 20th Anniversary Collection
Gorgeous, yes? The Louboutin website has rightly dubbed it "tres fantastique," with its colorful hand-embroidered and hand-beaded crepe satin material.
Of course, like any other Daffodile from Mr. Red Bottom, the pair stands quite high at 6 inches, though the 2.5-inch thick platforms can easily manage that. Towering height aside, you can practically wear these shoes with anything.
Now, the ultimate question in your mind would probably be, how much does such beauty cost? Let's say that even the royals will bat an eyelash once they see the tag – a hefty $2,295.
So far, only one celebrity has been spotted with this pair, Alicia Keys, at the NYC premiere of The Mountaintop.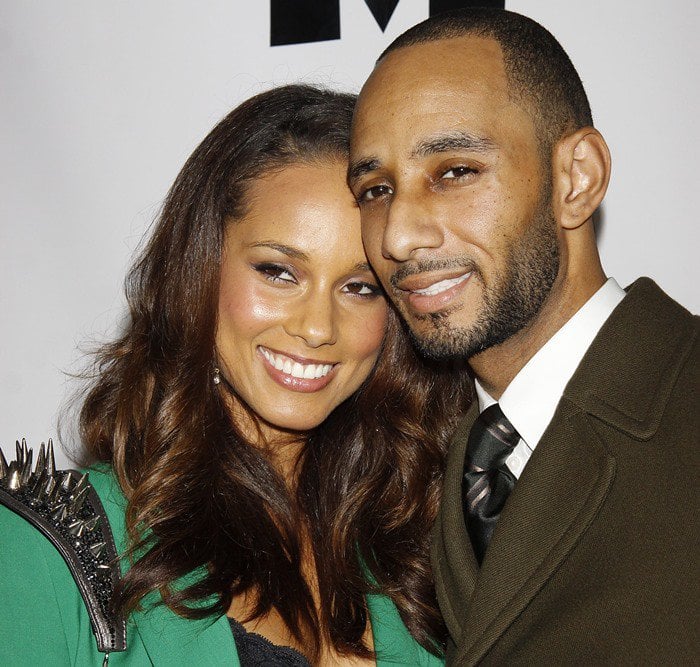 Alicia Keys and her husband, Swizz Beatz, attend The Mountaintop Broadway opening night at The Bernard B. Jacobs Theater in NYC on October 14, 2011 (Credit: WENN / Joseph Marzullo)
The American singer, songwriter, record producer, and actress styled the pumps with a green blazer, black pants, and a stunning "Artemis" spiked leather shoulder bag from Christian Louboutin.
Swizz Beatz is taller than his wife, Alicia Keys. Swizz Beatz is 6 feet 1 inch (1.85 meters), while Alicia Keys is 5 feet 5 ½ inches (166.4 cm).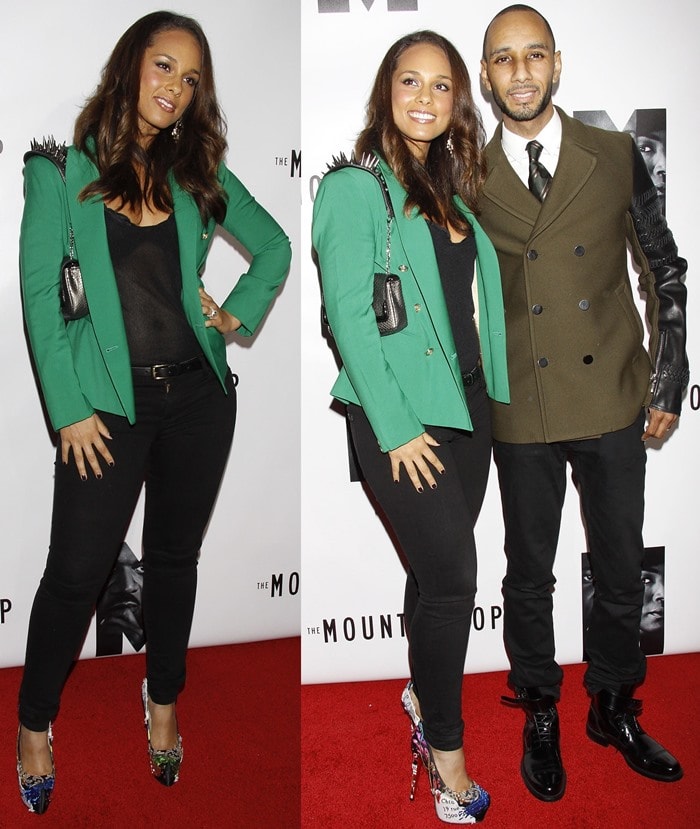 The height difference between Swizz Beatz and Alicia Keys is approximately 7.5 inches (19.1 cm), with Swizz Beatz being taller (Credit: WENN / Joseph Marzullo)
The Mountaintop shares the same director, Kenny Leon, as Alicia Keys' Broadway show Stick Fly.
Alicia Keys rocks Christian Louboutin Daffodile Brodee pumps (Credit: WENN / Joseph Marzullo)