There's something about this Swedish starlet that never fails to entertain. Far away from the center of the American film industry in Hollywood, Alicia Vikander was born in Gothenburg, the second-largest city in Sweden, on October 3, 1988.
She began pursuing her film career at the age of seven, appearing in several classic operas before setting her sights on the Swedish television industry in 2008.
Alicia Vikander rose to fame as Josefin Björn-Tegebrandt in the Swedish drama series and soap opera Andra Avenyn, which was broadcast from 2007 to 2010 (Credit: Swedish Television)
After enjoying critical success for her performances in the Swedish film Pure (2010), she finally broke into Hollywood with The Fifth Estate, released in 2013.
Vikander gained wider recognition for her roles in films such as Anna Karenina, Testament of Youth, Ex Machina, and The Danish Girl, for which she won an Academy Award.
She has since starred in several major films and TV shows, including Jason Bourne and the comedy-drama television miniseries Irma Vep.
Forbes has listed Vikander in its 30 Under 30 list, and she has received numerous accolades for her acting, including nominations for two Golden Globe Awards and three British Academy Film Awards.
Alicia Vikander as German Pirate Party member Anke Domscheit-Berg in the 2013 biographical thriller film The Fifth Estate (Credit: DreamWorks Pictures)
The rest is history, and in this article, we'll look at some of her most critically successful roles over the entirety of her respectable career.
Let's see which ones make the cut according to the professional and hobby critics at Rotten Tomatoes.
10. The Danish Girl (2015) – 66% Critics / 72% Audience Score
Based on an award-winning book published in 2000, this biographical film stars Alicia Vikander opposite Eddie Redmayne, who plays the titular character.
Although the film received critical praise (especially in regards to the acting performances of both Vikander and Redmayne), it also received criticism for its apparent lack of historical accuracy, opting for the dramatization of events over sticking to historical facts.
Vikander was 27 when she was cast in the role of Gerda Wegener.
Eddie Redmayne as Einar Wegener / Lili Elbe and Alicia Vikander as Gerda Wegener in the 2015 biographical film The Danish Girl (Credit: Focus Features)
Regardless, the performances by both Vikander and Redmayne received critical acclaim, with Redmayne receiving an Oscar nomination for his performance as Einar Wegener, who transitioned to Lili Elbe.
Vikander's performance was seemingly the cream of the crop, as she eventually won the Academy Award for Best Supporting Actress.
Wearing a custom yellow Louis Vuitton strapless embellished dress, Alicia Vikander won her first-ever Oscar for her supporting role in The Danish Girl at the 88th Academy Awards ceremony held on February 28, 2016, at the Dolby Theatre in Hollywood, Los Angeles (Credit: Tinseltown / Shutterstock)
Regardless of the quality of their performances, however, the lack of attention to historical detail has seemingly limited the critical response to this film as a whole.
Audiences do not seem to mind this pitfall of the film, as noted by the discrepancy between critical and audience scores for the film.
9. The Man from U.N.C.L.E. (2015) – 68% Critics / 73% Audience Score
2015 was a great year for Vikander, as both The Danish Girl and this film were released in that year when Vikander was 27 years old.
Like The Danish Girl, The Man from U.N.C.L.E. was adapted from a previous show, this time from a television series that originally aired during the 1960s.
In this film, Vikander plays the role of Gaby Teller, the daughter of an alleged Nazi scientist who works with protagonist Napoleon Solo – a former thief turned CIA agent (played by Henry Cavill) to evade capture by the KGB.
Alicia Vikander embodies the 1960s aesthetic as Gaby Teller in the 2015 stylish action film The Man from U.N.C.L.E. (Credit: Warner Bros. Pictures)
Lush with that 60s aesthetic that made the original series so popular, the film was directed by action fan-favorite Guy Ritchie.
Critical response was somewhat mixed, with many critics deeming the film a work that placed style over substance, with the plot being too thin to be stretched over its nearly 2-hour-long run time.
However, action movies always tend to do better with audiences, and this film is no exception. Audiences were more positive about the film overall, with many enjoying the performances of the star-studded cast.
8. The Glorias (2020) – 68% Critics / 60% Audience Score
Skipping forward to a more recent film in Vikander's body of work, The Glorias was released two years ago, when Vikander was 31 years old.
Vikander seems to have a bit of a penchant for biopics, as this film is also a biopic surrounding the life of Gloria Steinem, a noted feminist, and equal rights activist whose work paved the way for equal opportunities for women in the 1970s.
In the film, Steinem is played by four different actresses, who portray Steinem during four different stages of her life.
Julianne Moore plays the current day version of Steinem, while Vikander plays Steinem from ages 20 – 40, the period in which her initially feminist work took place.
Alicia Vikander with co-star Janelle Monáe in the Julie Taymor-directed 2020 biopic The Glorias (Credit: Roadside Attractions and LD Entertainment)
Despite all of the makings of an Oscar bait film, this film did not dazzle audiences quite as much as director Julie Taymor probably envisioned.
Critics instead found the film somewhat unrealistic, deeming the portrayal of Steinem lacking in humanity. When Oscar bait films don't impress critics, they rarely manage to impress audiences either, which was, unfortunately, the case with The Glorias.
7. Blue Bayou (2021) – 74% Critics / 93% Audience Score
Another recent addition to the career of Alicia Vikander, Blue Bayou is a film directed, written, and starring Justin Chon, a former YouTuber and youth star turned indie filmmaker.
Within the film, Chon plays Antonio LeBlanc, an ex-convict and Korean-American adoptee who navigates through challenges related to his status with his pregnant wife, Kathy (played by Alicia Vikander).
The film deals with many topical issues, including American anti-immigration practices, adoptees, and the gilded pursuit of the American dream.
Alicia Vikander with co-stars Sydney Kowalske and Justin Chon in the 2021 American drama Blue Bayou (Credit: Focus Features)
The film had a small and limited release, starting with its premiere at the Cannes Film Festival on July 13, 2021, when Vikander was 32 years old.
Critical reception to the film was mostly positive, with many receptive to Chon's efforts to highlight these issues for American audiences.
Some criticism was levied against the script, as some critics believed it was a touch bloated. Nevertheless, audiences resonated with the themes of the film in a big way, as the audience score for this film dwarfed the critical response by a large margin.
6. Testament of Youth (2014) – 84% Critics / 78% Audience Score
Jumping back to 2014, Testament of Youth was released when Alicia Vikander was 26 years old and was based on a celebrated memoir from Vera Brittain, who published the memoir in 1933.
Rosie Alison, Michael Barker, Alicia Vikander, James Kent, Kit Harington, and Tom Bernard attend "Testament Of Youth" New York premiere at Chelsea Bow Tie Cinemas on June 2, 2015, in New York City (Credit: Debby Wong / Shutterstock)
In the film, Alicia Vikander plays the role of Brittain – a young woman who leaves her pursuit of education at Oxford University to join the WW1 effort as a war nurse alongside her brother Edward (Taron Egerton), and his childhood friends, Roland (her future fiancée, played by Kit Harington), Victor, and Geoffrey.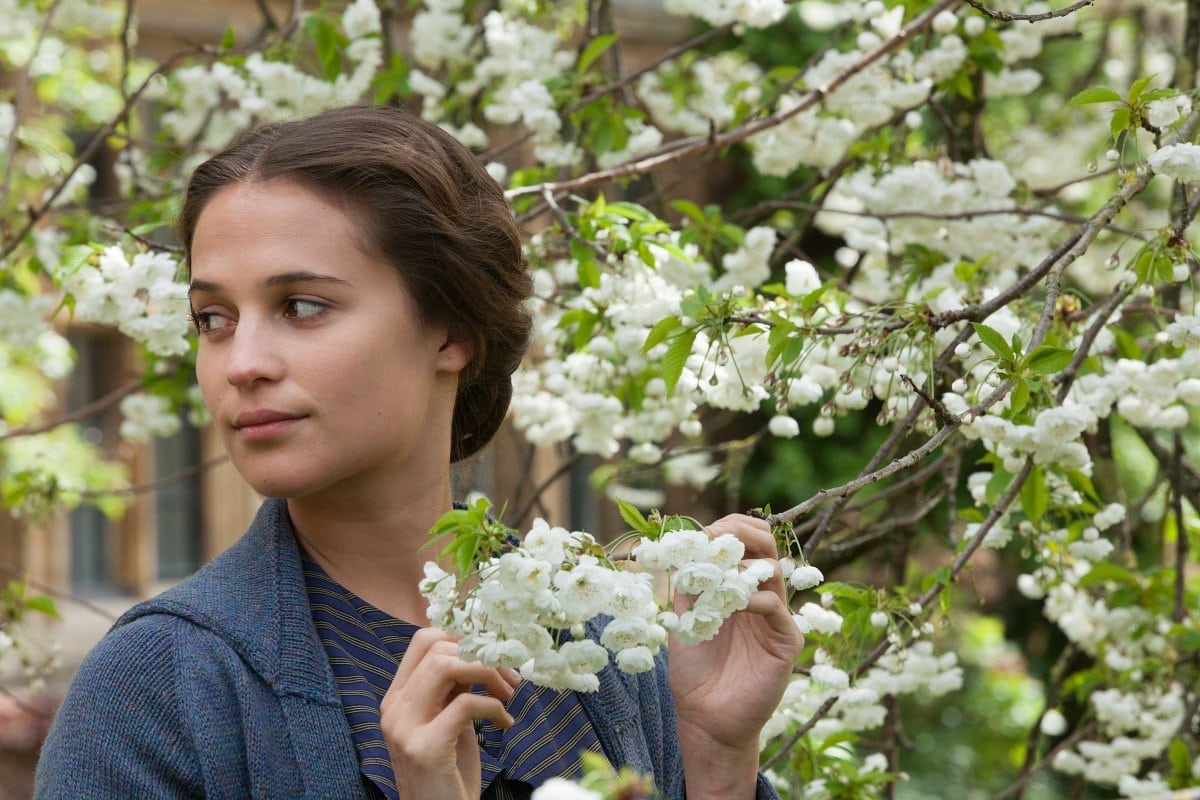 Alicia Vikander in her captivating role as Vera Brittain in the 2014 British drama film Testament of Youth (Credit: Lionsgate UK)
The film follows Vera through her experiences during the First World War as she deals with the losses and sacrifices that naturally come with the devastation of war.
The film received positive critical reviews upon its release, with praise specifically directed to the performances of the talented cast.
Audience reception matched the critical reception; many people found the film emotionally impactful.
5. The Green Knight (2021) – 89% Critics / 50% Audience Score
A relatively recent release from acclaimed production studio A24, The Green Knight managed to divide audiences and critics upon its release during the summer of 2021 – although the film was initially scheduled to be released in the spring of 2020 when Vikander was 31 years old.
Starring Dev Patel as Sir Gawain, The Green Knight was a modern re-interpretation of the classic piece of medieval folklore and featured an ambiguous take on storytelling that alienated some audience members.
Alicia Vikander plays the role of Essel in the film, who acts as a love interest for Sir Gawain. There are tensions within their romance, however, due to the discrepancy between Essel's commoner status and Gawain's status as a chivalric knight.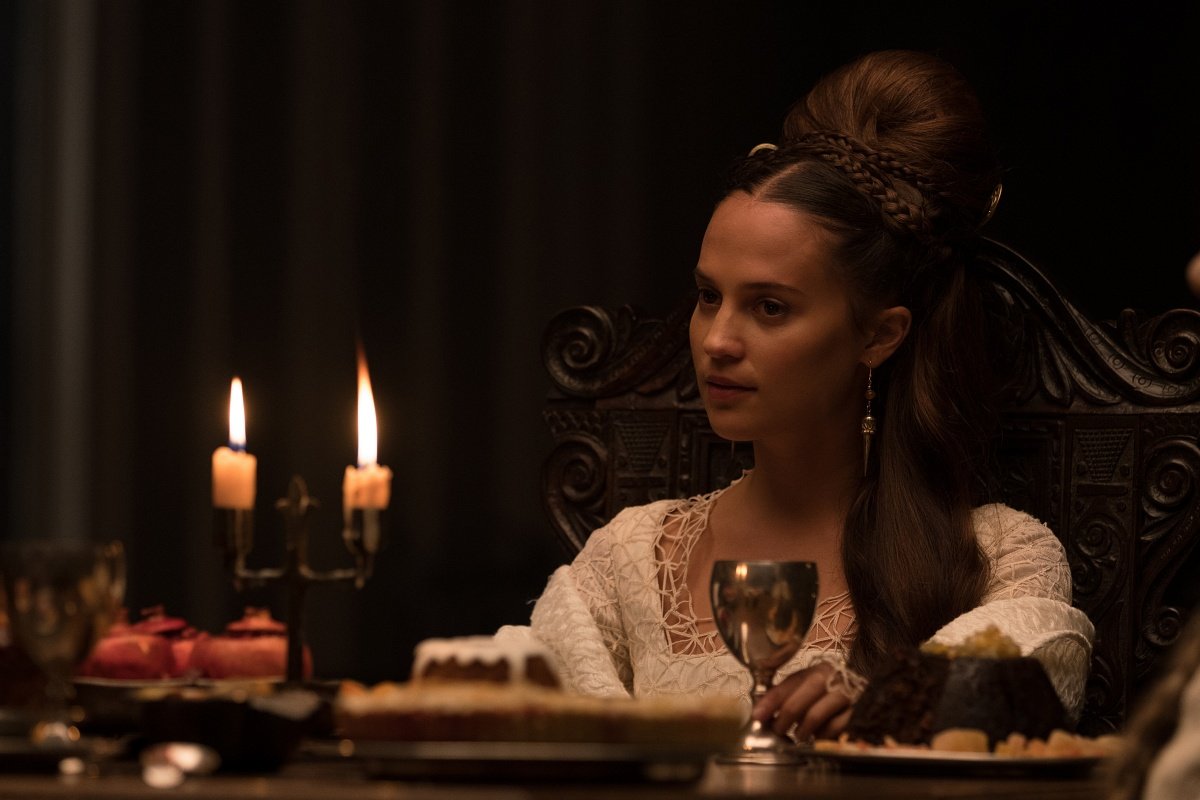 Alicia Vikander steals the spotlight as Essel in the 2021 epic medieval fantasy The Green Knight (Credit: A24)
While Vikander's appearance in the film is somewhat limited (Gawain's journey is a solemn one that eats up much of the film's run time), she still manages to leave a lasting impression through her solid performance.
As for the reception of the film, the divisiveness of the film's ambiguous approach to storytelling can be sensed in the high critical reception and overall abysmal critical response to the film. At least the film got people talking about it!
4. Anthropocene: The Human Epoch (2018) – 89% Critics / 62% Audience Score
This is a bit of a different entry into the filmography of Alicia Vikander because, in this film (which is a documentary), she acts as a narrator and not as an actress!
This documentary deals with the negative impact humans have on our planet and ecosystems and was created as a collaboration piece between Canadian filmmakers Jennifer Baichwal, Nicholas de Pencier, and Edward Burtynsky.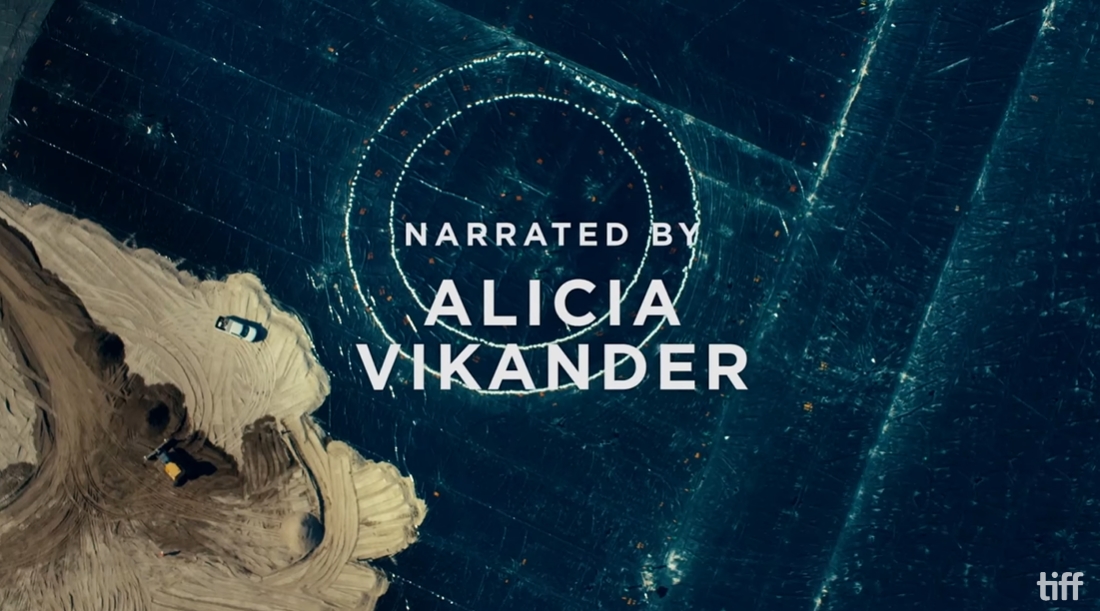 Alicia Vikander narrates the 2018 Canadian documentary film Anthropocene: The Human Epoch (Credit: Toronto International Film Festival)
The film's title references the Anthropocene, a theoretical event in which the impact of human existence changes the planet in a significant manner, bringing about a new ecological age. Talk about heavy stuff!
Critics seemed to appreciate the somber and fact-driven tone of the film, while audience members felt the subject matter could've been presented more entertainingly.
Regardless, this sobering film remains an important documentary, as it brings to light some of the ecological issues facing humanity in the near future.
3. A Royal Affair (2012) – 90% Critics / 82% Audience Score
An early Danish film within the filmography of Alicia Vikander, A Royal Affair (En kongelig affære in the native Danish) was released in 2012 when Alicia Vikander was a young 24-year-old embarking on her acting career.
Nevertheless, Vikander managed to wow critics and audiences with her performance as Caroline Matilda of Great Britain, a British princess who becomes the Queen of Denmark following her marriage to Christian VII of Denmark – a mad king.
Mads Mikkelsen and Alicia Vikander attend the "En Kongelig Affaere" premiere during day eight of the 62nd Berlin International Film Festival at the Berlinale Palast on February 16, 2012, in Berlin, Germany (Credit: Denis Makarenko / Shutterstock)
This film of political intrigue and dramatic royal controversy proved to be a hit.
It featured famous Danish actor Mads Mikkelsen in the lead role of Johann Friedrich Struensee, a German diplomat who acted as the de facto leader of Denmark. At the same time, Christian VII dealt with his mental illness.
Critics and audiences seemed to be on the same page with their enjoyment of this film as a whole, as noted by the comparably high critic and audience scores. Everyone loves a well-made royal drama film!
2. Ex Machina (2014) – 92% Critics / 86% Audience Score
The film that marked Vikander's breakthrough into Hollywood cinema, Ex Machina, was released in 2014 when Vikander was 26 years old.
The debut of author, screenwriter, and director Alex Garland, Ex Machina stars Vikander opposite Domhnall Gleeson and Oscar Isaac.
This film would prove to skyrocket Vikander's career, as she appeared in multiple successful films following the widespread release of Ex Machina.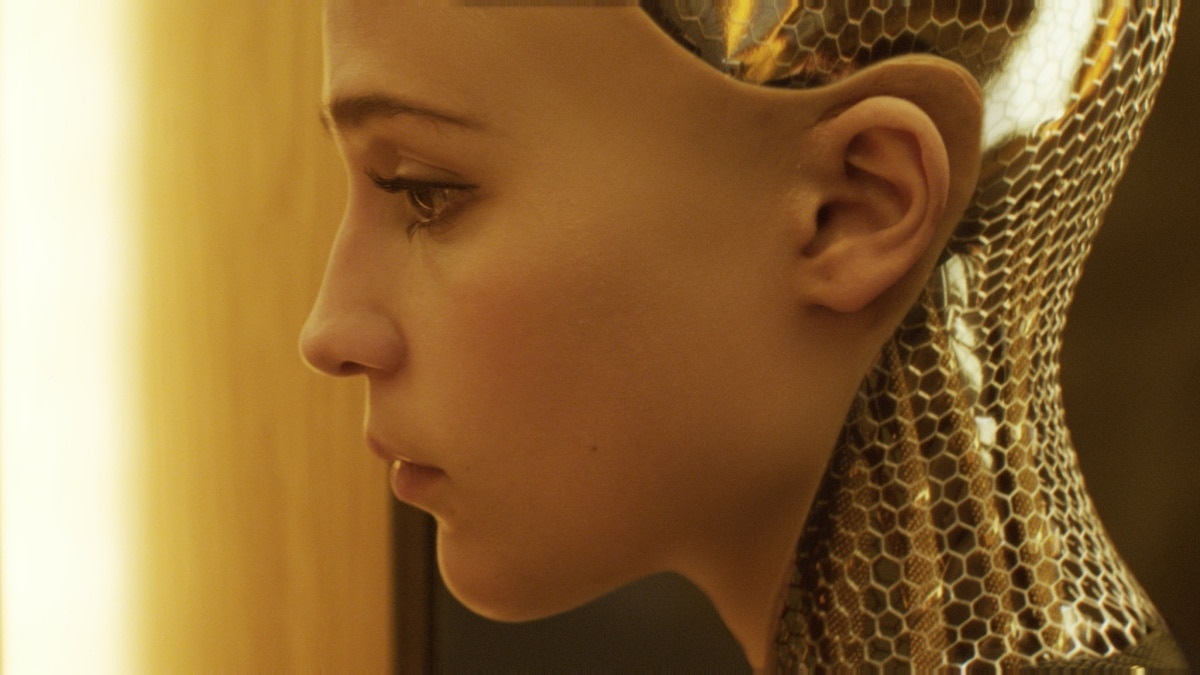 Alicia Vikander in a stunning performance of her role as cyborg Ava in the 2014 sci-fi film Ex Machina (Credit: A24)
In the film, Vikander plays Ava, a cyborg created by Nathan Bateman (Oscar Isaac), to demonstrate the advancements in artificial intelligence.
In the film, "Ex Machina," Bateman recruits Caleb Smith (played by Domhnall Gleeson) to test the capabilities of his AI creation, Ava. As a beta tester, Caleb's job is determining if Ava can exhibit human-like thinking and consciousness.
Domhnall Gleeson as programmer Caleb Smith, Alicia Vikander as artificial intelligence Ava, and Oscar Isaac as company CEO Nathan Bateman in the 2014 science fiction film Ex Machina (Credit: A24 / Universal Pictures)
Upon release, Ex Machina received critical acclaim for handling its subject matter, and critics praised the performances of Isaac, Gleeson, and particularly Vikander.
Audiences also enjoyed the film, appreciating how it managed to subvert expectations while providing an entertaining and thought-provoking take on plausible science fiction.
1. Ingrid Bergman: In Her Own Words (2015) – 98% Critics / 66% Audience Score
Alicia Vikander's most critically successful film is a documentary. Talk about anti-climactic!
While Vikander only supplied her voice (for use as narration) in the Swedish version of the film, the film still managed to be a great addition to her filmography.
The documentary analyzes the life of Ingrid Bergman, one of the most influential actresses in cinematic history. Released in 2015 when Vikander was 27 years old, this documentary impressed critics in particular, who are undoubtedly fascinated with the history of cinema as a whole, due in part to their career paths.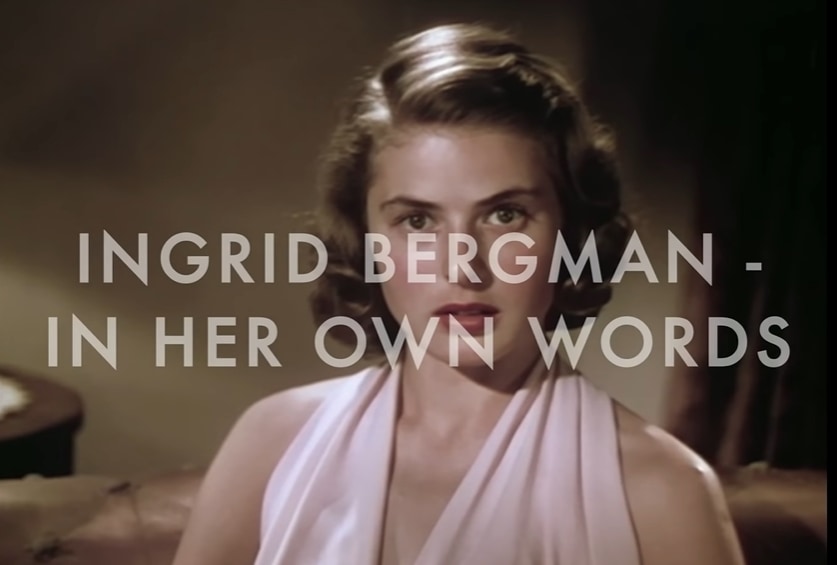 Alicia Vikander voices Ingrid Bergman in the 2015 Swedish documentary film Ingrid Bergman: In Her Own Words (Swedish: Jag är Ingrid) (Credit: YouTube)
Audiences were slightly less impressed with the documentary, as evidenced by the lower review score from audience members. Regardless, this still takes the top spot as the most critically-acclaimed film in Vikander's filmography.
And that wraps up our analysis of the top 10 most critically successful films in the filmography of Alicia Vikander. This Swedish star never fails to amaze, and the quality of her filmography is a testament to that.
From the early 2010s to the present day, Vikander still manages to act her heart out across a wide variety of impactful roles!
Alicia Vikander styles her hair back in a ponytail at the "Manus x Machina: Fashion In An Age Of Technology" Costume Institute Gala at the Metropolitan Museum of Art on May 2, 2016, in New York City (Credit: WENN / C.Smith)
In May 2016, Alicia Vikander hit the red carpet at the 2016 Met Gala held at the Metropolitan Museum of Art in New York City.
It had just been announced that she had landed the coveted role of Lara Croft in the "Tomb Raider" reboot.
The then-27-year-old petite actress donned a black, bronze, red, and white Louis Vuitton dress made of a combination of leather and sequins.
Alicia Vikander shows off the bust of her red-leather-and-silver-sequin Louis Vuitton dress (Credit: WENN / C.Smith)
The thigh-skimming sleeveless dress featured a high-low hem, white trim, and a red leather bustier design.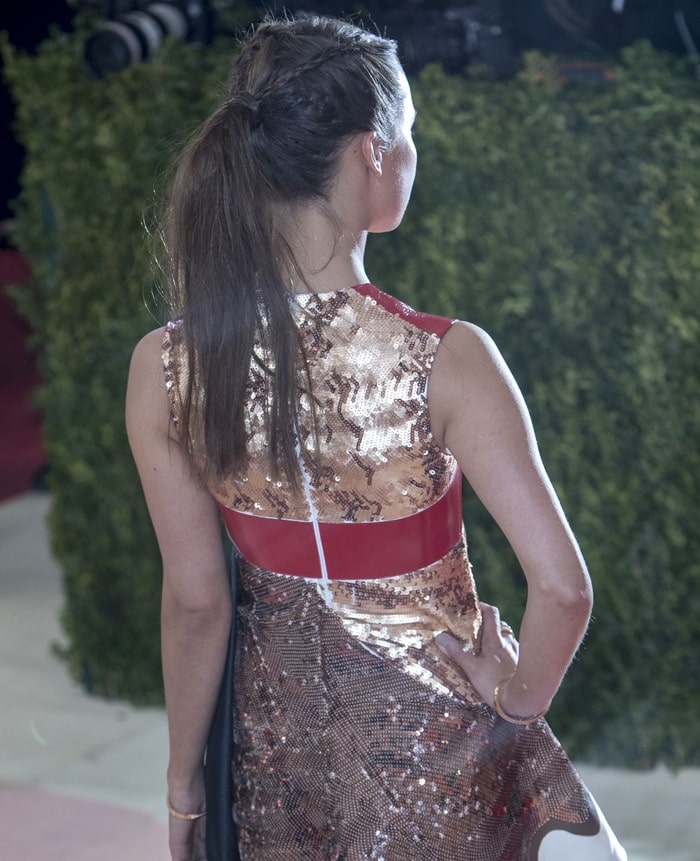 Alicia Vikander sparkles on the red carpet in a sequined Louis Vuitton dress (Credit: WENN / C.Smith)
She styled her mini dress with Bulgari jewelry and a pair of chunky lug-sole Louis Vuitton boots.
Alicia Vikander poses with Louis Vuitton's creative director Nicolas Ghesquiere at the Met Gala (Credit: WENN / C.Smith)
Don't you think her outfit was perfect for the night's theme of "Manus x Machina: Fashion in an Age of Technology?"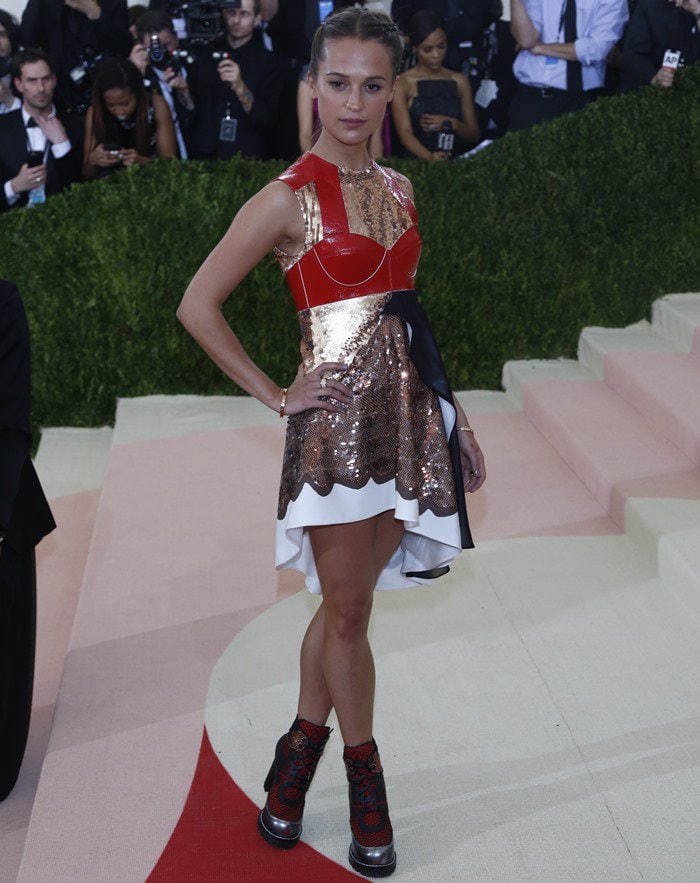 Alicia Vikander styles her red Louis Vuitton dress with a pair of red-and-black lug-soled boots from the same designer (Credit: WENN / C.Smith)
Alicia's boots feature the same red-and-silver color scheme as her dress. The lace-up boots feature heels and lug soles and have a black mesh overlay positioned overtop of the boot's red material.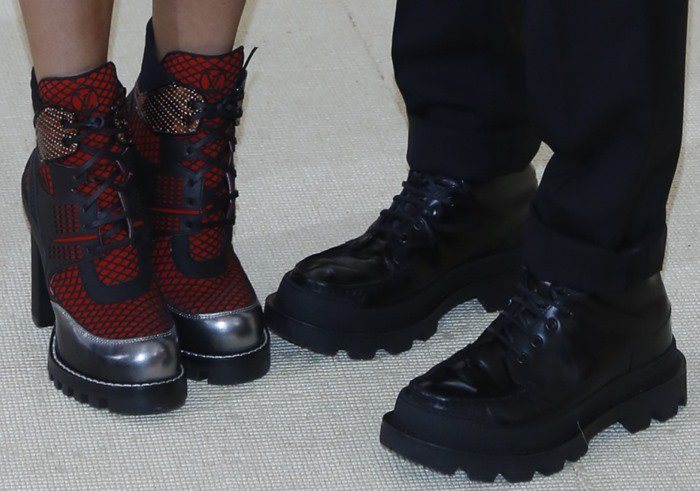 Alicia Vikander and Nicolas Ghesquiere wear footwear by Louis Vuitton (Credit: WENN / C.Smith)