In February 2017, Amateur Night actress Ashley Tisdale looked cute in a monochrome schoolgirl outfit as she posed for pictures at Olay's DUO launch in Hollywood at the Highland Center.
Ashley Tisdale looked cute in a fashionable mini dress at Olay's DUO launch in Hollywood at the Highland Center in Hollywood on February 16, 2017 (Credit: Nicky Nelson / WENN)
One year earlier, she starred as prostitute Fallon in the 2016 American comedy film Amateur Night. The film held its world premiere in Los Angeles on July 25, 2016.
Ashley Tisdale encountered challenges in securing her role in "Amateur Night." Initially rejected for the part due to her Disney background, Tisdale impressed the directors by dressing the part and wearing "stripper boots" during her next audition.
"I am one of the prostitutes. It's based on a true story; the director's story. I always love challenging myself as an actress and in this part of my life right now, I just like to do things that people don't expect from me," she told New You in an exclusive interview.
Ashley Tisdale revealed that she would often listen to Kesha's music to get into character for her role as Fallon before filming her scenes.
Ashley Tisdale listened to Kesha's music to prepare for her prostate role in the 2016 American comedy film Amateur Night (Credit: Cinedigm)
"So when I heard about the character, Fallon, that she is a real person who is a prostitute and who was saying that the women weren't victims… It was their business and that it was very much the card that they were dealt and they decided to be businesswomen about it. Fallon is grungy and a rocker. I drew on [the music of singer and rapper] Kesha. I listened to her music before I would get to set and it brought me into that moment."
Directed by Lisa Addario and Joe Syracuse, Amateur Night is inspired by their own experiences in Hollywood.
Also starring Jason Biggs, Jenny Mollen, Janet Montgomery, and Bria Murphy, the film features a talented cast with previous collaborations, including Ashley Tisdale and Robert Hoffman in "Aliens in the Attic" (2009) and Ashley Tisdale and Cedric Yarbrough in "Carol's Second Act."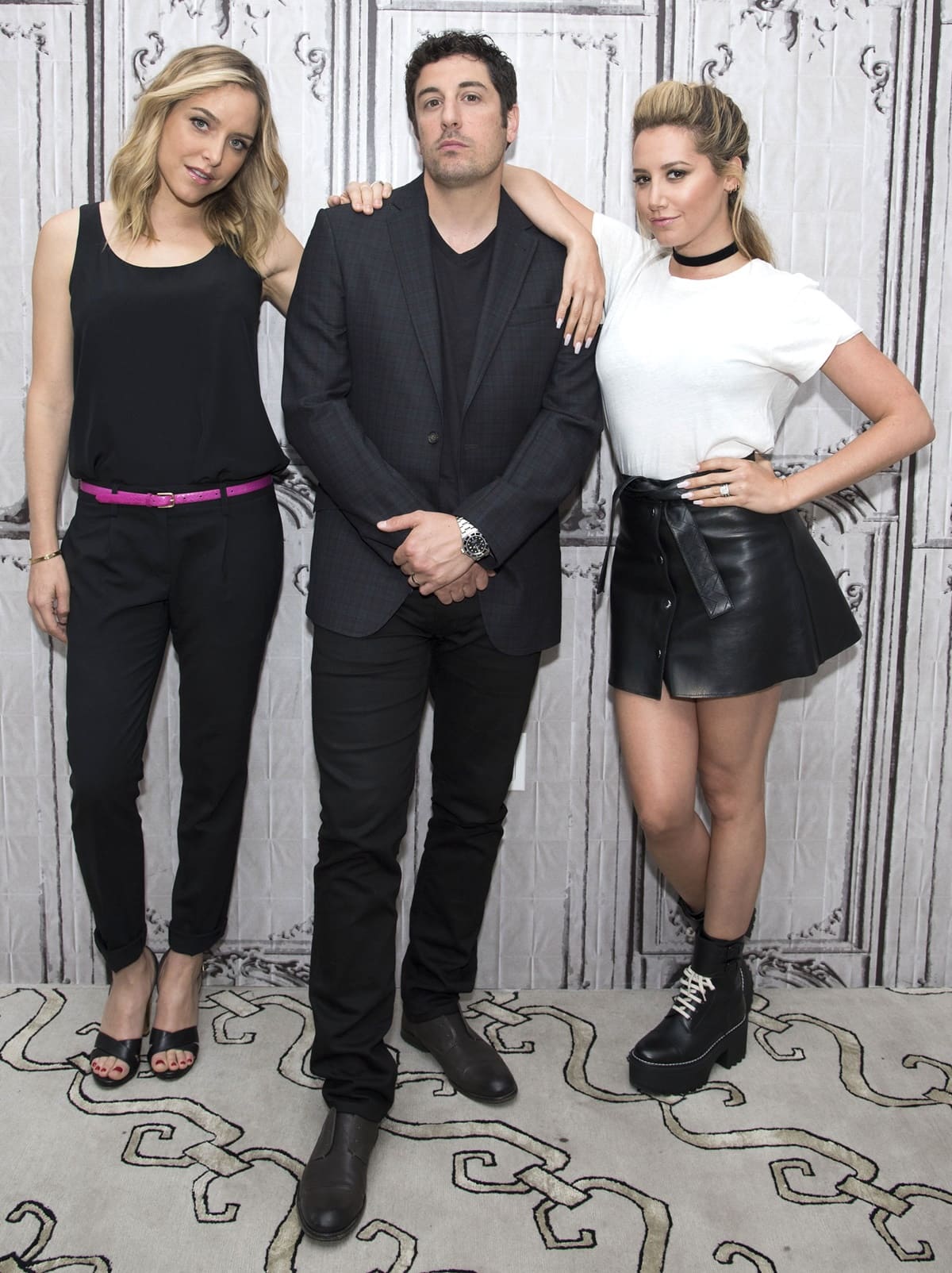 Jenny Mollen and Jason Biggs are married in real life, and Ashley Tisdale has acted alongside both of them in Amateur Time (Credit: Fernando Lucena / Startraksphoto)
Jason Biggs and Jenny Mollen, who are husband and wife in real life, add to the film's authenticity.
Eddie Kaye Thomas also makes a cameo appearance as a party guest, having previously acted alongside Jason Biggs in the comedy American Pie.
Ashley Tisdale debuted her new long brunette bob, making a fashion statement at the event (Credit: Nicky Nelson / WENN)
At the Olay DUO Launch event in Los Angeles, the then-31-year-old actress donned a bow tie crepe a-line dress from Kate Spade New York.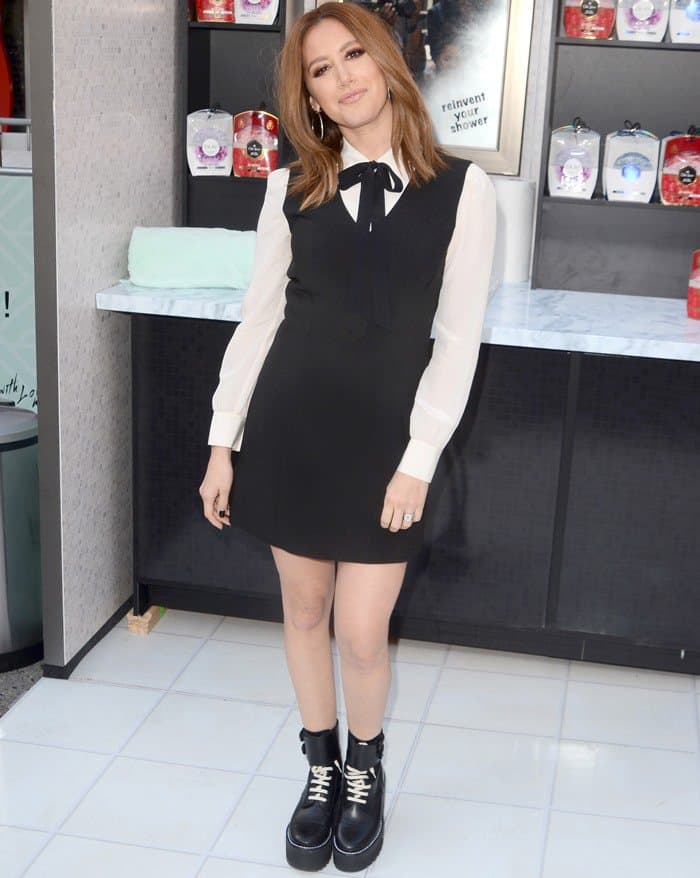 Ashley Tisdale attended the DUO launch at Hollywood and Highland wearing a Kate Spade New York bow tie crepe A-line dress paired with Louis Vuitton fighter platform half boots (Credit: Nicky Nelson / WENN)
She styled her black jumper dress with platform half-boots in plain calf leather from Louis Vuitton, featuring engraved black buckles and contrasting white stitching and laces.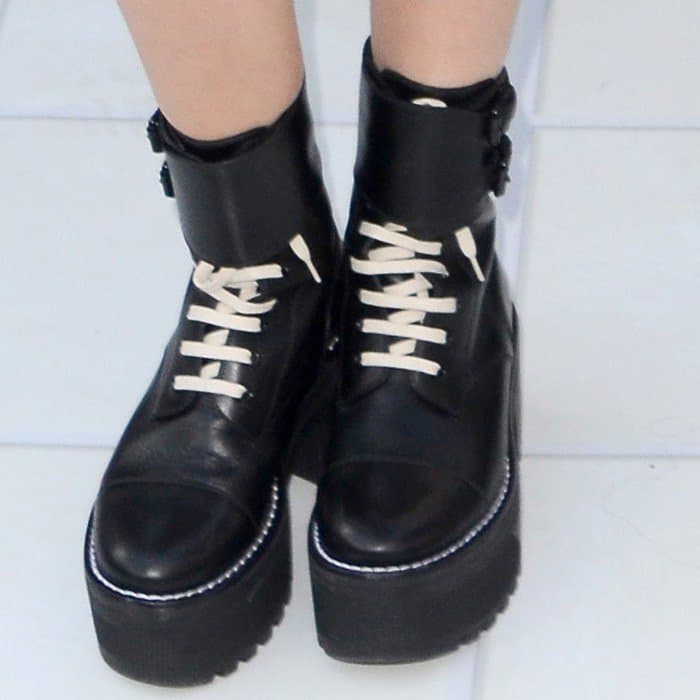 Ashley Tisdale wearing Louis Vuitton 'Fighter' platform half boots (Credit: Nicky Nelson / WENN)