For the Los Angeles premiere of their new film Dear Evan Hansen, Amy Adams and Amandla Stenberg both opted to wear long dresses. Who do you think looked best?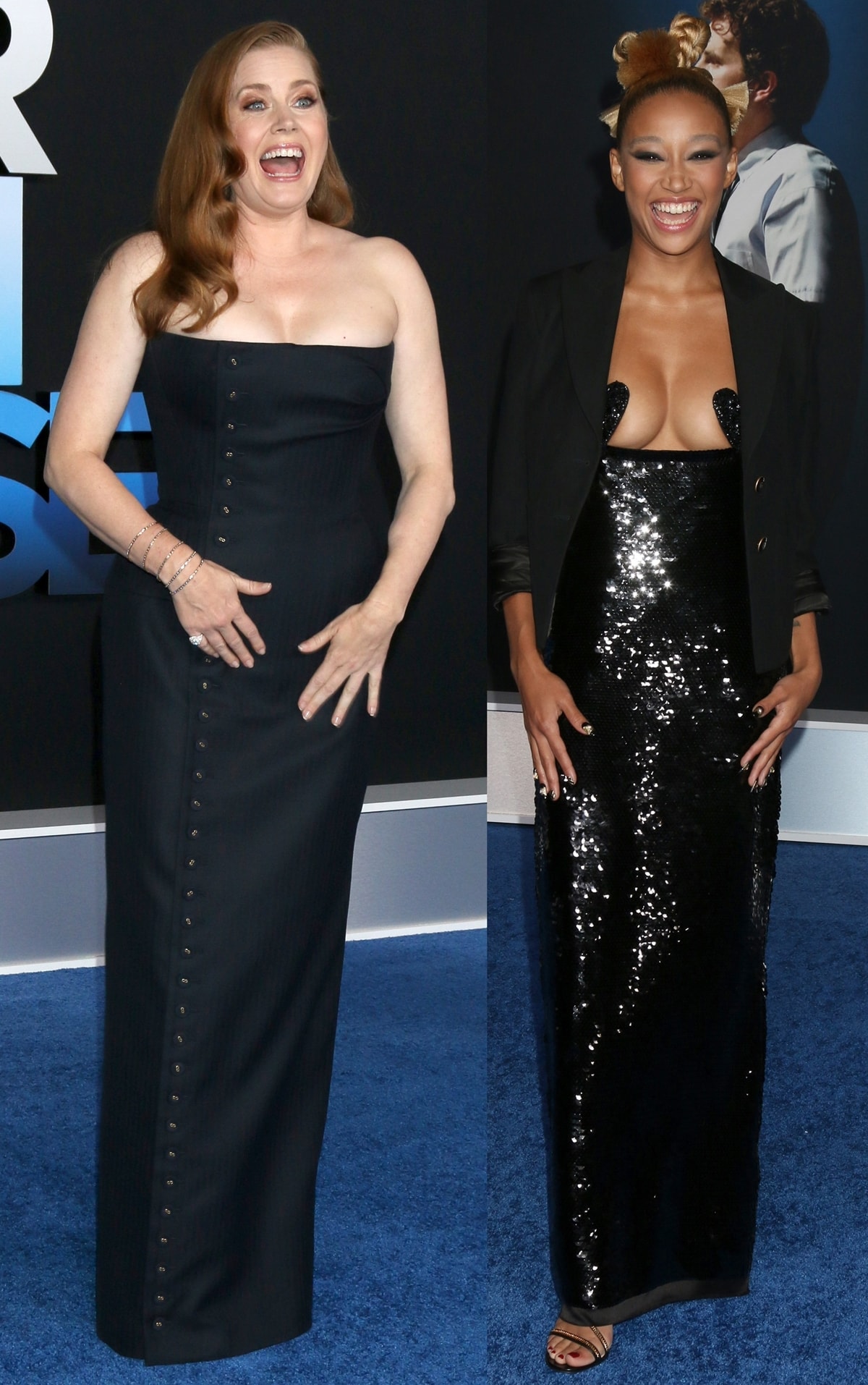 Amy Adams in Thom Browne and Amandla Stenberg in Gucci at the premiere of their new film Dear Evan Hansen held at Walt Disney Concert Hall on September 22, 2021, in Los Angeles (Credit: Nicky Nelson / WENN)
Included in Time's list of Most Influential Teens in both 2015 and 2016, Amandla Stenberg flaunted her boobs in a revealing Gucci Pre-Fall 2021 look featuring a deep plunging neckline and heart pasties.
"It's cathartic," she told Harper's Bazaar about the film in which she stars as Evan's classmate Alana Beck.
"I think that audiences, and particularly young people, resonate with Dear Evan Hansen because it's about our universal vulnerabilities and fallibilities and the mental illness that we struggle with – that so many of us struggle with – but that it's hard to be open about."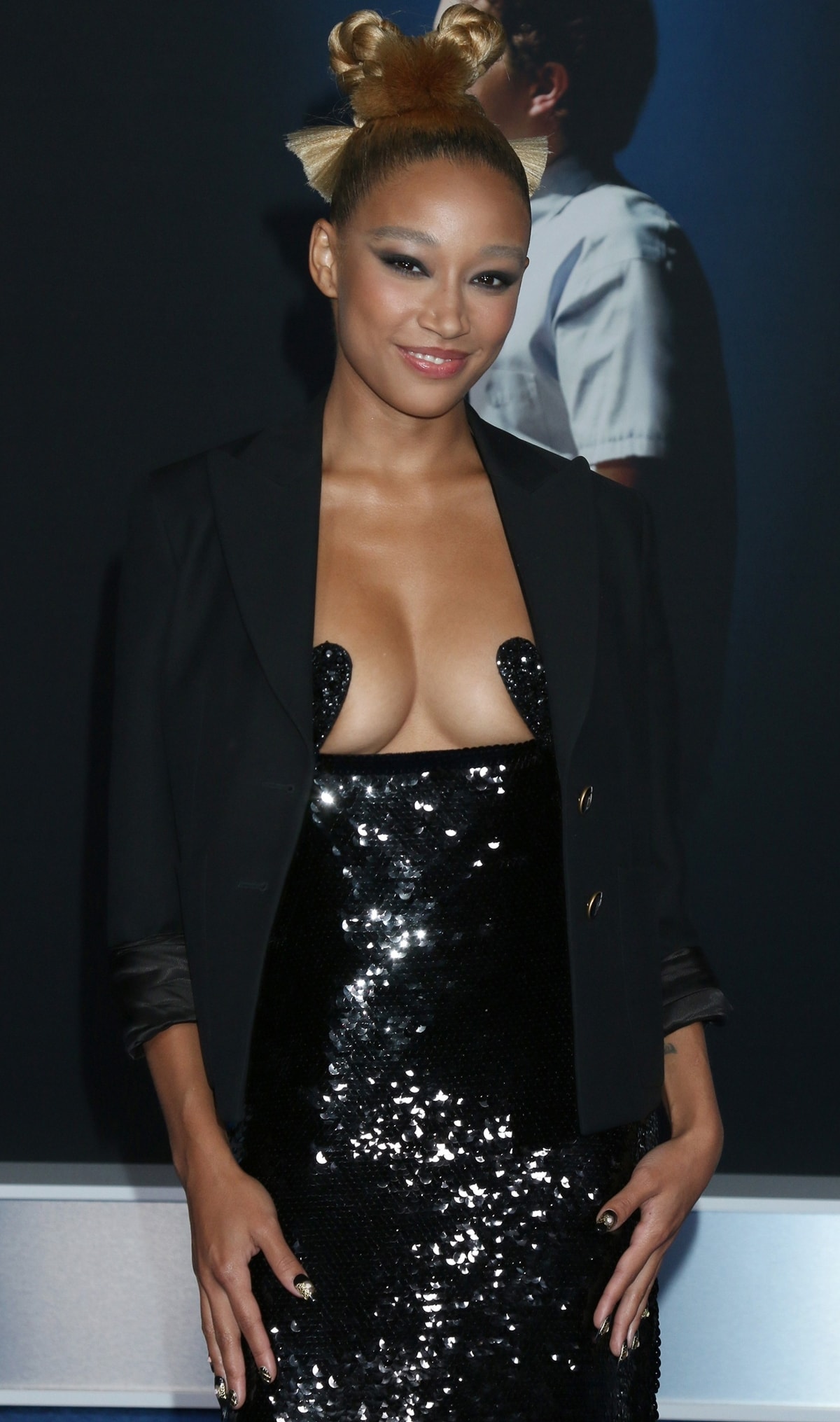 Amandla Stenberg covered her boobs with heart pasties in a sequined Gucci gown (Credit: Avalon / WENN)
Amy Adams opted to wear a navy Thom Browne herringbone corset dress and accessorized with Rahaminov jewelry.
The coming-of-age musical film directed by Stephen Chbosky received negative reviews from critics and was a box office failure.
Based on the 2015 stage musical of the same name by Steven Levenson, the film centers on the title character (Ben Platt) who embarks on a journey of self-discovery when a letter he wrote for a writing exercise falls into the hands of a grieving couple whose son took his own life.
Amy Adams wore a custom Thom Browne strapless dress with Rahaminov jewelry (Credit: Nicky Nelson / WENN)
Portraying Cynthia Murphy, the mother of suicide victim Connor Murphy (Colton Ryan), she appeared on The Tonight Show Starring Jimmy Fallon to talk about her admiration for Ben Platt.
"Working with him and seeing that [emotion] up close, I mean, I had more of a front-row seat to the brilliant Ben Platt. And I was a disaster. Like, for weeks on end I felt—I was crying on set constantly. Like, just literally every time he would open his mouth and start singing, I'm sure he's like, 'You know, you can save it, it's OK.'"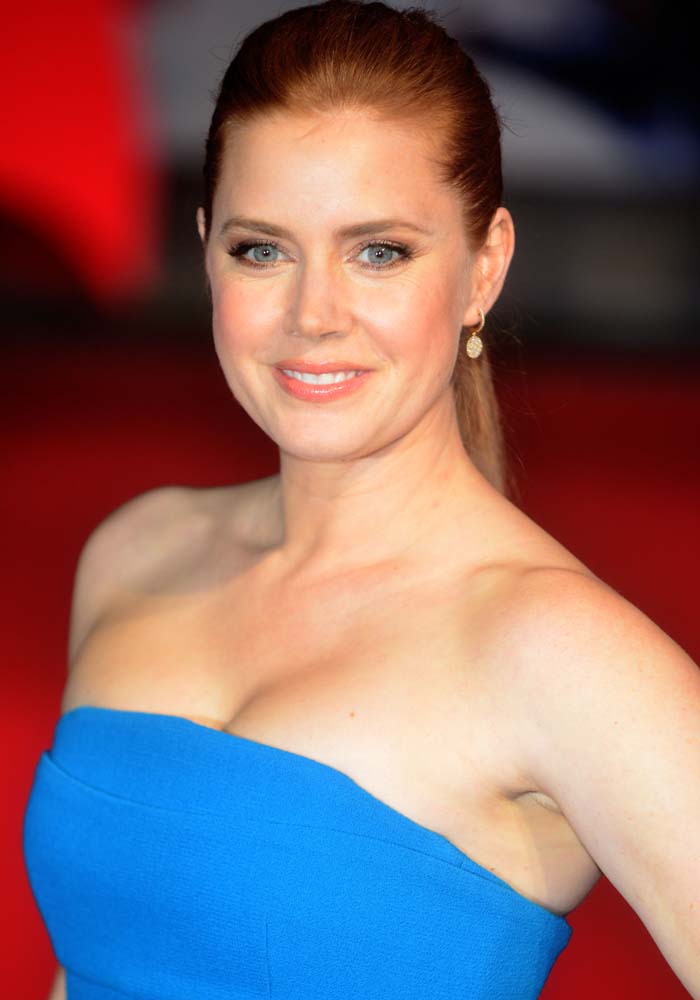 Amy Adams wears her hair back at the European premiere of "Batman v Superman: Dawn of Justice" held on March 22, 2016, at the Odeon and Empire Leicester Square in London (Credit: Lia Toby / WENN)
Ever wondered whether Amy Adams is Team Batman or Team Superman? If so, you're not alone. Gal "Wonder Woman" Gadot had the same question.
In March 2016, the Enchanted actress was photographed on the red carpet of the European premiere of "Batman v Superman: Dawn of Justice" held in London
Amy looked striking in a blue strapless dress by British-Sicilian designer Antonio Berardi, which had a gorgeous detail at the waist that led down to a sexy thigh-high slit.
Amy Adams wears a blue strapless Antonio Berardi dress on the red carpet (Credit: Lia Toby / WENN)
The actress dressed up her look with jewelry from Tiffany & Co., Graziela Gems, and Nigaam, as well as a clutch from Tyler Alexandra and glittery "Laurita" platforms from Jimmy Choo.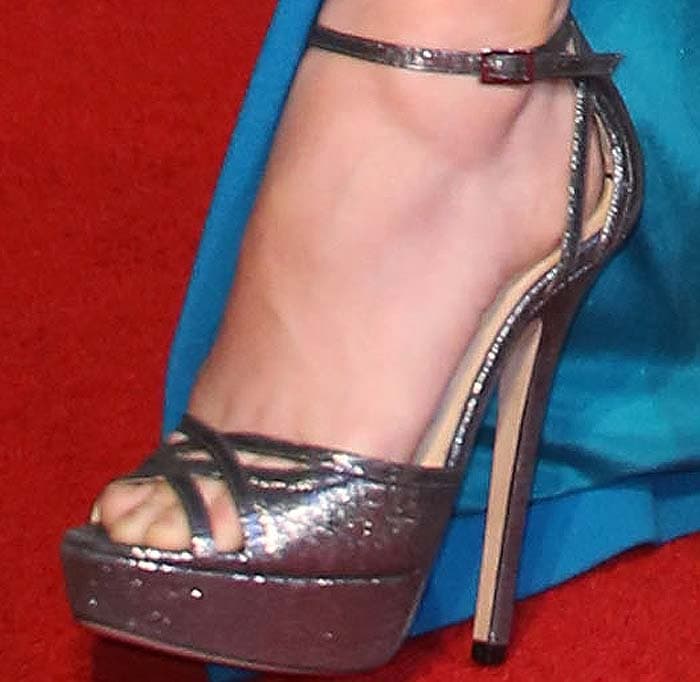 Amy Adams's feet in sparkling Jimmy Choo platforms (Credit: Lia Toby / WENN)
Gal gushed over her co-star Amy, even going so far as to say Amy has "a special soul."
Amy also expressed her appreciation for having Wonder Woman on the set. "I love it," she told ET about the casting of Amber Heard as Mera in Justice League and Aquaman.
"I hope that we all get to work together at some point, because women, sometimes in these films, don't get to actually be on set together at the same time."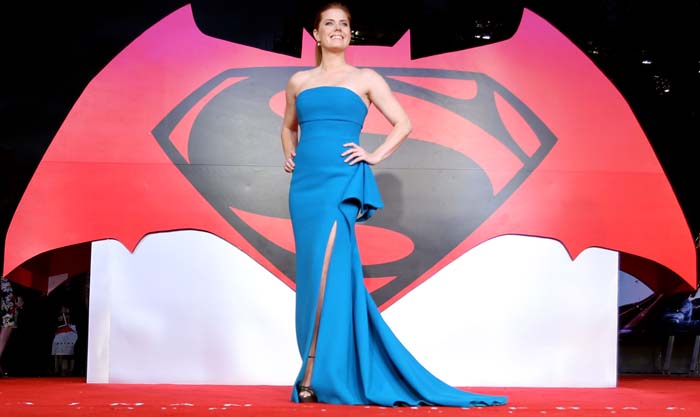 Amy Adams poses in front of the "Batman v Superman: Dawn of Justice" emblem (Credit: Lia Toby / WENN)
She said it was awesome to spend her downtime with Gal since she didn't have too many women around when creating similar films.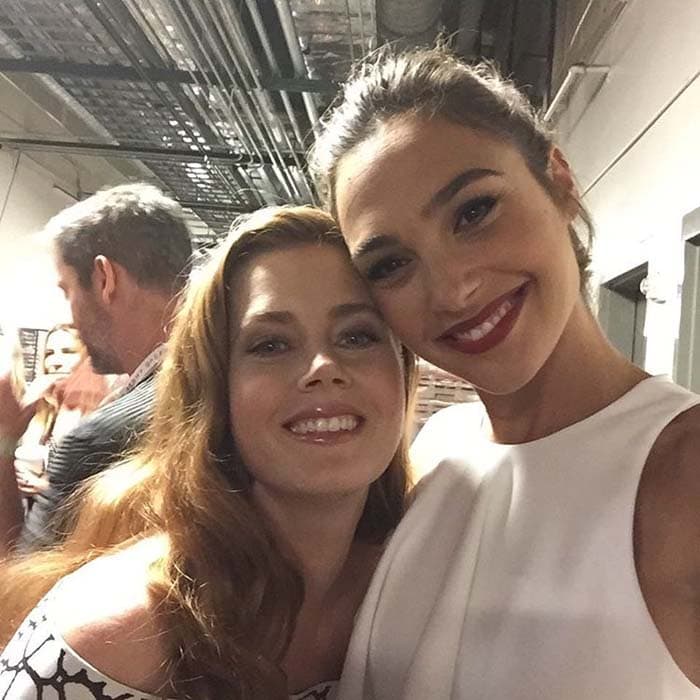 Via Gal Gadot's Instagram account, captioned: "My girl … LOVE YOU❤️🙅🏻#sdcc #girlpower @amyadams" (Credit: Gal Gadot's Instagram)
You can order Amy's glitter "Laurita" heels from Jimmy Choo at Net-A-Porter and Farfetch.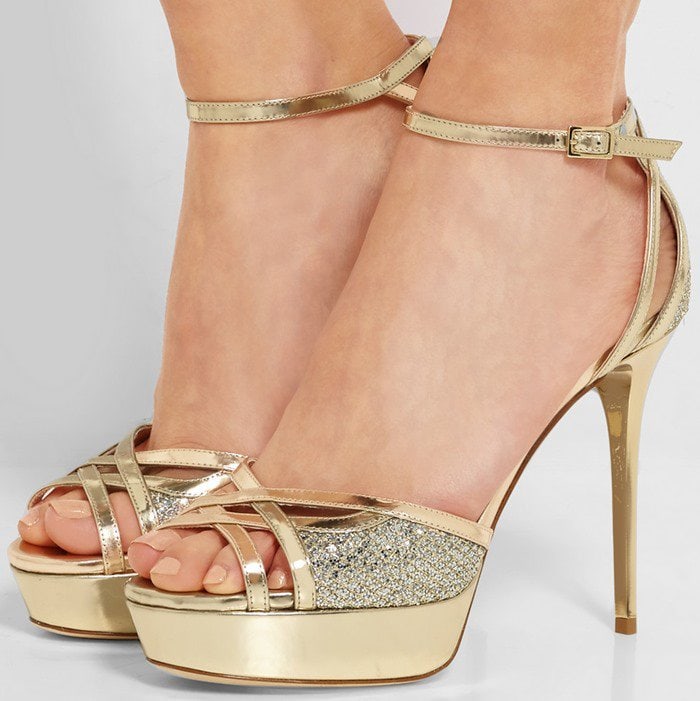 Inset with glitter mesh panels, Jimmy Choo's Laurita 115 sandals are crafted from metallic leather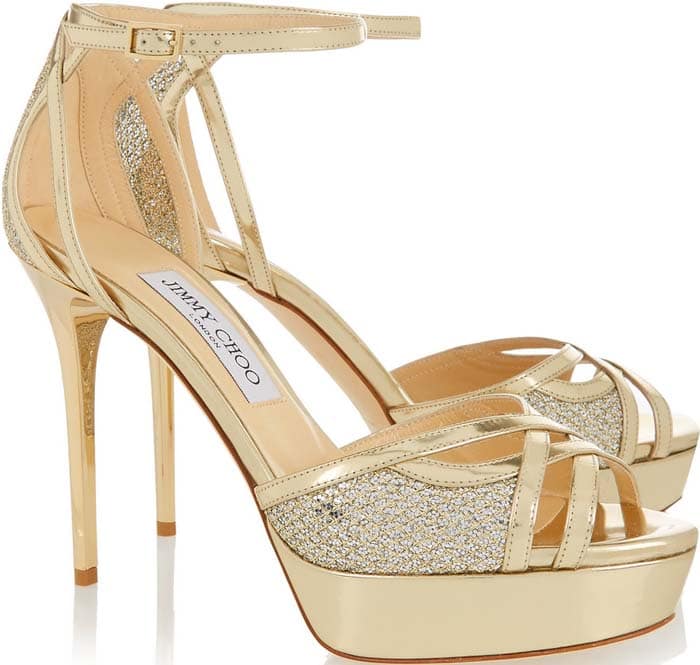 Gold Jimmy Choo "Laurita" Glittered Leather Sandals, $895
Silver Jimmy Choo "Laurita" Glittered Leather Sandals, $895