Angelina Jolie was spotted out and about in New York City with her children, Pax, 19, and Vivienne, 15, Friday, just days after the Oscar-winning actress revealed that she hired her youngest daughter as her assistant for an upcoming Broadway venture.
For their casual outing, the 48-year-old rich actress served major summery vibes in a flowy white maxi dress, which she dressed up with a cream-colored seersucker blazer and a pair of nude Christian Louboutin heels.
Angelina Jolie serves major summer vibes in a white maxi dress while out with kids, Pax and Vivienne, in New York City on August 18, 2023 (Credit: Roger Wong / INSTARimages)
The mom-of-six carried her daytime essentials in a sizable black-and-white tote bag by Celine and shielded her eyes behind a pair of large, black square-framed sunglasses.
Her kids, Pax and Vivienne, coordinated in black pants, white tee, and comfy Converse sneakers.
Angelina Jolie's children coordinate in a white top, black pants, and Converse sneakers (Credit: Roger Wong / INSTARimages)
The previous day, Brad Pitt's ex-wife and their youngest daughter Vivienne dropped by the neo-expressionist painter and graffiti artist Jean-Michel Basquiat's former home and art studio, previously owned by the late artist Andy Warhol.
Jolie has signed an eight-year lease for the 6,600-square-foot building, located at 57 Great Jones, which was listed for $60,000 per month.
It will house her new sustainable fashion venture, Atelier Jolie, "a place for creative people to collaborate with a skilled and diverse family of expert tailors, pattern makers and artisans from around the world. A place to have fun. To create your own designs with freedom."
Angelina Jolie is set to launch the Atelier Jolie, her sustainable fashion venture, at Jean-Michel Basquiat's former home and art studio in New York City (Credit: Janet Mayer / startraksphoto)
For their casual outing, the Tomb Raider lead showcased her take on stealth wealth dressing by wearing a black cutout midi dress made of form-fitting knit-rib fabric. It featured modest billowing short sleeves, a round neck, and an ankle-length hemline.
Giving the elegant number a provocative twist were the circular side cutouts that showed a glimpse of Jolie's flesh. She had a black jacket slung over her arm for cover-up, while a pair of pointy black pumps provided a seamless finish to her monochromatic black ensemble.
The Maleficent star kept the look classy with diamond drop earrings and a few rings. She then carried a black leather Saint Laurent clutch and hid her eyes behind a pair of square-framed Chloe sunglasses to complete her understated, luxurious look.
Angelina Jolie shows her take on stealth wealth dressing in a black rib-knit midi dress, black suede pumps, and a black Saint Laurent clutch on August 17, 2023 (Credit: Roger Wong / INSTARimages)
More recently, the Original Sin actress was pictured embracing quiet luxury while visiting her new fashion hub in New York City.
She again dressed in black, teaming a trench coat with a black maxi dress and her favorite nude Christian Louboutin pumps.
She styled the low-key outfit with her rectangular sunnies, her go-to Celine tote bag, and a set of drop earrings.
Angelina Jolie visits her fashion hub in a black coat, black maxi dress, and nude Christian Louboutin pumps on August 20, 2023 (Credit: Janet Mayer / startraksphoto)
Angelina Jolie Hires Daughter Vivienne as Her Assistant
The Cyborg 2 actress has recently signed on as a lead producer of the Broadway-aimed musical adaptation of The Outsiders, which will be directed by Danya Taymor, based on S.E. Hinton's classic novel and Francis Ford Coppola's motion picture of the same name.
Her daughter, Vivienne, will serve as her volunteer assistant to allow her to gain experience in the arts as she is "serious about theater."
"Viv reminds me of my mother [Marcheline Bertrand] in that she isn't focused on being the center of attention but in being a support to other creatives," Jolie said in a statement to ET about their team up.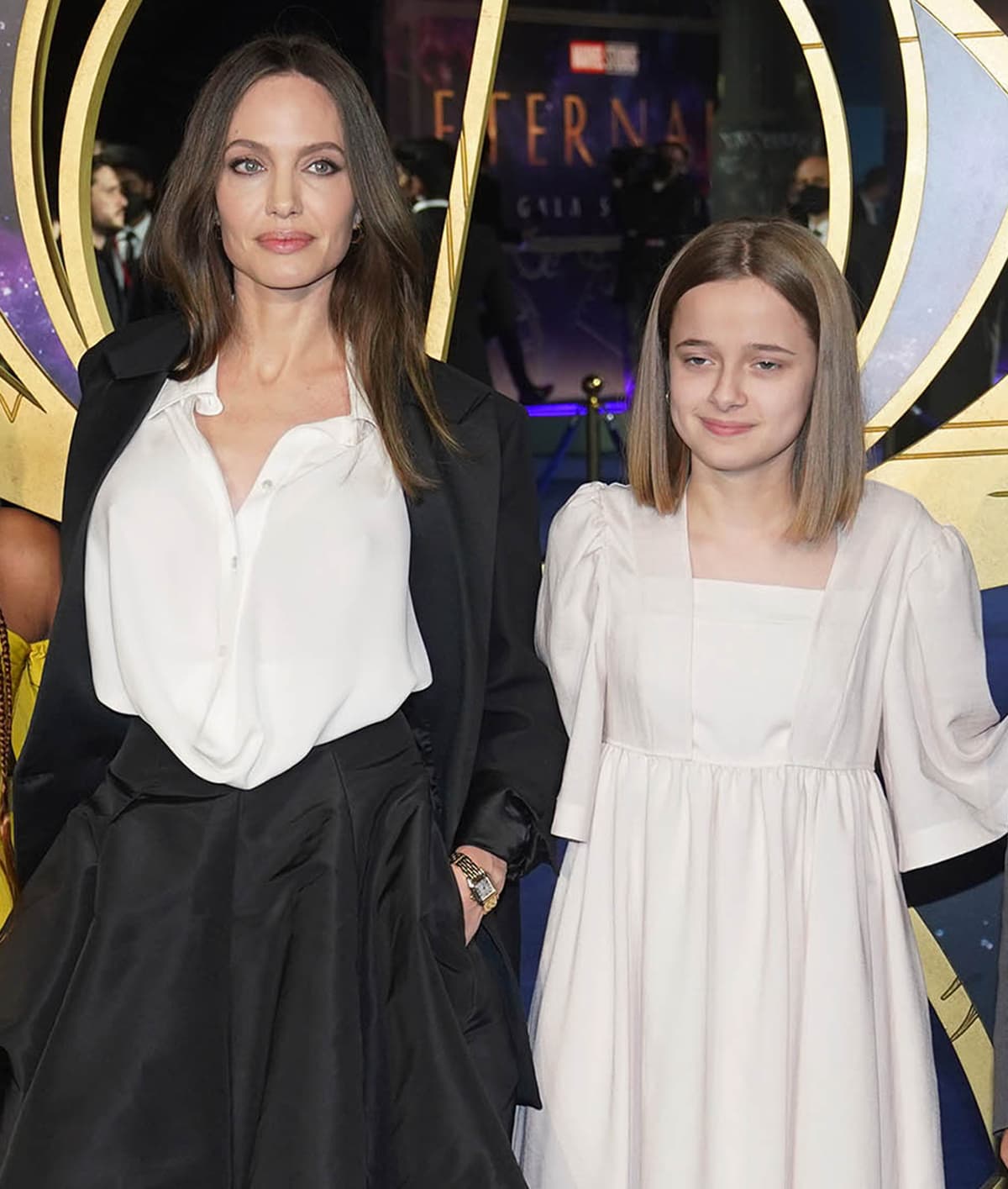 Angelina Jolie has reportedly hired her youngest daughter Vivienne as her volunteer assistant for the Broadway production of The Outsiders (Credit: PA Images / INSTARimages / Cover Images)
"She's very thoughtful and serious about theatre and working hard to best understand how to contribute."
A source told ET that Vivienne "loves musical theater" and that Angelina has been taking her to the theater "since she was a little girl."
"Earlier this year, Vivienne accompanied her mom to go see the world premiere of The Outsiders production at the La Jolla Playhouse, and both fell in love with the musical," the source added.
Angelina Jolie on Joining the Producing Team for The Outsiders
A source close to the actress revealed to ET how excited Angelina is about her new venture.
"She believes this is a musical for all ages but particularly resonates with young people. She wants to ensure the team is listening and working with young people every step of the way and that their voices are leading in bringing this production to life on Broadway."
Jolie will produce The Outsiders along with the award-winning production companies The Araca Group, American Zoetrope, Olympus Theatricals, and Sue Gilad and Larry Rogowsky.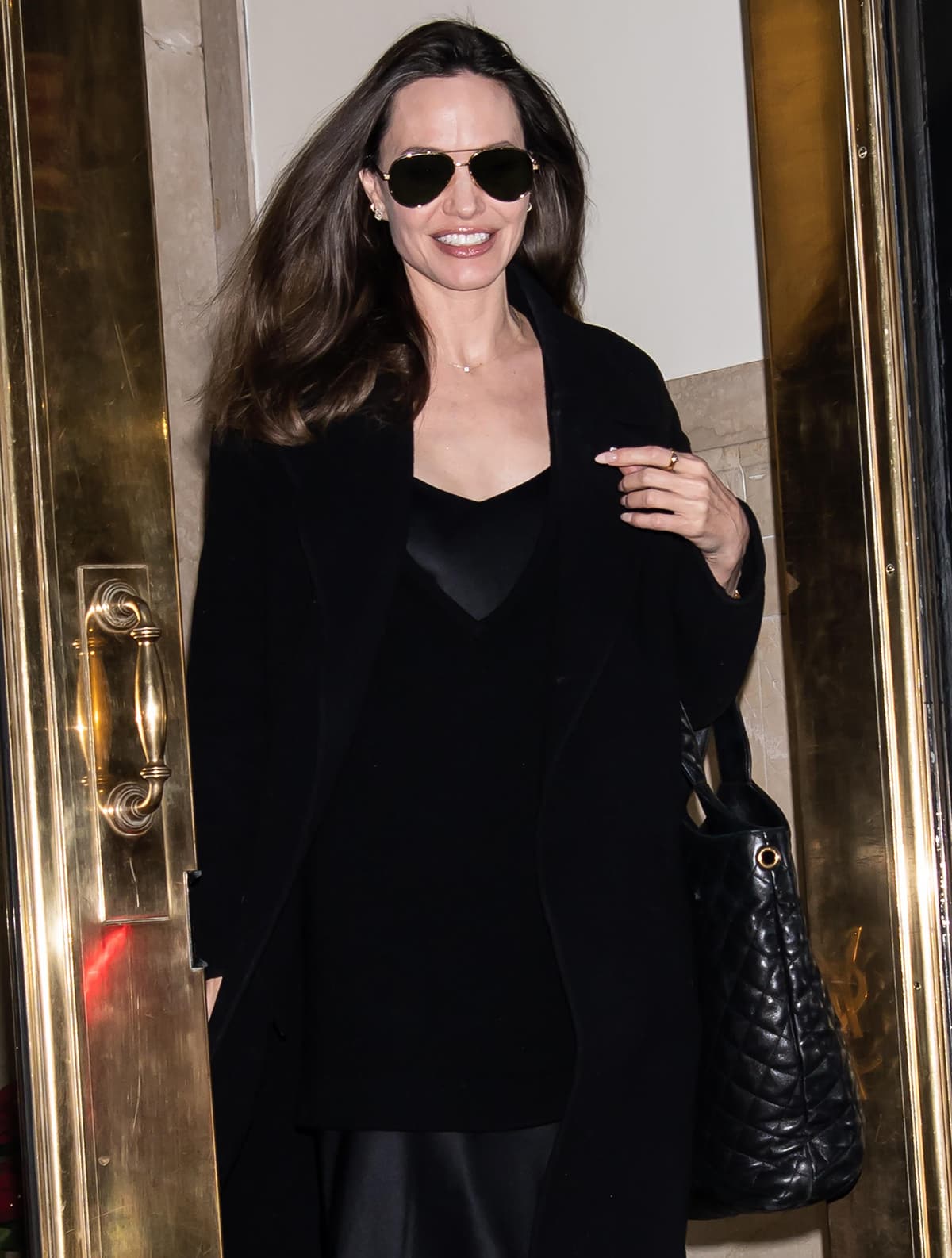 Angelina Jolie has signed on as a lead producer of the Broadway-aimed musical adaptation of The Outsiders (Credit: Janet Mayer / startraksphoto / Cover Images)
"I feel very fortunate to be a part of this special production. I studied at the Lee Strasberg Institute where I realized my first love, as a performer, was the theatre. I had not found a way back until now," she said in a statement.
She continued, "I hope to be able to contribute while continuing to learn from this amazing team, who I have been working with since my daughter brought me to see the show at La Jolla Playhouse."
"I can't begin to express how excited I am for this musical to make its Broadway debut and look forward to sharing this new adaptation of The Outsiders with the world."
The Araca Group's co-founder Matthew Rego expressed their excitement about having Angelina Jolie on board as the production's lead producer.
"We are so thrilled Angelina has joined us as a lead producer on this journey to bring The Outsiders to Broadway," Rego said in a statement.
"Her remarkable career as a storyteller makes her a perfect partner for this project. We are so grateful for the invaluable insight, experience and commitment that Angelina brings to the development of this new musical."