Anja Louise Ambrosio Mazur joined her mom Alessandra Ambrosio to cheer on on Serena Williams, who was defeated by Canadian player Bianca Andreescu, during the women's singles finals at the 2019 U.S. Open in New York City.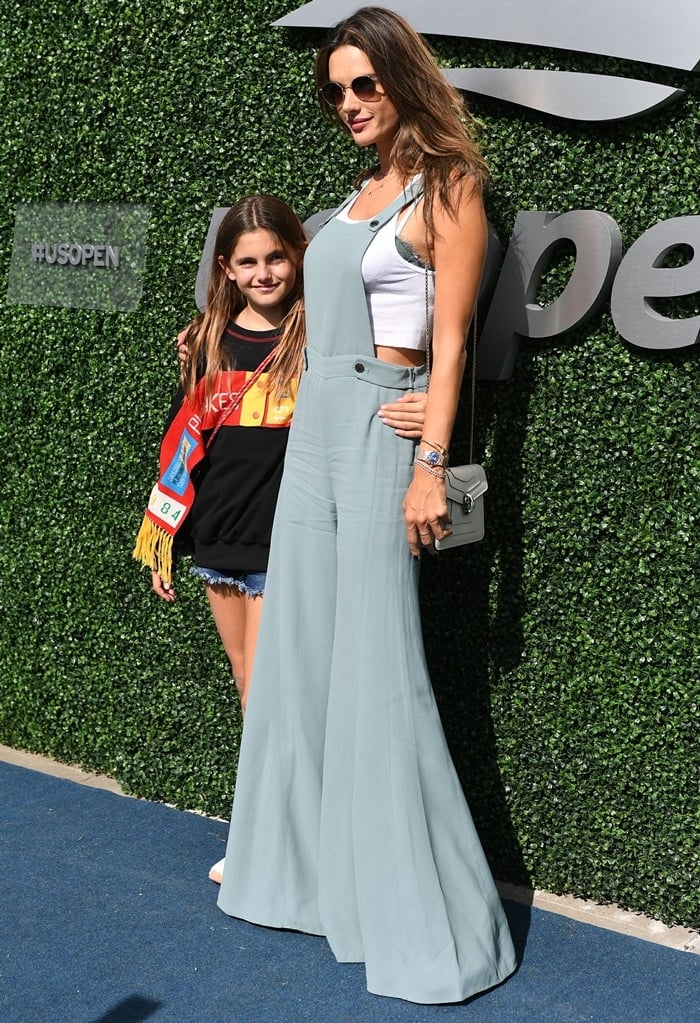 Anja Louise Ambrosio Mazur and her mother Alessandra Ambrosio attend the women's singles finals at the 2019 U.S. Open in New York City on September 7, 2019
Anja, who is the daughter of Alessandra Corine Maria Ambrósio and her ex-lover Jamie Mazur, was born in on August 24, 2008, in Florianopolis, Brazil. Her younger brother, Noah Phoenix Mazur, was born in 2012.
Alessandra Ambrosio, Noah Ambrosio Mazur, Anja Ambrosio Mazur, and Jamie Mazur during happier times at the premiere of her new film Daddy's Home 2 held at the Regency Village Theatre in Westwood Village in Los Angeles on November 5, 2017
Victoria's Secret Angel Alessandra Ambrósio split from her fiancé Jamie Mazur, a Californian businessman with an estimated net worth of $30 million, in March 2018 following a decade-long engagement.
Anja Ambrosio Mazur also joined her mother for the S by Serena Williams fashion show at Klarna in New York City.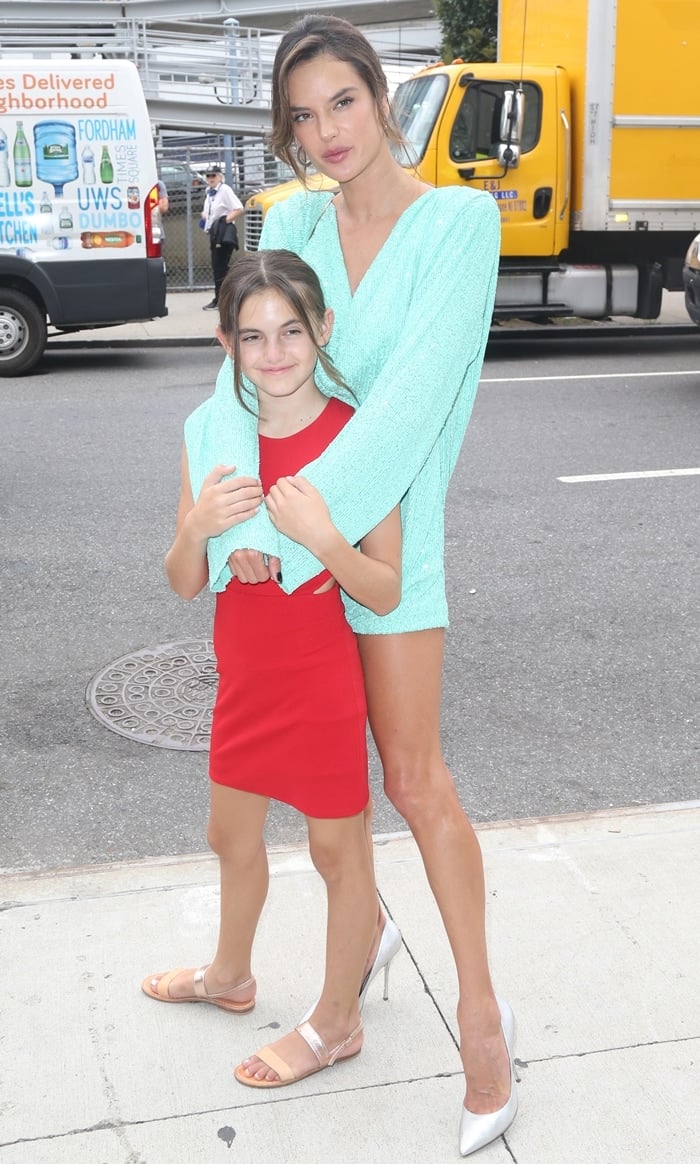 Anja Louise Ambrosio Mazur and Alessandra Ambrosio leaving S by Serena Williams Fashion Show during New York Fashion Week on September 10, 2019, in New York City
In August 2015, Alessandra Ambrosio's mini-me celebrated her 7th birthday with a series of cakes and a sleepover comprised of gypsy-inspired tents, complete with lights.
Alessandra Ambrosio spends an afternoon in Los Angeles on August 26, 2015
A few days later, Anja was seen shopping with her mom after school.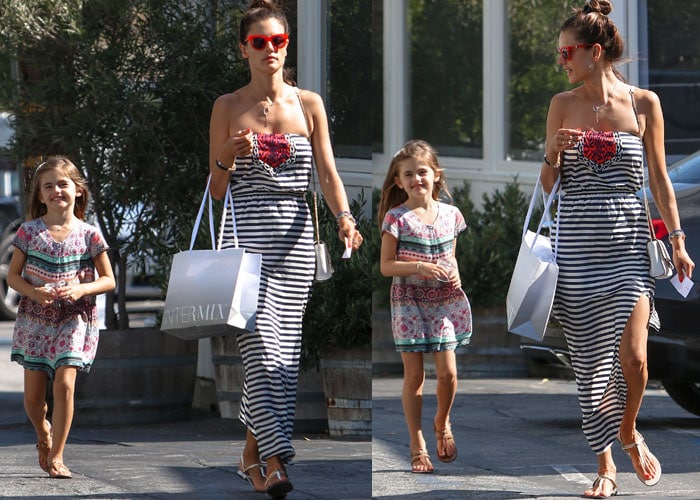 Alessandra Ambrosio and her daughter, Anja, go shopping after school in Los Angeles
We know Alessandra is busy with her full-time supermodel gig, but it's nice to see that parenting is a full-time job for her as well.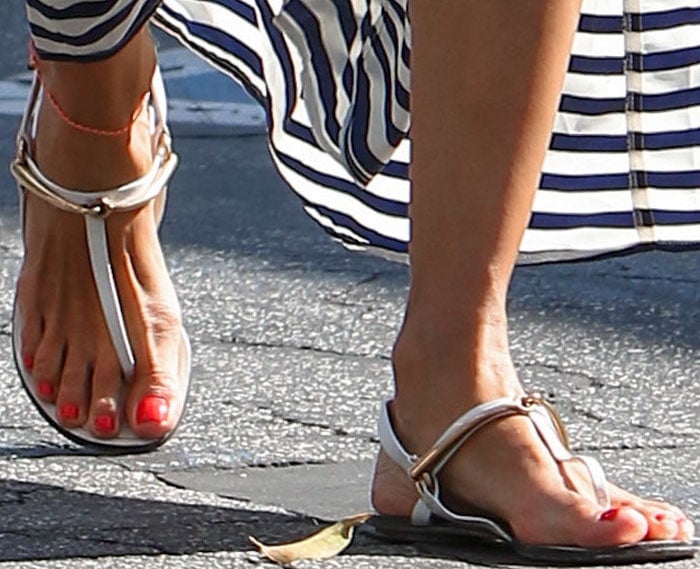 Alessandra Ambrosio shows off her neon coral pedicure in a pair of Gucci sandals
While Anja was in school, the runway star was spotted with her three-year-old son Noah, sweating as she ran alongside his mini quad bike.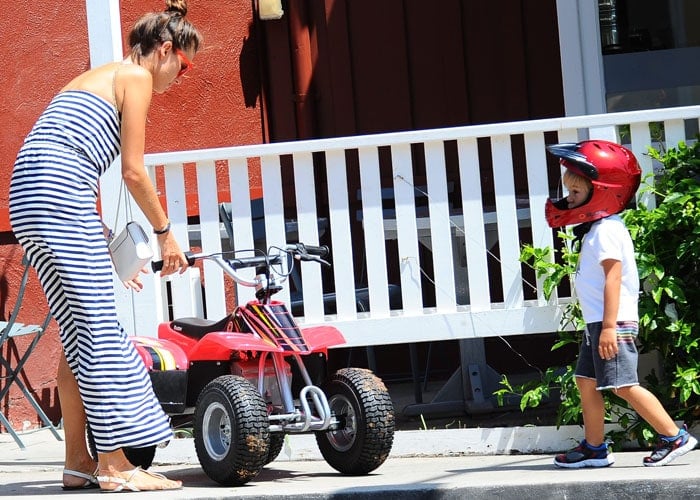 Alessandra Ambrosio wears her brown hair up in a topknot as she plays with her son Noah
For the outing, the Victoria's Secret model wore a striped tube maxi dress with a pair of red cat-eye sunglasses, a white purse and her favorite Gucci "Tess" Thong Sandals in white.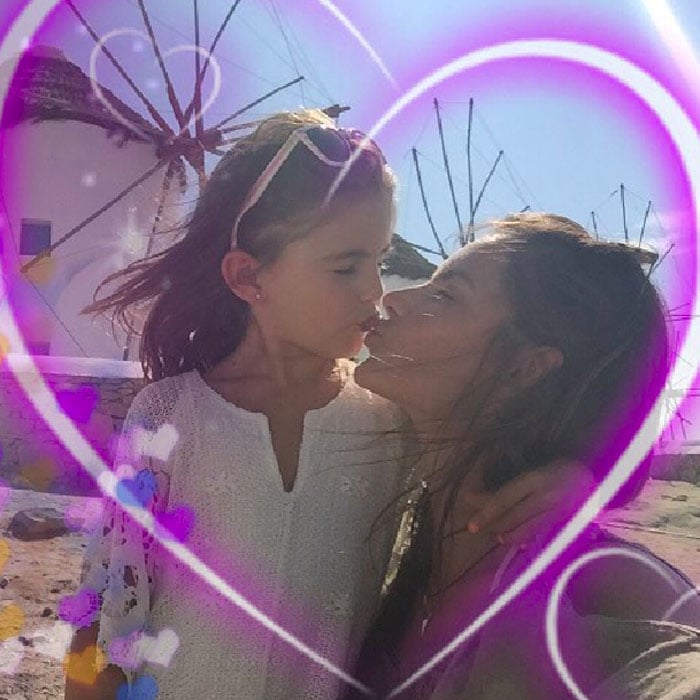 Alessandra Ambrosio's Instagram upload, captioned: "Today is a very special day !!!! 7 years ago my little angel was born and my heart was fulfilled with the most beautiful love !!! Anja, you are such an amazing little girl and there is no words to describe my love for you !!! Happy birthday my angel "
Alessandra's Gucci sandals are from a previously-released collection and are unfortunately sold out. Check out the latest white sandals from Gucci at Nordstrom and Farfetch.
Gucci "Tess" Horsebit Leather Sandals (SOLD OUT)

Gucci Horsebit-detailed Metallic Leather Espadrille Sandals, $495
Gucci "Marcy" Bit Thong Sandal, $450
Credit: Alessandra Ambrosio's Instagram / WENN / Instar / Apega