If there's one thing we know about Anna Friel, it's that the British actress has a unique fashion sense. We've talked about Anna and her unconventional style choices a couple of times before, but today's post is a little different because for a change, Anna actually scores a perfect hit.
The brunette beauty was spotted looking quite lovely as she arrived at ITV Studios with her daughter yesterday. She was dressed in a bright blue frock paired with color-blocked t-strap sandals — also in shades of blue with a mix of gray. The combination was very on point, and the way she styled her hair into braids and finished the ensemble with Ray Ban sunnies made her look like a modern-day '80s chick.
Anna Friel in a bright blue outfit paired with color-blocked t-straps at ITV Studios in London on October 14, 2013
A closer look at Anna Friel's color-blocked t-strap sandals
Well, what's the verdict?
By the way, is it just us, or do you also think her heels look very familiar? Yes! Those are a pair of Roger Vivier 'Prismick' sandals. It's the most iconic and coveted style from the designer's whole lineup.
Anna's shoes boast 4.75-inch-tall heels and geometric panels in blue and gray suede. They're from Vivier's Fall 2012 collection, so the chances of you finding them online would be close to zero. Nonetheless, here's eye candy for eye candy's sake: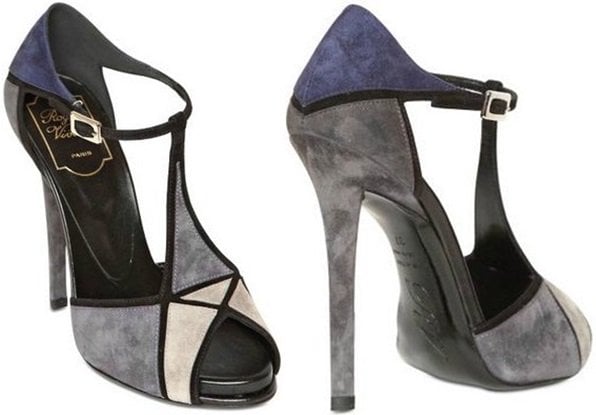 Roger Vivier 'Prismick' Sandals in Blue/Gray Suede, $1,061
A sequined pair in black suede is actually available for the taking in case you're interested. You may also want to visit Mytheresa for the latest styles from the designer.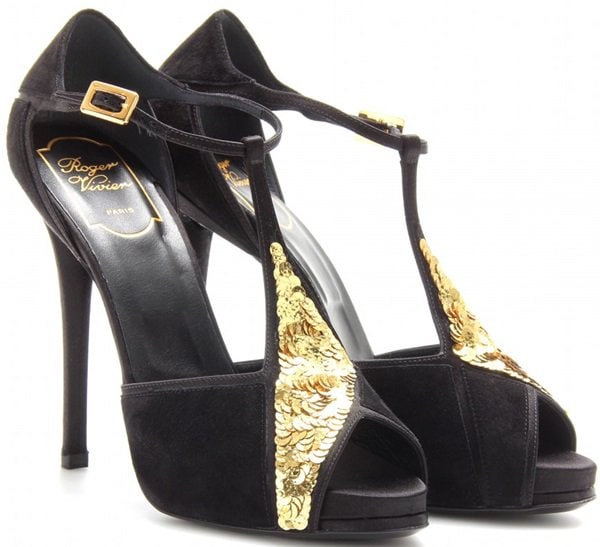 Roger Vivier 'Prismick' Sandals in Sequined Black Suede, $1,763
Credit: Rocky/WENN