In February 2016, "Anna Karenina" actress Alicia Vikander hit the red carpet in a gorgeous yellow dress at the 2016 Academy Awards held at the Dolby Theatre in Hollywood. She won the Best Actress in a Supporting Role award for her work in The Danish Girl.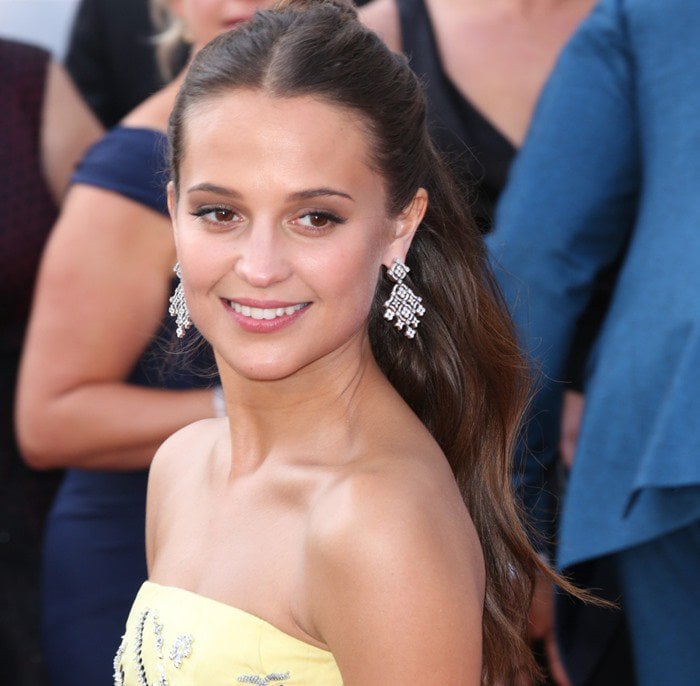 Alicia Vikander wears her hair half-up, half-down at the 88th Annual Academy Awards at Hollywood & Highland Center on February 28, 2016, in Hollywood, California (Credit: Brian To / WENN)
The then 27-year-old actress dazzled in a custom strapless gown from Louis Vuitton that featured silver beaded embroidery.
4 years earlier, the Ex Machina star portrayed Kitty in Joe Wright's adaptation of Anna Karenina. The 2012 historical romantic drama film was released in the United States on November 9, 2012, when Alicia Vikander was 24 years old.
Aaron Taylor-Johnson as Count Alexei Kirillovich Vronsky and Alicia Vikander as Princess Ekaterina "Kitty" Alexandrovna Shcherbatskaya in Anna Karenina (Credit: Universal Pictures)
Saoirse Ronan was originally cast in the role of Kitty but turned it down due to scheduling conflicts. Filming for the movie started in September 2011 and wrapped up in March 2012.
Instead of the supporting role in Anna Karenina, Saoirse opted to star in Byzantium and The Host.
Alicia Vikander, Guro Schia, and Keira Knightley attend the premiere of Focus Features' "Anna Karenina" held at ArcLight Cinemas on November 14, 2012, in Hollywood, California (Credit: WENN)
"It was 40 below, we didn't have hot water for five days and slept in a cabin, on a bench," Vikander told The Guardian about filming in the countryside outside of St. Petersburg, Russia.
"On our call sheets it actually said: 'Beware of wolves. They are known to attack lone humans.' We saw a wolf one time, and a bear, but there were some very tough Russian security guys who came along."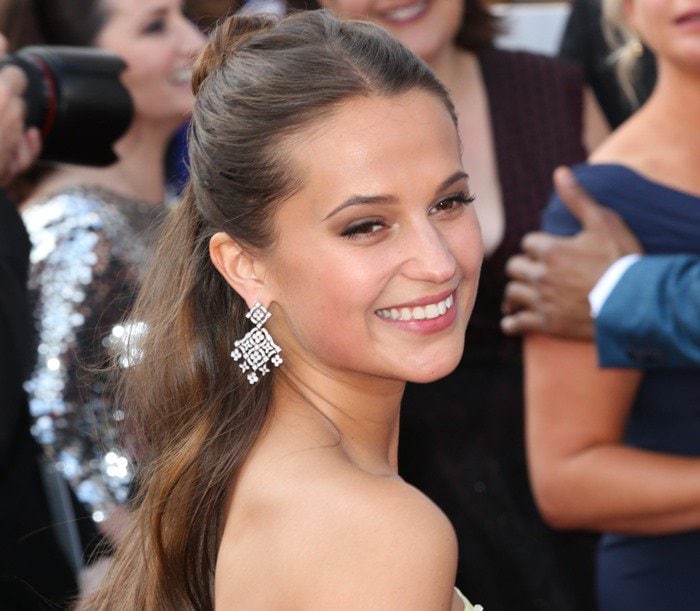 Alicia Vikander shows off her statement earrings from Louis Vuitton (Credit: Brian To / WENN)
For her performance in Anna Karenina, the Swedish actress received the Breakthrough Performer Award at the Hamptons Film Festival in 2012.
How do you like the voluminous skirt and the bright color that Alicia wore at the 88th Annual Academy Awards?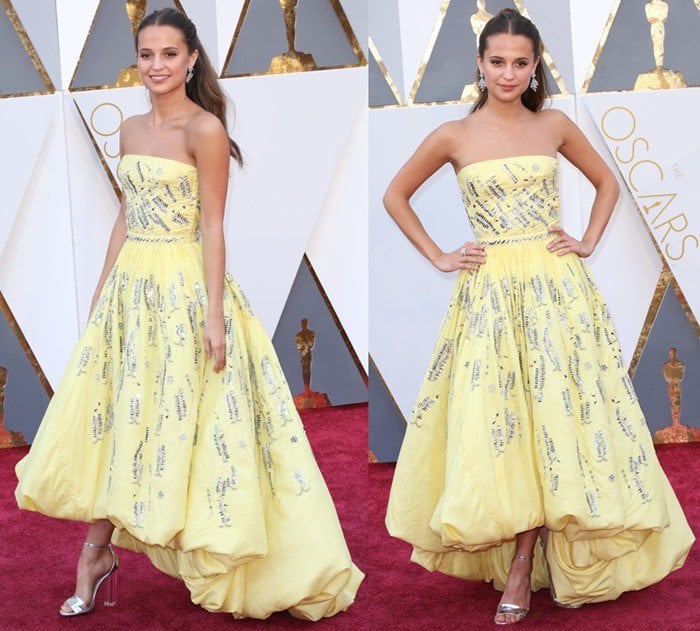 Alicia Vikander wears a voluminous yellow Louis Vuitton gown on the red carpet (Credit: Brian To / WENN)
To complete the Disney princess ensemble, Alicia accessorized with chandelier-inspired Louis Vuitton statement earrings and custom-made metallic lucite heels from the same French fashion house.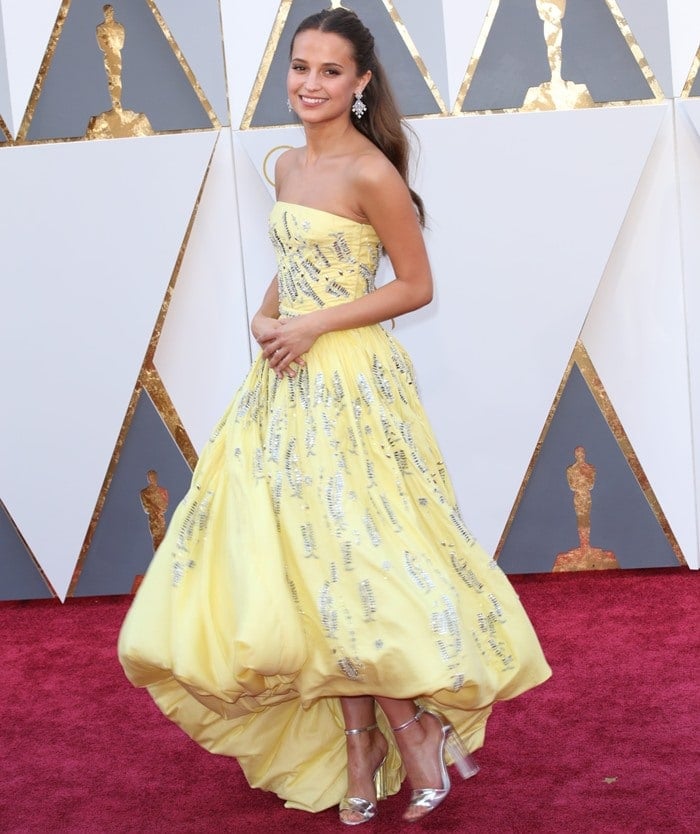 Alicia Vikander stuns on the red carpet in a head-to-toe Louis Vuitton ensemble (Credit: Brian To / WENN)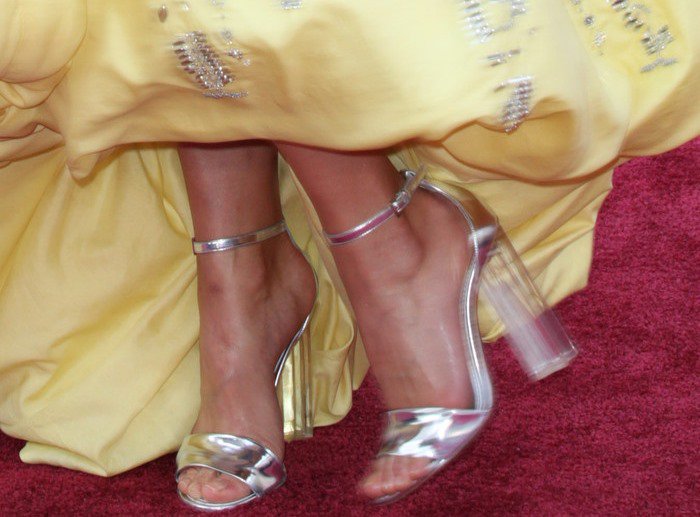 Alicia Vikander's feet in lucite-and-silver Louis Vuitton heels (Credit: Brian To / WENN)
Alicia Vikander's feet in metallic lucite Louis Vuitton heels (Credit: Brian To / WENN)