Here's Anne Hathaway looking absolutely exquisite while attending the 'Princess Grace Awards Gala' held in New York last week. The actress decked herself in Valentino for the event and we simply could not stop looking at the stunning dress. Doesn't she look so beautiful in her frock?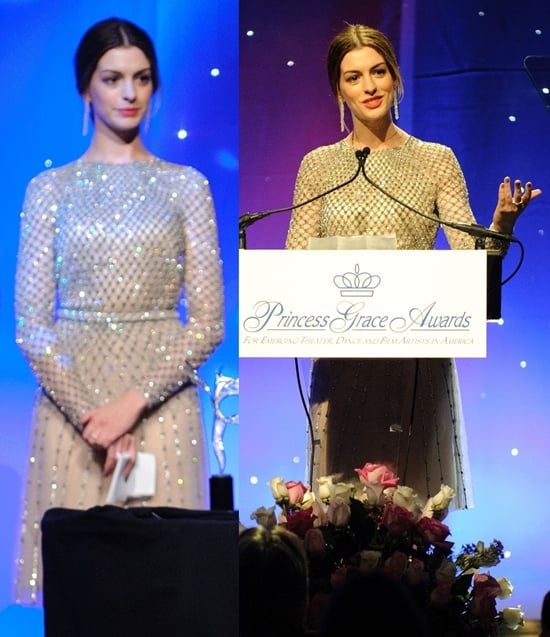 Anne Hathaway attends the Princess Grace Awards Gala in New York on November 1, 2011

And it's not just the dress; check out those shoes – pointed, feminine, and in perfect harmony with the outfit. Simply put, she looks spot-on!
By the way, her uber ladylike pumps were none other than a pair of Louboutins called the Super Vic 100 Crystal Embellished Pumps. Here's a closer look at those delicate chaussures for you: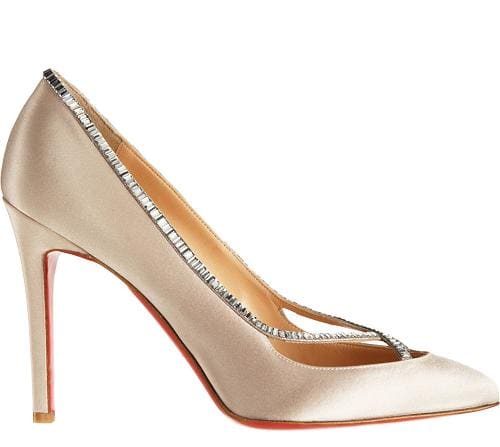 Christian Louboutin 'Super Vic' 100 Crystal Embellished Pumps, $1350
What do you think? What comes to mind when you look at it? Classy? Elegant? Proper? Ladylike? Delightful? Conservative? Old fashioned? Maybe all of the above?
The 'Super Vic' stands on a 100mm heel (or about 4 inches), which means you definitely should not underestimate it. It also comes with crystal baguettes around its throat and cutout detail. And as you can clearly see, it is covered in satin and fashions a more traditional pointed toe. It's a pretty sexy shoe to wear, especially with the front lowered and cut to expose more skin. While some may think it's too old-fashioned, we would like to think it is more of a classic, one best for brides and black tie occasions.
If you can appreciate these dressy satin red bottoms and you'd love to own a pair, the one place where you can find it would be Barneys New York. Note though that a pair will cost you $1350. Rosie Huntington-Whiteley also wore this style to an award show earlier this year. The English model and actress styled the crystal pumps with a glamorous 1930's style dress by Burberry, a Chopard pendant set necklace, and Chopard diamond flower earrings: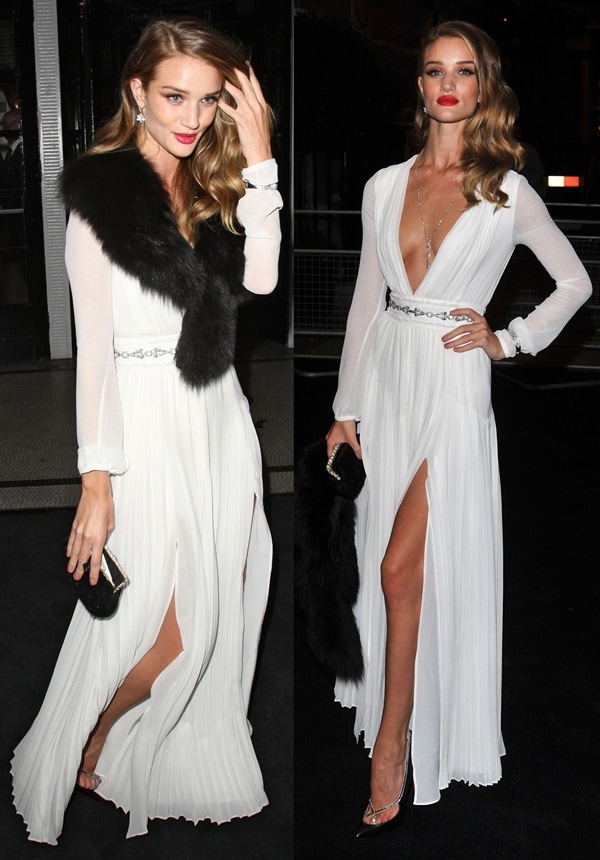 Rosie Huntington-Whiteley at the Moet & Chandon Etoile Award gala ceremony held at the Park Lane Hotel in London on September 19, 2011
Credit: News Pictures / WENN /Daniel Deme