Anne Hathaway is no stranger to the red carpet and consistently delivers jaw-dropping looks with her impeccable sense of style.
The 40-year-old actress arrived at the 2023 Berlin Film Festival held at Grand Hyatt Hotel on February 16 for the premiere of her latest film, She Came to Me. As expected, she turned heads with her stunning outfit by Valentino.
Anne Hathaway's new rom-com She Came to Me opened the 73rd Berlin International Film Festival on February 16, 2023 (Credit: DDP / INSTARimages)
Hailing from the Spring 2023 Couture collection, the Armageddon Time star commanded attention in the sheer dress covered with polka dots and leather bow accents.
She then had a nude bodysuit underneath for some coverage, paired with black leather opera gloves and Valentino Nite-Out satin pumps.
The Brokeback Mountain actress wore her brunette hair up into a high bun with her signature face-framing fringe, showcasing her silver drop earrings, and rounded out her glam with minimal makeup.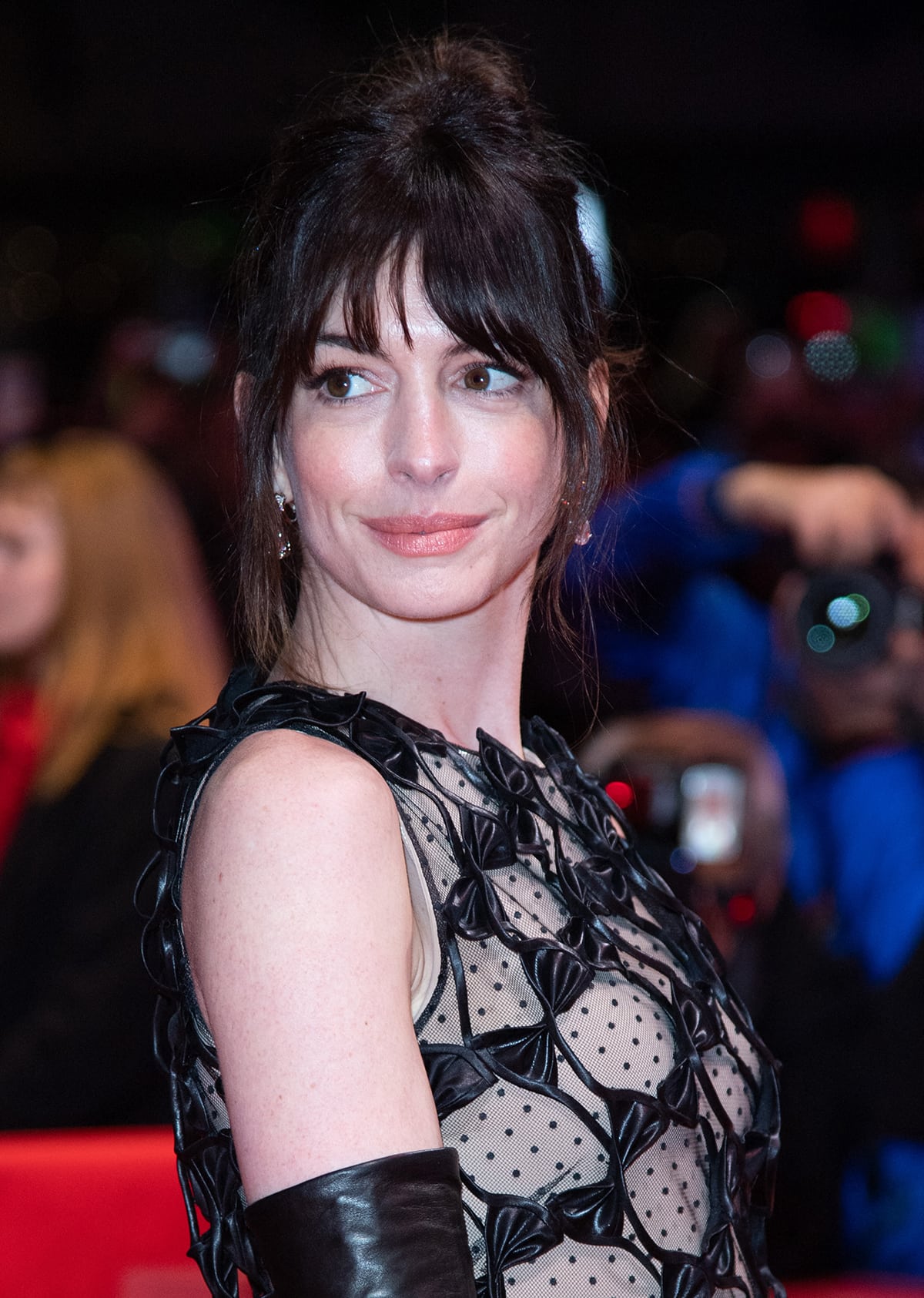 Anne Hathaway wears a see-through Valentino dress with leather bows, leather gloves, and Nite-Out Satin pumps (Credit: Abaca Press / INSTARimages)
For the photocall, The Princess Diaries star brought the mysterious hooded style into 2023. She flaunted her perfect fashion sense in a black jumpsuit with a hood by designer Pieter Mulier for Alaia.
The hooded cotton bodysuit with long sleeves ($1,720 at Mytheresa) paired with a draped leather midi skirt ($4,620 at Mytheresa) featuring a ruffled waistline, an ankle-length hem, and a tight leather zip-up belt was from the Alaia Spring/Summer 2023 Ready-to-Wear collection.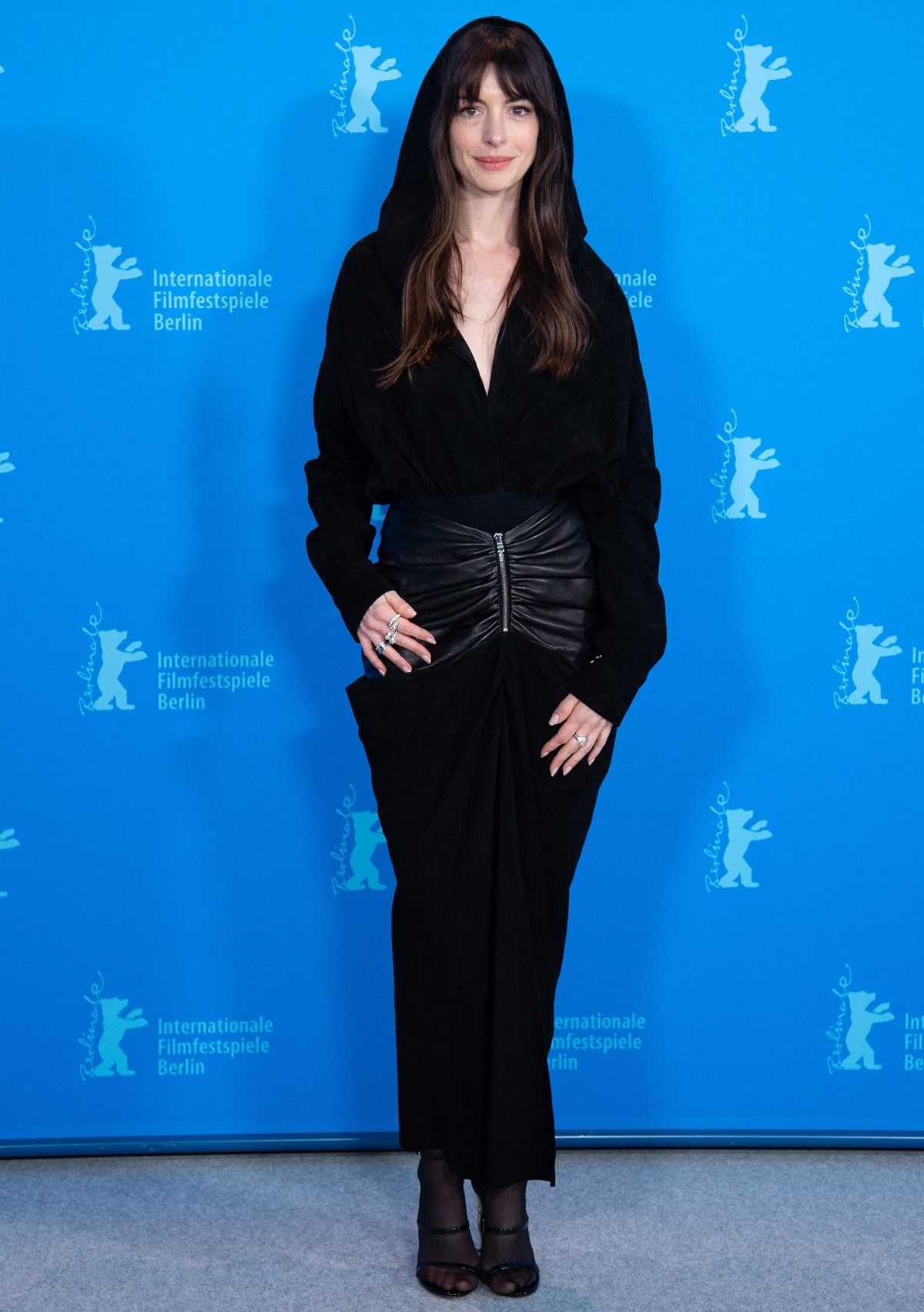 Anne Hathaway wears a hooded bodysuit with a draped leather midi skirt, both by Alaia, at the photocall for She Came to Me during the 2023 Berlin International Film Festival on February 16, 2023 (Credit: Abaca Press / INSTARimages)
Hathaway's ensemble was styled by Erin Walsh, who added black Wolford Perfectly 30 tights and black Alaia "Cabaret" sculptural-heel strappy sandals to complete the look.
Alaia 'Cabaret' Patent Leather Sandals, $1,750 at Neiman Marcus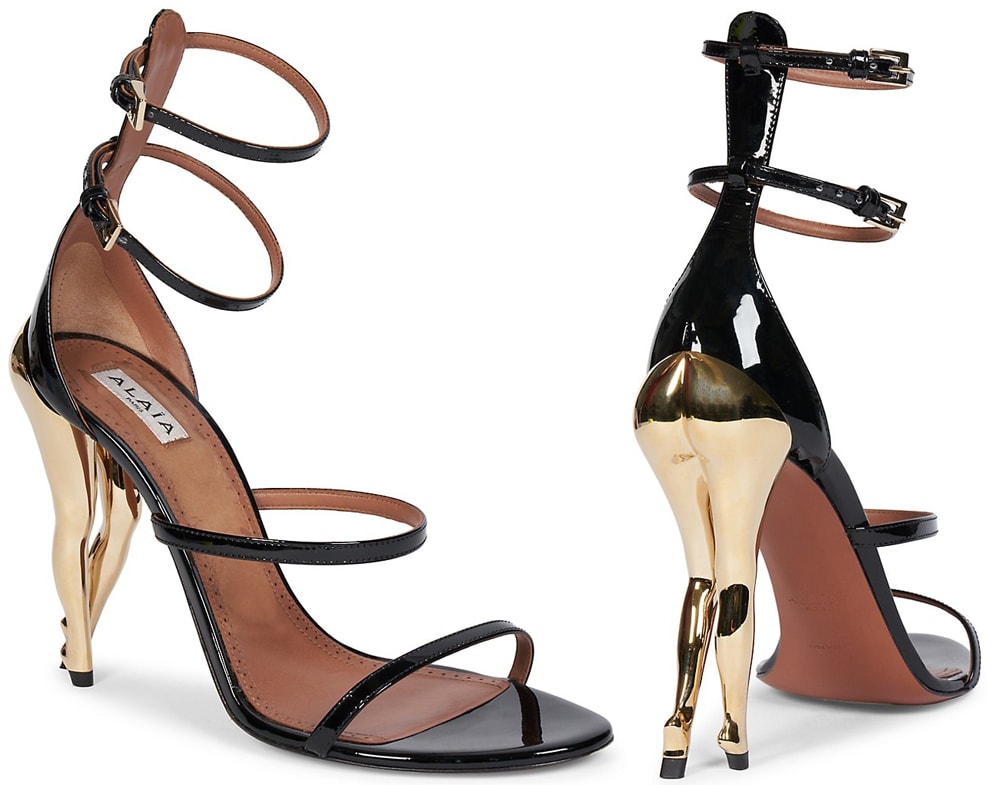 The sculptural Cabaret sandals by Alaia are inspired by the elegance and grace of Parisian cabaret dancers
Her outfit perfectly balanced classic and cutting-edge, with the hood adding a mysterious and edgy touch to the overall appearance.
Hathaway wore her dark hair in sleek waves and maintained a natural look with a dewy face and a bright matte lip. As a Bulgari brand ambassador, the actress accessorized with a stunning stack of the Italian jeweler's rings.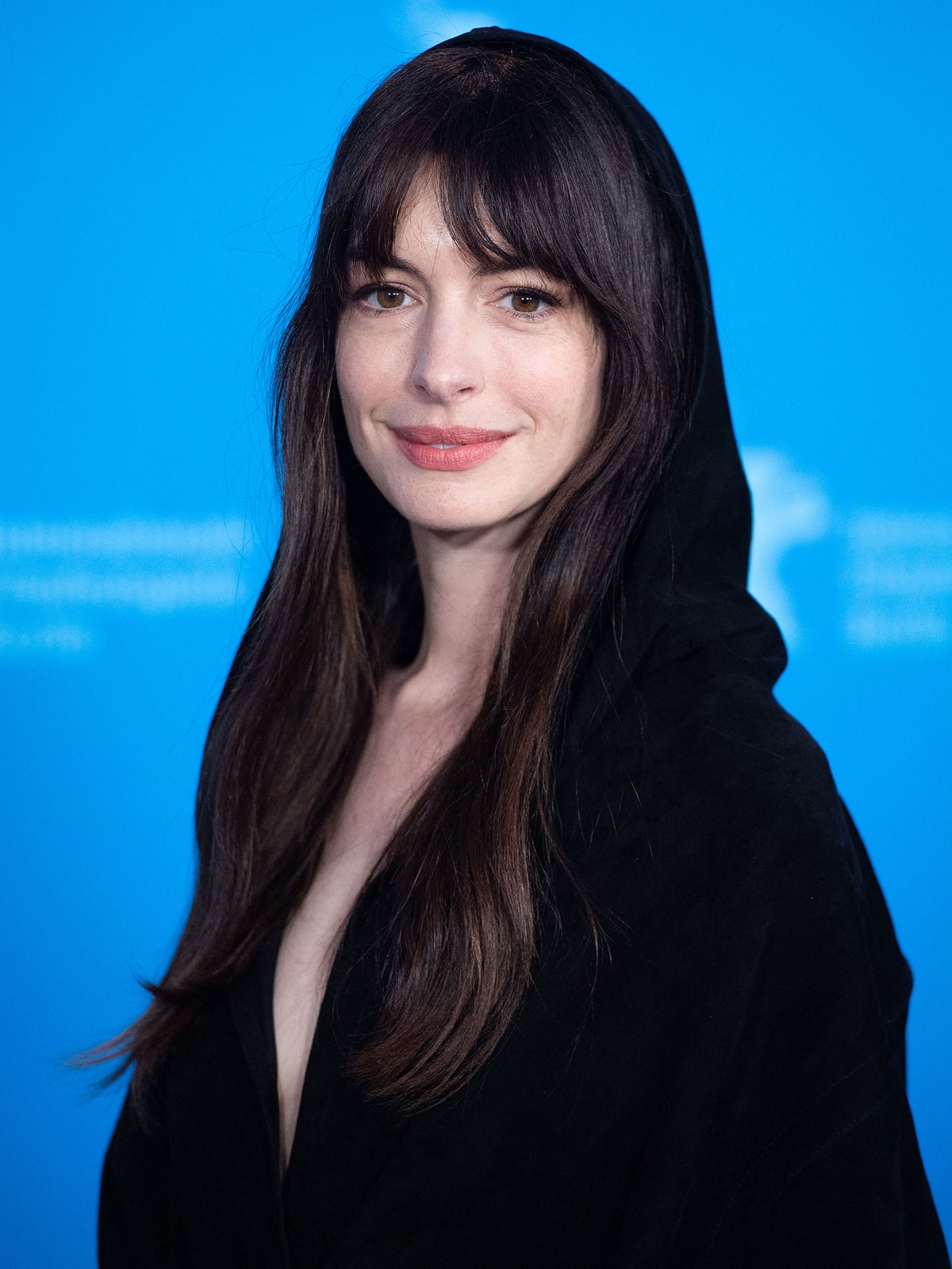 Anne Hathaway styles her dark tresses in waves and wears a natural makeup look with a bright matte lip color (Credit: Abaca Press / INSTARimages)
She Came to Me stars Marisa Tomei from Spider-Man, Peter Dinklage from Game of Thrones, and Anne Hathaway from The Devil Wears Prada.
Dinklage portrays Steven Lauddem, Tomei plays Katrina, and Hathaway plays Patricia Lauddem in the lead role.
The plot centers on a composer who struggles with writer's block before finding his passion again after an exciting one-night stand.
It also features two talented teenagers who face challenges to convince their parents that their young love can last a lifetime and a woman who seems to have it all but finds love in the most unlikely places.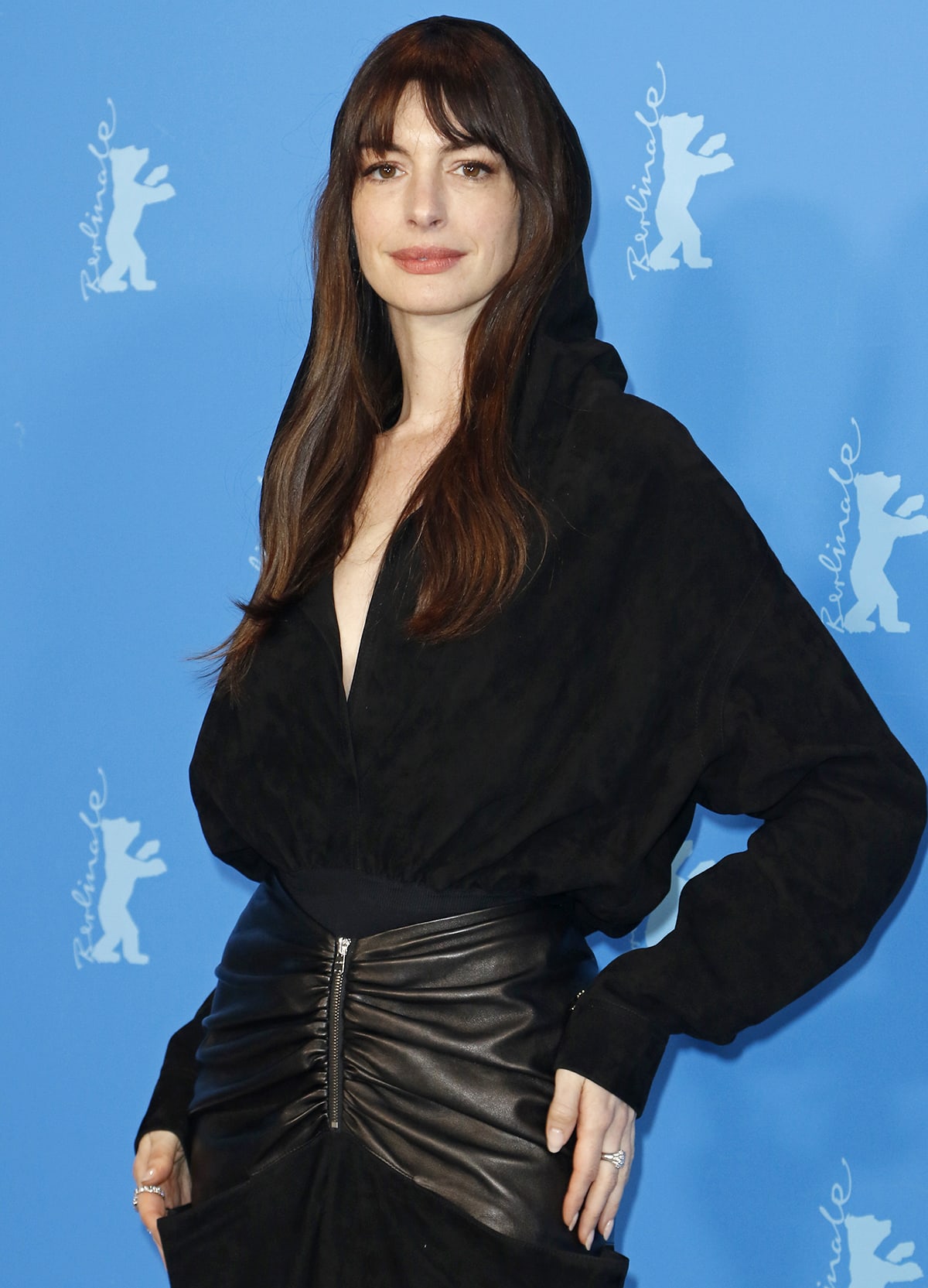 Anne Hathaway stars in the romantic comedy film She Came to Me, written and directed by Rebecca Miller (Credit: DDP / INSTARimages)
At the festival's photocall and premiere, Anne Hathaway, Marisa Tomei, and Peter Dinklage were accompanied by co-stars Joanna Kulig and Evan Ellison and writer/director Rebecca Mill. Adam Shulman, Anne Hathaway's husband, attended the premiere with her.
The 60-year-old American director and some of the film's cast met with the Berlinale press before the out-of-competition premiere.
The cast and crew of She Came to Me at the photocall for their new romantic-comedy movie in Berlin (Credit: Abaca Press / INSTARimages)
Hathaway also serves as a producer on the New York City-based intergenerational narrative, but she was keen to point out that while this is an indie picture, her "heart beats for (all) film, and the more types of them, the better."
The multi-Award winner clarified, according to Deadline, "I think sometimes we think of these things as isolated from each other. But right now, I think the way we're all participating in films and the way we all kind of are unsure as to what the future of audience culture is."
She continued, "I think it's important to love all types of films and show up in person at the movie theater for all the types of films that we can if this art form is to continue."
Anne Hathaway compared being cast in She Came to Me to "fate." The actress recalled her audition for Miller as a teenager, saying that although the role ultimately did not go to her, she had left the room with "a sense of destiny about her." She added, "I always kept hope alive we would find each other with the right thing."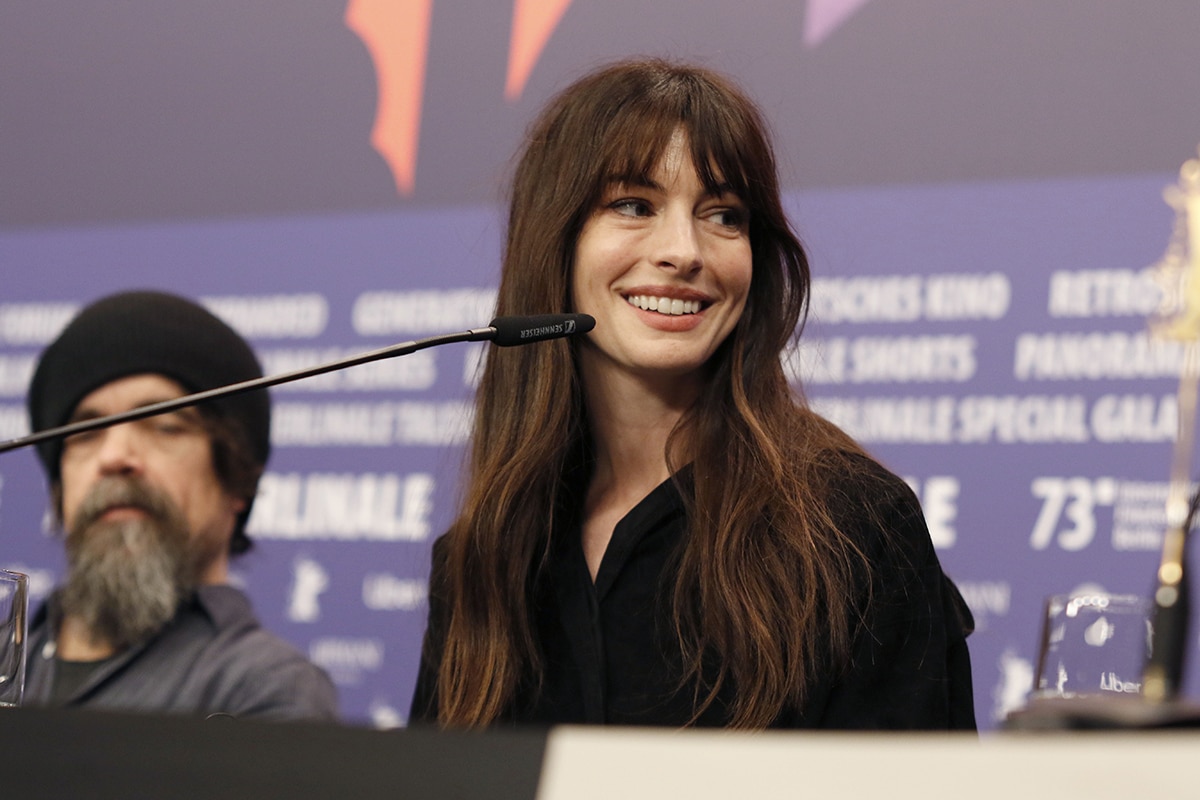 Anne Hathaway emphasizes the need of embracing all types of films (Credit: DDP / INSTARimages)