You may know Ashley Benson from the movie, Spring Breakers, or the TV Series, Pretty Little Liars, where she played one of the main characters, Hanna Marin, from 2010 – 2017.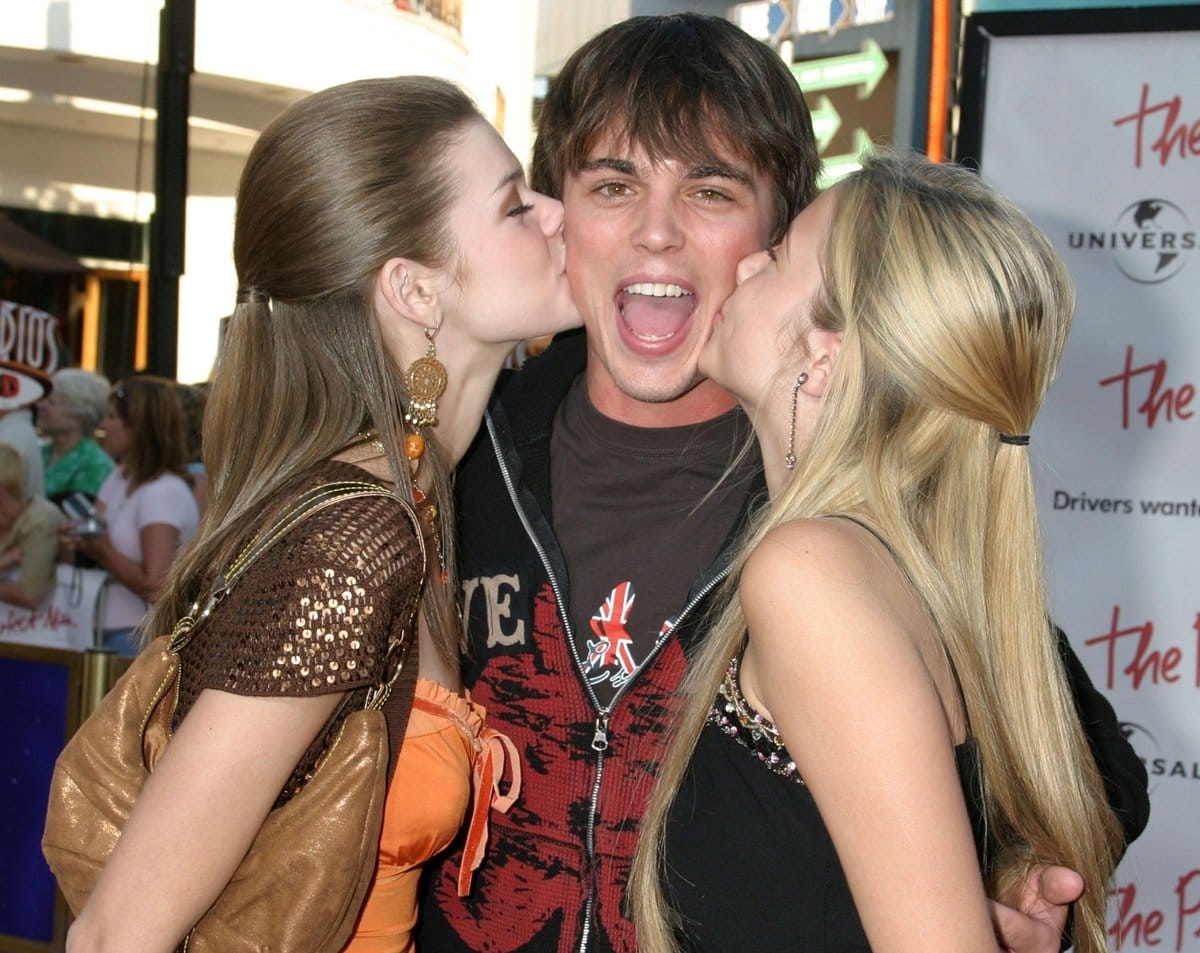 Rachel Melvin (L) and Ashley Benson (R) kissing Darren Brooks at the premiere of "The Perfect Man" at Universal Studios Cinema on June 13, 2005, in Hollywood, California (Credit: Nikki Nelson / WENN)
She is a 31-year-old American actress, singer, and model originally from Anaheim, California. Ashley has also been in the public eye for her open bisexuality and her previous relationships with model Cara Delevingne, rapper G-Eazy, and actor James Franco.
Ashley recently attended her friend Paris Hilton's wedding and turned heads with her fashion choices at each of the parties.
Ashley and Paris' Friendship
Ashley and Paris recently wrapped working on a new film together. The film, 18 & Over, is a "pandemic-inspired slasher film" produced by Ashley Benson.
Ashley also acts in the movie, alongside Paris Hilton, who plays herself in the movie. Director, Jimmy Giannopolous, shared that the indie horror film is "relevant to today's issues of a global pandemic, reality shows, isolation, Only Fans, and obsession."
Ashley Benson in Fiorucci's signature angel print T-shirt paired with a maxi skirt out with her friend Rita Ora in SoHo, New York City on September 11, 2021 (Credit: MEGA / WENN)
These two women have more in common than their upcoming film together. Paris is no stranger to the spotlight, growing up as a socialite and heiress. Paris's great-grandfather, Conrad Hilton, is the founder of the Hilton hotel chain.
With fame, there is an unfortunate price to pay in today's world – everyone believes they have a right to access you at all times.
On a recent episode of Paris's podcast, This is Paris, Ashely and Paris discussed the struggles they've endured in the name of fame.
Ashley spoke about the overwhelming nature of the paparazzi, "It almost causes car wrecks. They go through stoplights and all this stuff. They scream horrible stuff at you, they just bother you to get a reaction. It gives me so much anxiety."
Ashley's Fashion at Paris' Wedding
Paris Hilton recently wed Carter Reum, and the star-studded events went on for multiple days with numerous parties in Los Angeles, California.
One of Ashley's looks was a Saint Laurent Spring 2018 patterned playsuit with a deep plunging neckline and a sash around her center.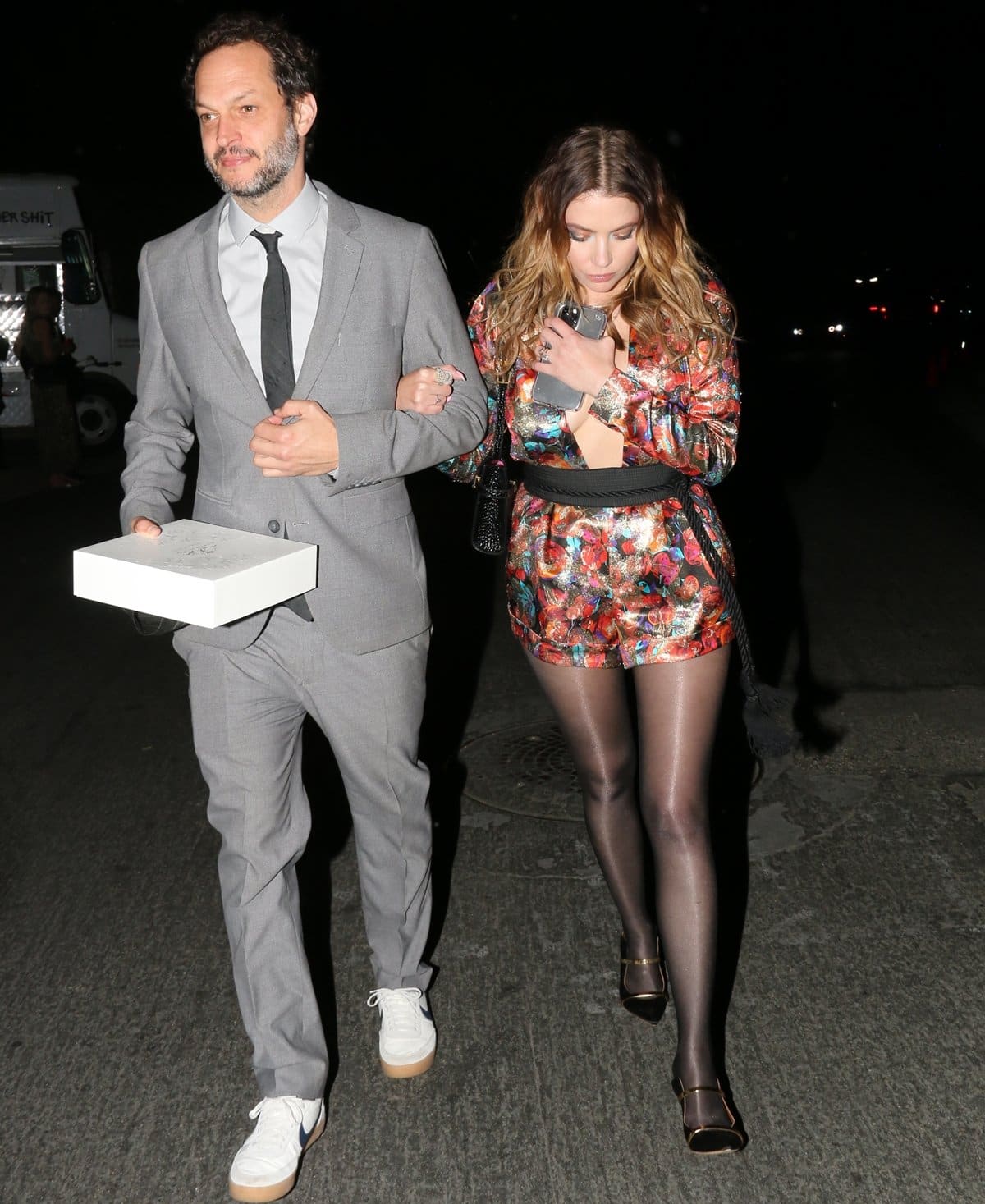 Ashley Benson arrives braless in a Saint Laurent Spring 2018 playsuit paired with black stockings and Malone Souliers Maureen satin pumps at a party for Paris Hilton's wedding weekend in Los Angeles on November 13, 2021 (Credit: MEGA / Avalon)
She paired it with black tights, black heels, and loose waves in her hair. The actress looked gorgeous showing off her toned body and cleavage.
Another of Ashley's wedding looks was a sequined bustier, again with a plunging neckline, paired with a floor-length, high-slit satin skirt.
Ashley Benson with crazy eyes tries to prevent a wardrobe malfunction in a daring maxi Naeem Khan Fall 2014 dress when arriving at Paris Hilton and Carter Reum's wedding on November 11, 2021, at Paris Hilton's late grandfather Barron's estate in Bel-Air, California (Credit: MEGA / WENN)
She paired this with the Kate chain bag from Saint Laurent and satin slingback pumps from the same designer.
Ashley Benson styled her thigh slit dress with a Saint Laurent Monogramme Kate Clutch and black ankle-strap sandals (Credit: MEGA / WENN)
Other celebrities in attendance at this three-day wedding extravaganza included Kim Kardashian West, Emma Roberts, Nicole Richie, Ashlee Simpson, and Paula Abdul.
More of Ashley's Recent Fashion Moments
Ashley Benson's style is always turning heads. She was at the amfAR Gala in Los Angeles on November 4, 2021, where she wore a beautiful Moschino Fall 2016 dress.
Ashley Benson flaunts her boobs and Angles by Âme moving octagon link earrings at the 2021 amfAR Gala Los Angeles on November 4, 2021, at the Pacific Design Center in West Hollywood, California (Credit: MEGA / WENN)
The black off-the-shoulder top portion of the dress pairs with a cobalt blue skirt for a bold look. She wore Saint Laurent heels with her hair in wet-looking loose waves.
Ashley Benson wears a Moschino Fall 2016 dress consisting of a cold shoulder leather motorcycle jacket top and a blue velvet skirt (Credit: MEGA / WENN)
She also appeared at the Salvatore Ferragamo fashion show in Milan on September 25, 2021, in a unique black and white outfit. She sported, as is custom for designer shows, a complete Salvatore Ferragamo look for the event.
Ashley wowed in a floor-length black coat with white fringe detail. Underneath, she wore a pair of barely-visible white pants and a small black crop top.
Ashley Benson in a fringe coat and black Chelsea boots during the Salvatore Ferragamo fashion show on the fourth day of Milan Fashion Week Women's collection Spring Summer 2022 on September 25, 2021, in Milan, Italy (Credit: MEGA / WENN)
She paired this look with black shoes, a small black bag, various jewelry, and a partially-wet hair look.
The top of her hair was made to look wet against her face, and the bottom lighter portion of her hair was in very relaxed, almost beach-like, waves.
We can't wait to see what Ashley Benson wears next.
Ashley Benson wears a royal blue Alberta Ferretti dress and jewelry by Dana Rebecca Designs (Credit: Cinzia Camela / WENN)
In September 2012, we featured actress Ashley Benson in a pair of ultra-chic Sergio Rossi pumps at the Toronto Film festival. A few days earlier, she hit the red carpet in another great pair of pumps.
This time Ashley was seen at the 69th Venice Film Festival in Venice, Italy attending the 'Spring Breakers' premiere in Jimmy Choo.
She also rocked a much more glamorous evening look in this instance compared to her peplum dress and black pumps in Toronto.
The young actress donned an amazing royal blue Alberta Ferretti gown and accessorized with jewelry by Dana Rebecca Designs.
Selena Gomez, Vanessa Hudgens, Ashley Benson, Rachel Korine, James Franco, and Harmony Korine at the 69th Venice Film Festival 'Spring Breakers' premiere in Venice, Italy on September 5th, 2012 (Credit: Cinzia Camela / WENN)
Jimmy Choo's 'Tame' pumps feature a crystal detailed toe, platform, and heel. The all-over lush suede upper is incredibly sophisticated and has a great luxurious feel.
They're an ideal heel for formal occasions like the one Ashley attended. However, the price tag ($2,495) at Net-A-Porter may keep them out of most shoe closets:
Jimmy Choo 'Tame' Crystal-Embellished Suede Pumps, $2,495